Bunny Lollipops
published on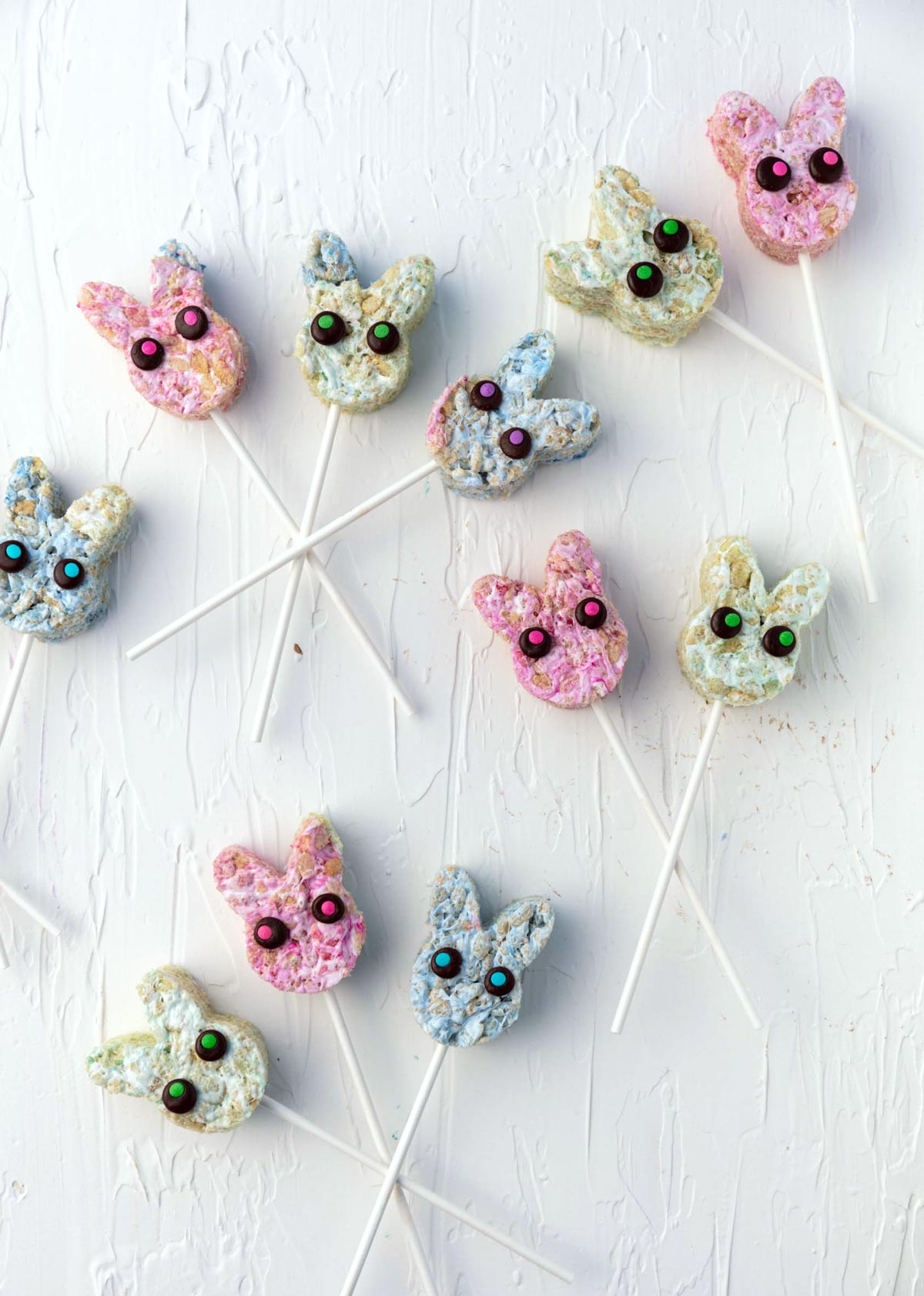 ♫ Listening to: If You Want To by beabadoobee ♫
I made these little bunnies to bring to expo west with me to share, but as soon as I got to Anaheim, they canceled it because of rona. So, I ate them all in bed while watching netflix. Blogging life can be so hard.
These treats combine the ever popular marshmallow cereal treats with a cute shape, cute colors, and chocolate!
If you like bunny shaped treats with marshmallows, you might like my marshmallow peeps cake.
This recipe makes 15 bunny lollipops.
Vegan Marshmallow Bunny Lollipop Ingredients
lollipop time: 90 minutes
1 bag of mini vegan marshmallows (I used dandies)
3 tablespoons coconut oil (or sub any vegetable oil)
4 ½ cups crispy rice cereal (the whole foods 365 brand is organic and cheap)
2 dreamy bars
3 colors of vegan food coloring (I used pink, green, and blue)
vegan pastel quins sprinkles
Vegan Marshmallow Bunny Lollipop Directions
Cover the bottom of any flat container with parchment paper (If you have a 9" square brownie pan, that's ideal, but I don't so I used a tupperware).
Prepare your vegan food coloring if you're using a powdered form, like Color Kitchen natural food coloring or superfood powders.
Microwave 1 tablespoon of coconut oil and 1 cup of Dandies mini marshmallows for 30 seconds, stir, and cook for 30 more seconds. If the marshmallows still aren't melted after twice, stir, and cook for 30 more seconds.
Add one color of food coloring to the marshmallows and stir well.
Put vegan disposable gloves on your hands and then cover your gloved hands in coconut oil like you're applying lotion to your hands. (If you don't have disposable gloves, just rub coconut oil all over your hands.)
Add 1 ½ cups of rice krispies cereal to the melted marshmallow mixture.
Mix the ingredients with your gloved hands until the color is evenly dispersed.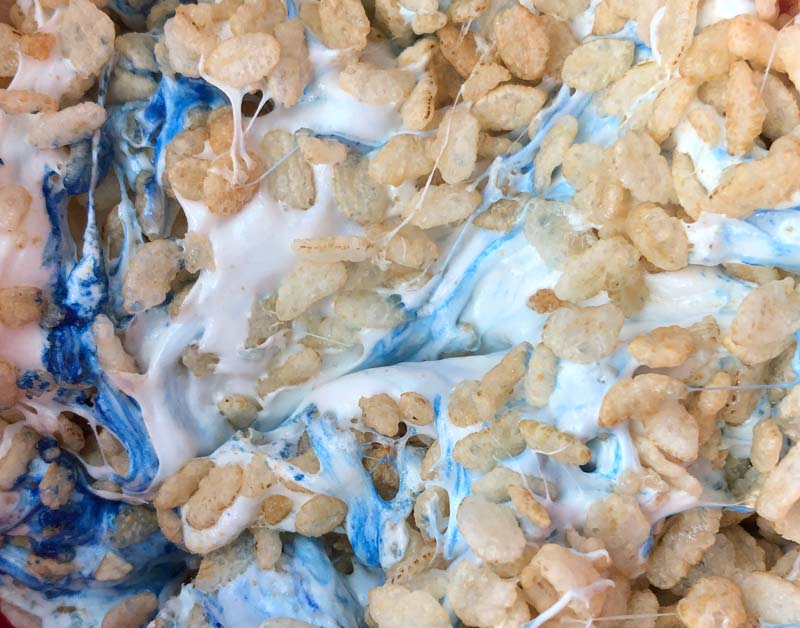 Press your pastel cereal mixture into a third of the the parchment paper lined pan or tupperware, smoothing the top as much as possible. I suggest pressing the mixture down then flipping the pan over and pressing again to help get it flatter.
Remove your gloves, toss them, and set the treats somewhere safe while you start on the next color (and by safe I mean somewhere your doggo won't "accidentally" eat it).
Repeat all steps with the next color of food coloring, and press the mixture next to the other color in the tupperware or pan, saving a third of the pan for the last color.
Repeat this again with the last color. Chill the tray in the fridge while you prepare for the next steps.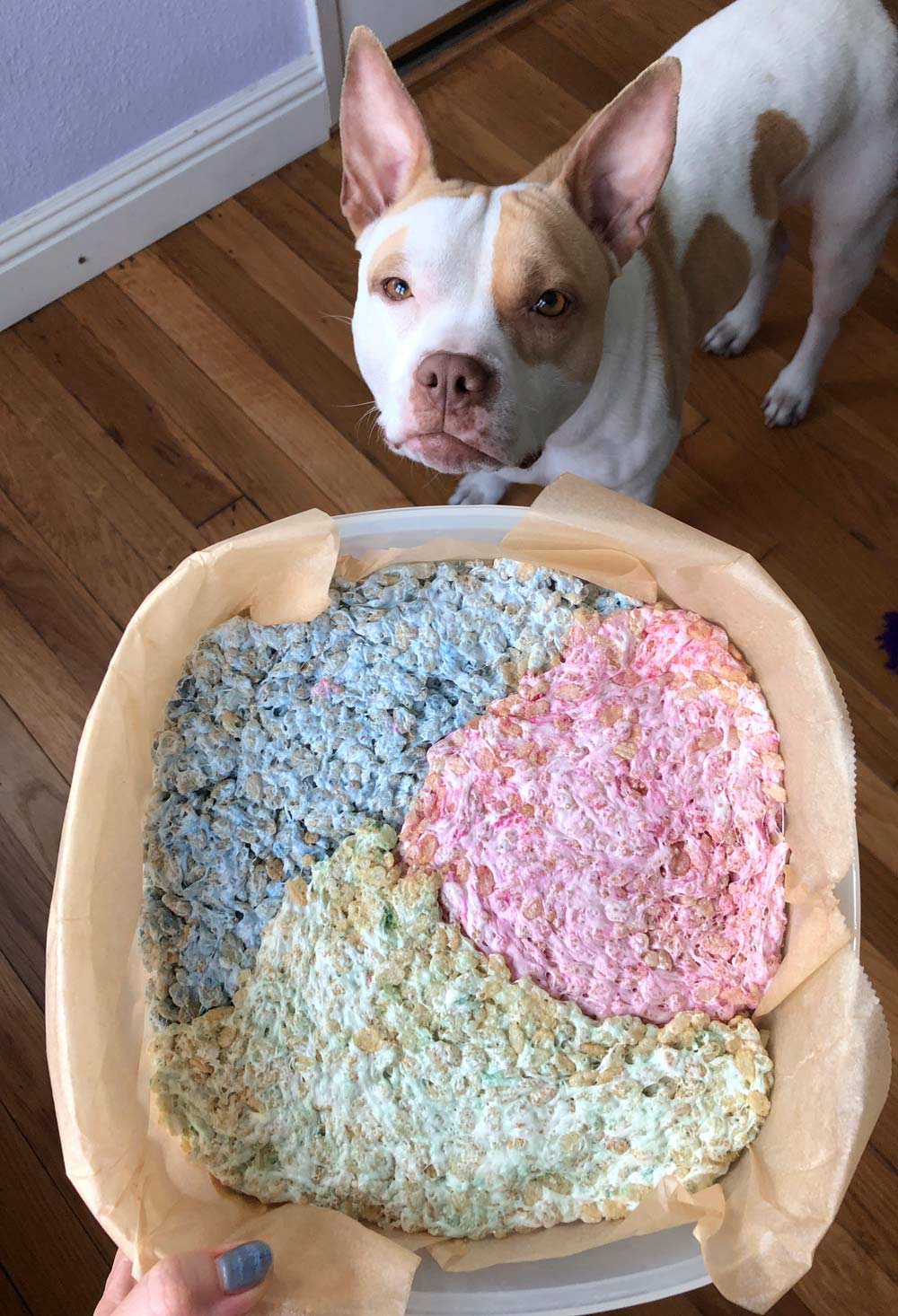 Cut out as many shapes as you can using a bunny-shaped cookie cutter, washing the cookie cutter after every 5, or whenever it gets too sticky to easily pop the bunny heads out.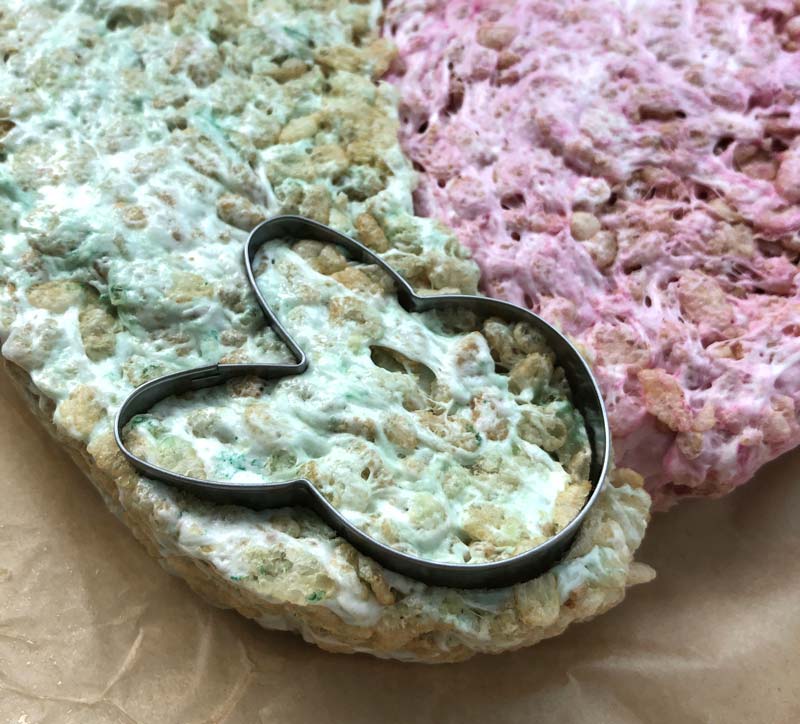 Stick a lollipop stick into the bottom of each bunny.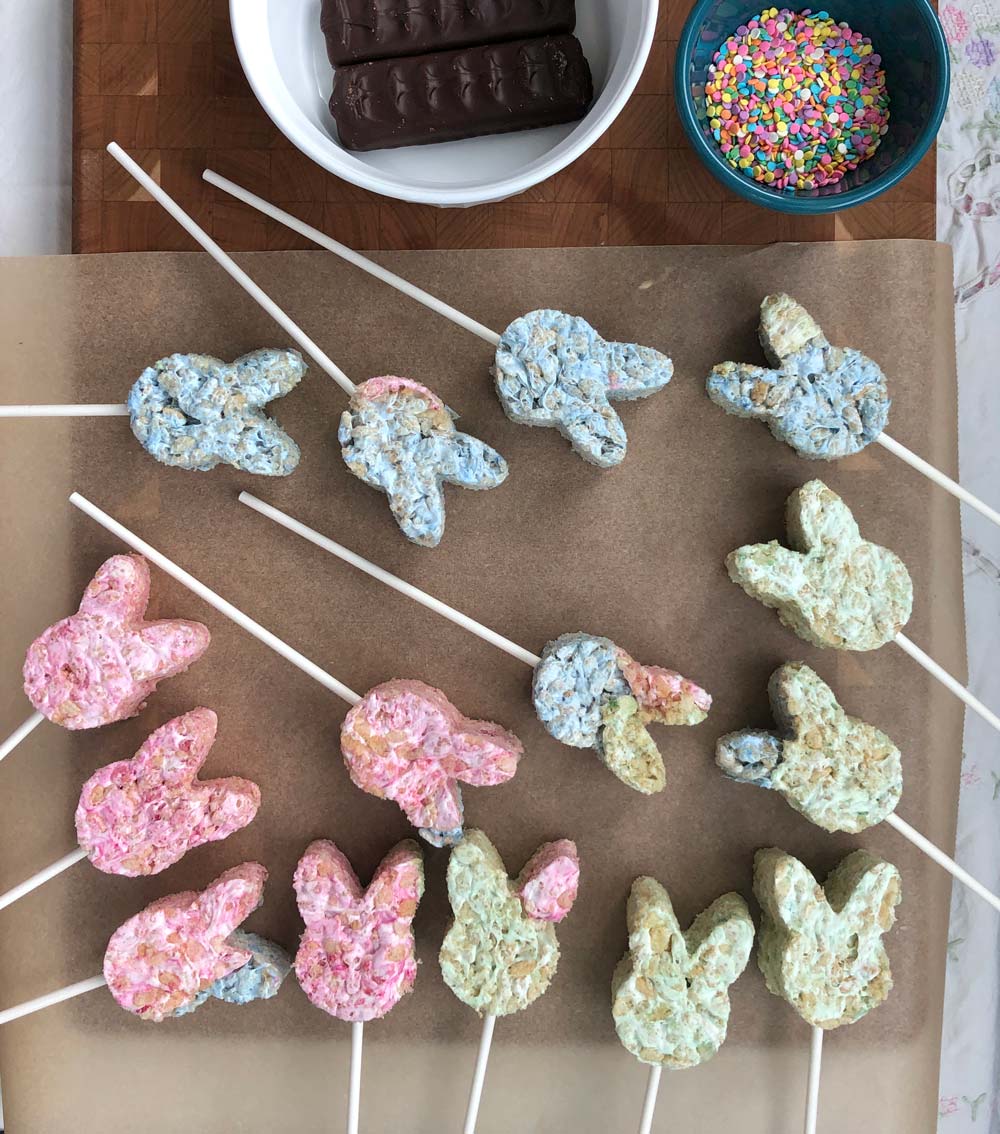 Decorating the Vegan Marshmallow Bunny Lollipops
decorating time: 30 minutes
Melt 2 Amy's Dreamy candy bars in a bowl in the microwave for 30 seconds.
Stir the melted candy.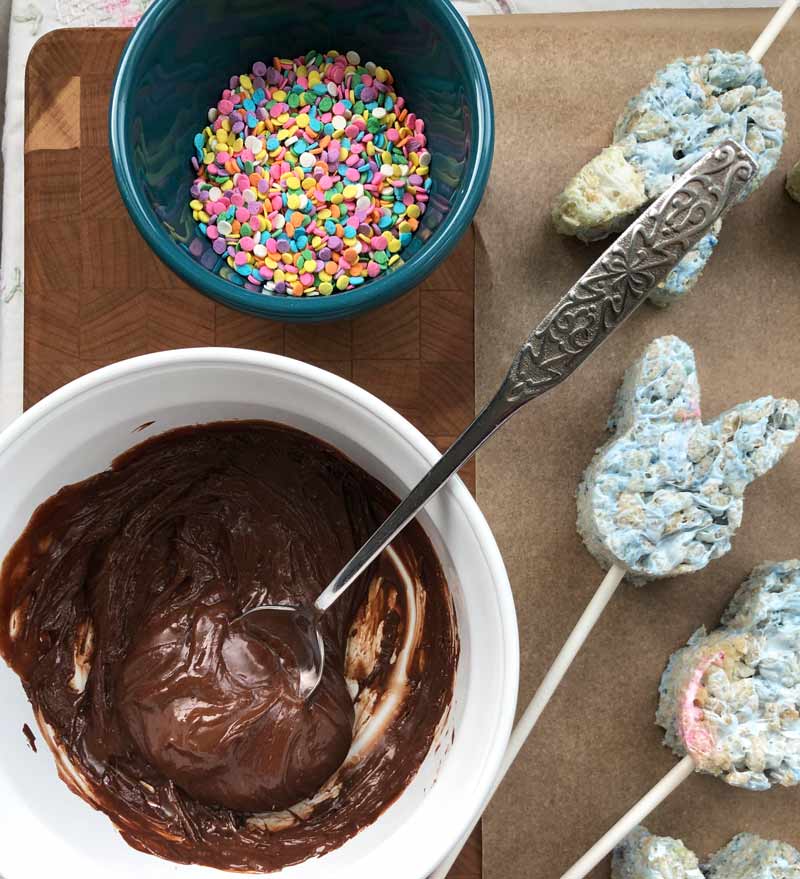 Form 2 small pea-sized eyeballs for each bunny lollipop you have.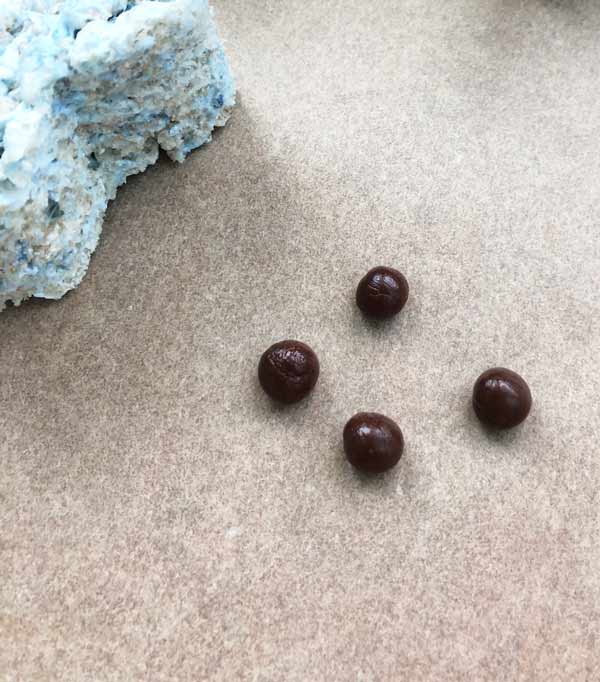 Press eyeballs onto the bunny heads, and add a colored quin sprinkle pupil to each eye. If the melted Amy's Dreamy candy bars start to get too solid to roll into eyeballs, just pop it back into the microwave for 30 more seconds.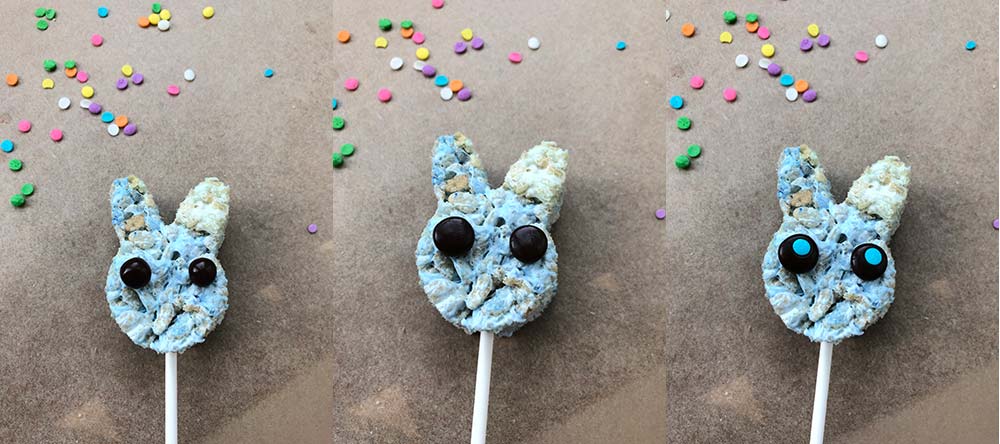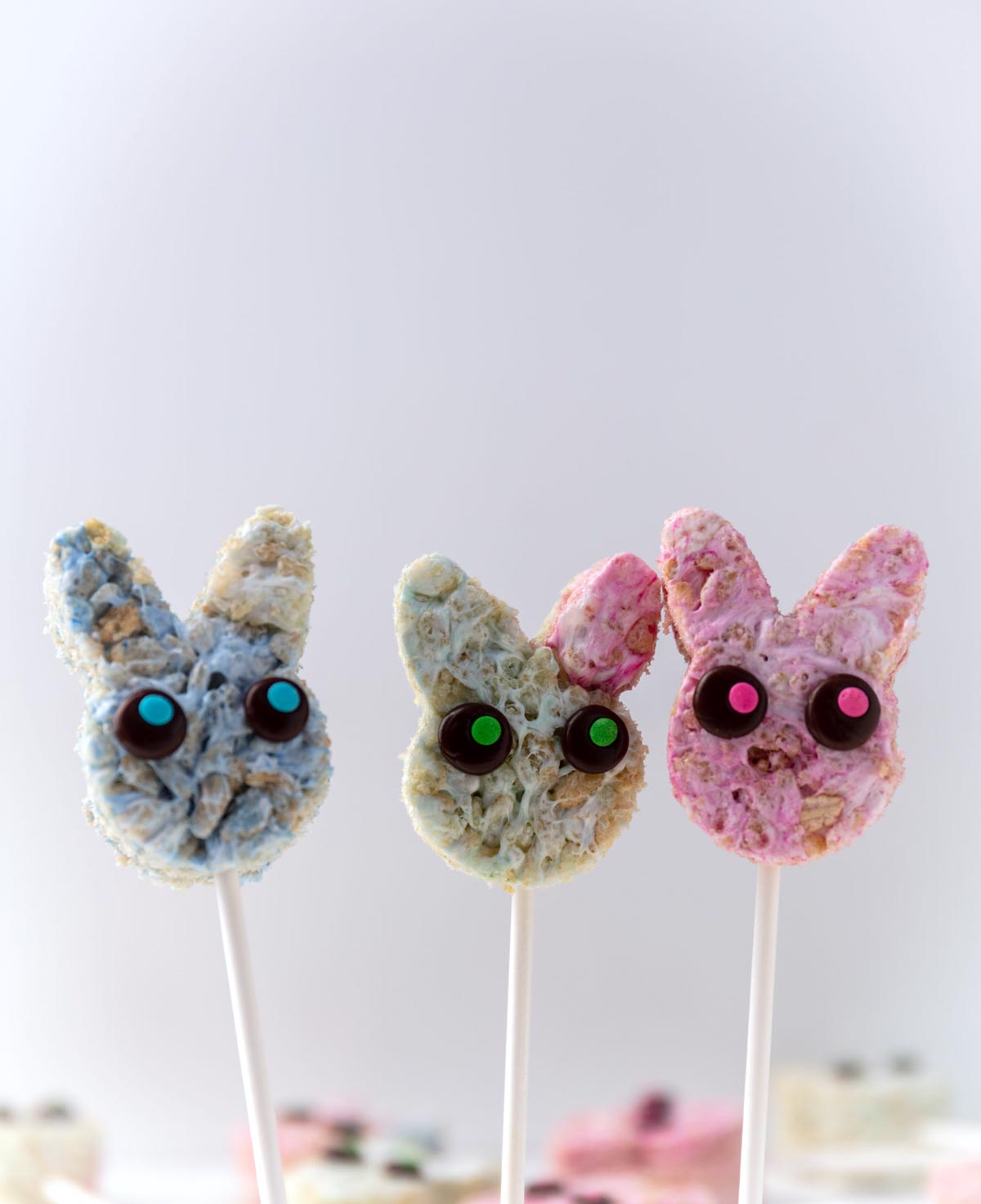 Wrap each bunny in cling wrap to keep the lollipops fresh longer. You can tie them with a piece of ribbon if you're giving them as gifts.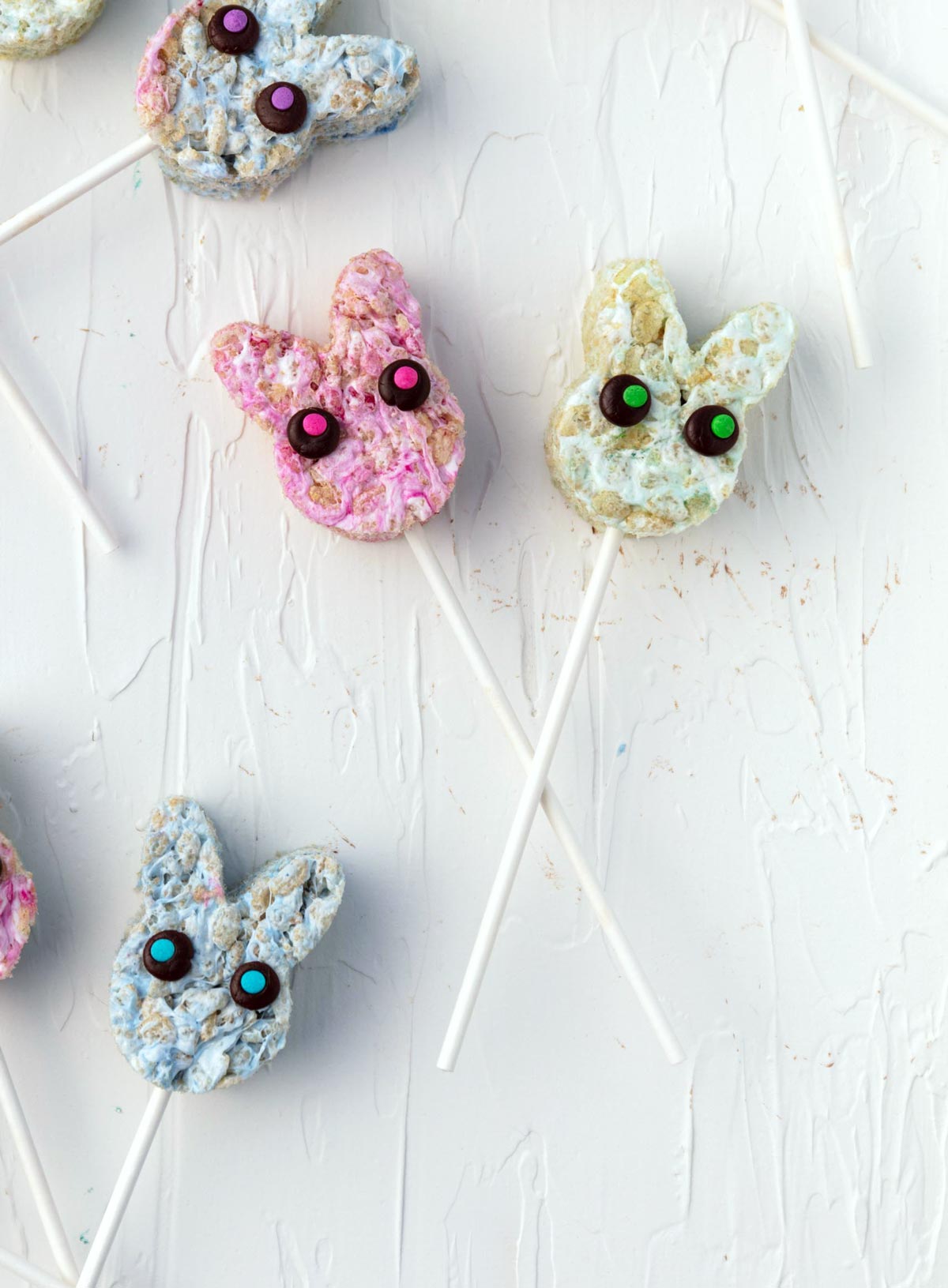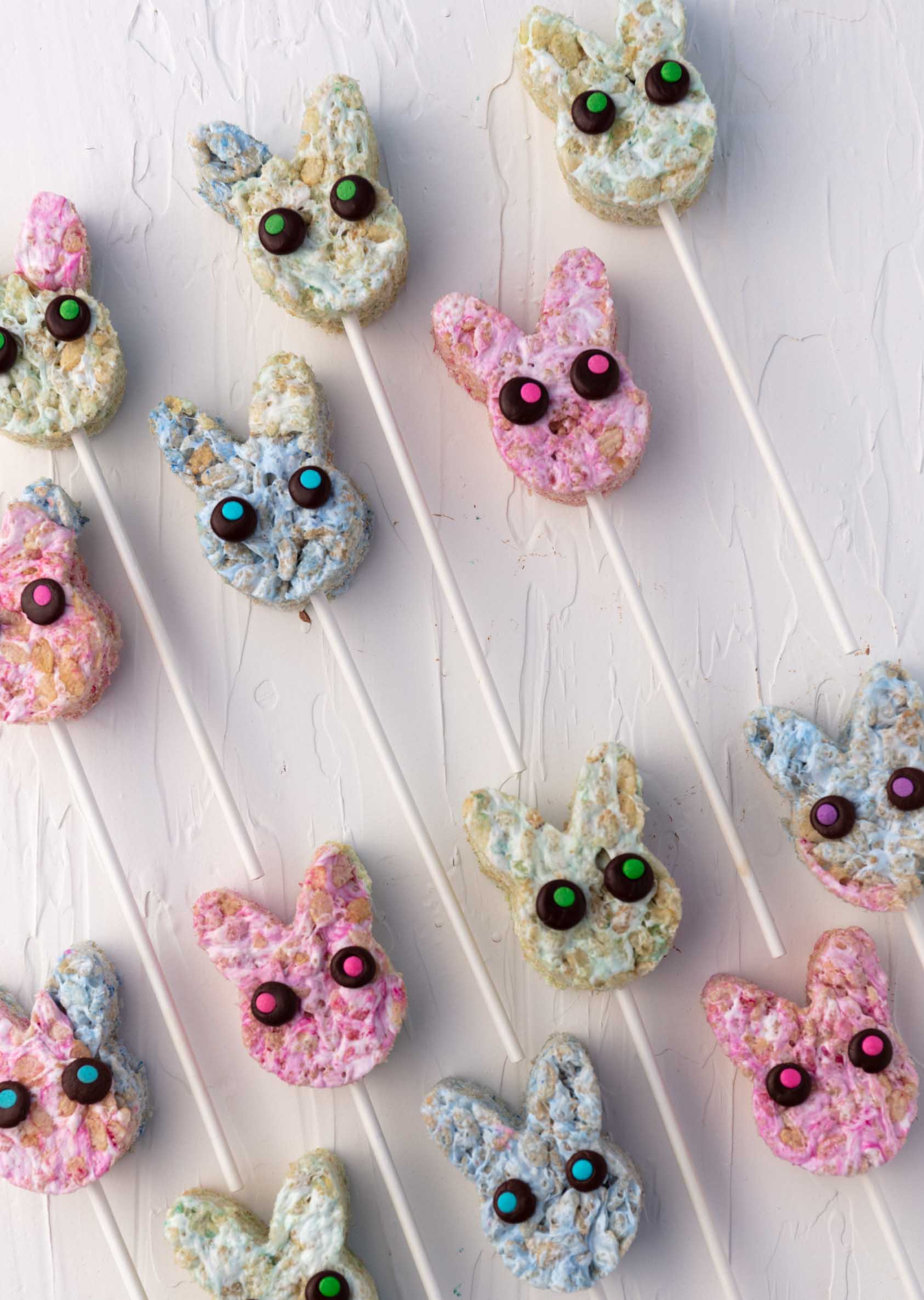 ☆☆☆☆☆☆☆☆☆☆
This post was made possible thanks to the support of Amy's Kitchen. All content and opinions are unbiased and entirely my own. For more recipes using Amy's products, sign up for their newsletter. To get (very infrequent, sorry haha) updates from Vegan Dollhouse, sign up for my newsletter.