Vegan Cacio e Pepe
published on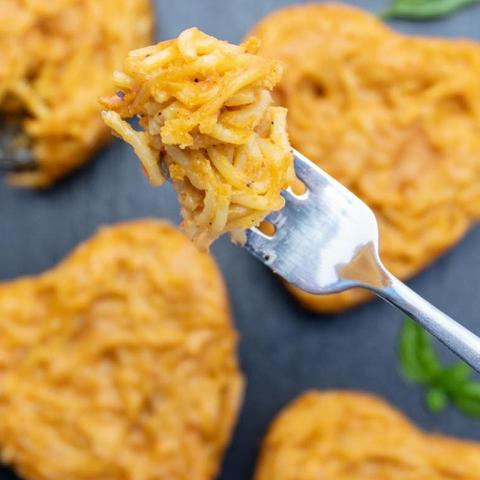 ♫ Listening to: One More For The Ocean by Slothrust ♫
This nut-free, vegan version of cacio e pepe isn't exactly like the dairy version, but it's a lot closer than all of the other vegan cacio e pepe recipes that I've seen out there. Most recipes are using a blended sauce made from cashews, but my recipe starts with a roux, the way the Italian restaurants make it and has a creamy base without cashews. Often, traditional cacio e pepe has yogurt in it, which gives it a sour taste that I don't care for, so I omitted it from this recipe. If you prefer an authentic cacio e pepe recipe, feel free to add a tablespoon of lemon juice or 2 tablespoons of plain vegan yogurt to this recipe. Cacio is Italian for cheese, and pepe is Italian for pepper, so cacio e pepe means cheese and pepper. As long as you don't try to omit those 2 ingredients, you should be able to wing the rest. Special occasions that I would serve this for would be Easter or Valentine's day, but I think it makes an excellent every-day dinner as well.
This vegan pasta recipe makes 6 mini vegan cacio e pepe cakes.
Vegan Cacio e Pepe Ingredients
4 tablespoons unbleached flour

4 tablespoons of vegan butter (I used organic whipped earth balance)

2 cups (475ml) of boiling water

½ cup (30g) nutritional yeast

½ teaspoon garlic powder (optional)

½ teaspoon onion powder (optional)

1 ½ teaspoons black pepper (freshly ground if possible)

1 ½ teaspoons sea salt (plus more for the water you'll boil the pasta in)

8 ounces (225g) grated vegan cheese (I prefer violife epic mature cheddar or follow your heart cheddar)

12 ounces (340g) spaghetti

2 flax eggs (3 tablespoons flax meal + ½ cup warm water)
Vegan Cacio e Pepe Directions
Prep time: 30 minutes | Bake time: 30 minutes | Cooling time: 10 minutes
Dollhouse Shortcut
If you'd rather eat sooner and don't care about your cacio e pepe being served in the form of a cute and heart-shaped mini cake, you can skip the flax egg and the baking, and just mix the cooked spaghetti with the cheesy sauce and serve immediately.
Boil a large pot of water with a little salt added to it (around a teaspoon is usually fine). Don't add the pasta until the water is boiling. While you wait for it to boil, you can do the next steps.
Preheat the oven to 375° F (190º C).
Lightly coat six 4" mini springform pans (or you can use an springform pan if that's all you have) with any vegetable oil.
Place the springform pans on a baking sheet that has a raised lip all the way around. I've never had any of mine leak out of the springform pans, but just in case you do, you don't want a mess in the bottom of your oven.
Measure the spices and nutritional yeast into a small ramekin: ½ cup (30g) nutritional yeast, ½ teaspoon optional garlic powder, ½ teaspoon optional onion powder, 1 ½ teaspoons of freshly ground black pepper (I realize that you might get a hand cramp from grinding this much pepper, but trust me when I say that it'll be worth it), and 1 ½ teaspoons pink sea salt (or any salt you have on hand). If you're not familiar with nutritional yeast (or nooch as us vegans like to call it), it gives things a cheesy flavor without dairy and also provides vegans with vitamin B12 and folate.
Fill your hot water kettle with at least 2 cups (475ml) of water, and set it to boil. If you don't have a hot pot or kettle, you can just use a pot on the stove.
Melt 4 tablespoons of vegan butter or margarine in a small or medium pot to start the roux. I usually use organic whipped earth balance, but if you avoid soy, they sell a soy-free version for you. A roux is the secret start to all rich and creamy dairy-free sauces.
Whisk 4 tablespoons of flour into the melted butter and continue whisking for 1-2 minutes.
Add the boiling water slowly, little by little, while simultaneously whisking. Stop adding water when you have a creamy cheese sauce consistency. This might feel like an intense upper body workout if you're as out of shape as I am, so welcome to kitchen exercise class with Vegan Dollhouse (Sidenote: the designer who helped me with my kitchen remodel laughed at me when I asked for a ceiling fan in the kitchen, but who's laughing now? Oh, I guess it's still her because here I am sweating in my kitchen all the time still because she talked me out of my brilliant kitchen ceiling fan idea. Grrrr…)
Whisk in the grated vegan cheese and continue whisking until you have a light cheesy sauce that is smooth and creamy.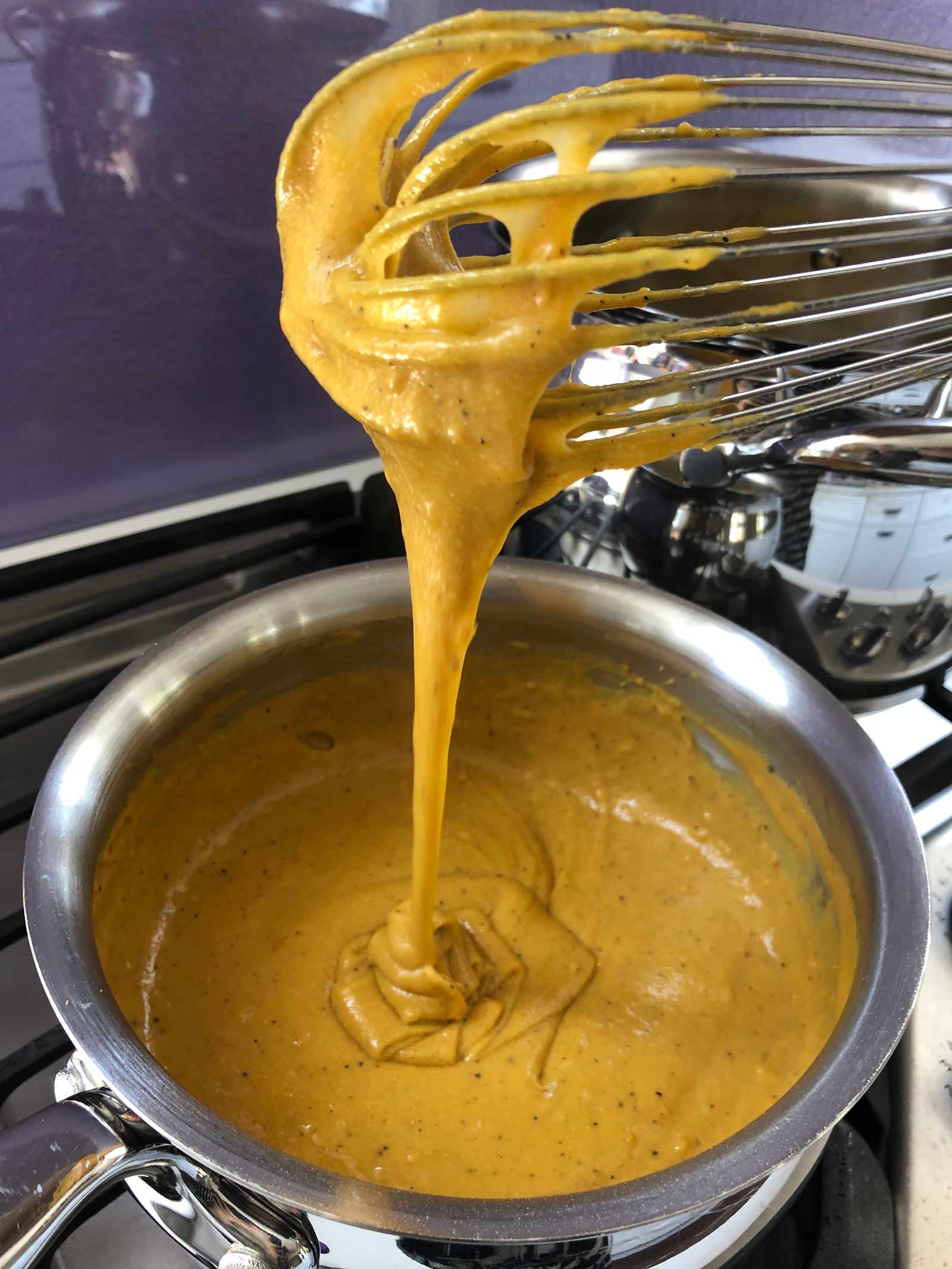 Remove from heat once it's smooth.
By now, the pot of water for the pasta should be boiling, but if it boiled before now, I'm hoping you went ahead and added the spaghetti noodles to the pot of boiling water.
Add 12 ounces (340g) of spaghetti pasta to the boiling pot of water and cook it for 3 minutes less than what the package instructions advise.
Whisk ½ cup (120ml) of warm water with 3 tablespoons of ground flax seeds (this is also sometimes called flax meal) to make your flax egg while the pasta is boiling. You can use some of the pasta cooking water for this.
Pour the cooked pasta and pasta water into a colander to strain it, once it has boiled for 3 minutes less than the recommended time on the package.
Return the strained cooked pasta to the now empty pot.
Add the flax eggs and the cheese sauce to the pot with the pasta.
Toss it to coat the pasta evenly with the sauce using tongs.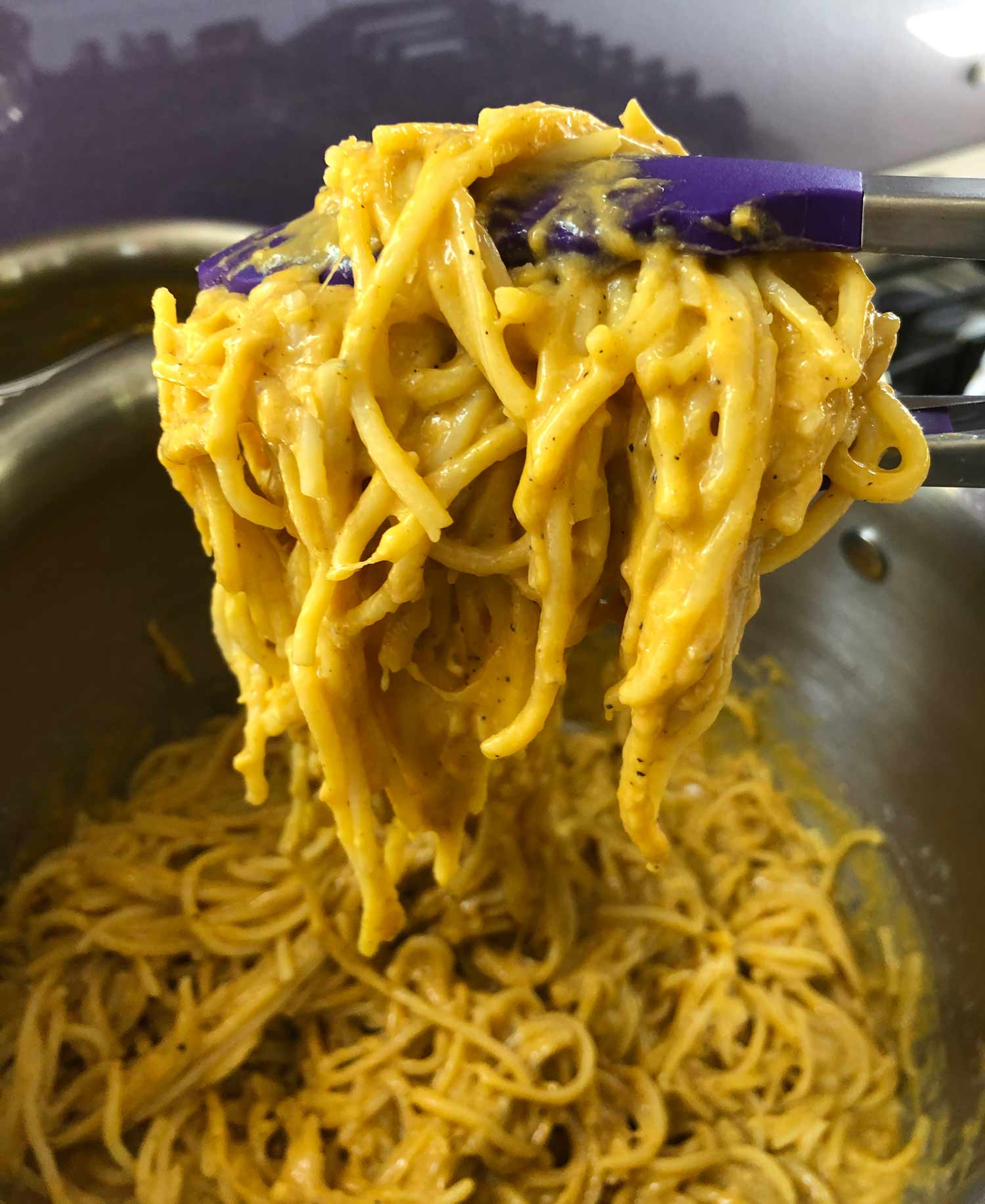 Transfer the sauce-coated pasta into the oiled springform pans using the tongs, and pressing down to compact lightly.
Pour any leftover cheese sauce on the tops of each spaghetti-filled pan.
Bake the pasta until it starts to brown on top. This takes 30 minutes for the 4" mini springform pans in my oven. This could take closer to 45 minutes if you're using an springform pan however.
Remove the baking sheet with the vegan cacio e pepe from the oven, and let them cool for 10–15 minutes before releasing the springform.
Slide a silicone spatula around the sides to help release it from the pans, and then use the silicone spatula to carefully remove it from the bottom piece of the springform pans.
Serve alone or with a side of asparagus or salad.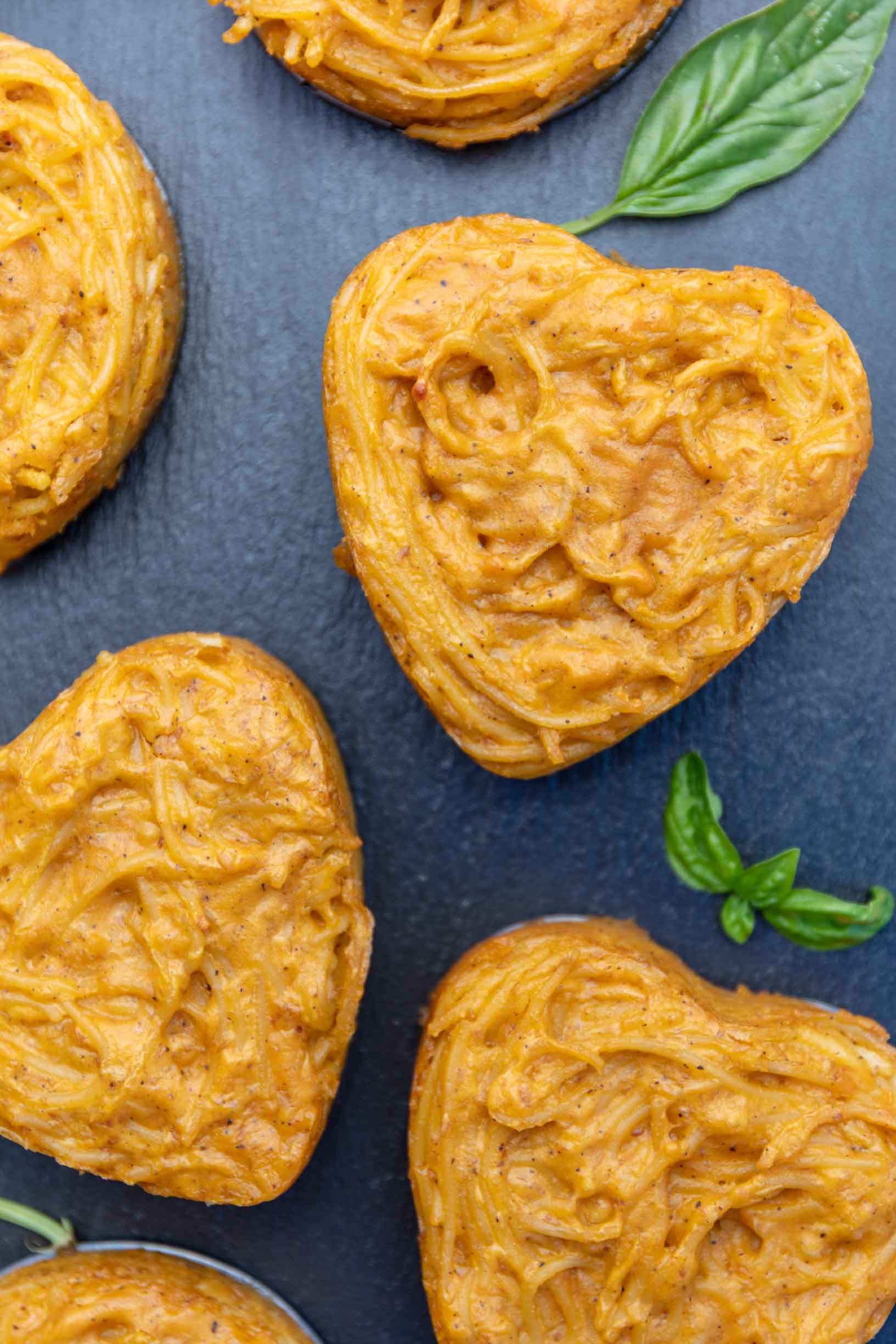 This vegan cacio e pepe is a perfect meal to make on the weekends for weeknight dinner meal prep. They will stay good for up to a week in the fridge. To reheat, just pop them back into the oven for 20 minutes (or into an air fryer for 10).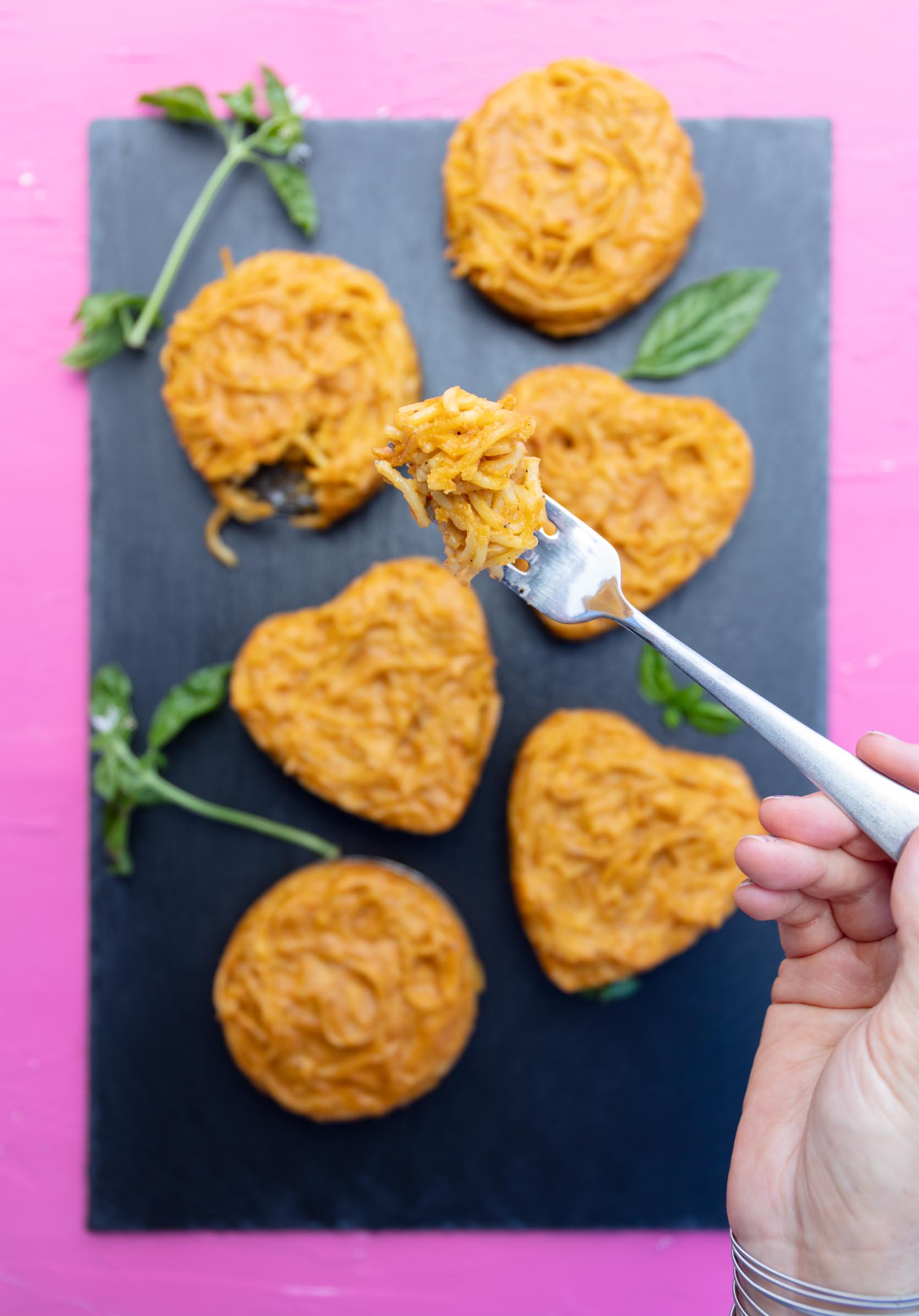 Vegan Cacio e Pepe Video
Here's a recording from when I did a livestream while I made this.
☆☆☆☆☆☆☆☆☆☆
* I use mostly organic ingredients when I cook, but I realize that not everyone has the disposable income to purchase all organic ingredients. Therefore, I only specify organic on the ingredients that really matter - when buying the organic version is the only way to ensure that the item is vegan.