Cute Cinnamon Rolls (Quick and Easy)
published on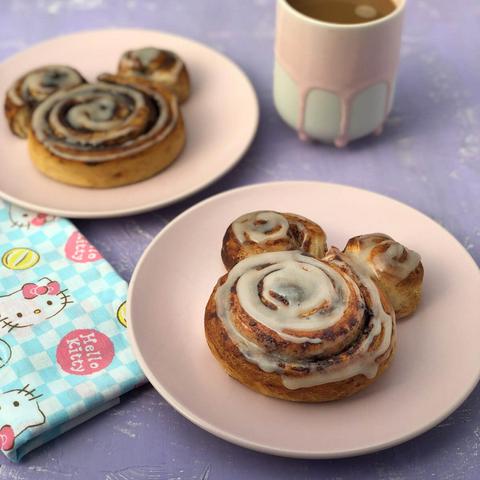 ♫ Listening to: Grizzly Bear by All Girl Summer Fun Band ♫
This recipe shows you how to make 3 quick and easy cinnamon rolls that look like cute bears with just 1 ingredient: a can of cinnamon rolls. People say these taste just as good as cinnamon rolls that take hours to make. And another benefit is the super fast cleanup! If you've ever made cinnamon rolls from scratch, you know the disaster it creates in your kitchen (and other parts of the house if the kitchen is small). These are done in under 30 minutes from start to finish, including cleanup.
Table of Contents
(click the links below to skip to the section you're looking for)
I've made these twice for friends who came over for brunch. If you want to make something special to serve friends with coffee or tea, this is it. They make the whole house smell good, and the bear shape will wow people of any age.
This recipe makes 3 cinnamon roll bears.
The Only Ingredient You Need For These Quick Cinnamon Roll Bears
1 roll/can of vegan cinnamon rolls (I like Annie's)*
Preheat the oven to 350°.
Line a baking sheet with parchment paper for easy cleanup. If you're using a baking stone, there's no need to line it.
Open the can of cinnamon rolls. Be careful when you do this, because once in a while, you'll get a very excited package that thinks you would look/taste better with cinnamon all over you.
Separate each of the five roles from each other.
Unroll one of the rolls completely.
Cut it into 4 even length pieces. I use scissors to cut the cinnamon roll dough, but you can use a knife or whatever.
Re-roll each of those 4 pieces into 4 mini cinnamon rolls. These will be your ears.
Repeat those steps with another cinnamon roll so you end up with 6 mini cinnamon roll ears (you'll have some leftover that you can just roll up and bake with the bears).
Set the 3 whole cinnamon rolls onto the baking sheet. These are the bear heads.
Add 2 bear ears to each bear head.
Place the ears next to the head in a way so that the tails of each roll butt up against each other. This helps the bears look the best when they're baked. You should be able to see what I mean by looking at the pictures.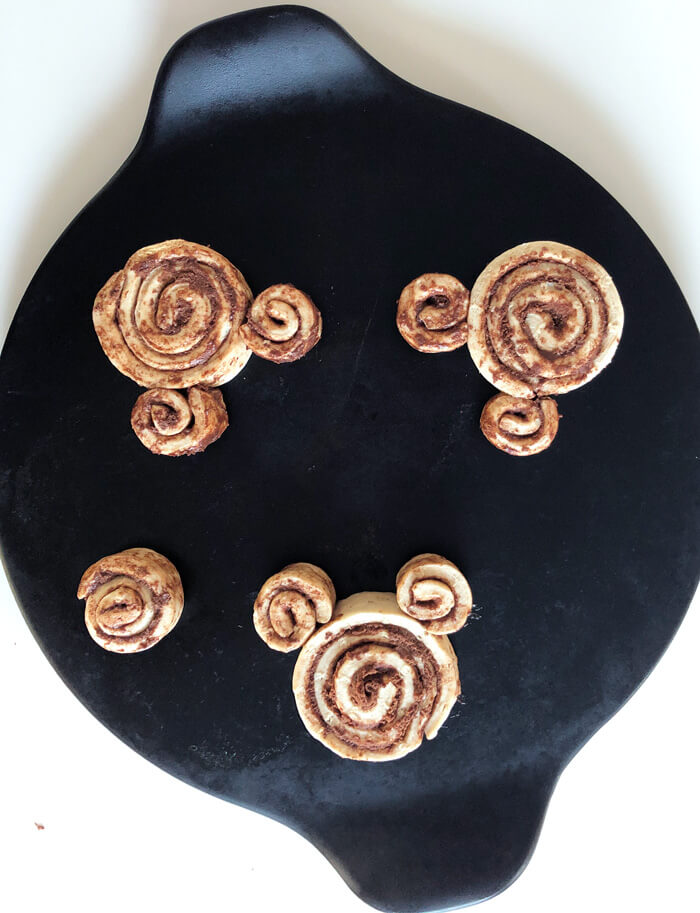 Bake for 18-20 minutes (or whatever it says on your package. I've lived in houses where the oven ran low, and I had to bake these for more than 20 minutes. If you're not sure how your oven works, I recommend looking at the color of the cinnamon rolls and leaving them in until they visibly start to turn a golden color on the edges.
Remove the tray from the oven, and set it on a cooling rack.
Cool for 5 minutes.
Drizzle or spread on the icing.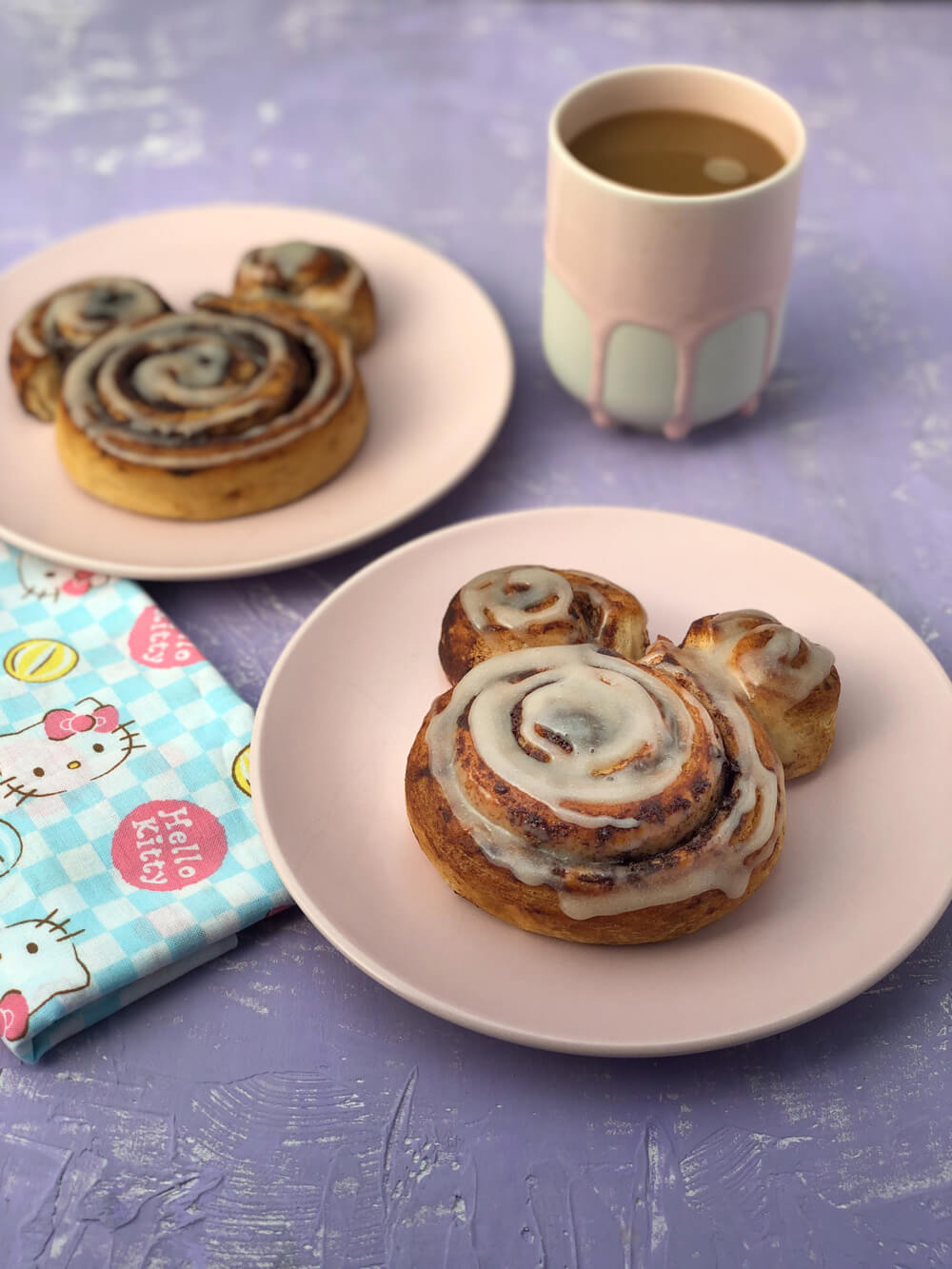 Serve warm, or leave at room temperature until you're ready to eat them.
If you make this cinnabear recipe, snap a pic, post to instagram, and tag me @vegandollhouse. I love to see your creations! You can also message me through instagram or email me if you have any questions about the recipe.
How do you cook these cinnamon rolls in the air fryer?
Air fry cinnamon rolls for 7 minutes at 315 degrees Farenheit. Depending on how you like your cinnamon rolls (more like cinnamon buns or more like cinnamon rolls), you can adjust the time you leave them in the air fryer.
What brands of canned cinnamon rolls are vegan?
The brands of cinnamon rolls I have tried as a vegan are Immaculate Baking, Annie's, and Trader Joe's. Don't buy Pillsbury because they have whey in them. I like Annie's and Immaculate Baking because they're also organic.
When and where were cinnamon rolls invented?
Cinnamon Rolls (or cinnamon buns) originated in Sweden in the 14th century.
If you like food that looks like bears, you might also like my rice bear and dal and my sweet potato teddy tots.
If you like cute ideas to make with canned cinnamon rolls, check out my cinnamon roll donuts.
☆☆☆☆☆☆☆☆☆☆
* I use mostly organic ingredients when I cook, but I realize that not everyone has the disposable income to purchase all organic ingredients. Therefore, I only specify organic on the ingredients that really matter - when buying the organic (or non-GMO) version is the only way to ensure that the item is vegan.
This post may contain affiliate links. This means that if you click on a link that takes you to a website (like Amazon) where you can purchase a product, I may earn money from that purchase from the affiliate partner. Read more about this in my privacy policy.
☆☆☆☆☆☆☆☆☆☆