Cinnamon Roll Donuts
published on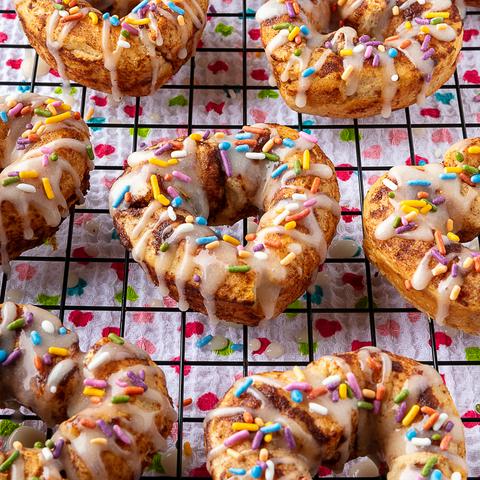 Cinnamon Roll Donuts are a perfect matrimony of cinnamon rolls and baked donuts. This one-ingredient recipe shows you how to make quick and easy donuts in under 30 minutes. Canned cinnamon rolls are already quick, but these bake even faster! This cinnamon rolls recipe is an easy way to feed twice the amount of people by stretching your food and your food budget.
Table of Contents
(click the links below to skip to the section you're looking for)
Listening to
♫ It's Going Good by Sueco ♫
I took these delicious donuts to a potluck, and multiple people complimented me on them (and even asked if they could take some home!). Since I wanted the credit, I didn't tell them they were actually cinnamon buns from a can, haha. Now, you too, can win over the hearts and tummies of your friends with very little effort.
This recipe makes 10 cinnamon roll donuts.
The only ingredient you need for these cinnamon roll donuts
1 roll/can of vegan cinnamon rolls
prep time: 10min | bake time: 12min | cooling time: 5-30min | glazing time: 5min
Preheat the oven to 350°.
Open the can of cinnamon rolls. Be careful when you do this, because once in a while, you'll get a very excited package that thinks you would look/taste better with cinnamon all over you.
Separate each of the five roles from each other.
Unroll one of the rolls completely.
Cut it into 2 even length pieces. I use scissors to do this, but you can use a knife or whatever.
Form it into a donut shape by putting the cinnamon roll dough into your donut pan. I have made these using a round donut pan, as well as a heart shaped donut mold.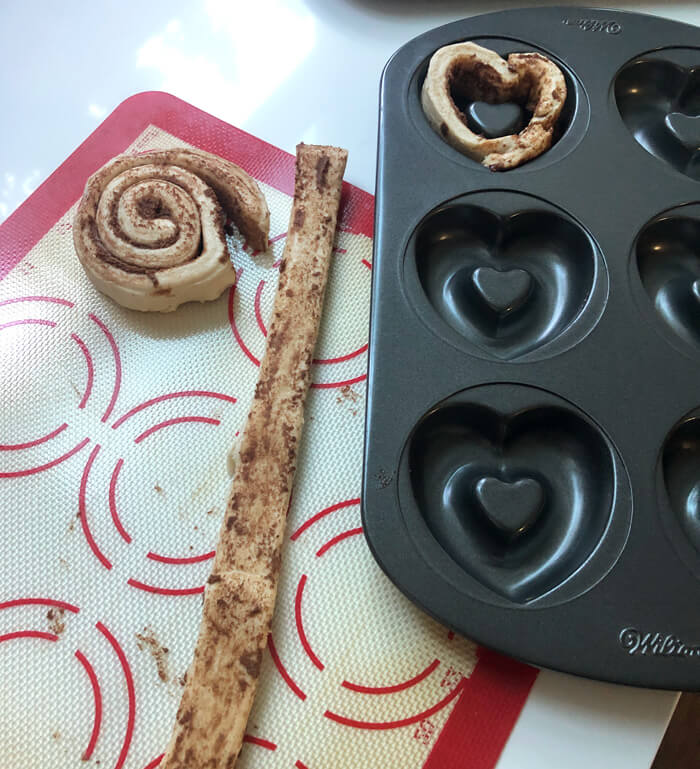 Repeat until all the cinnamon rolls are used up and your donut pans are filled.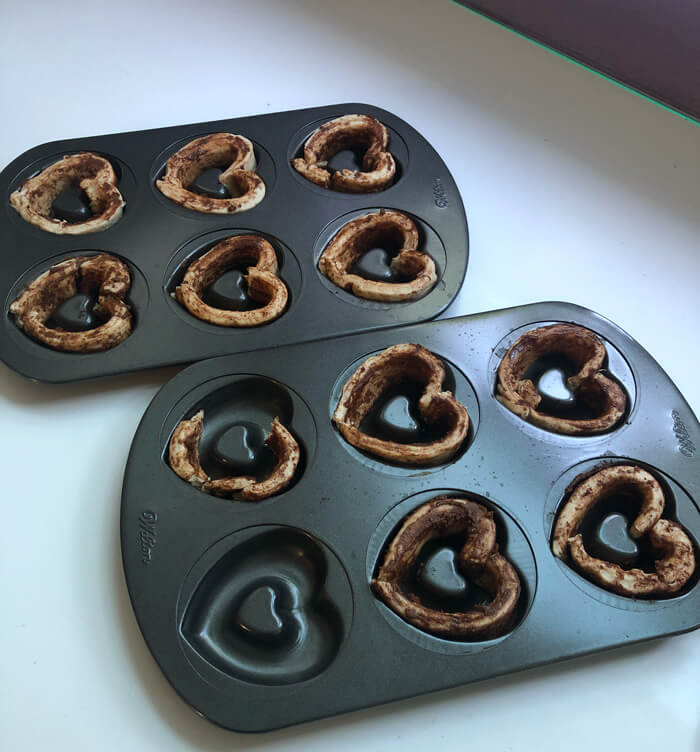 Bake them at 350º F for 12 minutes. If you think there's a chance that your oven runs hotter or colder than normal, I recommend looking at the color of the cinnamon rolls to determine the baking time. Take them out as soon as they start to turn a golden color on the tops.
Remove the baked cinnamon roll donuts from the oven, and transfer them to a cooling rack.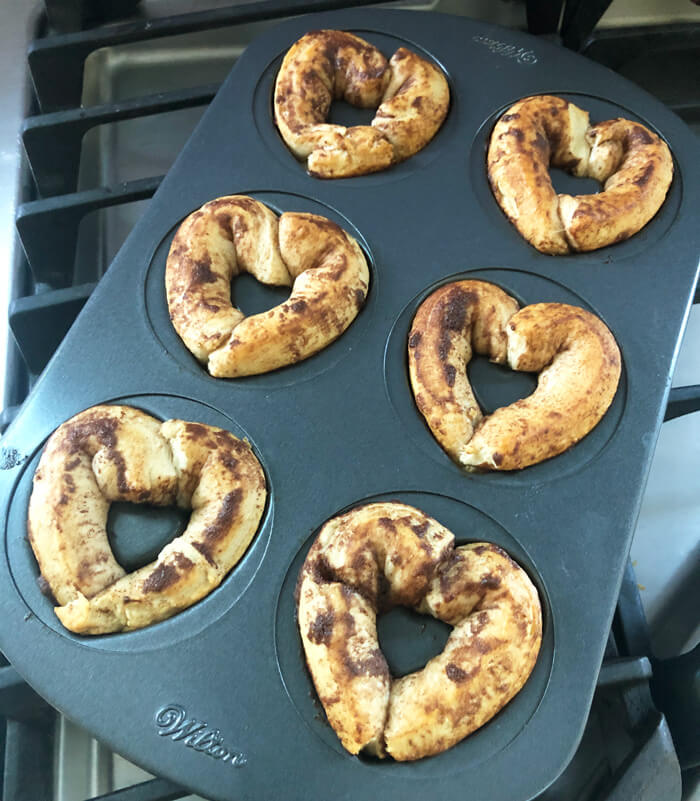 Cool for 5-30 minutes. If you like the donut glaze to be transparent, like the donuts at a doughnut shop, add the icing while the donuts are still hot. If you prefer the icing to be opaque, like mine, wait for the cinnamon roll donuts to cool before adding icing.
Shimmy a baking spatula around the perimeter of each donut to remove them from the pan.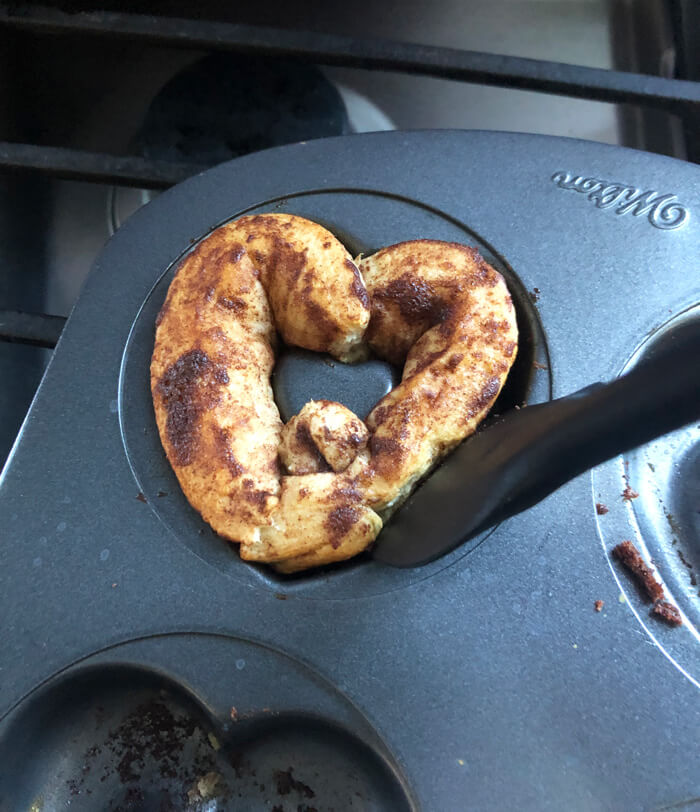 Drizzle the donuts with icing. The icing should be in a little plastic tube inside your can of cinnamon rolls.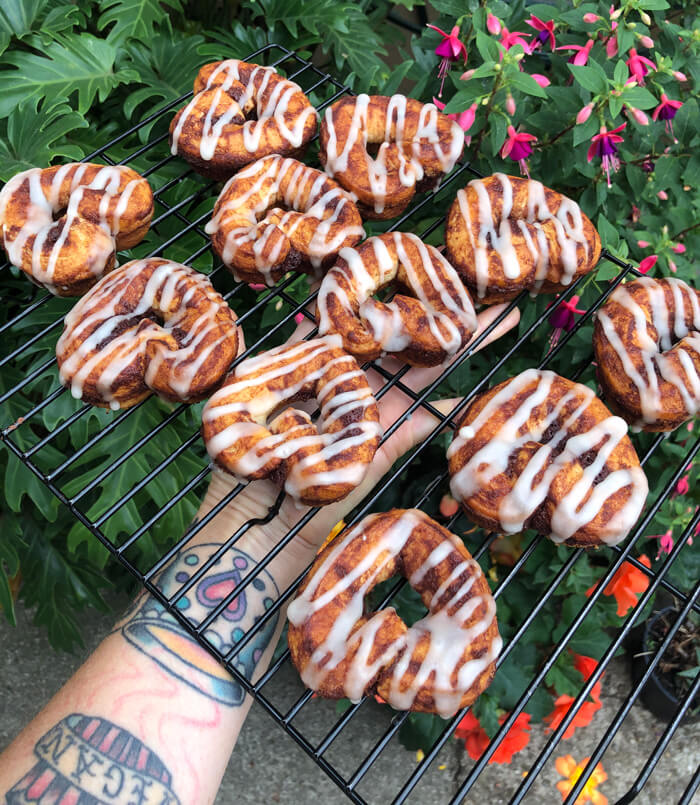 Optional: Add vegan sprinkles. I used color kitchen sprinkles for these. If you aren't into sprinkles, you can also sprinkle a dash of grond cinnamon to the tops.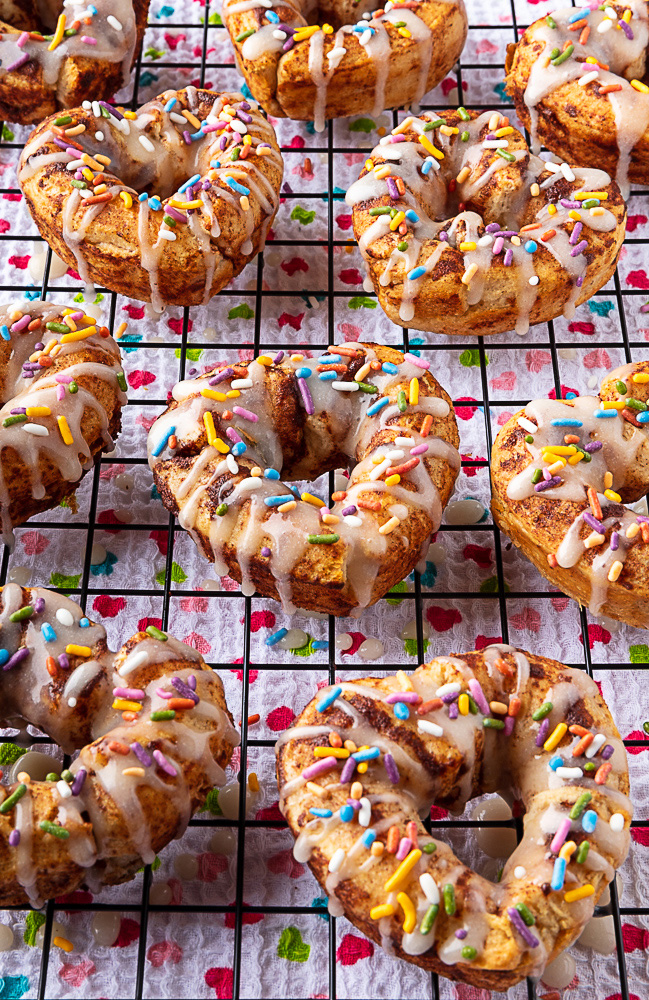 If you make this cinnamon roll donuts recipe, snap a pic, post to instagram, and tag me @vegandollhouse. I love to see your creations! You can also message me through instagram or email me if you have any questions about the recipe.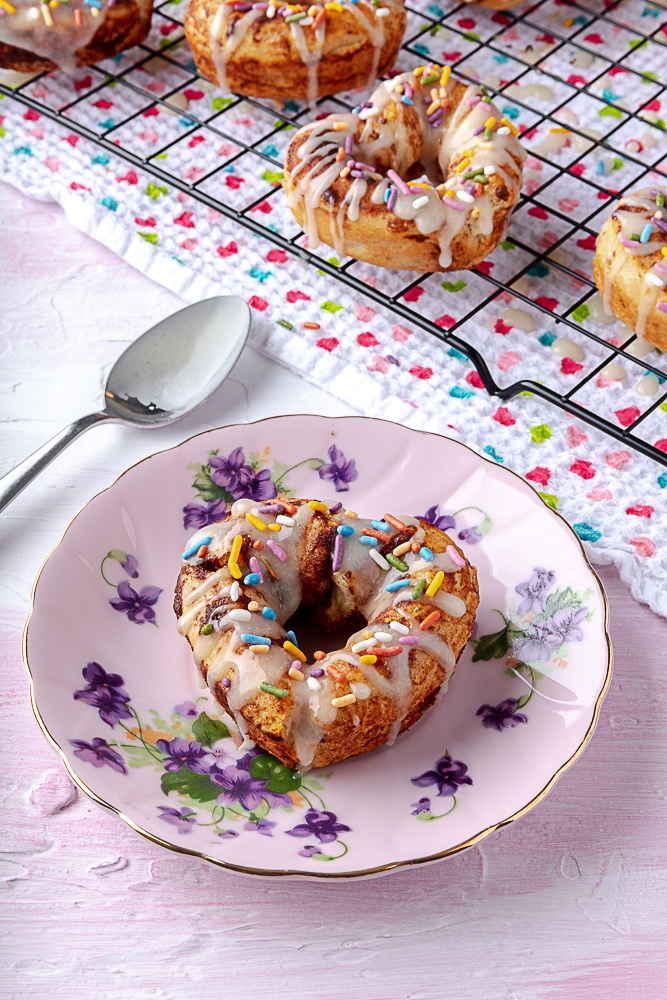 Check out the light and flaky texture of the inside.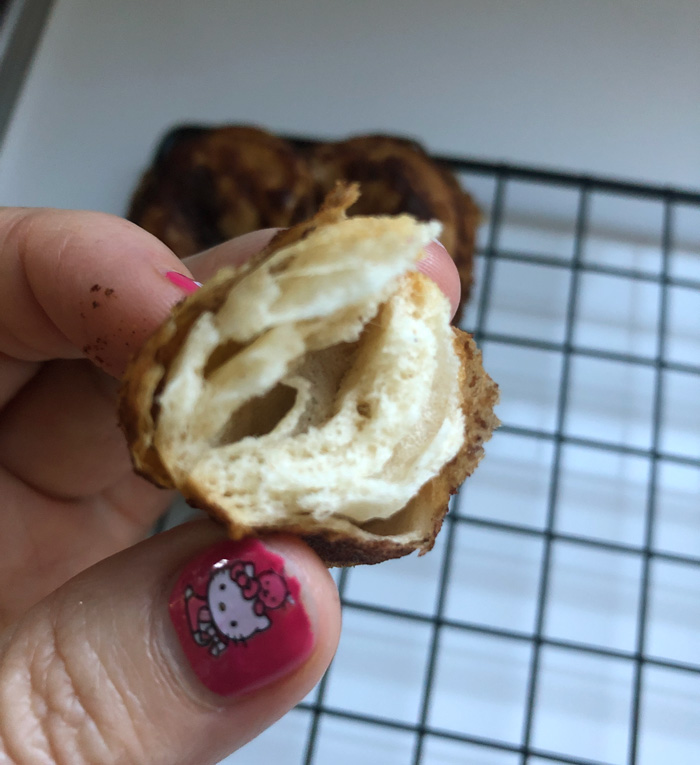 How do you cook these cinnamon rolls in the air fryer?
My air fryer isn't big enough to fit my donut pans so I've never made these cinnamon bun donuts in the air fryer.
What brands of canned cinnamon rolls are vegan?
The brands of cinnamon rolls I have tried as a vegan are Immaculate Baking, Annie's, and Trader Joe's. Don't buy Pillsbury because they have whey in them. I like Annie's and Immaculate Baking because they're also organic.
When and where were cinnamon rolls invented?
Cinnamon Rolls (or cinnamon buns) originated in Sweden in the 14th century.
How do I store cinnamon roll doughnuts?
Store your cinnamon roll donuts in an air-tight container, either on the counter or in the fridge. They've never lasted longer than a few days at my house, but since they're vegan, I imagine they would last around a week.
How far in advance can I make these cinnamon roll donuts?
If you're like me, and you like to get as many things done in advance in order to be less stressed on the day of your event, you can definitely make these in advance. Just layer them in your tupperware with pieces of wax paper or parchment paper in between so they don't stick together when they defrost. Then freeze them for up to 3 months.
Can I make these cinnamon roll donuts less sweet?
For a baked cinnamon roll doughnut with less sugar, there are 2 modifications you can try. One is to eat the cinnamon roll donuts without icing. Another option is to mix a little water or almond milk and some coconut milk powder with the icing glaze to dilute the sugar content in it.
Scissors: I recommend using scissors to cut your dough, but if you don't have a dedicated pair of kitchen scissors, you can use a knife instead.
Donut Pan: Donut pans come in different shapes and sizes. I used this round donut mold pan, as well as a heart-shaped donut pan. Donut pans probably come in shapes that I don't even know about too. The shape of the mold may affect the baking time, so keep that in mind. If you don't have a donut pan, you can make these in any pan, but they might not look like donuts. For instance, you can spiral them into a cupcake pan to make cinnamon roll muffins.
If you like baked donut shaped food, you might also like my pizza donuts and my mac n cheese donuts. I also have a blog post on other ways to use a donut pan.
Other sweet donut recipes you can check out include my banana bread donuts and my narwhal donuts. I also have a recipe for a baked cinnamon donut you can make from scratch called cinnamoroll donuts. This would be a good alternative if you want to try using gluten-free flour.
For other ideas of how to spruce up a can of cinnamon rolls, check out my cinnamon roll bears.
☆☆☆☆☆☆☆☆☆☆
* I use mostly organic ingredients when I cook, but I realize that not everyone has the disposable income to purchase all organic ingredients. Therefore, I only specify organic on the ingredients that really matter - when buying the organic (or non-GMO) version is the only way to ensure that the item is vegan.
This post links to items I used when I made this recipe. If you click on the purple Buy Now button on a product page, you will go to a website (like Amazon) where you can purchase the same product I used. Sometimes, the store you purchase from (Amazon, Etsy, etc.) will pay me for referring you. This costs you nothing extra, and I would never recommend a product that I don't use. These affiliate programs help me buy the ingredients to create these recipes for you. Read more about this in my privacy policy.
☆☆☆☆☆☆☆☆☆☆