Easy Kara Kuzhambu Recipe
published on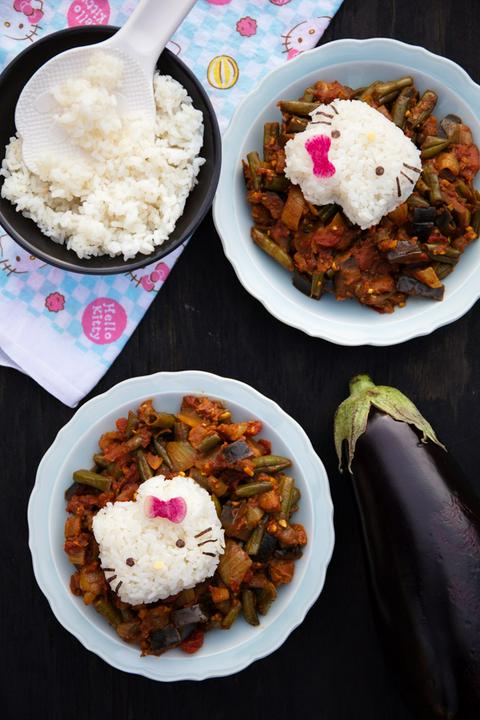 This simplified kara kuzhambu (or kara kulambu) recipe is a slightly spicy, tangy eggplant dish with easy-to-find ingredients. A quick weeknight dinner, this stovetop indian-inspired entreé can be ready in under 30 minutes.
This recipe makes 3 servings if you have it with rice, or 2 servings by itself.
Table of Contents
(click the links below to skip to the section you're looking for)
♫ Listening to ♫
Proud Home by Lily Konigsberg
This recipe for kara kuzhambu is different from a traditional kara kuzhambu recipe in a few ways.
It's made on the thicker side to have the option of eating it alone or with rice. Kuzhambu is traditionally a tamarind based gravy served with rice as the first or second course in Tamil meals. If you want this kara kuzhambu (or kara kulambu) recipe to have that consistency, simply add water to this recipe.

It uses easy-to-find ingredients. This kara kuzhambu recipe is my simplified version because I live in the middle of nowhere and don't have any Indian markets near me. In an effort to make this recipe more accessible to everyone, I've replaced the drumstick with frozen green beans (but you can also replace it with okra/ladies finger, if you prefer), replaced shallots with garlic and onion, and replaced some of the harder to find spices or spices you may not have (mustard seeds, cumin seeds, sambar powder, curry leaves, fennel seeds, fenugreek seeds, coriander seeds, etc) with more commonly found ones. If you want to add some protein to this, you can add a can of black-eyed peas (aka thatta payaru), but remember to always rinse canned beans before using them to aid in digestion.

My recipe is faster and easier. The recipes I find online for this dish are quite time consuming and require many steps. Don't get me wrong. I have no problem spending time in the kitchen. I love my kitchen. But I prefer to spend my kitchen time in a more creative way, like decorating kawaii cakes or making my rice balls look like hello kitty. This kara kuzhambu recipe replaces the lengthy step of making masala paste with spices that have similar flavors. This allows me to make this recipe for a weeknight dinner.
You might notice that I have exactly zero other eggplant recipes on this website. That's because I don't really care for it. I think it's the consistency that freaks me out because I'm weird with consistencies—don't get me started on flan. But the awesome thing is that I actually like eggplant when it's prepared this way. So if you're a fellow eggplant hater like me, you should take a chance on this. You might actually like it. And if you don't, you can always substitute some other veggie for the eggplant. I won't tell anyone.
Dollhouse Tip
Replace the can of diced tomatoes with diced fresh tomatoes if you have them.
2 tablespoons olive or sesame oil

½ an onion, finely diced

5 cloves of garlic, finely diced

1 teaspoon coriander powder

1 teaspoon cumin powder

1-1½ teaspoon salt

1 heaping teaspoon tamarind paste

1 teaspoon curry powder

½ teaspoon turmeric powder

¼ teaspoon mustard powder

¼ teaspoon ground pepper

1 can organic diced tomatoes*

10-ounce bag (2 cups) of frozen green beans (or sub fresh green beans or moringa stalk/drumstick)

3 small-medium eggplant, destemmed and diced (aka brinjal)

water, if needed
Sauté half of a diced yellow onion in 1-2 tablespoons of olive oil in a large pot (or cast iron pan), stirring over medium heat, until the onion starts to become transparent. I usually dice an entire onion and then save the other half already diced in a jar in the fridge. Then, for the next recipe I make that uses onion, I have a step already done!
Add diced eggplant and stir.
Add 5 cloves of finely diced garlic and stir.
Add diced tomatoes and stir.
Measure all the powdered spices into a small bowl or ramekin and then add them to the pot/pan all at once: 1 teaspoon coriander, 1 teaspoon cumin, 1 teaspoon curry powder, ½ teaspoon turmeric, ¼ teaspoon mustard powder, ¼ teaspoon ground pepper, and 1 to 1 ½ teaspoons pink sea salt (I use 1 ½ teaspoons because I like things on the saltier side).
Add 1 heaping teaspoon of tamarind paste and stir it in with the spoon you used for the tamarind, until it all falls off the spoon. I do this so as to not waste any. Don't be tempted to lick the spoon. My face is puckering just thinking about it.
At this point in my cooking process, 15 minutes have passed since I started the recipe.
Add 2 cups fresh or frozen green beans (or chopped moringa stalk/drumstick) to the pot or pan. Stir.
Simmer for 5 more minutes, stirring occasionally. If it starts to stick to the pan or pot, add a couple of tablespoons of water and scrape the bottom with the spoon you're stirring with. You can also add additional water if you prefer this dish to have more gravy.
Serve with a side of rice (optional). I used white sushi rice and decorated them to look like hello kitty.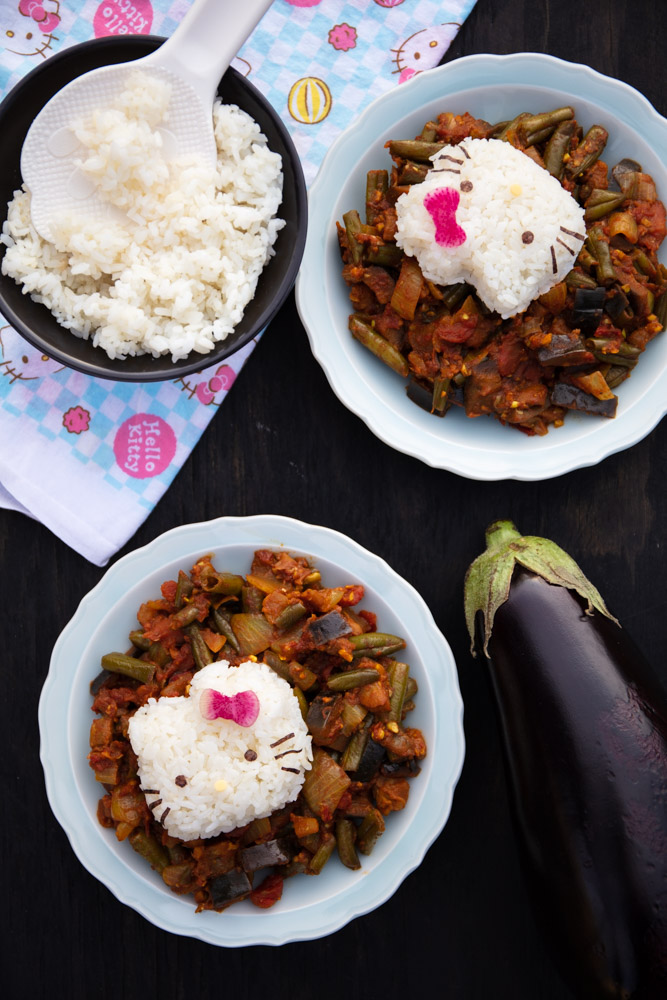 If you make this vegan gluten free recipe, snap a pic, post to instagram, and tag me @vegandollhouse. I love to see your creations! You can also message me through instagram or email me if you have any questions about the recipe.
Can you suggest variations or different ways to prepare Kara Kuzhambu?
Some suggestions for making this Kara Kuzhambu recipe differently are to add legumes for additional protein or to replace the green beans with another vegetable.
How do I make Kara Kuzhambu without using onions and garlic?
If you avoid onions and garlic, simply omit those from this Kara Kuzhambu recipe.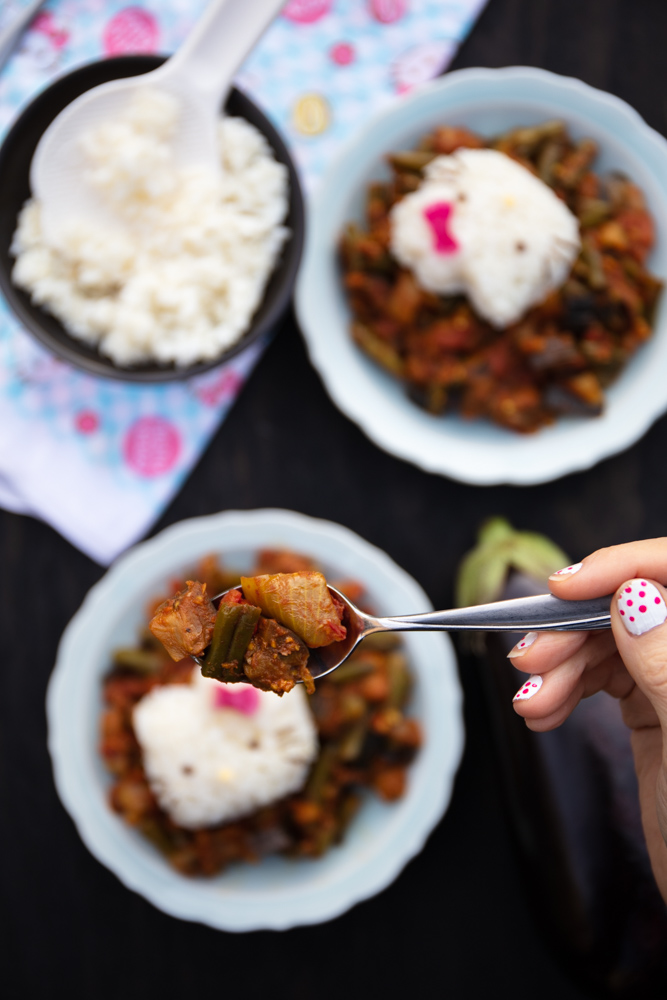 If you like my easy versions of indian food, you might also like my chana masala recipe or my dal recipe.
☆☆☆☆☆☆☆☆☆☆
* I use mostly organic ingredients when I cook. I realize that not everyone has the disposable income to buy only organic ingredients. So, I only specify organic on the ingredients that matter: when buying the organic (or non-GMO) version is the only way to ensure that an item is vegan.
This post links to items I used when I made this recipe. If you click on the purple Buy Now button on a product page, you will go to a website (like Amazon) where you can buy the same product I used. Sometimes, the store you purchase from (Amazon, Etsy, etc.) will pay me for referring you. This costs you nothing extra, and I would never recommend a product that I don't use. These affiliate programs help me buy the ingredients to create these recipes for you. Read more about this in my privacy policy.
☆☆☆☆☆☆☆☆☆☆