Rice bear under a blanket of dal
published on
♫ Listening to: Ouija by Graveyard Club ♫
Do you ever find yourself clutching your warm cup of coffee or tea and wishing you could jump into it to warm up? This is basically a daily occurrence for me in the winter. These rice bears snuggling under their dal blankies are my way of projecting myself into the warmth of my supper. If you like this recipe, you might also like my chana masala.
Vegan Dal Ingredients
2 yellow onions

olive oil (omit if you avoid oil)

2 cups red lentils

6 cups water

1 teaspoon salt

1 tablespoon curry powder

1 teaspoon turmeric

1 teaspoon lemon juice
Vegan Dal Directions
Sauté onions in oil until soft. Turn to low.
Cook the lentils in water until soft.
Add the lentils to the onions, and add the spices and lemon juice.
Mix well and leave on low heat until ready to serve.
Vegan Blue Rice Bear Ingredients
4 cups water

small handful of butterfly pea flowers

2 cups bamboo rice (or substitute white sushi rice)
Vegan Blue Rice Bear Directions
Boil the dried butterfly pea flowers in the water for 5 minutes.
Strain the liquid so there are no dried butterfly pea flowers left in it.
Cook the rice in the blue flower-infused water.
Cool the rice enough so you can touch it.
Shape the bear body using a piece of plastic wrap so the rice doesn't stick to your hands while you shape it.
Spoon the dal into shallow bowls before placing bear body into the dal.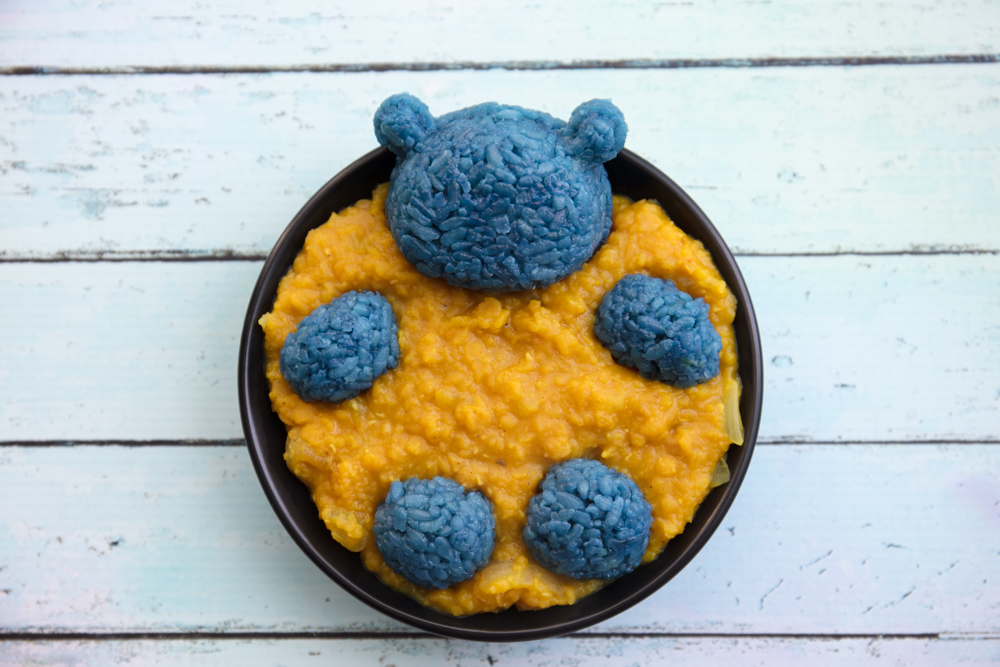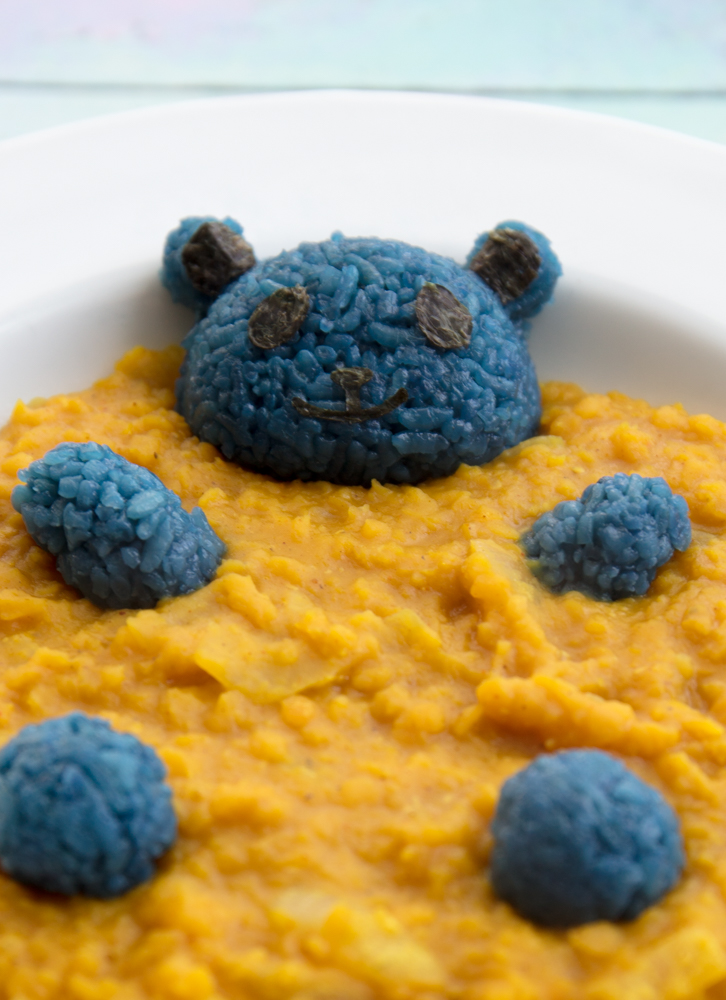 If you like bears, you might also like my yam teddy tots and my cinnamon roll bears.
☆☆☆☆☆☆☆☆☆☆