Chana Masala (Vegan)
published on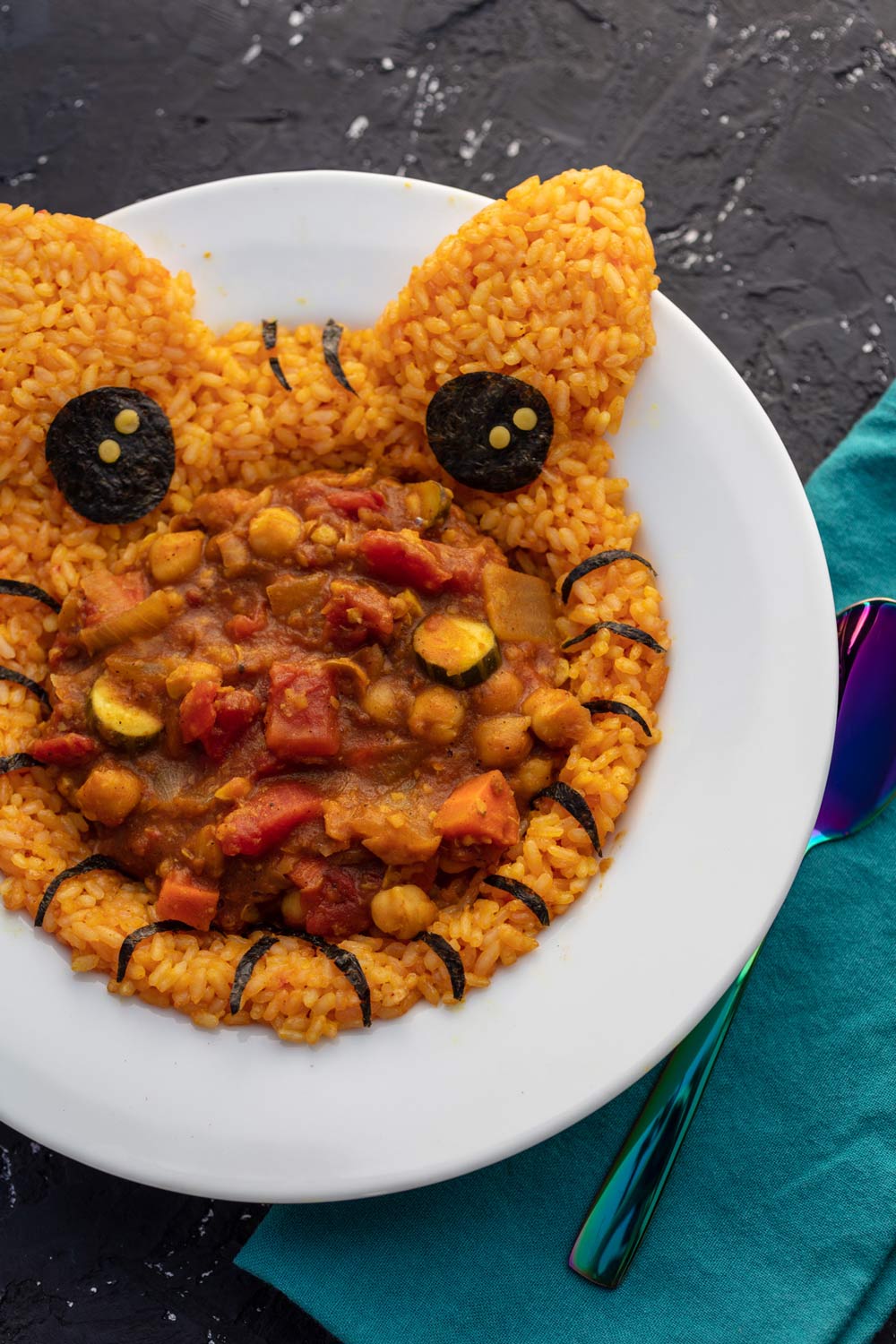 ♫ Listening to: Flesh Without Blood by Grimes ♫
This vegan and gluten-free chana masala can be made on the stove or using an instant pot. You can use any vegetables, but it's a great way to use winter squash or other veggies that you know are good for you, but you don't care for as much, because this will make those veggies taste amazing.
You can decorate it to look like a tiger so the kids will like it too.
This recipe was developed by David for nights when I don't feel like cooking. I don't know if it's just because it's made by someone other than me, but I think it's so delicious! In addition to making this meal and giving me a break from cooking dinner once a month, David contributes A LOT to the vegan dollhouse by taking most of the photos and by fixing the website when it breaks. He would say his taste-testing is also a contribution, but let's face it, I could probably find 37 willing taste-testers just in my neighborhood alone.
The awesome thing about this recipe is you can put any veggies you have on hand in it, and it always tastes amazing. This time, we're using acorn squash since it's in season in northern California this time of year.
This recipe makes 6-8 servings.
Tiger Masala Ingredients
Dollhouse Shortcut
If you don't like to plan ahead, you can substitute 3 cans of chickpeas for dried.
2 cups dried chickpeas
⅛ - ⅓ cup olive oil (depending on your preferred oil intake)
1 yellow onions, diced finely
3 cloves garlic (finely chopped)
2 acorn squash (roasted and diced)
4 carrots
1 can organic tomato sauce*
1 yam
½ teaspoon veganshire sauce
½ tablespoon chana masala powder
½ tablespoon garam masala powder
1 teaspoon cumin powdered
2 teaspoons salt
pepper to taste
Tiger Masala Directions
Soak 2 cups of dried chickpeas overnight (or for a minimum of 8 hours)
Rinse the chickpeas really well.
Cook the chickpeas until soft. I use a pressure cooker because it's faster and saves energy.
Rinse the chickpeas really well.
Bake the 3 acorn squash on 400° for 35 minutes (or until you can pierce them with a fork easily).
Sauté the onion in the olive oil over low-medium heat until translucent.
Add the chopped garlic to the onion.
Chop the washed yam into small cubes and add to the onion.
Remove the top, seeds, and guts from all of the baked acorn squash.
Chop and peel 2 of the acorn squash and add to onion mixture, continuing to sauté.
Chop the carrots and add them to the pot.
Mix everything and let it sauté on medium heat for 20-30 minutes.
Add the chickpeas, can of organic tomato sauce, and spices.
Stir and simmer for 15-20 minutes on low heat.
Serve in bowls or over rice (or quinoa). Or if you like to play with your food, decorate to look like a tiger. I used turmeric rice and seaweed to decorate mine.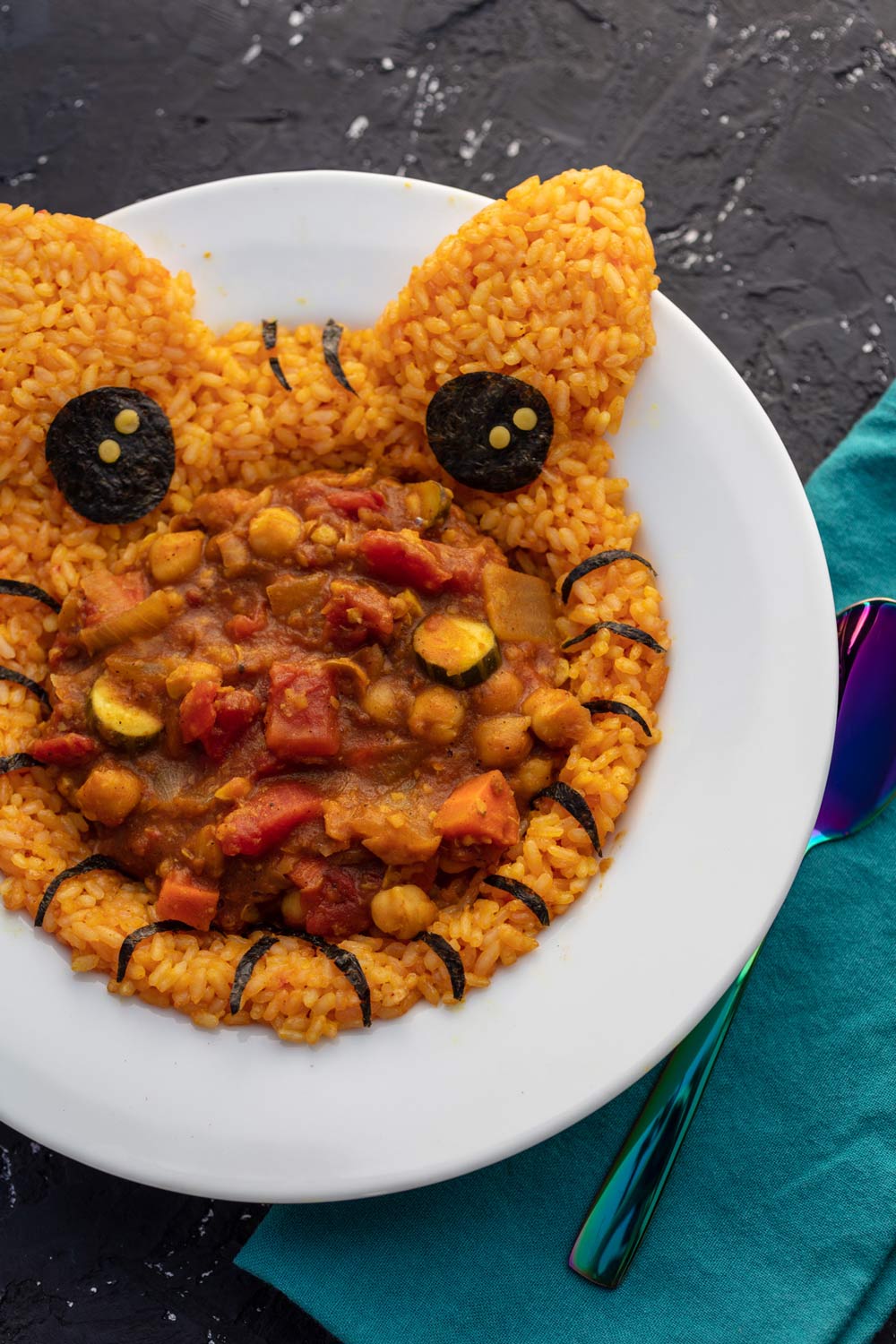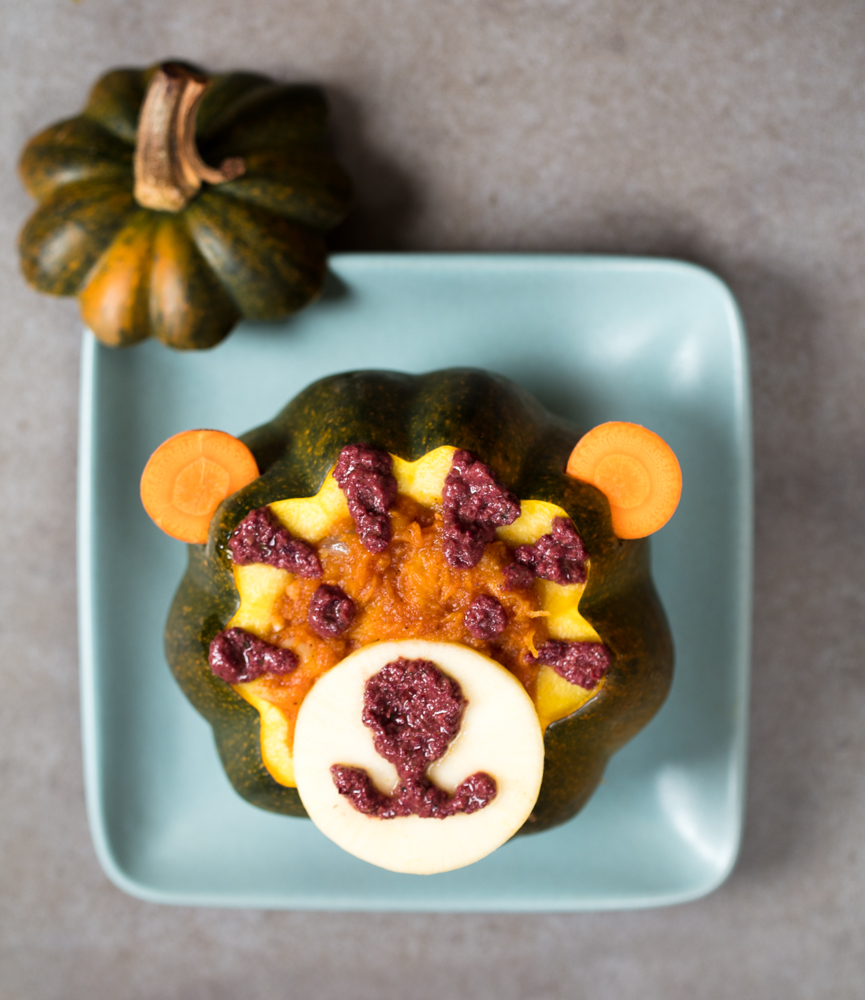 If you like food that looks like cute animals, you might also like my pikachowder, my dal, and my hedgehog cheeseball.
☆☆☆☆☆☆☆☆☆☆
* I use mostly organic ingredients when I cook, but I realize that not everyone has the disposable income to purchase all organic ingredients. Therefore, I only specify organic on the ingredients that really matter - when buying the organic version is the only way to ensure that the item is vegan.