Vegan Birria Tacos (Quesabirria)
published on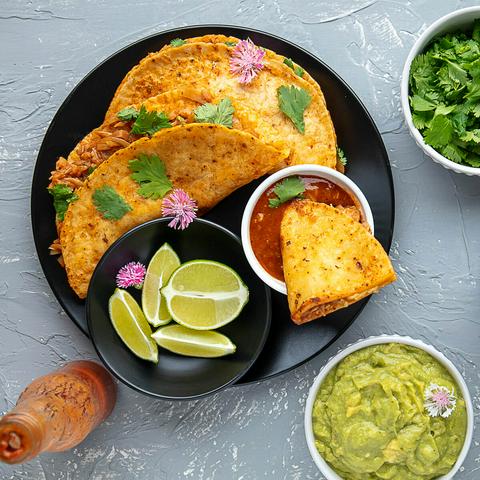 ♫ Listening to: Record Player by Daisy the Great with AJR ♫
These quick and easy quesabirria tacos are made with a gluten-free, vegan birria. It tastes even more flavorful and authentic than traditional birria. The crispness of the tortilla, combined with the juicy jackfruit taco filling and melty vegan cheese will have you dreaming of this recipe long after the tacos are devoured.
Table of Contents
(click the links below to skip to the section you're looking for)
These jackfruit birria tacos are cooked in a consommé, but I don't serve them with the side of consommé dipping sauce, as has become the norm. Instead, I let the jackfruit marinate in the consommé as long as possible because the flavor continues to develop days after you make it. Consommé, for anyone who may not know, is the name for the birria sauce.
My jackfruit birria tacos recipe is easier to make than other birria taco recipes for two reasons.
My jackfruit birria recipe requires fewer ingredients.
The ingredients in this recipe are easy to find.
For instance, birria recipes usually call for 4-5 different varieties of peppers. But, the average U.S. household shops at grocery stores that carry only 1-2 varieties, and they're not even the traditional peppers for making birria. This recipe tastes scrumptious and authentic with any variety of chile peppers (fresh or dried) that you have on hand.
My muggle (non-vegan) friend Eli had traditional birria tacos the night before he tried mine, and he said my jackfruit birria tacos were better! How's that for an endorsement?
I developed this quesabirria tacos recipe after I had some from Comida De Jen at a vegan popup in Sacramento on my birthday. They're based out of Stockton, CA, and if you ever get a chance to try their birria tacos, I highly recommend it. I'm normally not a huge taco person, but I fell in love with quesabirria tacos that day.
This recipe makes 10-12 jackfruit birria tacos.
1 yellow onion, sliced thinly

¼ cup olive oil (can use less if you want)

½ tablespoon dried powdered chiles

2-3 tablespoons (34-50g) tomato paste

half a bulb of garlic

1 whole bay leaf crushed

1 teaspoon dried oregano

¼ teaspoon thyme

½ teaspoon ground black pepper

1 - 1 ½ teaspoons (8-12g) salt (use less if you shy away from salt)

¼ teaspoon ground ginger

½ teaspoon cumin

⅛ teaspoon ground cloves

¼ teaspoon cinnamon

2 teaspoons (10g) tamari or soy sauce

1 teaspoon (5g) apple cider vinegar

4 cups of vegetable broth

2 cans or pouches of jackfruit
How to make Jackfruit Birria
prep time: 30 min | cook time: 20 min
Dollhouse Shortcut
Make the birria ahead of time (up to 3 days in the fridge or 3 weeks in the freezer) and then just defrost it the night before you want to make your quesabirria tacos.
Cut a yellow onion in half, set the halves cut side down, and slice them into strips as thinly as you can.
Sauté the sliced onion in 1/4 cup (50g/55ml) olive oil. If you avoid oil, you can use 1-2 tablespoons, but the birria won't taste quite as good. You can do this in a pot on the stove or in an instant pot. If you have a gas stove or induction stove, it will take around 10 minutes. If you have an electric stove or an instant pot, it may take closer to 12-13 minutes.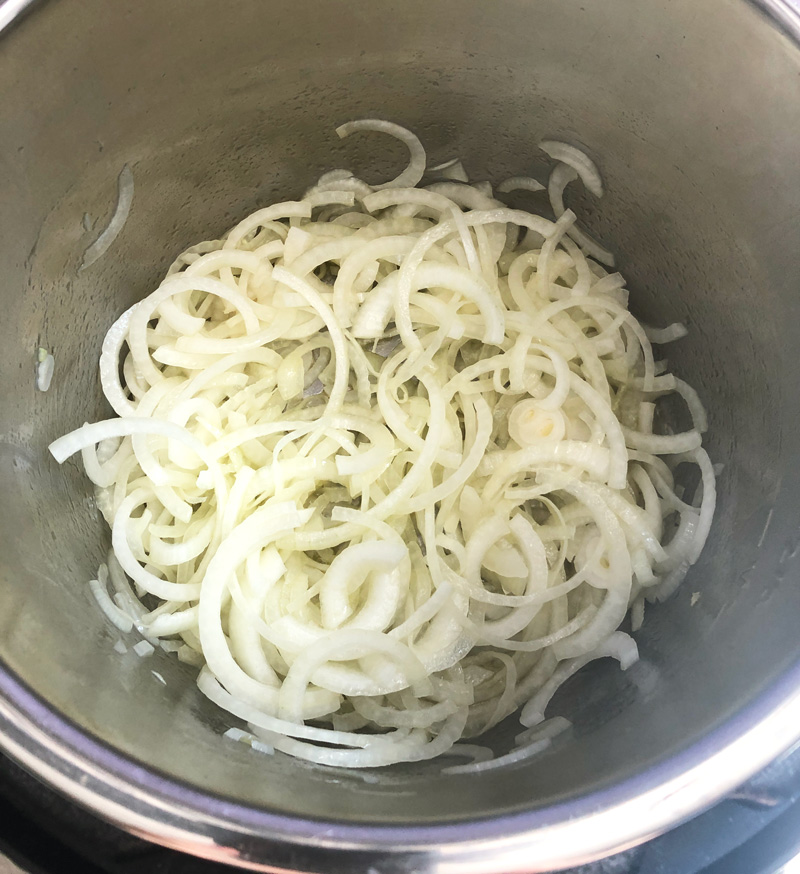 Remove the sauteéd onion from the pot after 10 minutes (or when they turn translucent) and set aside.
Measure or weigh the following ingredients into the blender canister: ½ tablespoon dried powdered chiles (less if the jackfruit is already flavored/spicy), 2-3 tablespoons (34-50g) tomato paste, half a bulb of garlic (or 1 teaspoon powdered), 1 whole bay leaf crushed, 1 teaspoon dried oregano, ¼ teaspoon thyme, ½ teaspoon ground black pepper, 1 - 1 ½ teaspoons (8-12g) salt (depending on how salty you like things), ¼ teaspoon ground ginger, ½ teaspoon cumin, ⅛ teaspoon ground cloves, ¼ teaspoon cinnamon, 2 teaspoons (10g) tamari or soy sauce, 1 teaspoon (5g) apple cider vinegar, and 4 cups of vegetable broth.
Blend on high until smooth and pour into the pot that you used to sauté the onion.
Simmer the consommé for 10 minutes, covered. If you're using an instant pot, set the lid on top a little bit lopsided. You don't want it to lock into position, because you don't want your instant pot to yell (beep) at you. You want the steam to escape through the sides.
Shred the jackfruit while the consommé cooks. If you're using canned jackfruit, first drain the brine and then tear each chunk of jackfruit into shreds.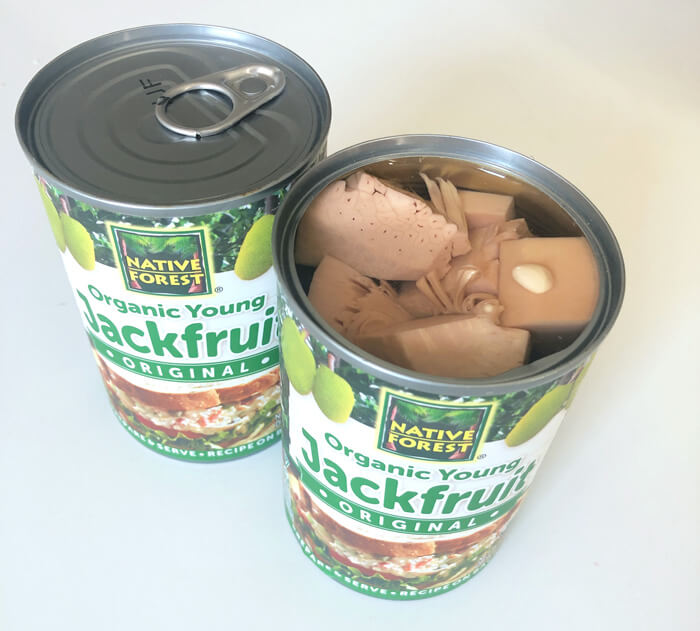 If you don't like the feeling of having tree sap on your hands that won't wash off, I recommend wearing gloves for this step. If you've ever used canned jackfruit, you'll know what I'm talking about. If you haven't, think back to the last time you climbed a tree and had tree sap on your hands. It stays until your thirteenth handwashing or a minimum of 12 hours. Real fun stuff.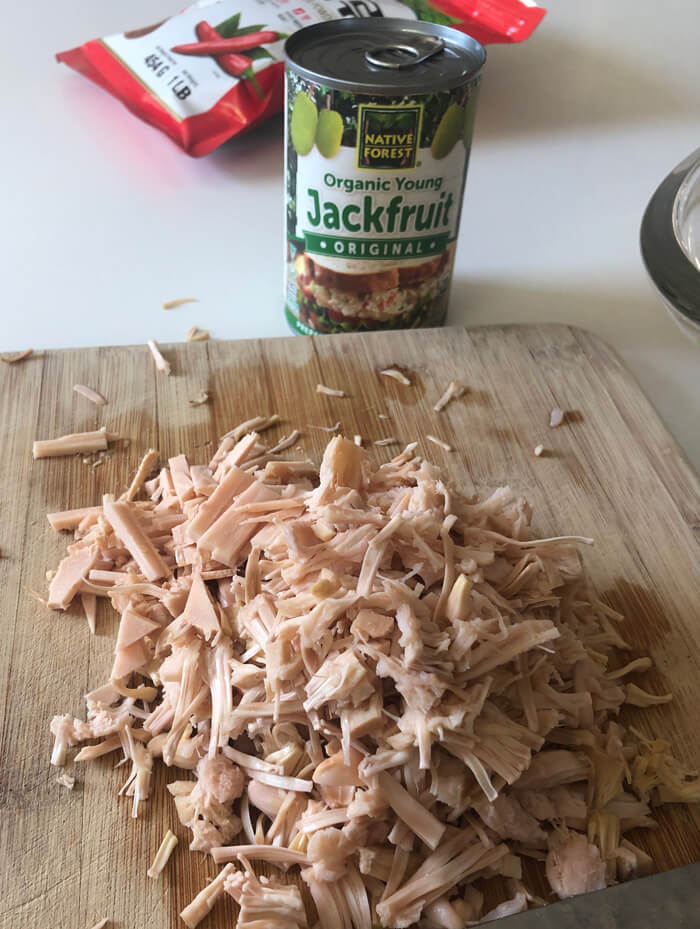 Add the shredded jackfruit and the sautéed onions to the consommé, and simmer for another 10 minutes.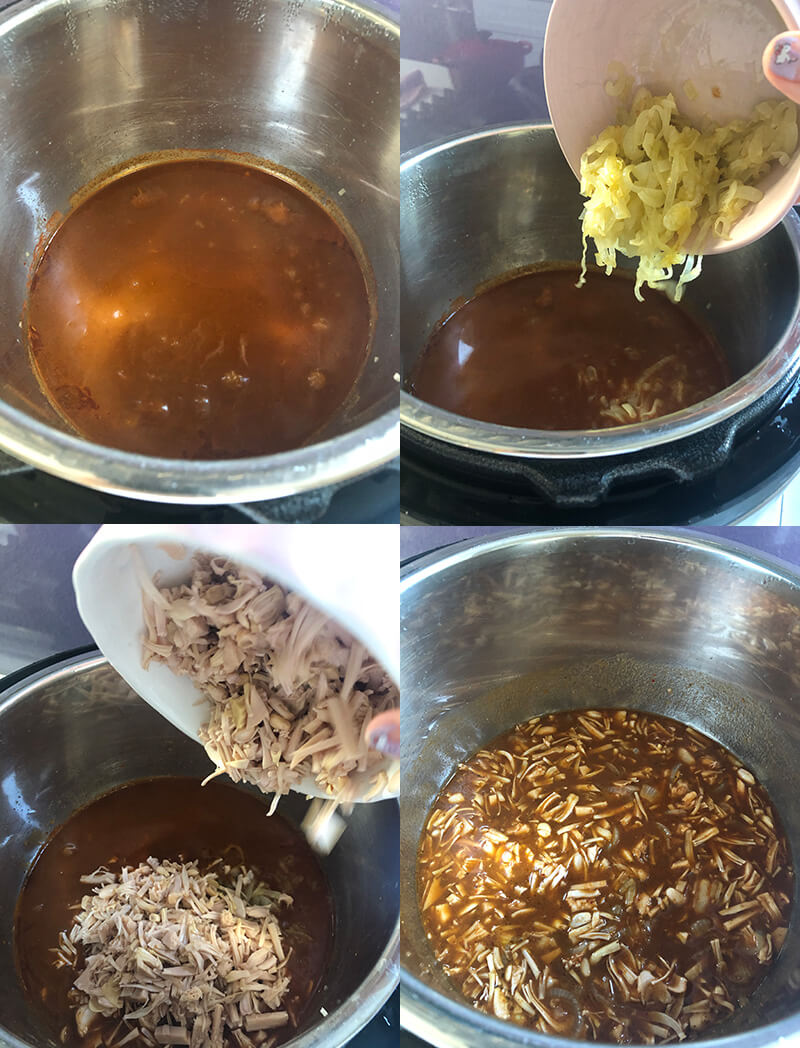 12 tortillas

7-8 ounces (200-225g) of vegan cheese (I used vegan mozzarella)

up to ¼ cup of vegan butter or margarine
How to Make Quesabirria Tacos
time: 40 min
Add about a teaspoon of earth balance to a pan over low-medium heat. As it melts, move it around with a cooking spatula so it coats the bottom of the pan.
Dip the first tortilla into the consommé.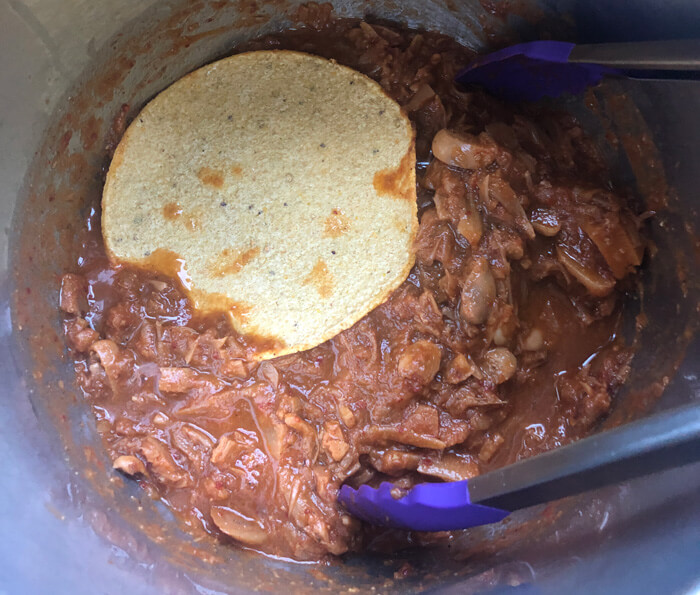 I have seen jackfruit birria tacos made with flour tortillas, as well as corn tortillas. You should choose whichever you prefer. I prefer flour, but if you're making these for someone who is gluten-free, then use corn tortillas.
Set the tortilla in the pan, and sprinkle the tortilla with grated vegan cheese like you're making a quesadilla.
Scoop some birria (using a slotted spoon helps) from the pot.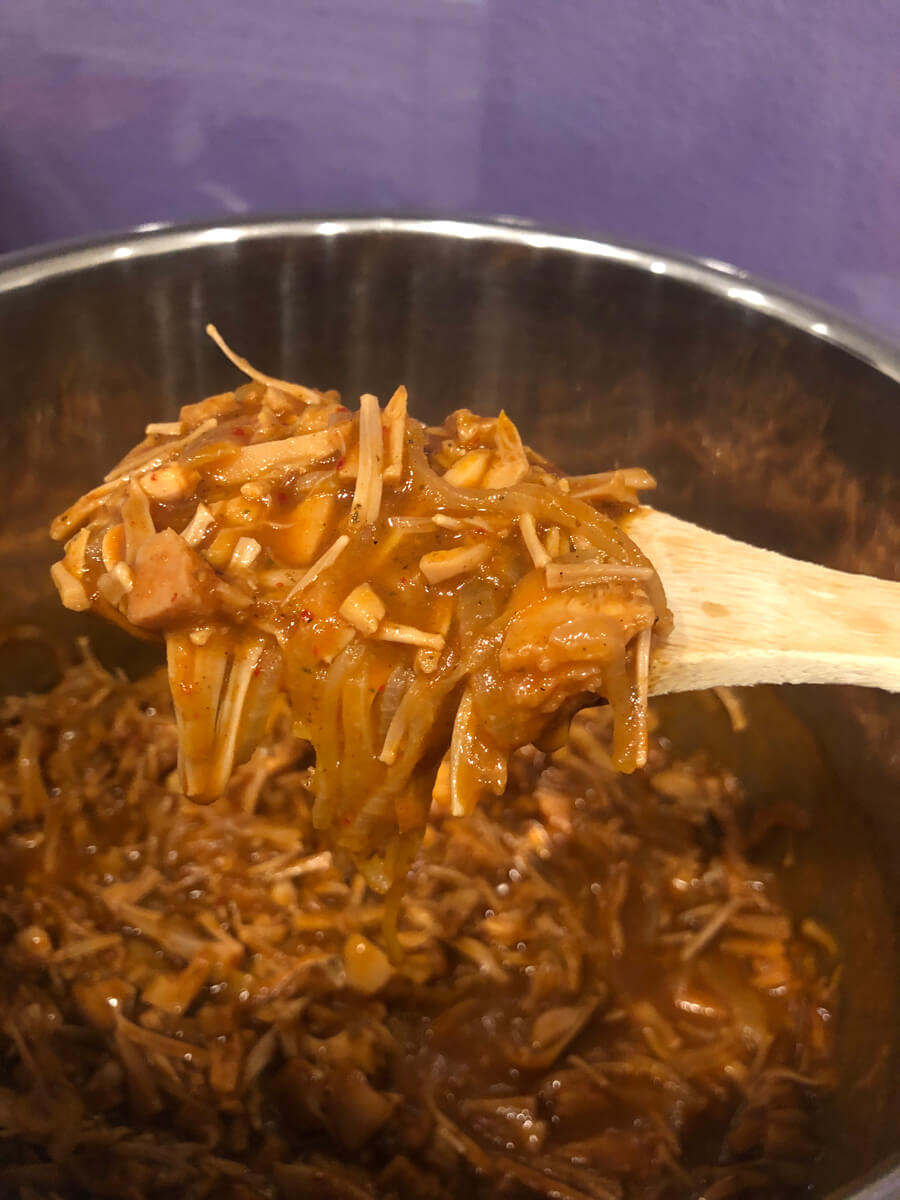 Spread the jackfruit birria over half of the tortilla.
Fold the other half of the tortilla over it and set a lid on the pan to trap in the heat. This will help the cheese melt. I can usually fit 2 tacos in one pan at the same time, which helps to decrease the cooking time.
Flip the taco over when the bottom side starts to brown and crisp up.
Repeat with the remaining tortillas until you run out of birria.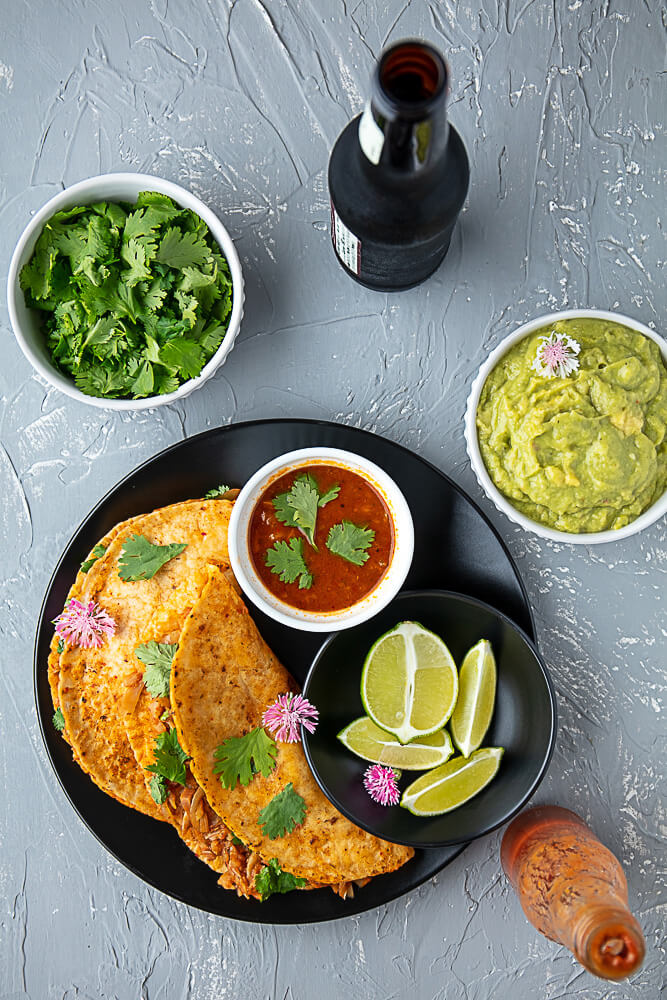 Serve with cilantro and lime wedges (optional). I also garnished mine with edible flowers because tacos aren't exactly the cutest food in the world, and I was trying to make them prettier.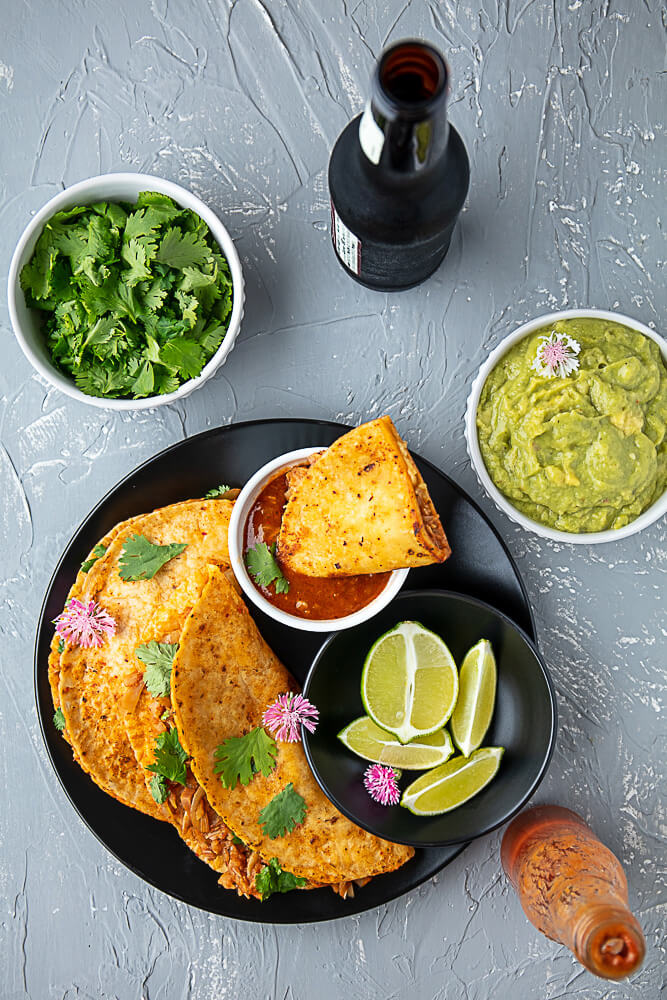 These are dinner or lunch sized tacos. However, they are very versatile. When I brought these to a potluck picnic, I cut them in half and served them as triangles. That made them more party food sized and easier to grab and hold.
Another way I have served jackfruit birria is as appetizers. I just dipped the corn tortillas and then used a biscuit cutter to cut out 3 mini circles from each tortilla. Then I filled these mini tortillas with jackfruit birria to make mini one-bite jackfruit birria tacos.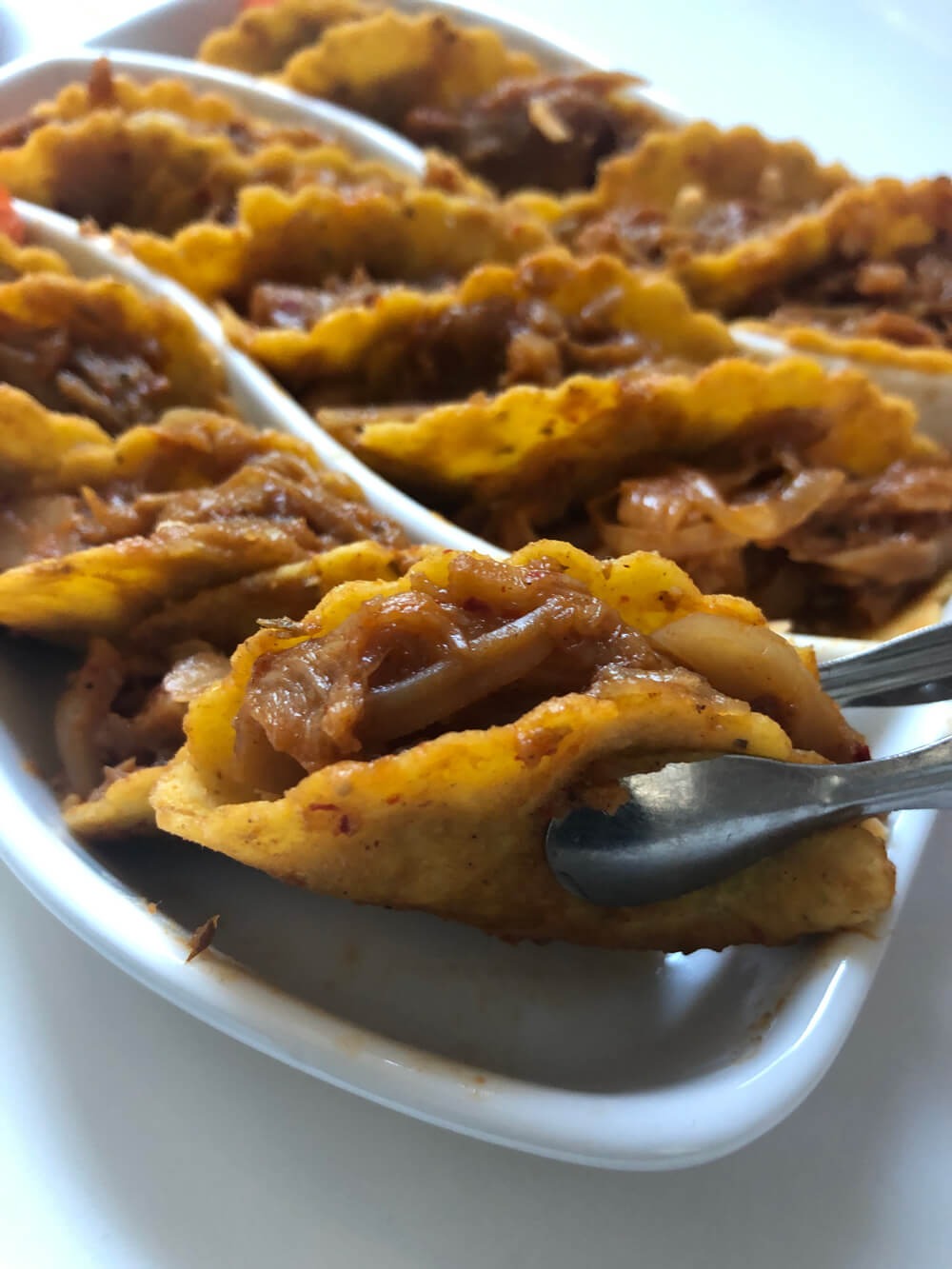 If you make this jackfruit birria tacos recipe, snap a pic, post to instagram, and tag me @vegandollhouse. I love to see your creations! You can also message me through instagram or email me if you have any questions about the recipe.
What is the history of birria?
The history of birria is rooted in colonialism and cultural appropriation, and the story makes me infuriated. It was said that the Spanish conquistadors had too many goats and gave them to the Native Americans (because they didn't like goat meat). The Native Americans cooked the goat in a way that made it taste way better than the Spanish could. The Spaniards called the dish birria, which was a derogatory term for food that is worthless. Assholes.
Just knowing that birria is made with goat meat makes my heart hurt, because look at how cute these goats are. Luckily, the birria in these quesabirria tacos is jackfruit birria, so it's vegetarian.
What brand of jackfruit should I use?
I made this birria using 2 cans of Native Forest brand jackfruit, but any canned young jackfruit should work. I like Native Forest because it's organic, and I try to buy organic whenever possible.
I've also made this quesabirria tacos recipe using Upton's brand of chili and lime flavored jackfruit. This tasted exceptional, but it did come out too spicy the first time. I recommend cutting the chile pepper amount in half if you use this kind.
What is the difference between jackfruit birria tacos and quesabirria tacos?
Jackfruit birria tacos are just jackfruit birria in a tortilla with whatever toppings you like. Quesabirria tacos are when you add cheese to the tortilla and cook it in a pan like a quesadilla.
What kind of cheese do I use for quesabirria tacos?
Vegan mozzarella is probably the best cheese to use if you're trying to make them traditional. But honestly, you can use any vegan cheese you like. If I buy pre-grated cheese (which I often do, because it's usually on sale at grocery outlet), I will chop it up even finer in my food processor before I use it. This helps it melt easier and more quickly. And you do want gooey, melty cheese in your birria tacos. Trust me.
How do I store leftover birria tacos?
I've stored birria a couple of different ways.
When I make my quesabirria tacos, I only make the amount I plan to eat, instead of making them all. Then, I store the rest of the birria in a sealed container in the fridge for up to 5 days.
When I made a double batch of birria, I left it on the counter until it reached room temperature. Then, I transferred it to a freezer storage bag and froze it for a few weeks until I was ready to use it. I defrosted it (overnight in the fridge) and used it to make quesabirria tacos for a party. It probably could have stayed frozen for up to a few months.
When I had leftover quesabirria tacos from the party, I stored them in a tupperware in the fridge. Then, we ate them for lunches during the days that followed.
How do I reheat leftover quesabirria tacos?
I prefer reheating quesabirria tacos in the air fryer, oven, or toaster oven. These methods make them crispy, and the cheese can get melty again. If you're like my partner, David, you'll just eat them cold straight from the fridge. Yet another option is to be like a 6-year-old me who made quesadillas in the microwave. (This is basically a felony in my mind now, but don't worry, I judge myself more harshly than I judge others).
Can birria make you sick?
It perplexes me that this is one of the top searched questions about birria. The chances of vegan birria making you sick are much slimmer than birria made with dead animals. In fact, this journal article identifies fruit as the least-often-reported cause of food poisoning.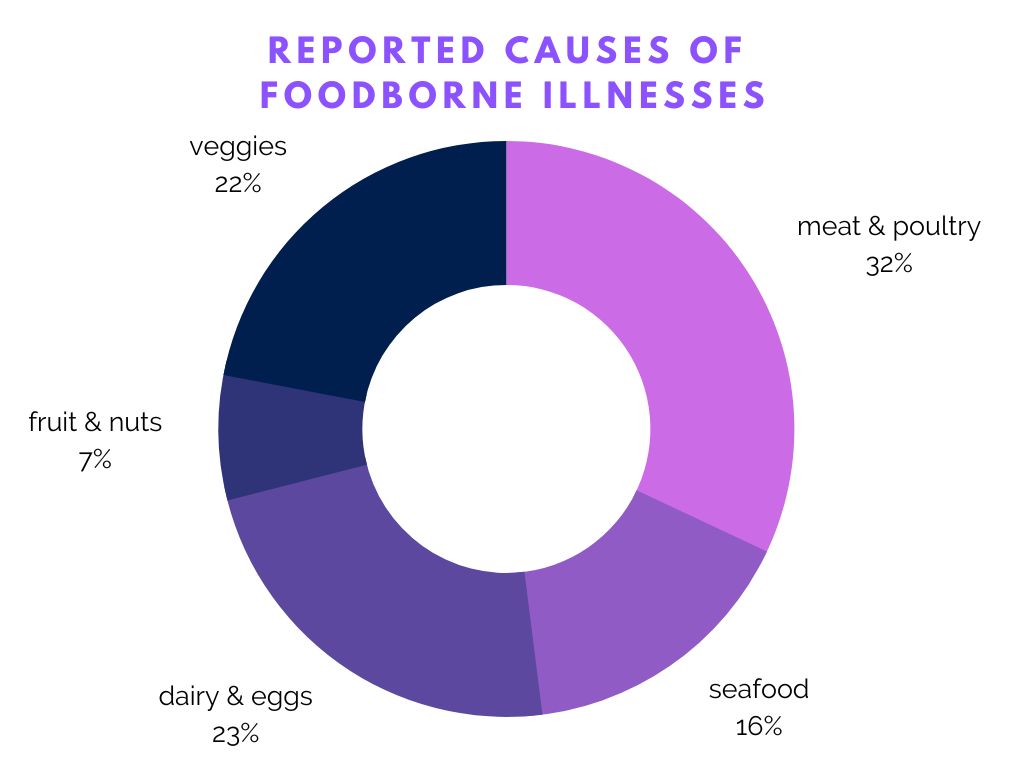 Chiles: Birria recipes use guajillo, pasilla, ancho, and morita chiles. I used taekyung chiles because that's what I had on hand. You can use any chile peppers or dried powdered chile peppers that are easiest for you to acquire. If you're using jackfruit that is already seasoned, use ¾ teaspoon (instead of 1 tablespoon) of chile powder. This will ensure that it doesn't turn out too spicy.
Garlic: If you don't have fresh garlic, you can replace half a bulb of garlic with 1 teaspoon of garlic powder.
Vinegar: If you don't have 1 teaspoon (5g) apple cider vinegar, use an equal amount of lemon juice or lime juice or white vinegar.
Vegan butter: I've only used organic earth balance to make quesabirria tacos. There are many brands of plant-based butters and margarines that you can use instead.
Tomato paste: If you don't have tomato paste, use 2-3 medium-sized tomatoes instead of 2-3 tablespoons (34-50g) tomato paste. Or, you can also use a 14-ounce can of tomato sauce.
Tortillas: If you realize you are out of tortillas and don't want to go to the store, you can make your own using my recipe for tortillas.
Jackfruit: You can replace the jackfruit in this recipe with mushrooms. I've seen birria recipes that use shredded king oyster mushrooms and regular oyster mushrooms, but I think shitake mushrooms or portobello mushrooms would work well too.
If you like this jackfruit birria tacos recipe, you might also like my double tacos and my enchilada cupcakes.
☆☆☆☆☆☆☆☆☆☆
* I use mostly organic ingredients when I cook, but I realize that not everyone has the disposable income to purchase all organic ingredients. Therefore, I only specify organic on the ingredients that really matter - when buying the organic (or non-GMO) version is the only way to ensure that the item is vegan.
☆☆☆☆☆☆☆☆☆☆