Radishes (Oven Roasted or Air Fried)
published on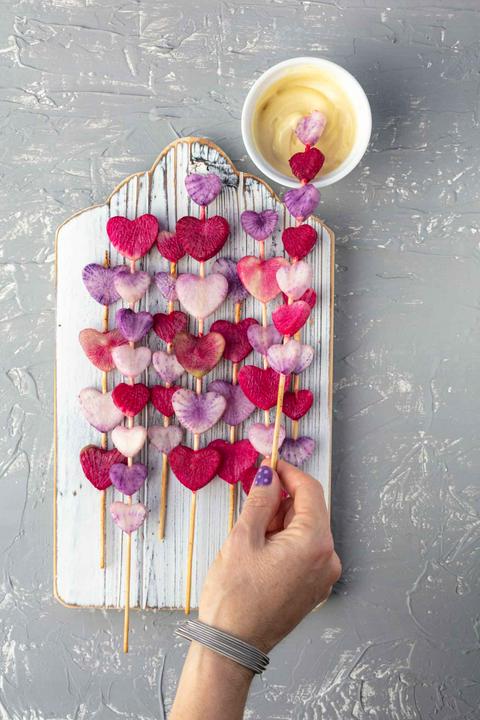 ♫ Listening to: Angels by The xx ♫
Is it just me or is watermelon radish season just way too short??? And purple daikon radish season is also way too short!!! If these adorbs root veggies were available year round, I'm pretty sure the world would be a happier place. I've always been a huge fan of root veggies, but I never liked radishes because I always felt like they were too spicy. It turns out that only the skin is super spicy. So, I always peel my radishes now, and it makes them SO MUCH BETTER.
If you're mainly getting your produce from a grocery store, you may not have ever seen these pretty pink and purple radishes. However, if you visit your local farmer's market during the winter months (well, winter in california, at least), you might be lucky enough to find these. In the SF bay area, spade and plow is a good resource for purple daikon, and tomatero farms usually has watermelon radishes. In the sacramento area, find the stand called Natural Trading Co. If you still can't find these gorgeous radishes, you can make this recipe with any root veggies. They won't be as colorful, but they'll be just as delicious.
If you're planning to BBQ or grill, you can also grill these skewers, rather than using an oven or an air fryer. If you like heart-shaped foods on sticks, you might also like my pizza lollipops and my pie lollipops.
This recipe makes 8-9 skewers (plus additional radish scraps that you can feed to your least favorite family member).
Radish Wand Ingredients
2 watermelon radishes

2 purple daikon radishes

1 tablespoon coconut oil (or sub olive, safflower, or sunflower oil)

salt
Radish Wand Directions
Dollhouse Shortcut
If you want to save time, you can just chop the radishes into chunks and skip the cute heart shapes. This should reduce the prep time from an hour to 15 minutes.
Peel all 4 radishes. You don't have to peel them, but I think the peels are spicy, so I always peel mine.
Slice the radishes like you would slice a tomato. You want the slices to be thick enough that they won't break when you stick the skewers in them. Compost (or throw away or save for making stock) the ends.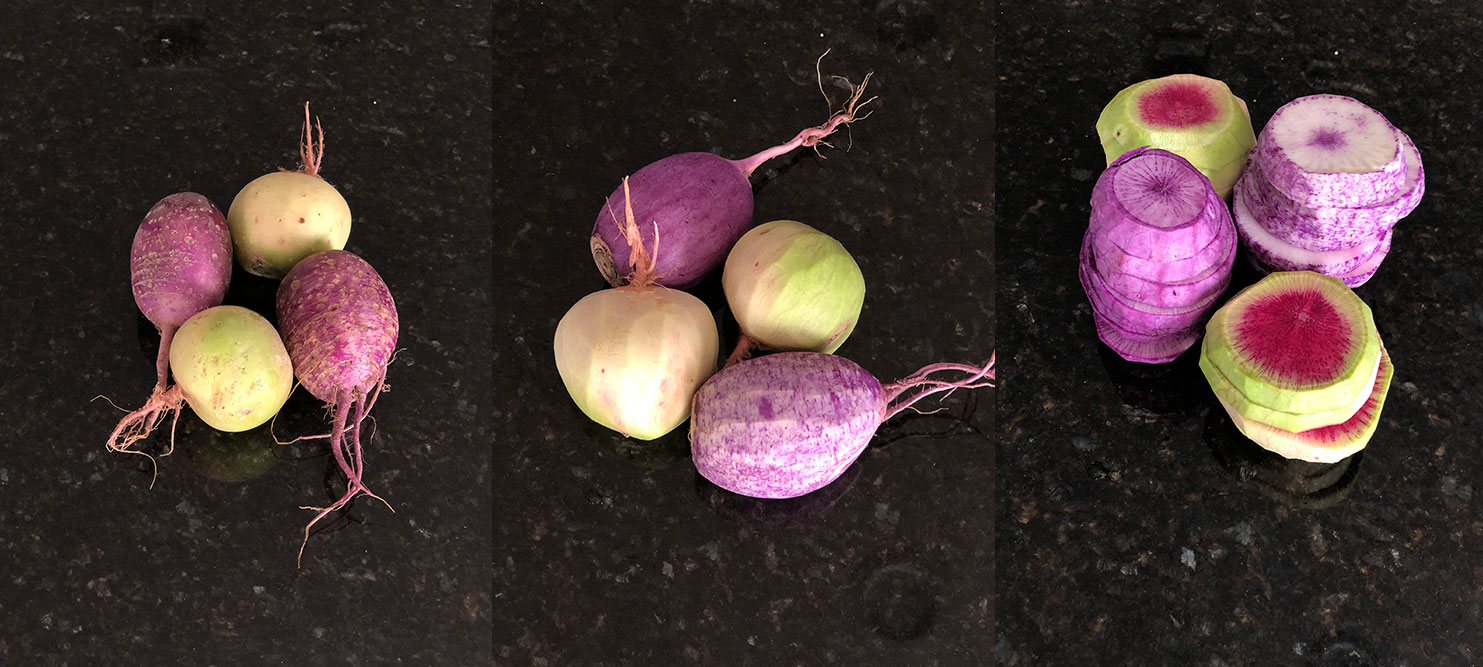 Cut hearts out of the slices. I used the smaller sizes from the heart-shaped cookie cutter set, but you can use any shape cookie cutters you have.
Toss the radish hearts with half of the melted coconut oil and salt.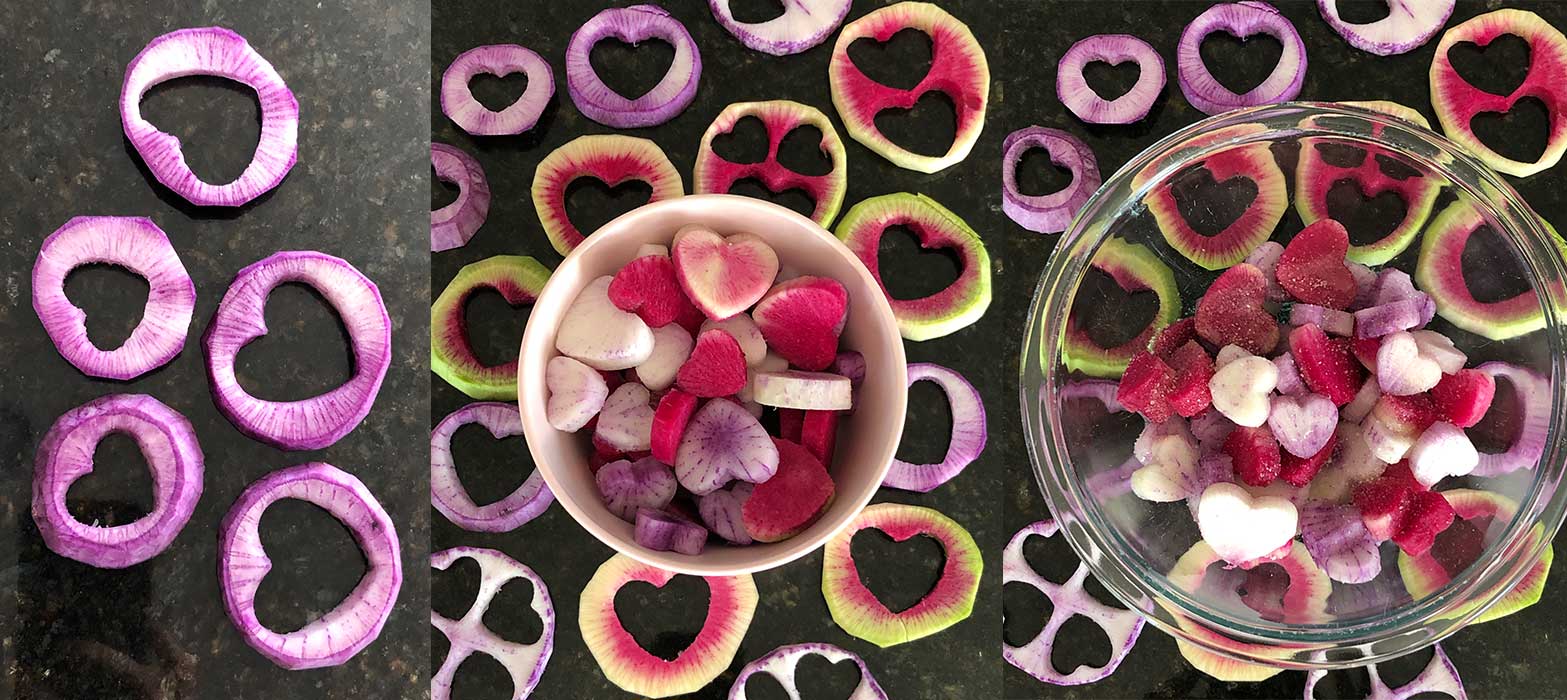 Push the heart radishes onto the bamboo skewers leaving some space between each one. I also try to leave space on one end to hold the wand.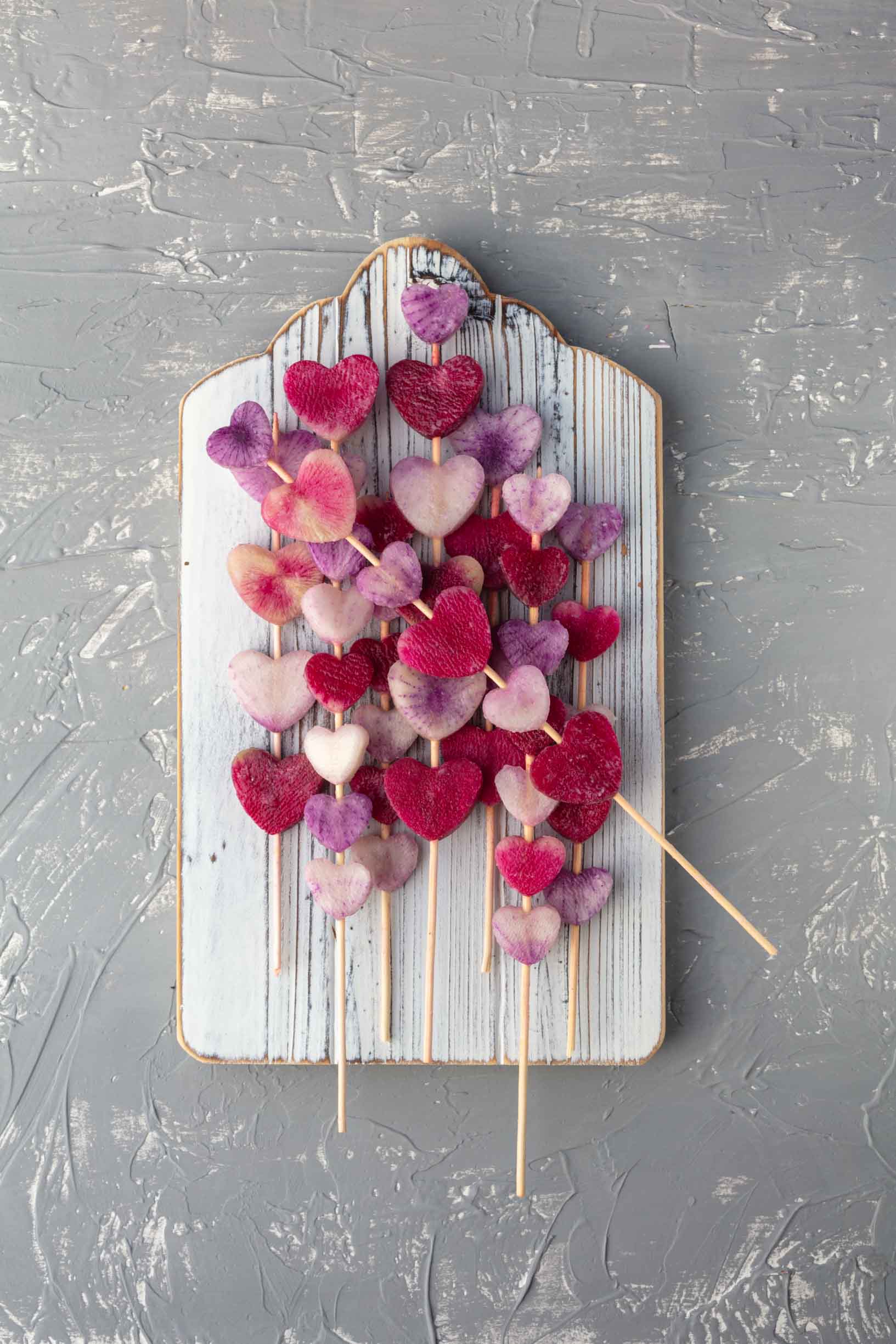 Bake them in the oven at 375°for 12-13 minutes or pop them into the air fryer at 370°for 5 minutes.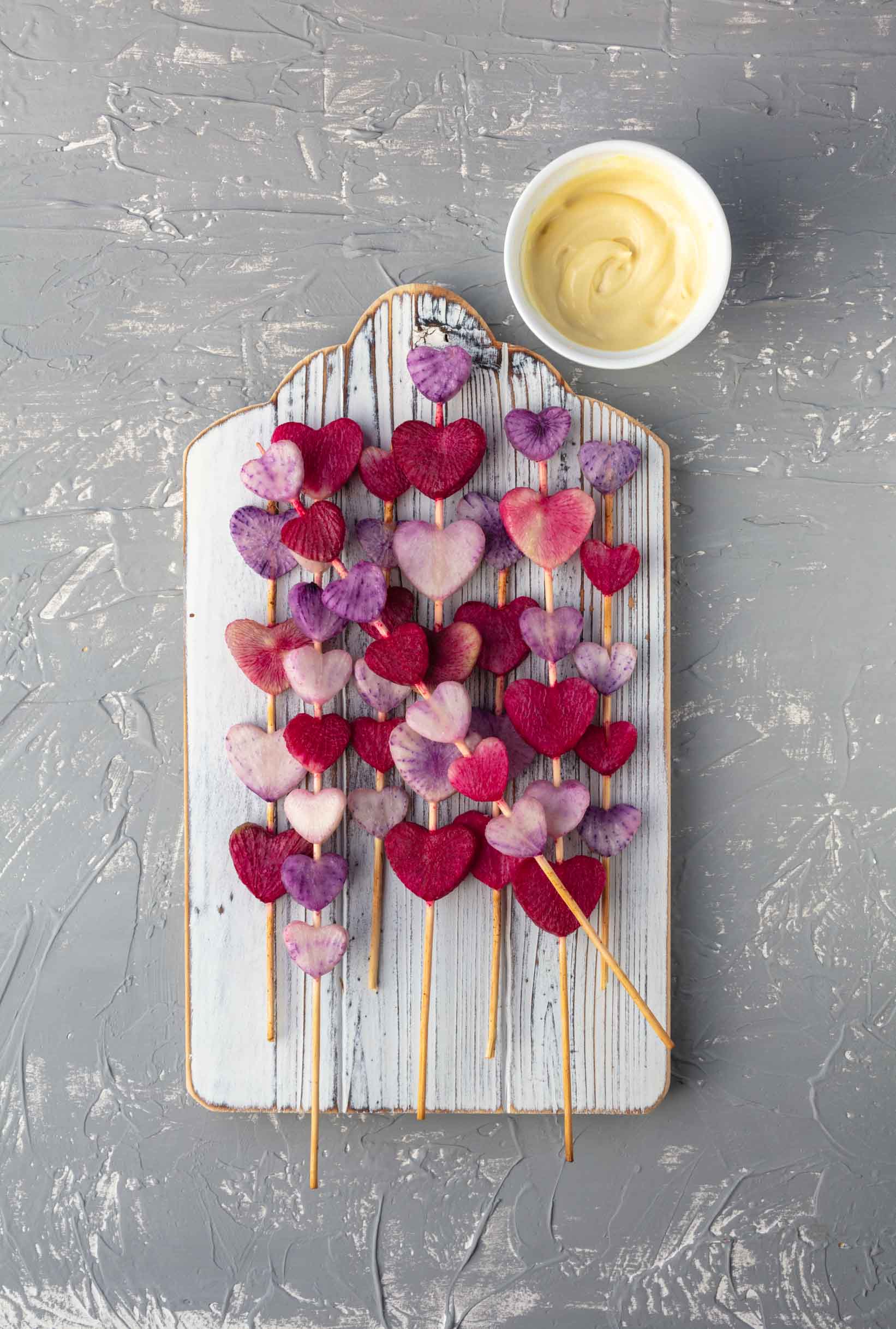 Toss the radish scraps with pink sea salt and the rest of the oil. You can also add onion powder and garlic powder if you like those flavors.
Bake the scraps in the oven at 375° for 15 minutes or pop them into the air fryer at 370° for 5-6 minutes.
Serve the cute veggie skewers with or without dip. I dipped mine in vegan mayo mixed with mustard and garlic powder. You could make a pink dip to match by adding beetroot powder instead of mustard.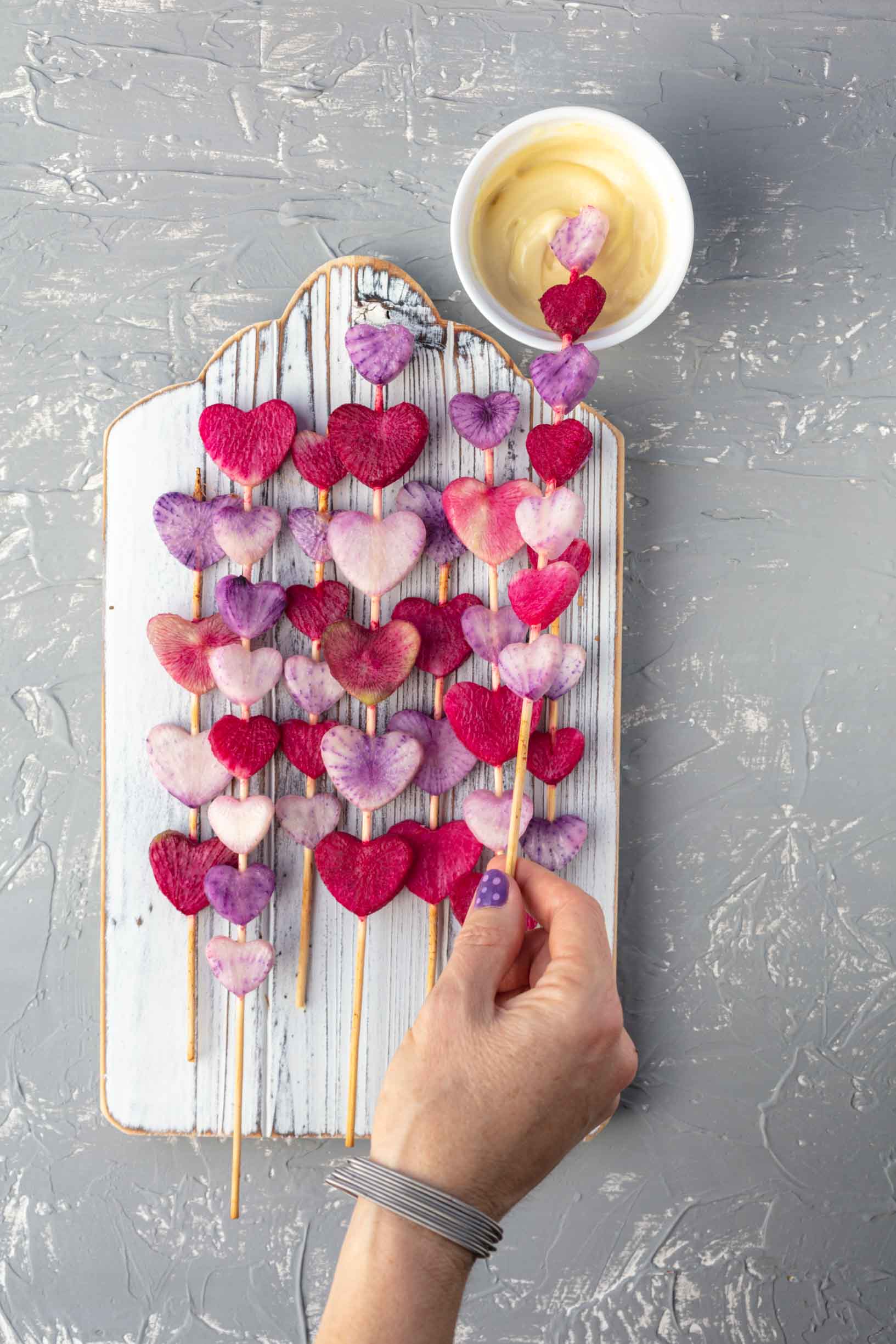 Try to do magic while holding your radish wand. I wasn't able to do any, but I'm just interning as a witch. Hopefully, you'll have more luck.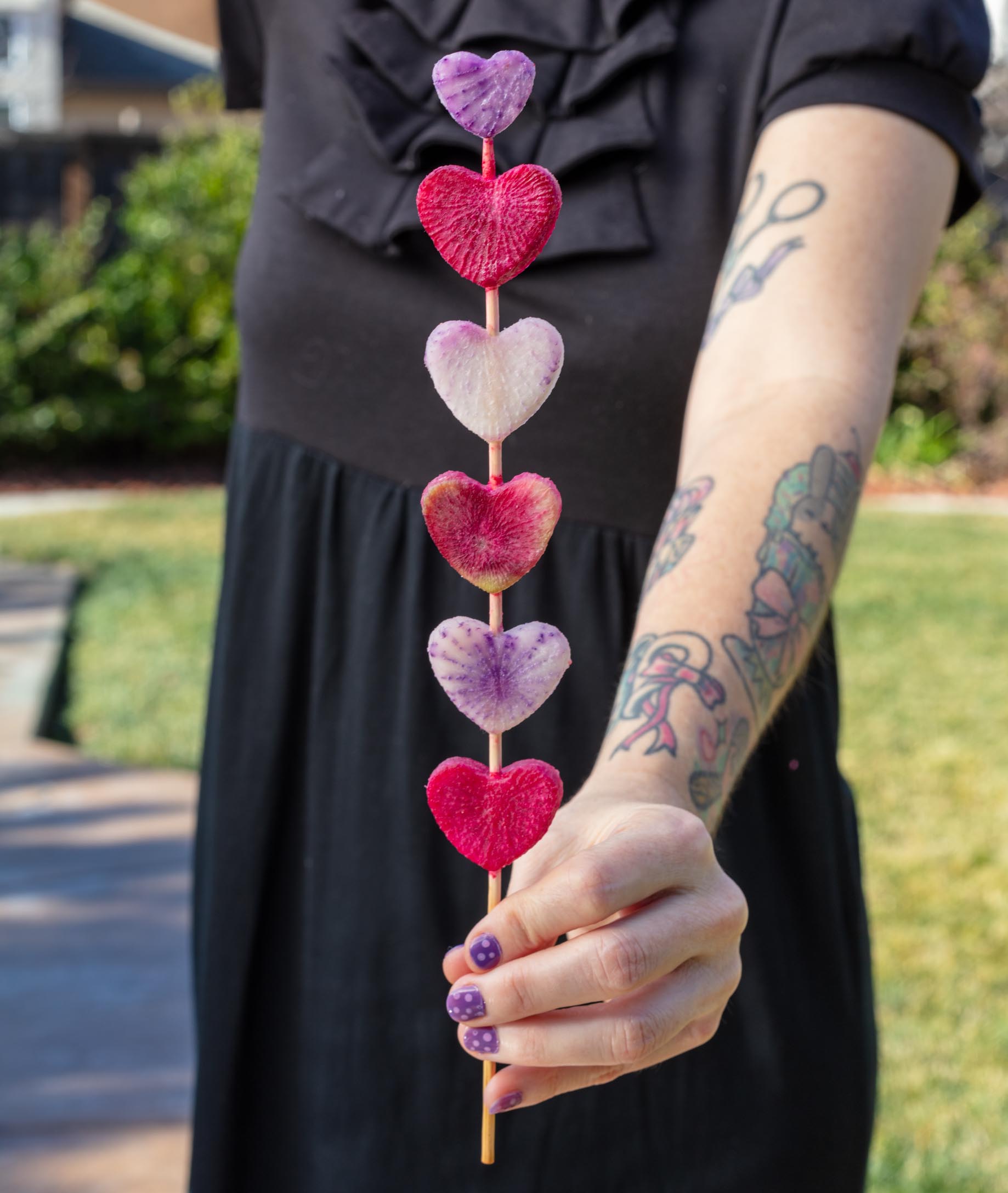 I saved my leftovers and added them to my lunch salad and to my ramen bowl later in the week. They're delicious in everything!
☆☆☆☆☆☆☆☆☆☆