Vegan Ice Cream Cake
published on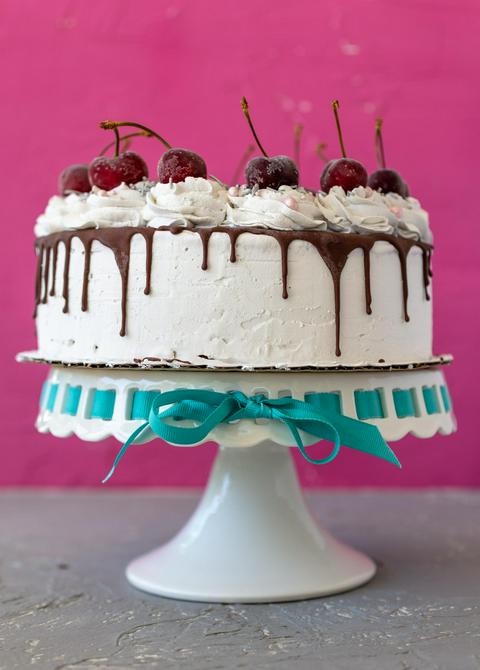 ♫ Listening to: Strawberry Lashes by Paper Foxes ♫
This vegan strawberry ice cream cake features ice cream filled with fresh strawberry chunks, a chocolate chip cookie crust, coconut whipped cream frosting, a thin chocolate shell drip coating, and fresh cherries on top. You can read the shortcuts for time-saving tips if you prefer quick and easy recipes, or you can do a little at a time, like I did, and spread it out over a week.
If you like ice cream cake, but aren't the biggest fan of strawberries, you might prefer my banana split ice cream cake. Or you can use this ice cream cake and swap out the ice cream layer with any of my other ice cream recipes.
This recipe makes an 8" round ice cream cake.
Vegan Chocolate Chip Cookie Crust Ingredients
9-10 ounces (275g) vegan chocolate chip cookies

¼ cup (55g) melted vegan butter, margarine, or coconut oil
Vegan Chocolate Chip Cookie Crust Directions
prep time: 10 minutes | freeze time: 1 hour
Dollhouse Shortcut
Make the crust up to a week ahead of time and leave the springform pan in the freezer until you're ready to add the ice cream layer.
Crush 9-10 ounces (275g) of vegan chocolate chip cookies into crumbs using any number of methods. I used a food processor but some people use a ziplock bag and a rolling pin. If you don't have chocolate chip cookies, you can use pretty much any kind of cookies for the crust.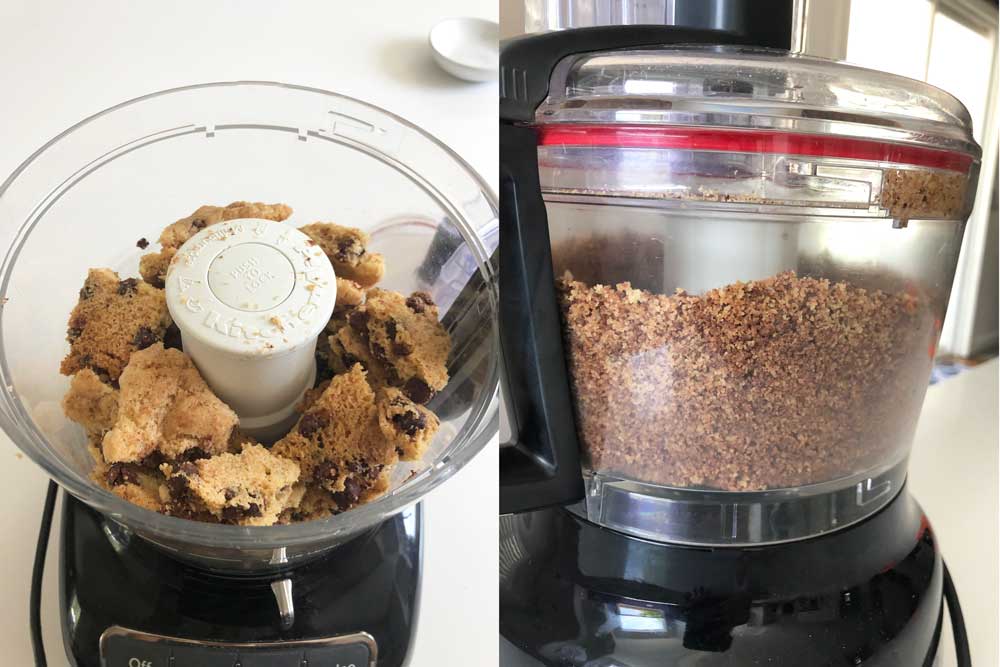 Melt 4 tablespoons of vegan butter, margarine, or coconut oil.
Combine them both and mix well (I used a food processor but you can use your hands).
Press the cookie crust into the bottom of an springform pan that you lined with parchment paper on the bottom before closing the clasp. If your springform pan is a different size, that's probably fine.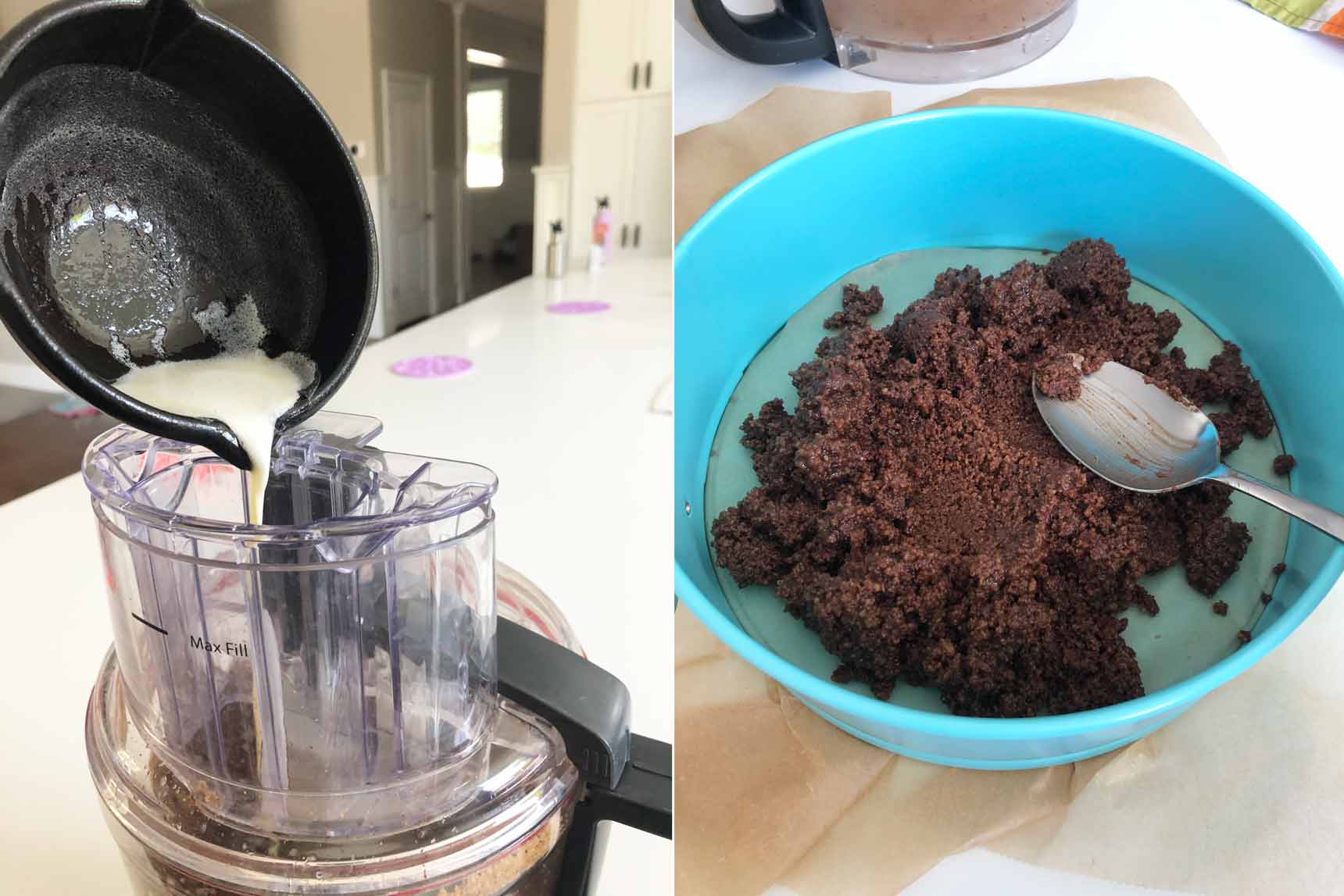 Chill the crust in the freezer until you're ready to add the strawberry ice cream layer.
Vegan Strawberry Ice Cream
prep time: 50 minutes | chill time: overnight (up to 3 days) | freeze time: 4 hours (up to 3 days)
Follow this recipe to make the strawberry ice cream (or buy 3 pints of vegan ice cream from the store).
Spread the churned ice cream immediately to the springform pan on top of the cookie crust layer. If you made the ice cream in advance or bought it from the store, set it in the fridge for 30 minutes to soften, and then use your stand mixer with a paddle attachment to soften it before spreading onto the cake.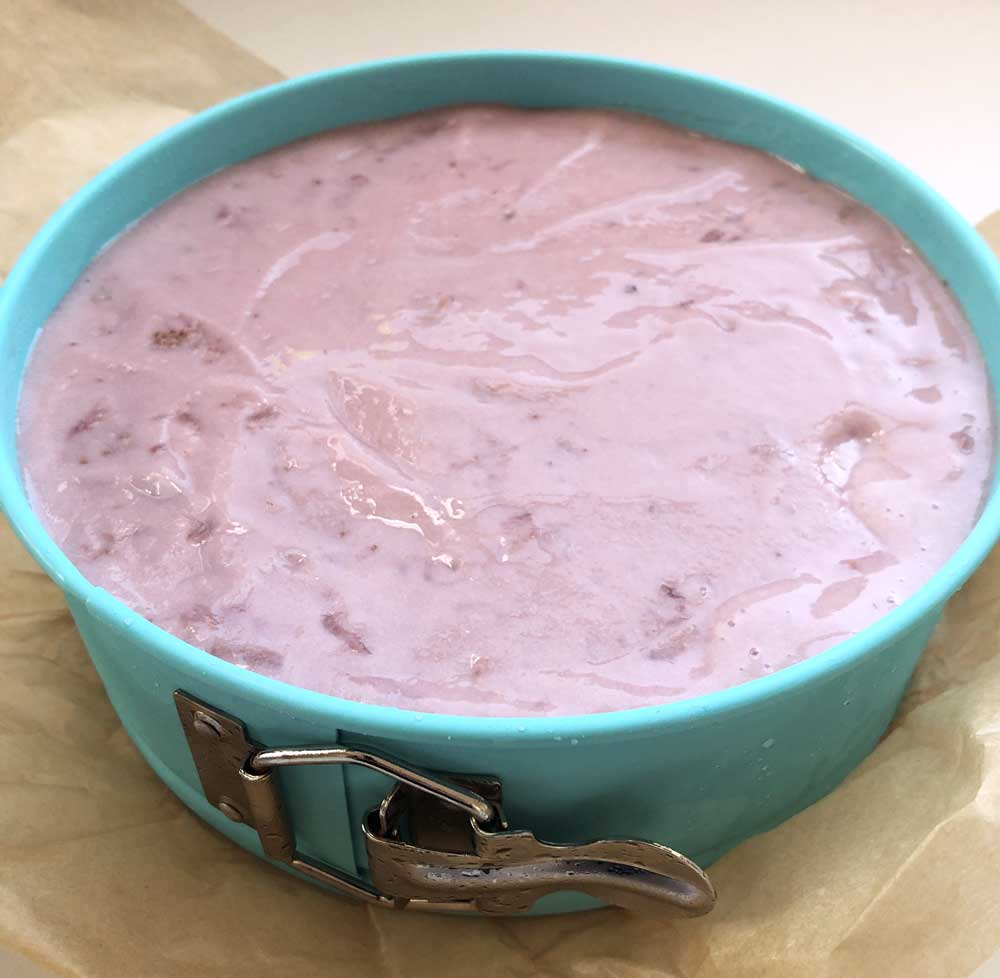 (I added an optional strawberry filling layer here, but I didn't feel like it added anything to the cake, so I'm not including the instructions for that layer.)
Freeze overnight.
Vegan Whipped Cream Frosting Ingredients
Dollhouse Shortcut
You can buy packaged whipped cream to save time and skip this step.
3 cans coconut milk

¼ cup (25g) organic powdered sugar*

1 teaspoon vanilla
Vegan Whipped Cream Frosting Directions
prep time: 20 minutes | freeze time: 20-30 minutes
Chill 3 cans of coconut milk overnight (I use the organic 365 brand from Whole Foods, but as long as it's not low-fat, it should be fine).
Open the cans and scoop out only the solid coconut cream (you can save the water to make piña coladas or smoothies later).
Add the chilled coconut cream to the bowl of a stand mixer or any bowl with tall sides if you don't have a stand mixer.
Sift ¼ cup (25g) organic powdered sugar into the bowl.
Measure 1 teaspoon vanilla into the bowl.
Whisk the whipped cream with a stand mixer fitted with the whisk attachment until it's light and fluffy (or whisk by hand if you need a serious upper body workout).
Transfer 1 cup of the whip to a piping bag fitted with a Wilton star tip 1M or any tip you like best. Set that aside for decorating the cake later.
Remove the springform from the cake and place it on a plate. For me, the easiest way to remove the bottom piece of the springform was to set a cutting board on the top of it, flip it upside down so the top of the cake is on the cutting board, and then remove the springform bottom and parchment paper. Then, set the serving plate on top of the cake (which is really the bottom…are you confused yet?) and flip again. Since my ability to explain this process is likely similar to a mad hatter tea party, I'm including some step-by-step photos to help untangle the confusion I've created.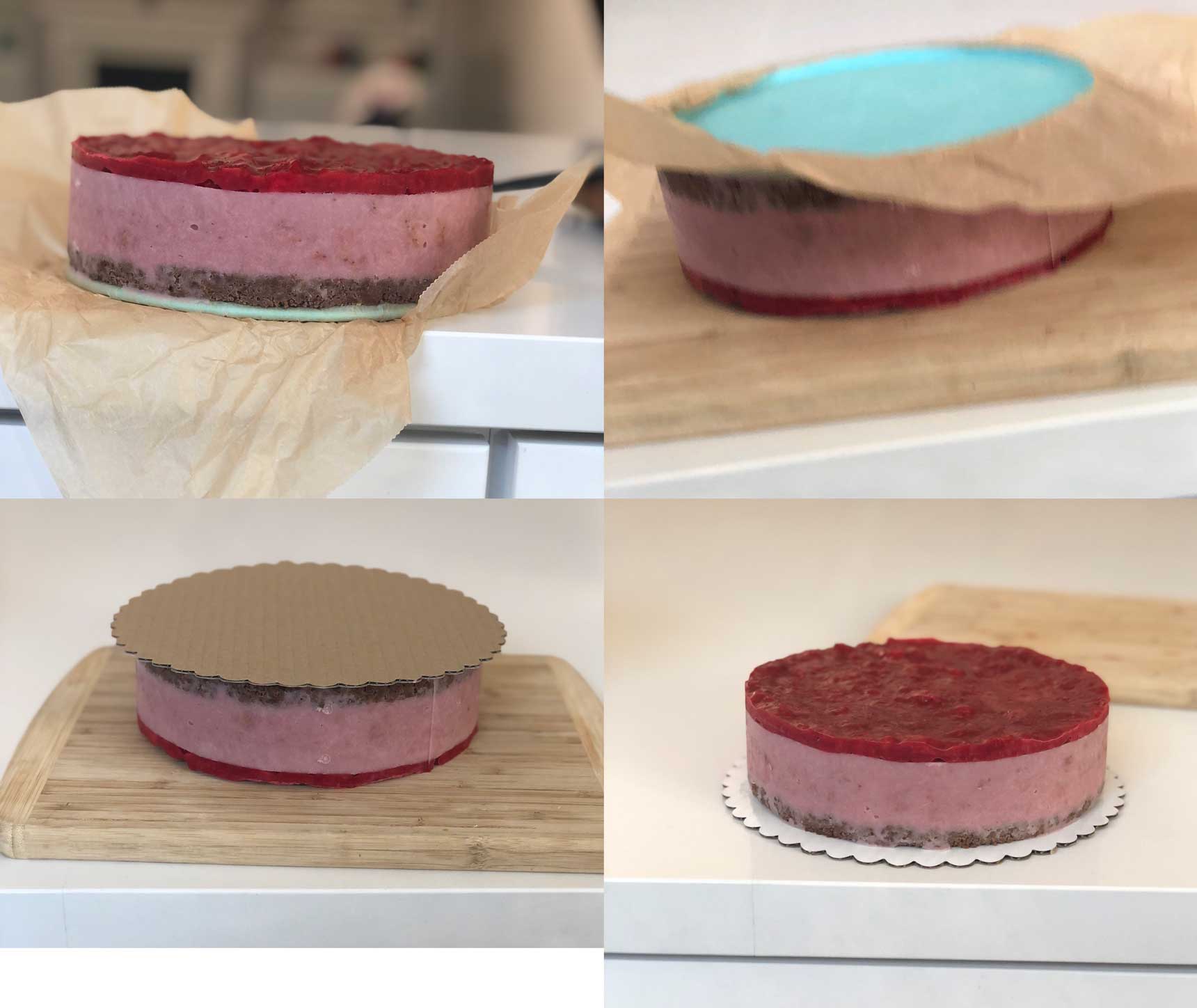 Cover the entire cake in whipped cream using an offset spatula or just a butter knife. Be careful. The cake might try to play slip and slide on the serving plate or cake stand, and after working on this cake for a few days, you reallllly don't want it to fly off the plate.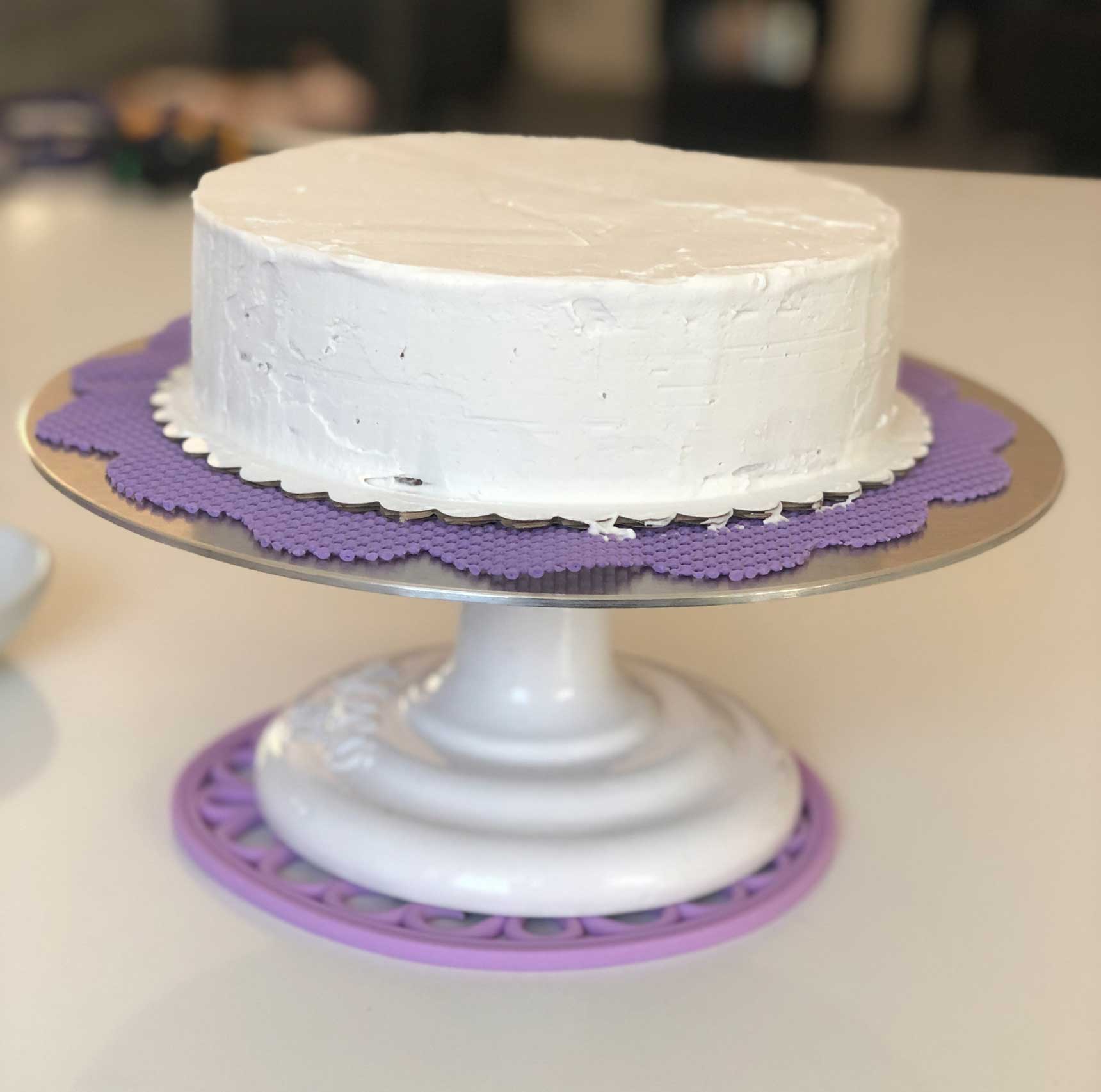 Freeze the frosted cake while you make the chocolate drip.
Stand Mixer
$349.95 from Amazon
Offset Spatula
$4.99 from Amazon
Piping Bag
$7.00 from Amazon
Vegan Penguin Coat Magic Shell Ingredients
4 ounces or ½ cup (80g) vegan chocolate chips

2 teaspoons coconut oil
Vegan Penguin Coat Magic Shell and Ice Cream Cake Decorating Directions
prep time: 20 minutes | freeze time: 20-30 minutes
Dollhouse Shortcut
Melt chocolate in the microwave to save time. Melt at 30 second intervals, stirring in between, until completely melted.
Melt ½ cup or 4 ounces (80g) of vegan chocolate chips and 2 teaspoons coconut oil in a double boiler until completely smooth.
Cool to room temperature.
Pour over the top of the cake and help it drizzle a little bit down the sides. I used my offset spatula to push it to the edges, but you can use the back of a spoon or a silicone spatula if that's what you have. My best advice for this is WORK QUICKLY! If you've never used magic shell before, it basically hardens the moment it touches the ice cream, so you really only have 10-20 seconds to do this step.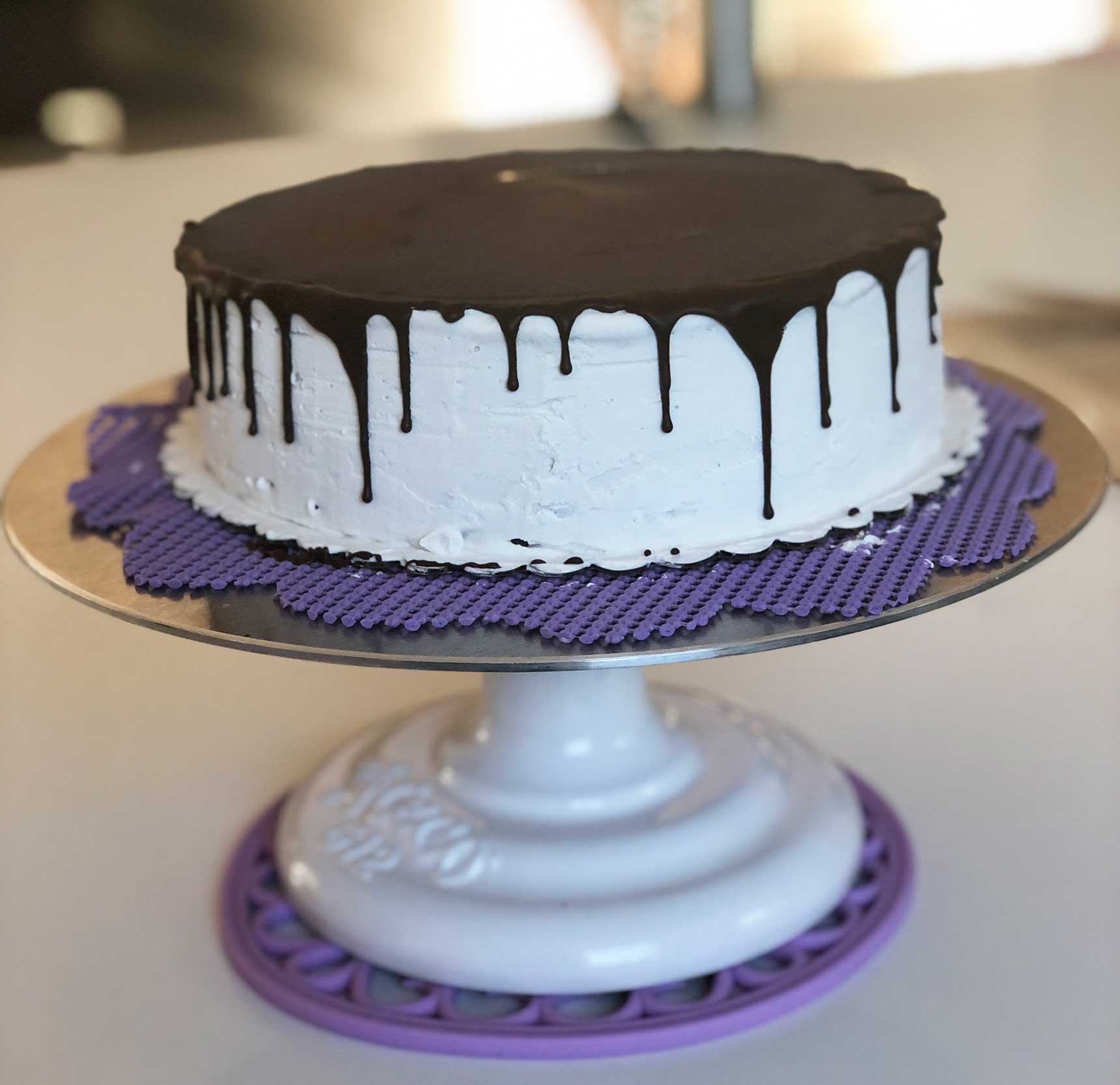 Freeze the cake for a few minutes while you gather your cherries, piping bag, and sprinkles (or whatever other items you plan to decorate the cake with).
Pipe dollops of whipped cream on top. Make them large enough to set a cherry on. I like having my dollops evenly spaced around the perimeter of the cake, so I usually start by piping them opposite each other like 12 and 6 o'clock, then 3 and 9 o'clock and so on.
Sprinkle your optional vegan sprinkles. I used the cosmic blush sprinkle medley from Baking Time Club.
Place cherries on each dollop.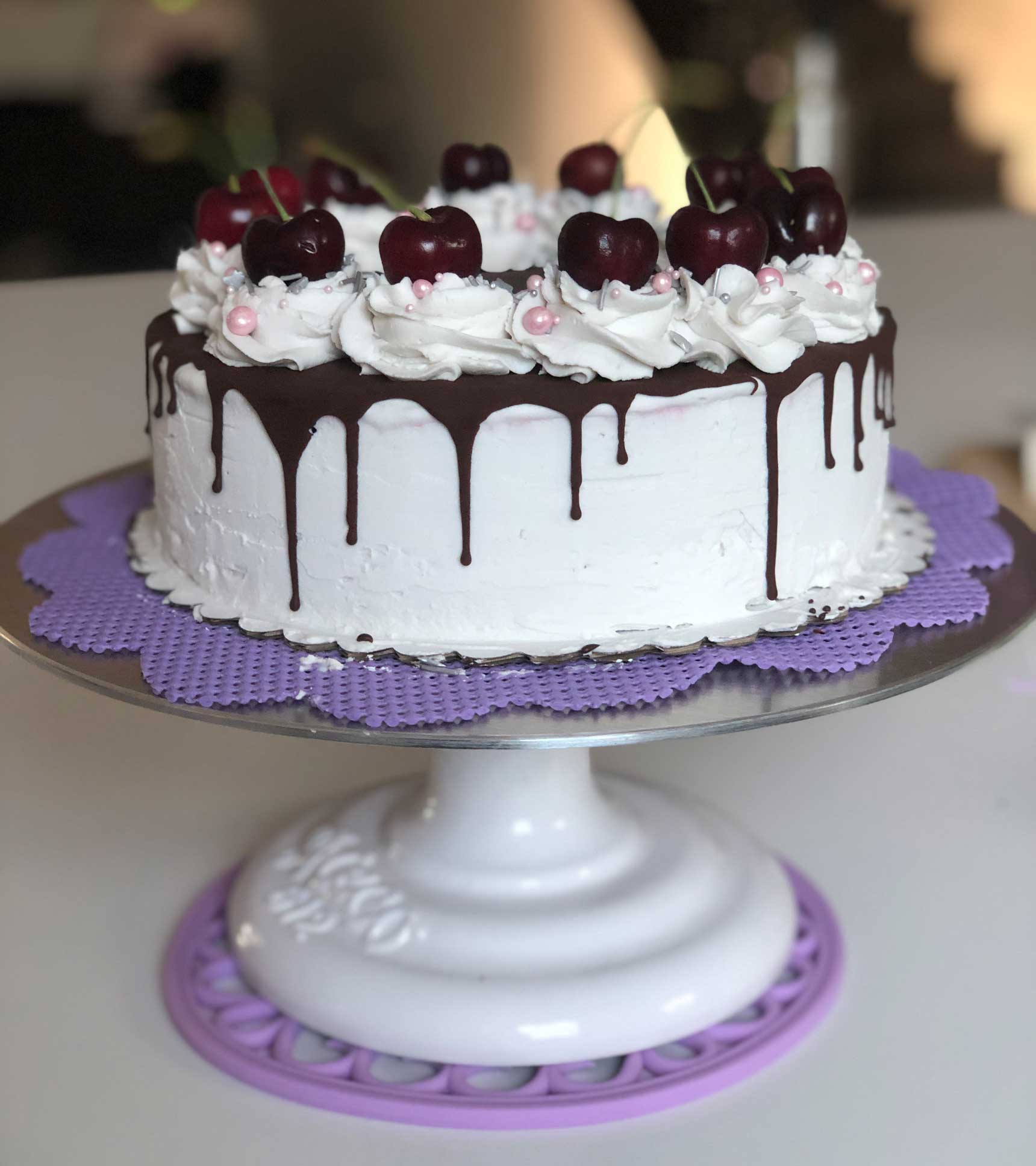 Freeze until you're ready to serve it.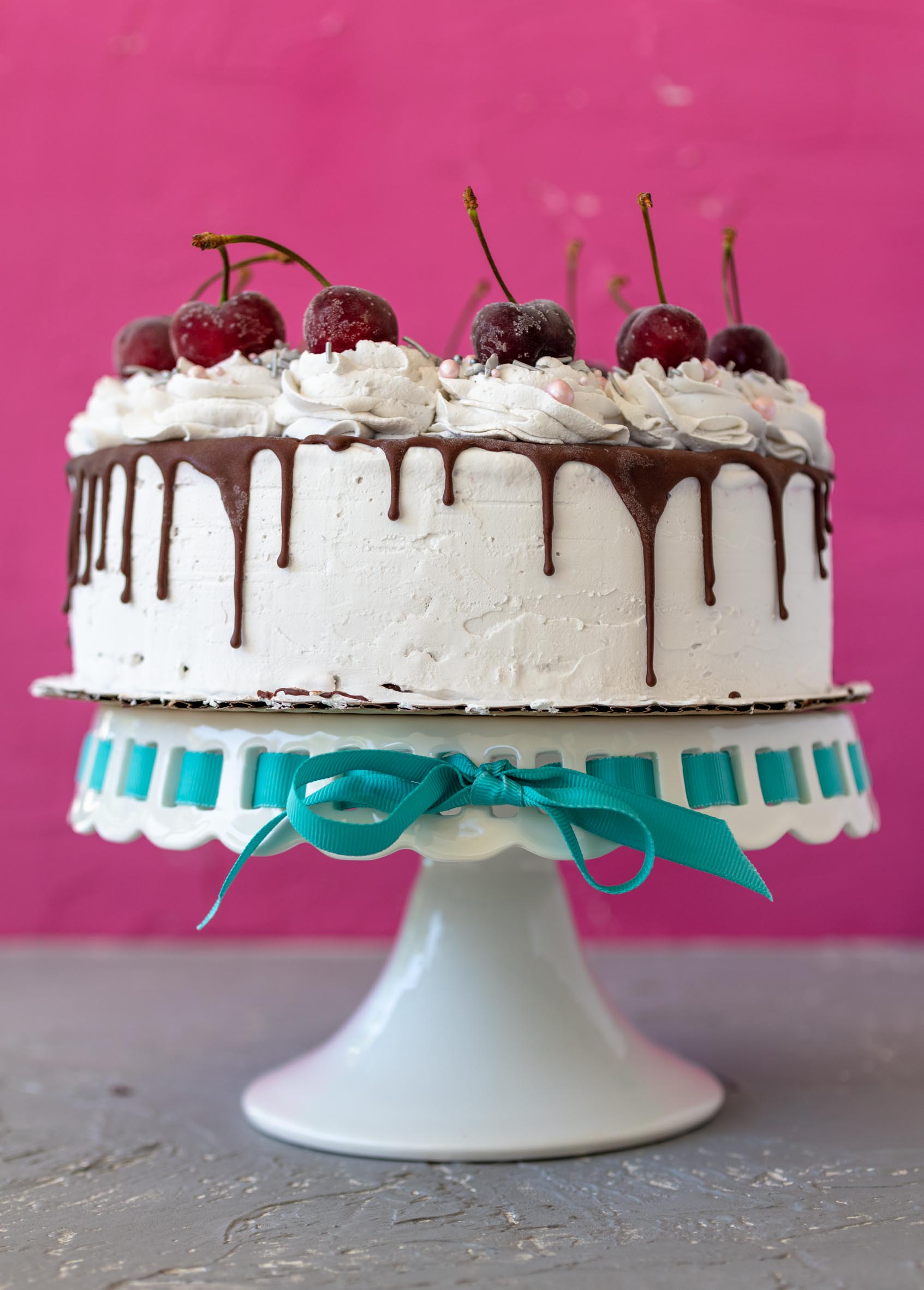 Remove the ice cream cake from the freezer around 15 minutes before you want to cut it.
Cut the cake by dipping a large knife into a tall jar of the hottest water and drying it off between each cut.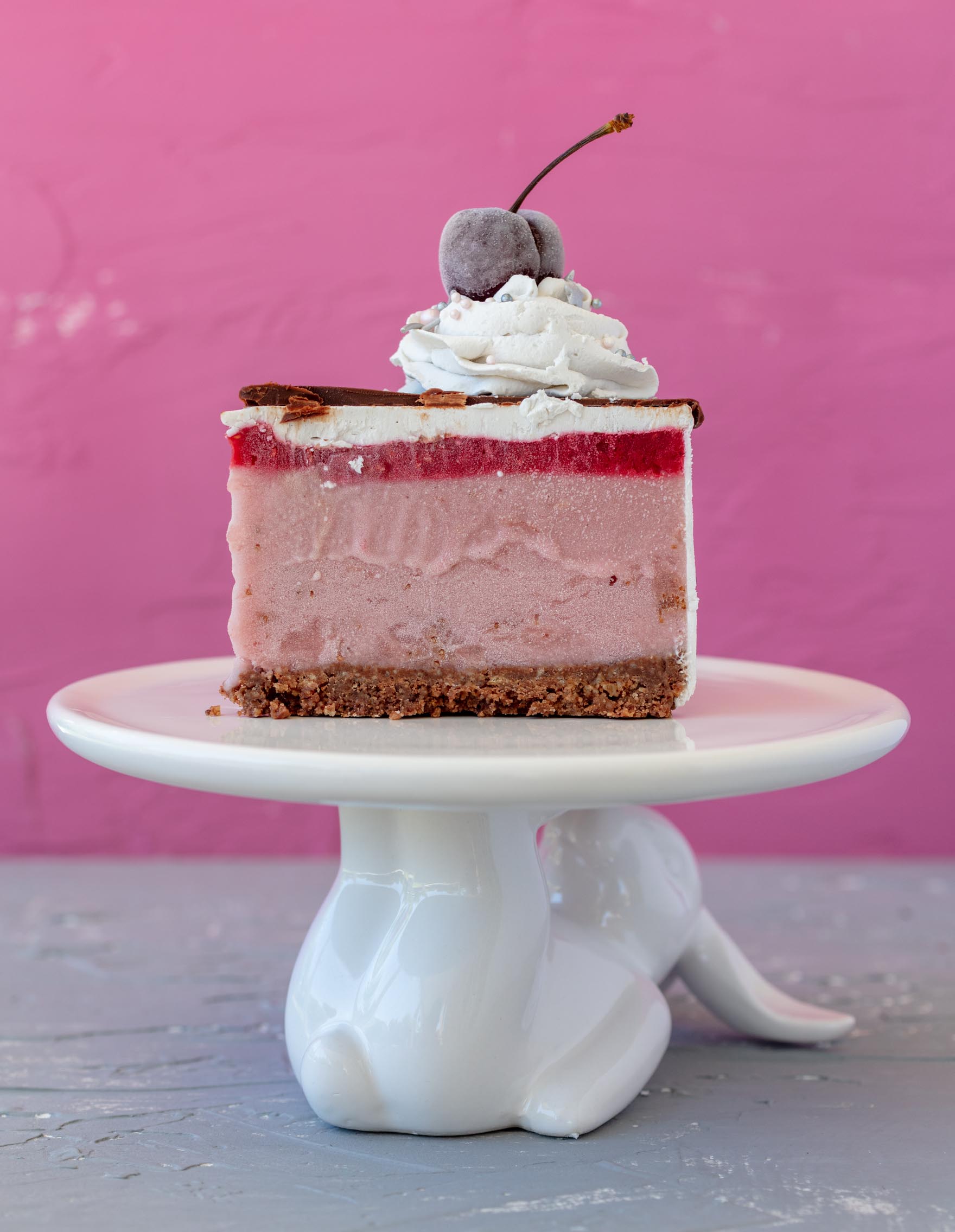 ☆☆☆☆☆☆☆☆☆☆
* I use mostly organic ingredients when I cook, but I realize that not everyone has the disposable income to purchase all organic ingredients. Therefore, I only specify organic on the ingredients that really matter - when buying the organic version is the only way to ensure that the item is vegan.