Black Cocoa Cookies
published on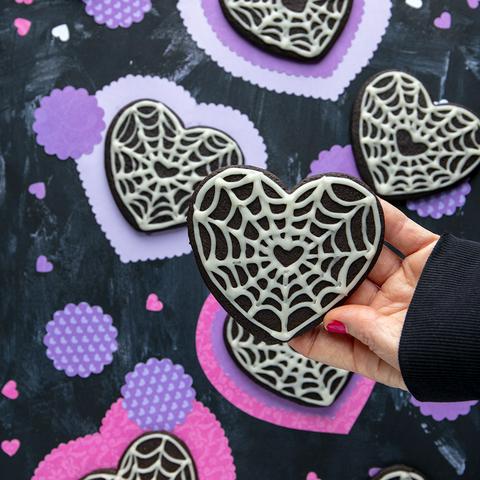 ♫ Listening to: Acid Black Window by Kill Scenes ♫
This recipe for heart cookies with black cocoa results in 14 soft and fluffy cookies. The spider web icing gives them the slightest hint of mint, pairing well with the rich chocolate cookie flavor. These cookies are organic and naturally colored. They're even lower in sugar than the average vegan valentines cookies.
Table of Contents
(click the links below to skip to the section you're looking for)
My inspiration for these cookies was this spider web heart tattoo designed by Courtney Wong of Gristle Tattoo.
What makes these black cocoa cookies unique?
light and fluffy texture
fun for Valentine's Day, Halloween, or Friday the 13th
color is all-natural from black cocoa powder
spider web design
customizable cookie shape
lower in sugar
vegan, all-natural, and organic
This recipe makes 14 vegan Valentine's Day cookies.
½ cup (125g) organic, raw, or vegan sugar*

½ cup (110g) organic vegan butter or margarine (I like the organic whipped earth balance)*

¾ teaspoons (3g) vanilla extract

2 ½ tablespoons (37g) nondairy milk

½ tablespoon (4-5g) organic cornstarch*

⅛ teaspoon sea salt

¼ teaspoon (1g) baking soda

½ tablespoon (7g) baking powder (I use the non-aluminum kind)

1 ¼ cups (162g) unbleached, all-purpose flour

¼ cup (30g) cocoa powder

2 tablespoons (10g) black cocoa powder
Black Cocoa Cookies Directions
make dough: 20 min + chill dough: 30 min + roll, cut, and fill cookie sheets: 25 min + chill cookies before transferring: 10 min + bake: 10 min = 1 hour and 30 min total time
Dollhouse Shortcut
Make the dough up to 3 days ahead of time, wrap it tightly in cling wrap, and chill it in the fridge.
Blend ½ cup (125g) of sugar in the blender to turn it into a finer grain sugar. If you don't have a blender, skip this step.
Mix the blended sugar with ½ cup (110g) of vegan butter on a fast speed using a stand mixer fitted with the paddle attachment for 2-3 minutes.
Stop the mixer, scrape the sides with a baking spatula, and turn the mixer back on again for another 2-3 minutes. If you don't have a stand mixer, you can use a handheld electric mixer or mix by hand. If you mix by hand, you might want to do it while you watch tv or something because it will take awhile. You'll know this step is done when the consistency of the butter and sugar are light and fluffy.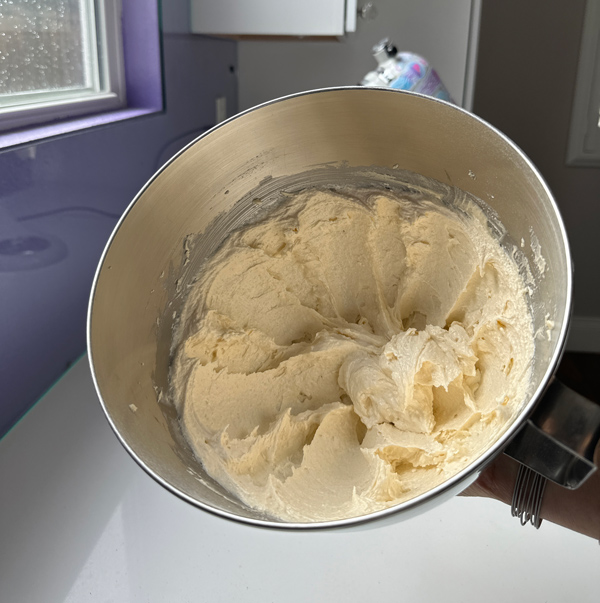 Add ¾ teaspoons (3g) of vanilla and 2 ½ tablespoons (37g) nondairy milk to the butter and sugar, and mix again for 1 minute.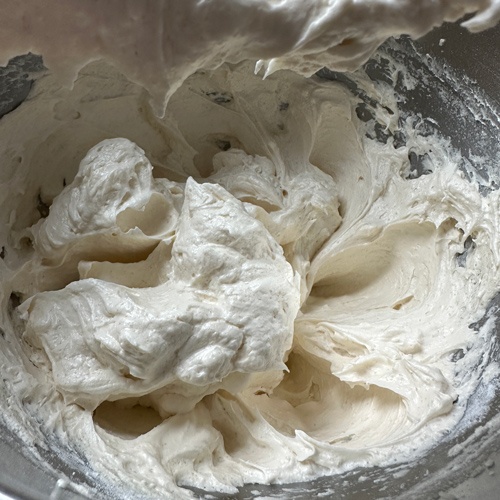 Sift ½ tablespoon (4-5g) organic cornstarch, ⅛ teaspoon sea salt, ¼ teaspoon (1g) baking soda, ½ tablespoon (7g) baking powder, 1 ¼ cups (162g) flour, ¼ cup (30g) cocoa powder, and 2 tablespoons (10g) black cocoa powder into the mixing bowl.
Attach the pouring shield (or cover the mixer with a kitchen towel if you don't have the shield).
Mix on low-medium speed for 1 minute.
Stop the mixer, scrape the sides (and bottom) of the mixing bowl with a baking spatula, and mix again.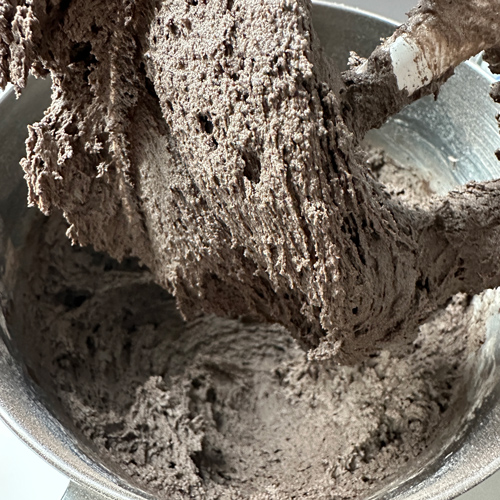 Wrap the black cookie dough in 1-2 pieces of cling wrap or 1-2 plastic produce bags. Flatten the dough into 1-2 thin discs so they chill faster and more thoroughly.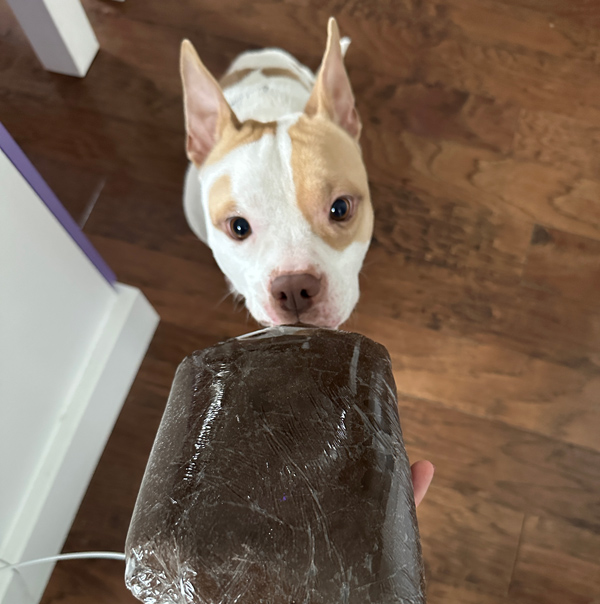 Chill the dough for a minimum of 30 minutes in the freezer (or overnight in the fridge). This recipe works best if the dough is chilled for 24 hours in the fridge. The dough will roll the smoothest if it chills longer.
Preheat the oven to 350ºF (175ºC).
Remove the dough from the fridge or freezer, and unwrap it.
Sandwich the dough in between 2 pieces of parchment paper or 2 silicone rolling mats.
Roll the dough by rolling your rolling pin on top of the top piece of parchment paper or silicone rolling mat. I rolled mine ¼ inch (6mm) thick. If your rolling pin doesn't have a way to measure the thickness, get a new one. Just kidding. You can set 2 metal straws on either side of your dough and roll on the pencils. They will keep you from rolling your dough too thinly.
Peel the top layer of parchment paper or the top silicone mat carefully off of the rolled out dough. If a little bit of cookie dough sticks to the top layer when you peel it off, this just means that your dough is too warm. Your cookies will still taste great. If you want a very smooth cookie, chill your cookie dough longer.
Press your heart-shaped cookie cutter into the dough, as close to the edges as possible. Continue to cut out heart shapes as closely together as possible to fit as many as you can in the piece of dough you rolled. I used the second to largest heart cookie cutter from this heart cookie cutter set because I plan to give each person only one cookie, so I want it to be big. Also, it will be easier to draw on the cookies with icing if the surface area is larger. You can use any shape of cookie cutter you want (coffins, bats, so many options), but I wanted vegan valentines cookies, so I used hearts.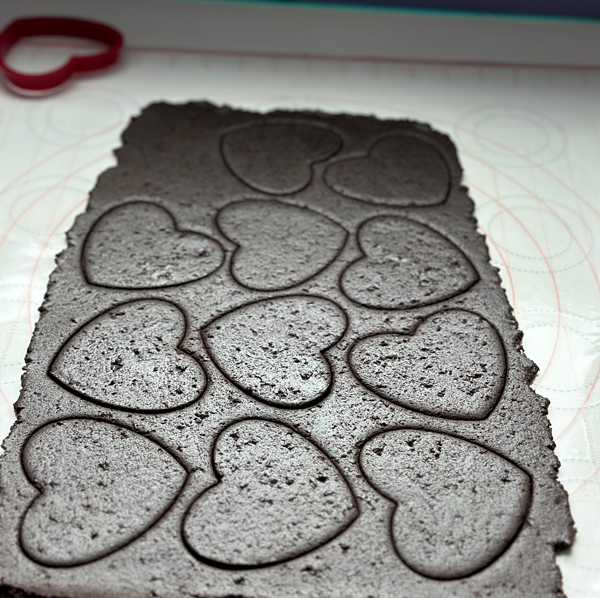 Transfer the cookie cutouts by slipping your parchment paper or rolling mat onto a cutting board or tray and transferring them to the freezer.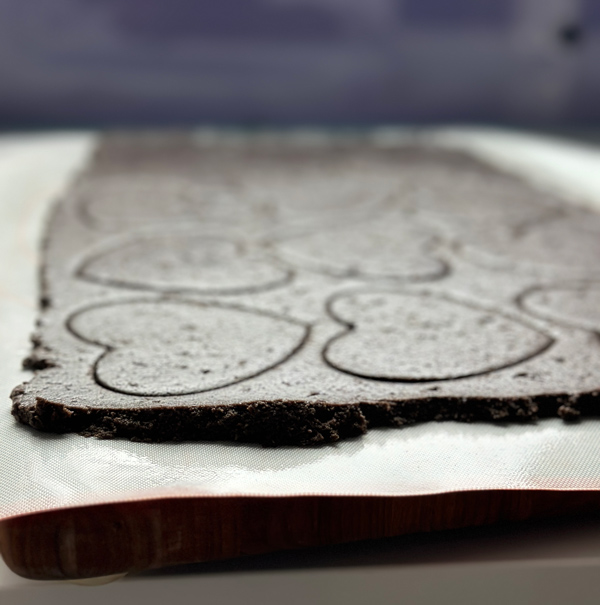 Freeze the cookies for at least 10 minutes. This will make them strong enough for you to transfer them off of your rolling surface onto baking sheets without breaking them. At this point in the process, it's been 6 minutes since I started preheating my oven.
Line two baking sheets with parchment paper.
Rewrap any remaining cookie dough scraps that you might have leftover from rolling that batch, and place it in the freezer to continue chilling.
Remove the black cocoa cookies from the freezer after 10 minutes (you can leave them in longer if you have time).
Transfer the cookies (carefully) to the parchment-lined cookie sheets. I do this by folding my rolling mat in a way that looks like I'm peeling it off of the bottoms of the cookies. Leave a little space between each cookie for them to expand a bit when they bake. This step of transferring cookies to the baking sheet takes about 2 minutes.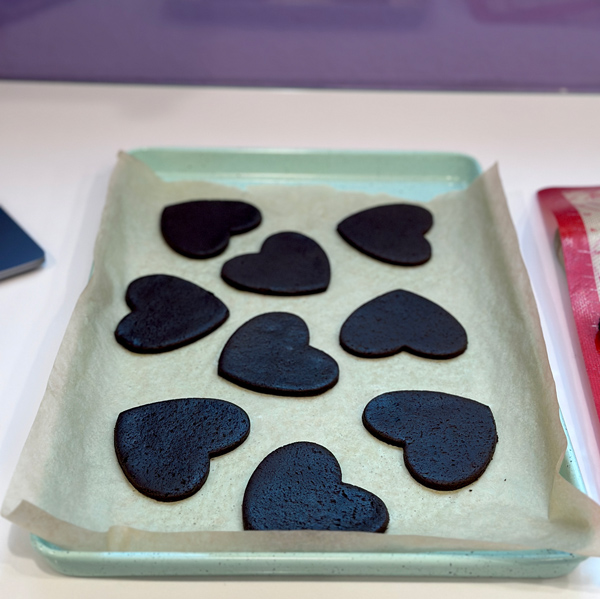 Slide the cookie sheet (or cookie sheets if you filled more than one) into the oven, once it's preheated to 350ºF (175ºC).
Bake for 9-10 minutes in a 350ºF (175ºC) oven.
Gather all the dough scraps and combine them with the dough that's wrapped in the freezer.
Repeat all the steps again: roll, stamp, chill, transfer, bake. To use up all the dough, I had to make 3 batches of cookies. When I get to the end and there's not much dough left, I usually just bake some glob shaped cookies that I eat myself. You can also save a small amount of cookie dough in your freezer for future dessert decorating. Cookie dough stays good in the freezer for many months.
Remove the tray(s) of baked cookies from the oven when your timer goes off. Let the black cocoa cookies sit on the cookie sheet for 2-3 minutes before you transfer them to a cooling rack.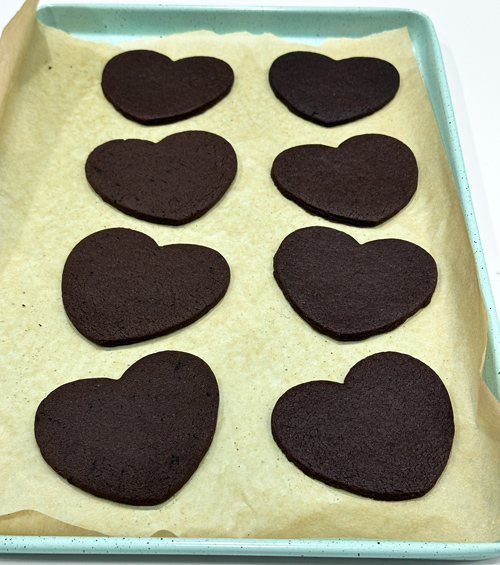 1 cup (120g) organic or vegan powdered sugar*

4 teaspoons (20g/mL) nondairy milk

2 teaspoons (14g/10mL) organic light corn syrup

¼ teaspoon (a few drops) pure peppermint extract or flavoring
How To Make Icing and Decorate Spider Web Cookies
make icing: 5 min | decorate cookies: 1 hour 10 min
Sift 1 cup (120g) of powdered sugar into the bowl of a stand mixer. If you don't have a stand mixer, you can use a handheld electric mixer or mix by hand.
Add 4 teaspoons (20g/mL) nondairy milk, ¼ teaspoon (a few drops) pure peppermint flavor or extract (see substitutions section for more info on this), and 2 teaspoons (14g/10mL) corn syrup to the mixing bowl.
Mix using the stand mixer fitted with the whisk attachment. Start the mixer on a low speed, and increase speed as the ingredients start to combine.
Stop the mixer, scrape the sides and bottom with a baking spatula, and turn the mixer back on again for another minute.
Transfer the icing to a squeeze bottle with a narrow opening at the top (or to a piping bag fitted with a wilton tip #3.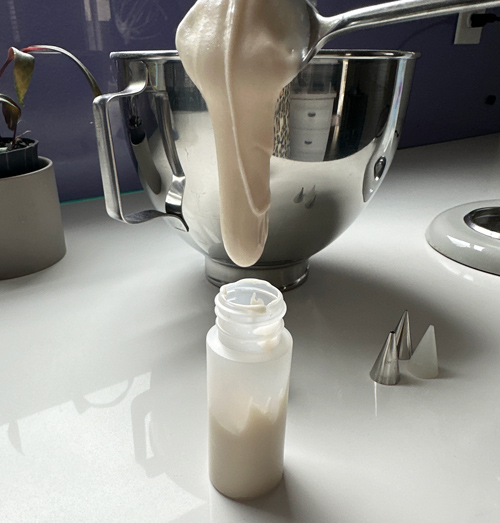 Trace the outline of a heart on your first heart cookie using this decorating icing.
Draw a smaller heart on the inside of the cookie.
Draw lines connecting the smaller inner heart to the larger outer heart.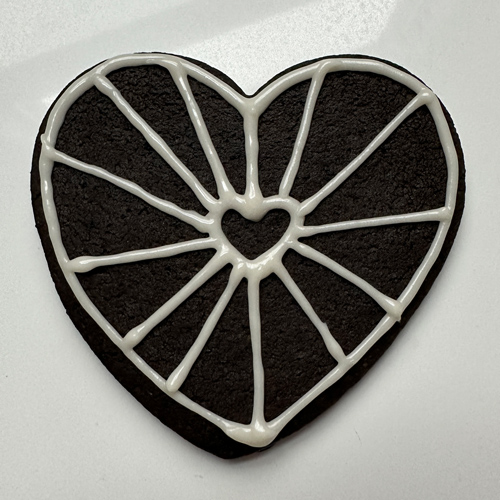 Draw the curved lines connecting the straight lines, just like a spider web.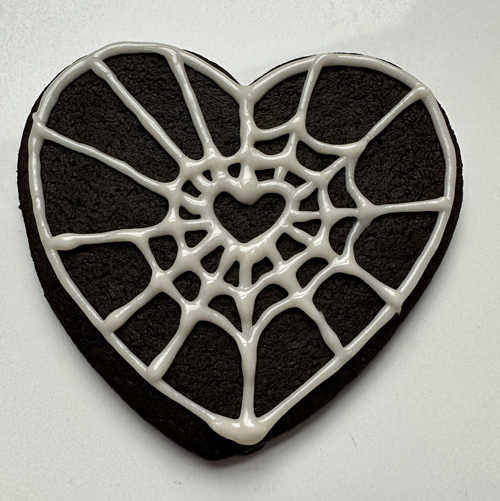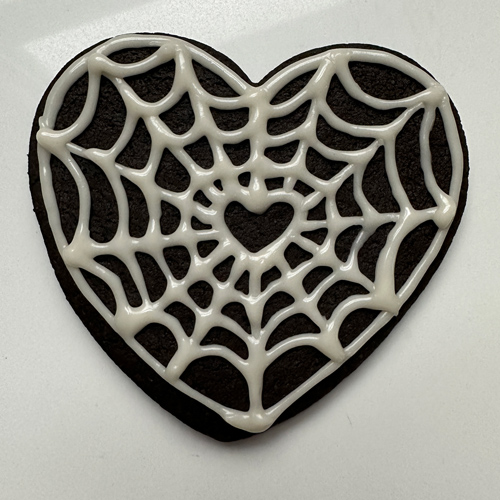 Repeat this design on all the black cocoa cookies.
Dry the cookie icing by leaving the spider web cookies on the counter overnight (or for a minimum of 5 hours).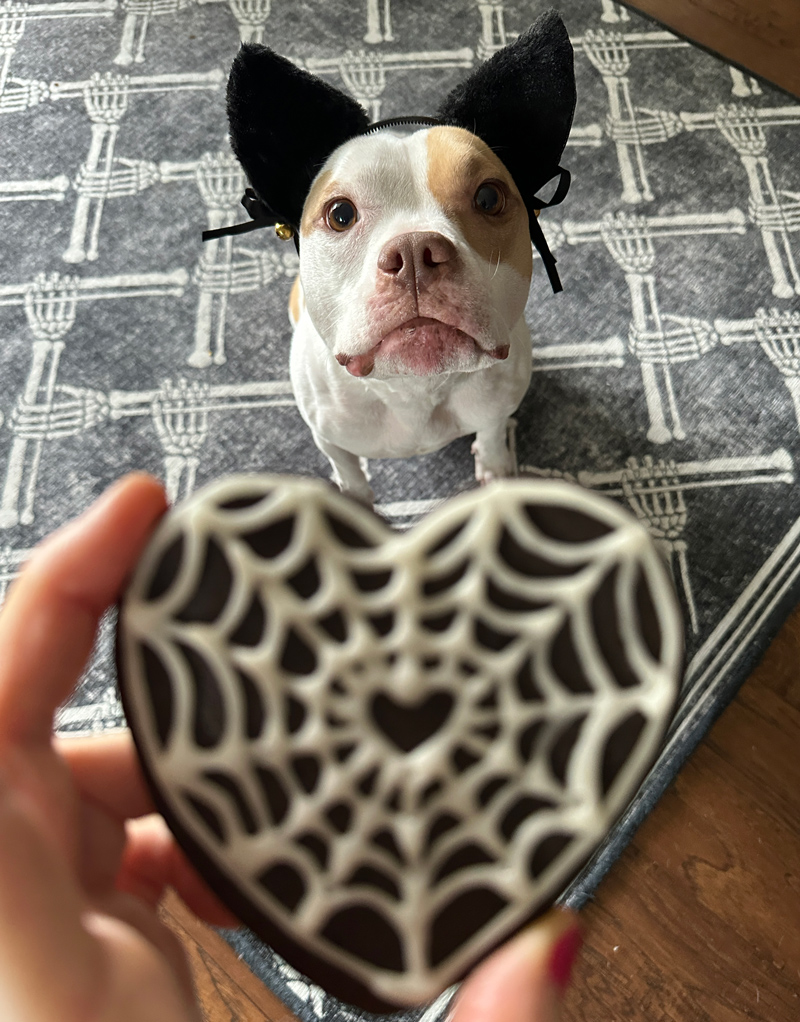 I placed these vegan Valentine's Day cookies into treat bags to deliver to my valentines.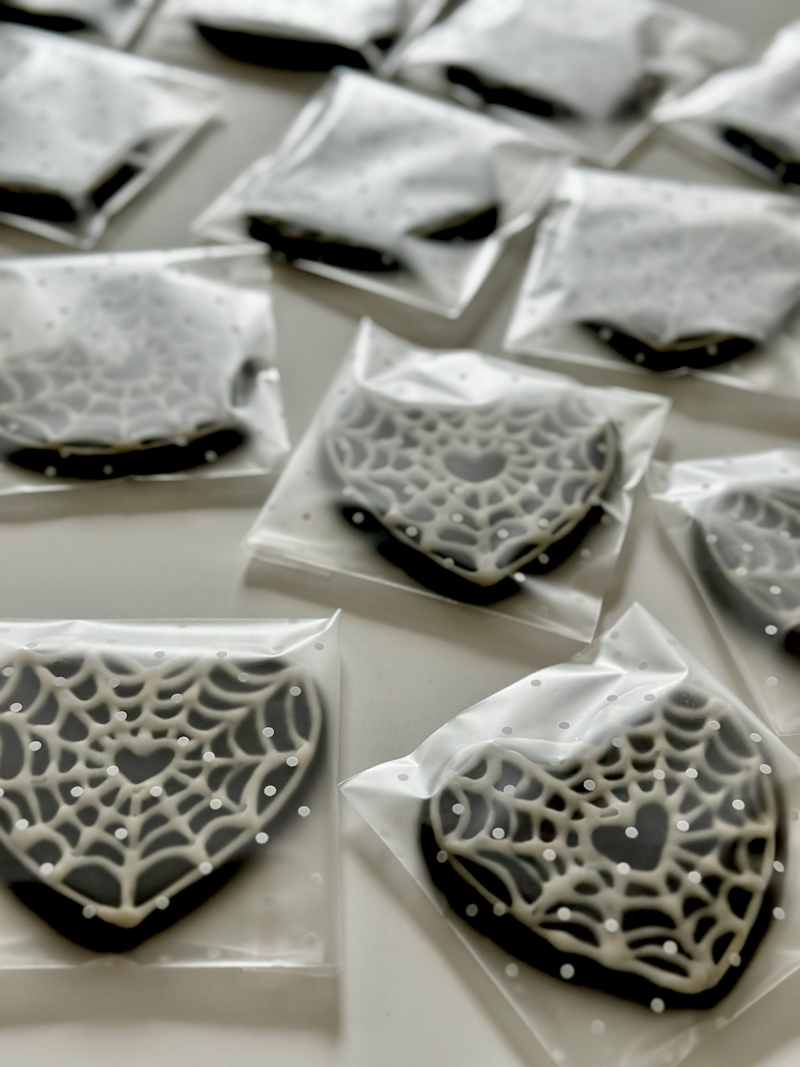 If you make these black cocoa cookies, snap a pic, post to instagram, and tag me @vegandollhouse. I love to see your creations! You can also message me through instagram or email me if you have any questions about the recipe.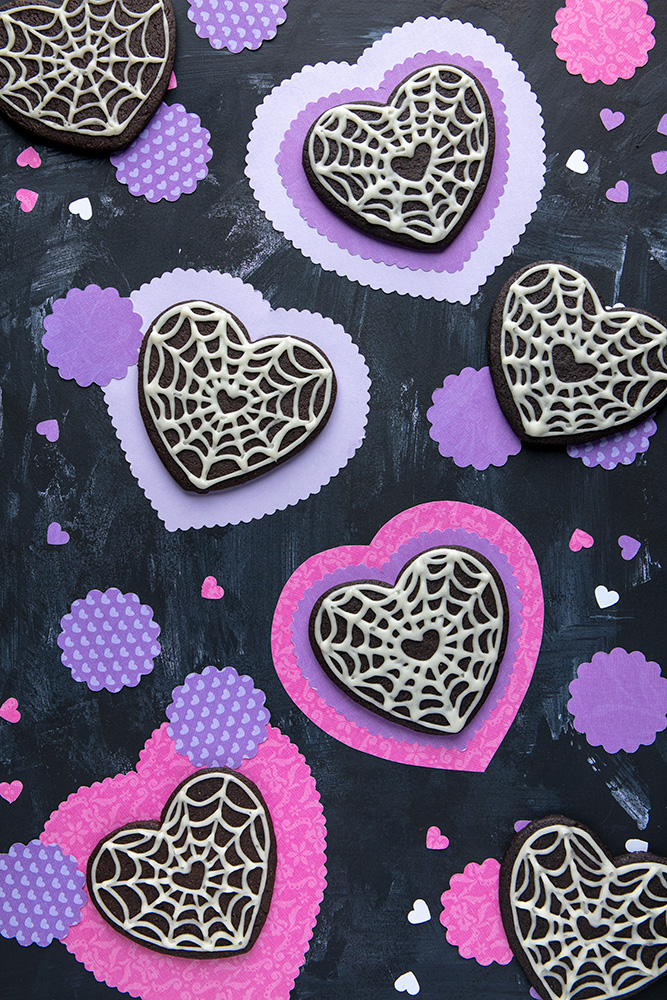 Can I use less sugar and less butter to make these black cocoa cookies healthier?
If you prefer low sugar or low fat desserts, you can cut the sugar back to ¾ cup and the vegan butter back to ¾ cup, and the cookies still turn out good.
Can I make the cookie dough ahead of time?
Making cookie dough the day before you want to bake your cookies is always a good idea. Dough that has been chilled for 24 hours is much smoother and easier to work with. It also has a richer, less floury, flavor.
This picture shows an example of how much smoother the dough looks when working with dough that has been chilling in the fridge for 24 hours.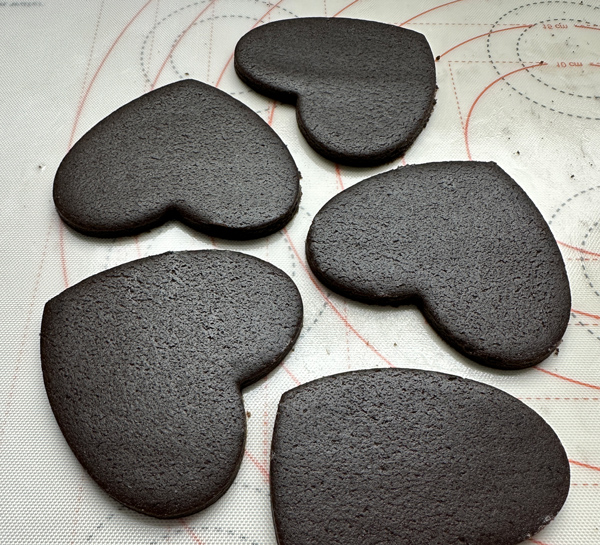 You can make the dough for this vegan Valentine's Day cookies recipe up to 3 days before you want to bake the cookies. Once you have your black cookie dough made, shape it into 2-3 discs and wrap them in cling wrap (or a produce bag if you like to reuse things), and set them in the fridge.
Can I bake these vegan Valentine's Day cookies in a convection oven instead of a conventional/standard oven?
You can definitely can bake these valentine's cookies in a convection oven instead of a regular oven. Make the following adjustments to the baking instructions. Preheat the convection oven to only 325 and reduce the baking time from 10 minutes to 9 minutes.
How long do the black cocoa cookies last? How should I store them?
If you're eating or giving away your cookies within a week, store them in a tupperware on the counter. If you made these more than a week before you plan to give them to people (like I did), you can store the tupperware in the freezer for up to 3 months. One thing I do recommend though, is to place a little piece of parchment paper (or wax paper) between each one. This will keep them from sticking to eachother if you stack them. Always make sure your cookies have cooled completely before transferring them to tupperware.
If you're mailing black cocoa cookies to your valentine, wrap them tightly in cling wrap or place them in sealable treat bags and then wrap them in bubble wrap to keep them from breaking during their journey.
Can I make more than 14 black cocoa cookies?
If you want to double or triple the recipe to make a lot of black cookies, you should block off a lot more time to make this recipe. The time to make a single batch of black heart cookies is about 8 minutes (for rolling the dough, cutting the dough, and transferring the heart cutouts to the baking tray) + 10 minutes (for chilling the dough before transferring to the baking sheets) + 10 minutes (for baking the cookies). While the cookies bake, you spend those 10 minutes rolling and cutting the next batch, so there is overlap, but I would give yourself an additional hour of time if you double this recipe and an additional 2 hours of time if you triple it for the cookie portion. Then, the decorating time is between 4 and 5 minutes per cookie. So, you'll want to add an additional hour of decorating time for each extra batch.
I hate Valentine's Day and think it's a bullshit commercial holiday. Is there a way to make these heart cookies into something cooler?
Yes, totally! At the heart of it (no pun intended), these are just vegan chocolate cookies, right? So if you want to take Valentine's day out of the black cookie recipe, I suggest ditching the heart shape and choosing a different cookie cutter. I recommend a bat cookie cutter or a coffin cookie cutter or honestly, just a jar lid to make round black cookies. Then, you can draw bat wings, spider webs, or even skulls on them.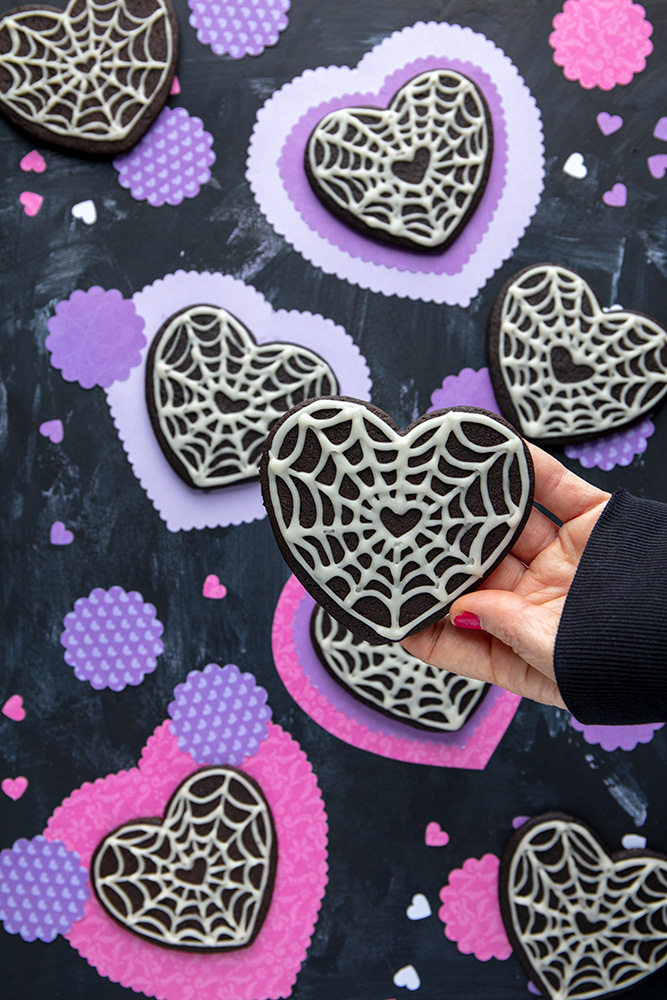 Vegan Butter: If you avoid soy, Earth Balance makes a soy-free vegan margarine. I always buy organic whipped Earth Balance, but I have also used Miyoko's butter successfully. If vegan butter or margarine is hard to find or not something you have in your house, you can use an equal amount of spectrum organic palm shortening in its place.
Nondairy Milk: You can use any variety of non-dairy milk you want for this recipe. If you don't have the full amount of nondairy milk that this recipe requires, you can substitute any amount with water or nondairy creamer. You can also mix and match different nondairy milks. I do this a lot when my macadamia milk only has a little bit left at the bottom and I use it up, and then I open a new container of almond, oat, or soymilk.
Sugar: For the sugar in this Halloween cookie recipe, you can use any number of sugars, as long as they're vegan: brown sugar, sucanat, coconut sugar, raw sugar, organic sugar, or demurara. If you're not sure if your sugar is vegan, you can contact the company and ask, but avoid conventional white sugar or granulated sugar, and you should be ok. If you don't have a blender to blend sugar, you can use organic powdered sugar or granulated vegan or organic sugar. Powdered sugar will have a better result, but either will work.
Flour: If you don't have all-purpose flour or you have some, but not enough, fear not. You can replace some or all of the flour in this gothcore cookie recipe with any combination of wheat flour, spelt flour, or whole wheat pastry flour. It will taste healthier with some of these though. If you avoid gluten, or if you have friends or family who are gluten free, you can substitute the all-purpose flour with a gluten-free flour blend to make these black cookies gluten free.
Extracts and Flavorings: Make sure your vanilla extract is pure vanilla extract and not artificial vanilla flavoring. Imitation vanilla is often not vegan, because it's made from beaver butts. (I can't make this shit up.) In the icing, if you don't care for mint, you can replace the ¼ teaspoon peppermint extract with ¼ teaspoon vanilla or almond extract. Or you can omit it altogether.
Baking Powder: Keep in mind that baking powder does expire, so it works best if it's fresh/newish. I use non-aluminum because my memory is already terrible and I don't want Alzheimer's Disease. But if all you have is regular baking powder, that will work. If you're out of baking powder, you can increase baking soda in this recipe to ¾ teaspoon and omit the baking powder.
Black Cocoa: If you don't have black cocoa powder and you don't have time to buy any, you can replace the 2 tablespoons (10g) black cocoa powder in this recipe with 2 tablespoons (10g) regular cocoa powder. This will make the cookies turn out more brown than black, and they'll taste less like an oreo cookie and more like a regular chocolate cookie. If you have your heart set on black cookies, you can always add a teaspoon activated charcoal powder if you have that.
If you like these black cocoa cookies, you might also like my vegan Halloween recipes and my vegan Valentine's Day recipes.
☆☆☆☆☆☆☆☆☆☆
* I use mostly organic ingredients when I cook, but I realize that not everyone has the disposable income to purchase all organic ingredients. Therefore, I only specify organic on the ingredients that really matter - when buying the organic (or non-GMO) version is the only way to ensure that the item is vegan.
If you click on a link in this website and buy something (not all links - just affiliate links), I could receive a tiny commission. But the price you pay will NOT change. It's an easy way to support this blog without anything coming out of your pocket. So click often! Thank you!
☆☆☆☆☆☆☆☆☆☆