Vegan Stuffing
published on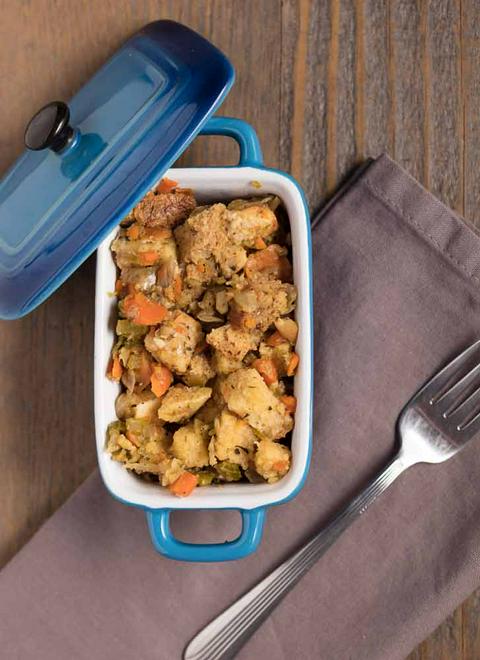 ♫ Listening to: Vertigo Flowers by Nothing ♫
This recipe makes A LOT of stuffing. I use it to fill my thanksgiving dinner cake and my tofurkey, and I still have leftovers. Reheat the leftovers in your oven for 15 minutes on 300 degrees fahrenheit.
Vegan Stuffing Ingredients
Dollhouse Shortcut
If you have an instant pot, you can sauté the veggies in it, instead of on the stove.
half a loaf of bread
1 yellow onion
3 stalks celery
1 carrot
5 cloves of garlic
2-4 tablespoons olive oil
½ teaspoon thyme
1 teaspoon sage
½ teaspoon salt
¼ teaspoon pepper
3 cups of veggie broth
Vegan Stuffing Directions
Preheat oven to 250°.
Cut slices of bread into strips and then into cubes. Keep cutting until you have 8 cups of bread cubes.
Spread the bread in a single layer on 2 baking sheets or baking stones.
Bake for an hour, while you start on the next steps.
Dice the onion, carrot, celery, and garlic finely (I used the S blade in my food processor ).
Sauté the onion, carrot, celery, and garlic in 2-4 tablespoons of olive oil until soft.
Add the teaspoon of sage and the ½ teaspoon of thyme and mix to combine.
Remove bread from oven. Increase the oven temperature to 400°.
Add the sautéed veggies to the toasted bread and toss with your hands.
Add the veggie broth right before you plan to cook the stuffing. (If you add it too soon, your stuffing could get soggy.) Try to evenly add the broth to the stuffing so it's evenly coated.
Transfer the stuffing to an oven safe dish and bake for 30 minutes.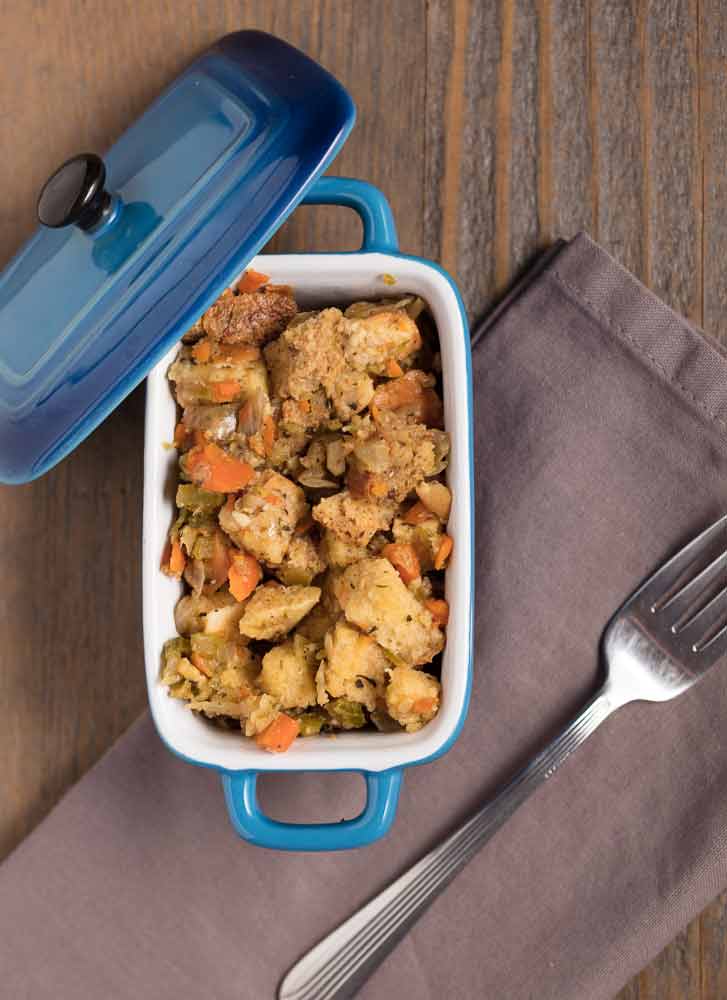 I recommend serving this with my gluten-free pumpkin pie.
☆☆☆☆☆☆☆☆☆☆