Vegan Thanksgiving Blossoms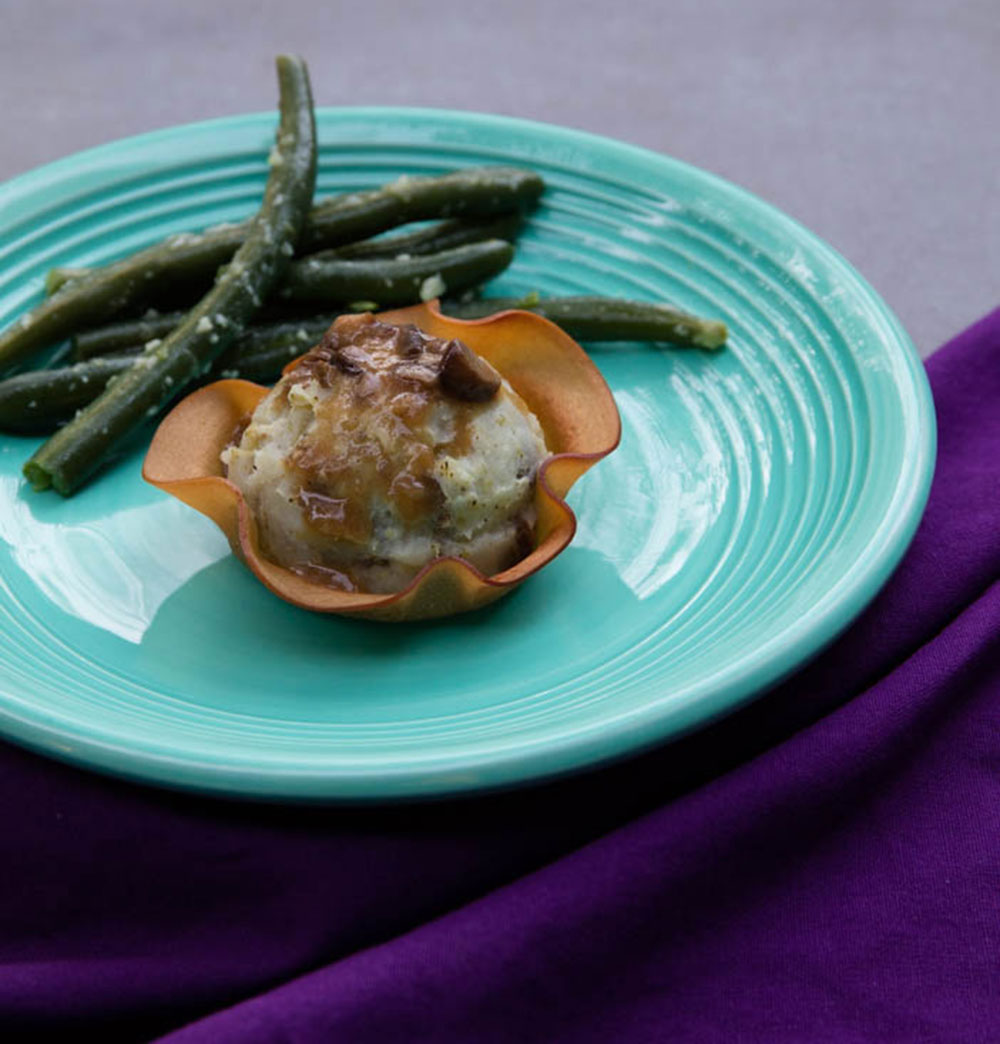 ♫ Listening to: Trampoline by Kero Kero Bonito ♫
These vegan thanksgiving blossoms can accompany you to a muggle thanksgiving dinner where you might not have many vegan options. Or they can be brought as a side dish to a vegan friendsgiving as well. This recipe can also be applicable to a Christmas or Easter dinner.
This recipe makes 12-14 blossoms.
This recipe is inspired by a breakfast cup recipe I saw in Cassie Johnston's cookbook.
For another cute thanksgiving idea, check out my leftover sandwiches.
Vegan Mashed Potatoes Ingredients
3 pounds veggies (I used potatoes, broccoli, and cauliflower)
¼ cup organic earth balance
¼ - ½ cup veggie broth
1 teaspoon salt
½ teaspoon pepper
Vegan Mashed Potatoes Directions
Wash the veggies, cutting off any bad spots.
Cut the veggies into one-inch cubes, place in a pot, and cover with water.
Boil the veggies on high heat, reduce heat to medium, and boil for 15 minutes.
Drain the veggies in a colander in the sink.
Transfer the veggies back to the pot, add the earth balance, salt, and pepper, and mash with a potato masher.
Add the veggie broth slowly until the potatoes are a creamy consistency, but don't add too much…you still want it to be scoopable (um yes, of course scoopable is a word).
Vegan Mushroom Gravy Ingredients
2 tablespoons olive oil
1 onion, finely diced
8 oz shitake mushrooms (you can sub any other kind of mushroom), finely diced
4 cloves garlic, minced
¼ cup soy sauce or tamari
1 ½ cups filtered water
¼ cup organic unbleached flour
Vegan Mushroom Gravy Directions
Sauté the onion, garlic, and mushrooms in olive oil on low heat, covered. Stir occasionally for 10 minutes.
Add half the water and soy sauce or tamari. Bring to a boil and reduce to simmer for 10 minutes.
Blend the rest of the water with the flour (I use an immersion blender, but if you don't have a blender, just use a whisk).
Whisk the water-flour mixture into the pot. Continue whisking for 10 minutes until thick. Remove from heat.
Vegan Thanksgiving Blossom Petal Ingredients
1 package vegan deli slices (I used tofurkey, but field roast makes good ones too)
1 tablespoon coconut or vegetable oil (I like safflower and sunflower oils)
Vegan Thanksgiving Blossom Assembly Directions
Preheat the oven to 350°.
Oil the cubbies in a cupcake pan.
Place a slice of tofurkey on top of each cubby.
Scoop the mashed potatoes on top of the tofurkey deli slice using an ice cream scoop. The weight of the potatoes should cause the blossom to sink halfway into the cubby.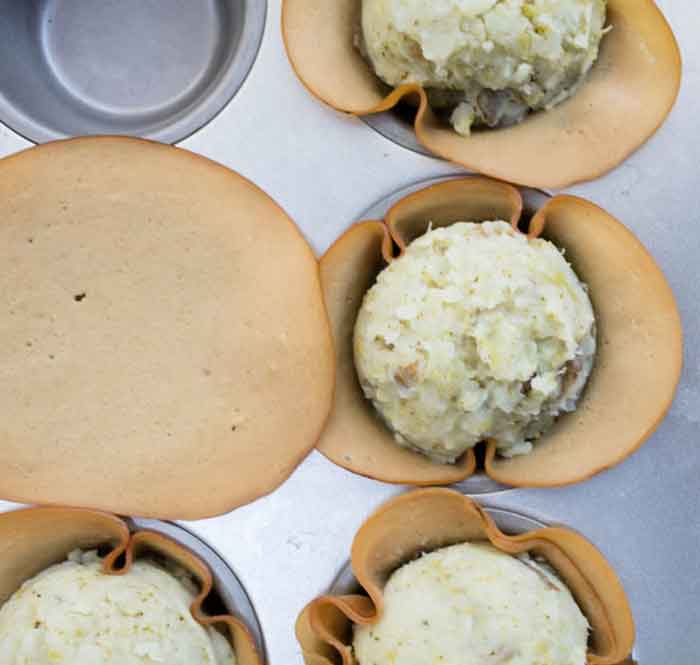 Bake for 15-20 minutes (or until the mashed potatoes start to brown on the tops).
Remove from oven and place pan on cooling rack.
Remove blossoms from the pan by pinching the petals on each side and lifting out. Garnish with gravy before serving.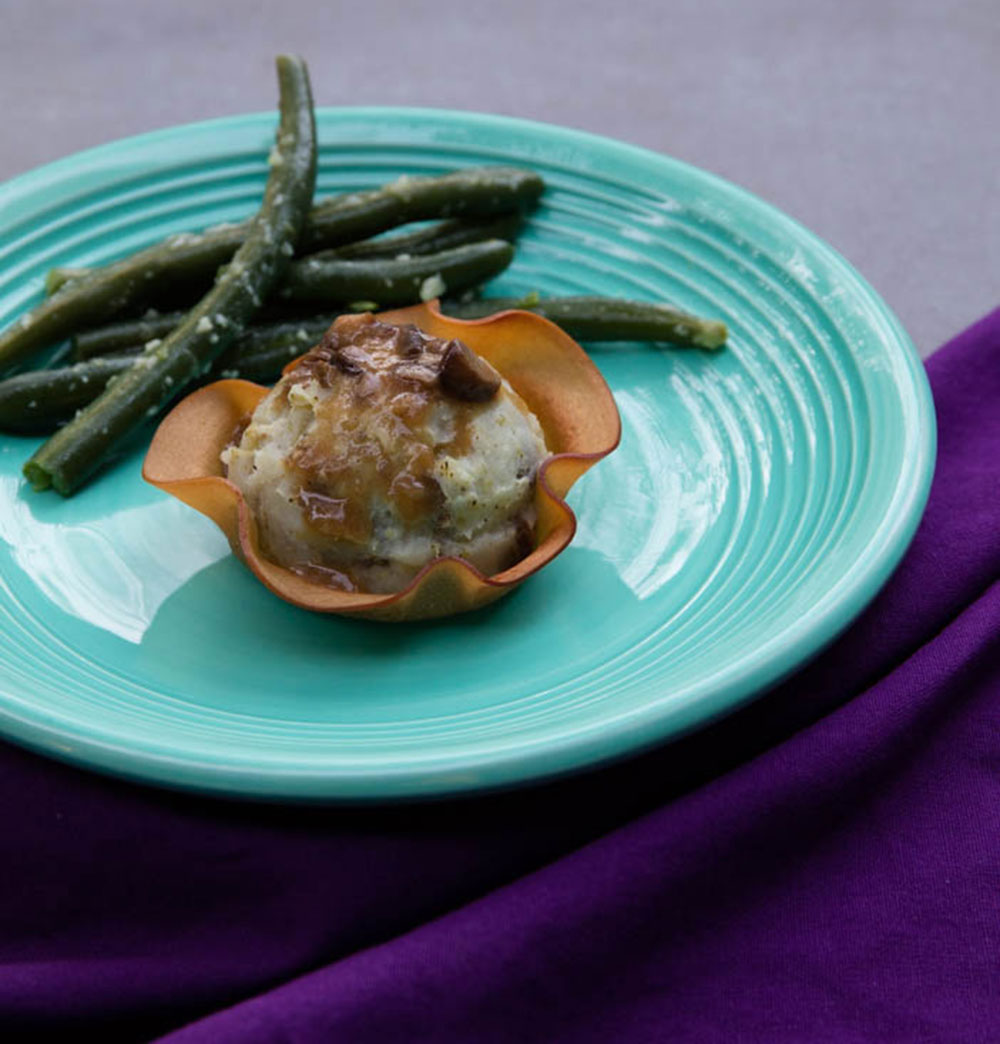 If you have leftovers, just reheat them in the oven for 15 minutes.
☆☆☆☆☆☆☆☆☆☆