Vegan Mashed Potatoes and Gravy
published on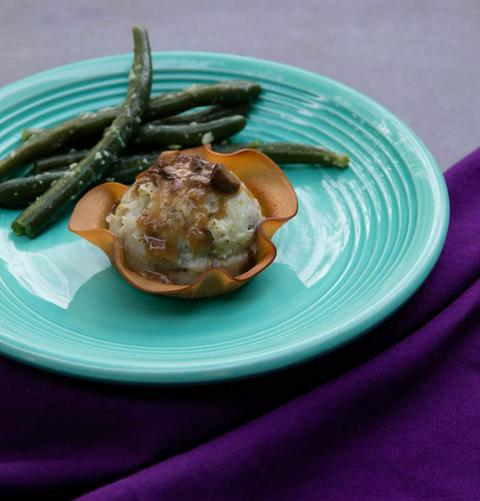 ♫ Listening to: Trampoline by Kero Kero Bonito ♫
These vegan mashed potatoes and gravy cups are the perfect dish to bring to a potluck or muggle thanksgiving dinner where you might not have many vegan options, because they're a complete meal in one serving. They also make an excellent side dish to a vegan friendsgiving. This recipe can also be applicable to a Christmas or Easter dinner.
This recipe is inspired by a breakfast cup recipe I saw in Cassie Johnston's cookbook.
This recipe makes 12-14 scoops of mashed potatoes and gravy.
Table of Contents
(click the links below to skip to the section you're looking for)
3 pounds veggies (I used potatoes, broccoli, and cauliflower)

¼ cup vegan butter or margarine (I like the organic whipped earth balance)*

¼ - ½ cup veggie broth or unsweetened, unflavored non-dairy milk

1 teaspoon salt

½ teaspoon pepper
Vegan Dairy-Free Mashed Potatoes Directions
Wash 3 pounds of veggies, cutting off any bad spots. You can use any veggies really (well maybe not celery because of the strings). No matter what veggies I use, I always make sure I have potatoes as one of those. Potatoes are the starchiest veggie so they will help make your dairy-free mashed potatoes creamy. So, I would recommend at least half of the veggies be potatoes (yukon gold and russet are the best). Other veggies I've used include turnips, rutabaga, radishes, parsnips, carrots, yams, kale, spinach, chard, broccoli, and cauliflower.
Cut the veggies into one-inch cubes, place in a pot, and cover with water. If you're using leafy greens, I would remove the stems before using them.
Boil the veggies on high heat. Once the water starts to boil, reduce heat to medium, and set the timer for 15 minutes. When the timer goes off, they should be done, but you can make sure by piercing the biggest chunk with a fork and it should slide through easily. If you're boiling different types of veggies, you should probably pierce one of each type of veggie with a fork to test them all for doneness before turning off the stove.
Drain the veggies in a colander in the sink.
Transfer the veggies back to the pot if you plan to mash them by hand using a potato masher. Or if you plan to use an electric mixer fitted with the whisk attachment, transfer them to a mixing bowl with tall sides.
Add ¼ cup vegan butter or margarine, 1 teaspoon salt, and ½ teaspoon pepper.
Mash with a potato masher or whip with an electric mixer.
Drizzle the ¼ - ½ cup veggie broth or unsweetened, unflavored non-dairy milk slowly into the mashed potatoes until the potatoes are a nice creamy consistency and then STOP adding. You don't want to add too much, because you still want it to be scoopable (um yes, of course scoopable is a word).
2 tablespoons olive oil

1 onion, finely diced

8 oz shitake mushrooms (you can sub any other kind of mushroom), finely diced

4 cloves garlic, minced

¼ cup soy sauce or tamari

1 ½ cups filtered water

¼ cup organic unbleached flour
Vegan Gravy Directions
Sauté a finely diced onion, a tablespoon of minced garlic, and 8 ounced of diced mushrooms in around 2 tablespoons of olive oil on low heat, for 10 minutes, covered.
Stir it every few minutes during the 10 minutes to make sure it doesn't stick.
Pour ¼ cup soy sauce or tamari and ½ cup filtered water into the sauteed mushrooms and onions.
Increase the heat so that it comes to a boil, and then reduce the heat to let it simmer for 10 minutes.
Blend 1 cup of filtered water with ¼ cup flour. I use an immersion blender, but if you don't have a blender, you can use a whisk.
Whisk the water-flour mixture into the pot. Continue whisking for 5-10 minutes until thick.
Remove from heat.
Serve immediately or store in a glass container with a lid in the fridge for up to a week. I have also frozen this gravy when I made it in advance for a holiday gathering, and it defrosts well.
1 package vegan deli slices (I used tofurkey, but field roast makes good ones too)
1 tablespoon coconut or vegetable oil (I like safflower and sunflower oils)
Vegan Thanksgiving Blossom Assembly Directions
Preheat the oven to 350°.
Oil the cubbies of a cupcake pan.
Place a slice of tofurkey on top of each cubby.
Scoop the mashed potatoes on top of the tofurkey deli slice using an ice cream scoop. The weight of the potatoes should cause the deli slice to sink halfway into the cubby.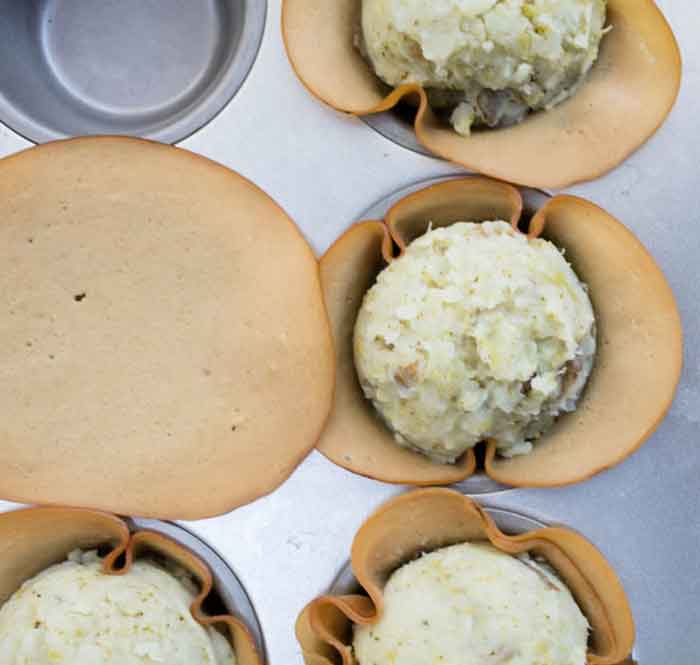 Bake for 15-20 minutes (or until the mashed potatoes start to brown on the tops).
Remove from oven and place pan on cooling rack.
Remove blossoms from the pan by pinching the petals on each side and lifting out. Garnish with gravy before serving.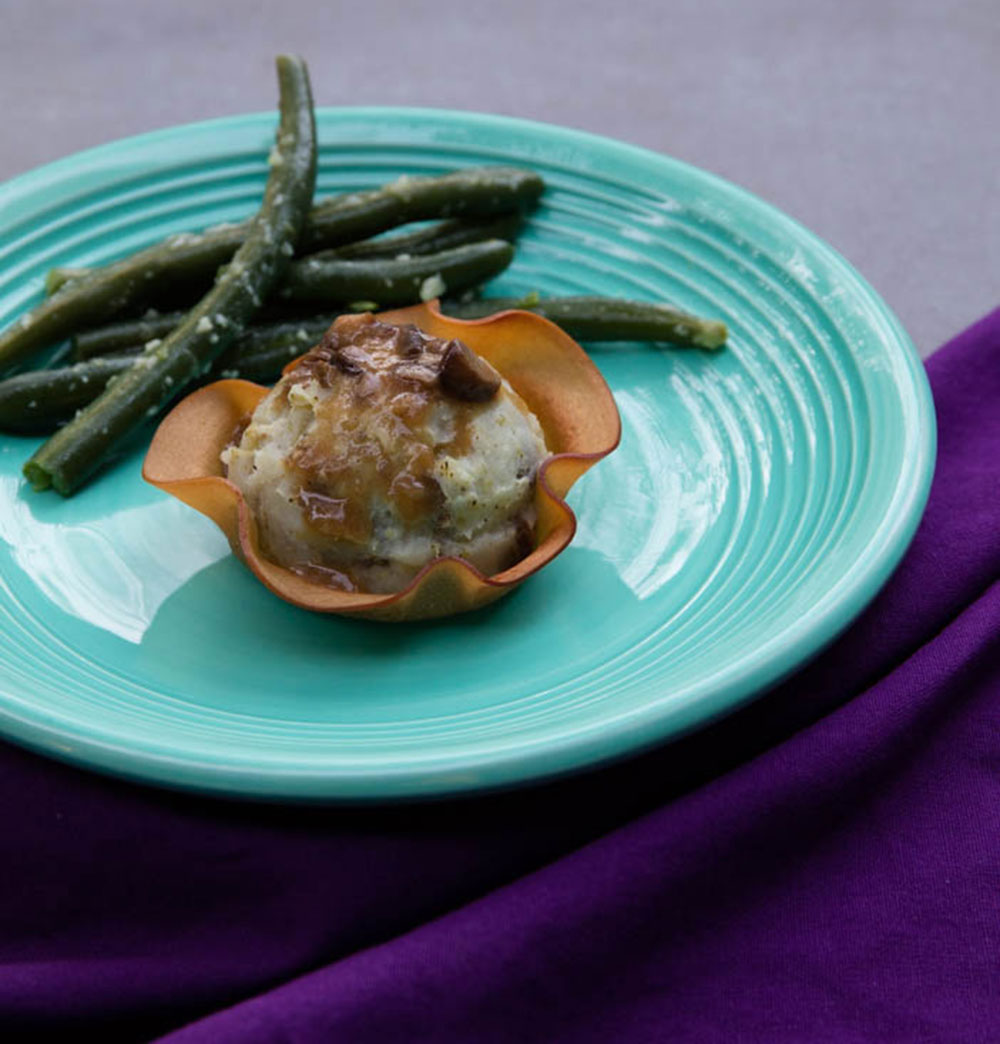 How can I mash my potatoes without a potato masher?
I rarely use my masher for mashed potatoes. I usually use my electric stand mixer fitted with the whisk attachment to make my mashed potatoes. It gets them light and fluffy and creamy.
Why are my mashed potatoes lumpy?
I once tried to make mashed beets, and I cooked them the same amount of time I cook my mashed potatoes and they were lumpy too. Since all root veggies cook at a different rate, there's a chance you didn't boil your veggies long enough before straining them. Just make sure you pierce one of each type of veggie with a fork to test them all for doneness before straining.
Can these mashed potatoes be frozen?
Sure! If you have leftovers, place them into a tupperware and freeze them for up to 3 months. The day before you want to eat them, move them from the freezer to the fridge to defrost for 24 hours. Then reheat them in the oven for 15 minutes at 350º or in the air fryer for 10 minutes at 325º.
How long before these mashed potatoes and gravy go bad?
As a general rule of thumb, as long as you store them in the fridge and they don't sit out for too long, these mashed potatoes and gravy should stay good for up to a week in the fridge.
Potatoes: In place of some of the russet or yukon gold potatoes, you can use other veggies.
Garlic: In place of the tablespoon of minced garlic, you can use a teaspoon of garlic powder.
Flour: If you want to make this recipe gluten-free, replace the ¼ cup flour with ¼ cup cornstarch or arrowroot powder (and replace the soy sauce with tamari).
Butter: If you want to make this recipe soy-free, buy the soy-free earth balance (and replace the soy sauce with coconut aminos).
Oil: You can use any oil in this recipe, as long as it's vegan: coconut, olive, safflower, sunflower, vegetable, or even canola if you must.
For other cute thanksgiving ideas, check out my leftover thanksgiving dinner sandwiches and my thanksgiving dinner cake.
I recommend serving this with my crustless pumpkin pie.
Here's a live stream video of me making the vegan mushroom gravy.
☆☆☆☆☆☆☆☆☆☆
* I use mostly organic ingredients when I cook, but I realize that not everyone has the disposable income to purchase all organic ingredients. Therefore, I only specify organic on the ingredients that really matter: when buying the organic—or non-GMO—version is the only way to ensure that the item is vegan.