Oil-free Crackers
published on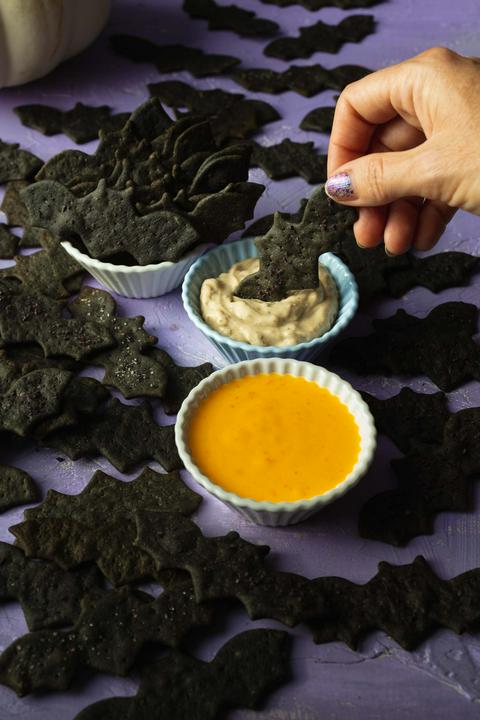 ♫ Listening to: Vicious Pastimes by House of Harm ♫
These easy homemade crackers have a flaky, buttery flavor with no added oil! Halloween bat crackers are a fun and healthy snack to share with friends and family either as an after-school snack or an easy halloween party horror d'oeuvres.
Crisp oil-free vegan crackers with that perfect snap are delicious alone or served with a spread or dip. This healthy cracker recipe only requires the most basic of baking skills: mix, roll, cut, bake. But if you're an intermediate baker, you can make them into whole wheat crackers, gluten-free crackers, cheesy crackers, or other healthy crackers by using alternative flours like whole wheat, spelt, or even almond flour and adding nutritional yeast.
I created this vegan cracker recipe to bring to a Halloween tea party where my friend Jocelyn will be making homemade vegan cheese so we can make a vegan halloween cheese and cracker board. Before the pandemic, we had these themed vegan tea parties every season, but this will be our first one in a really long time. So, now that everyone is vaxxed, it's time to break out your cookie cutters and make some cute food for every occasion.
This vegan recipe makes around 70 homemade tahini bat-shaped oil-free crackers.
Halloween Party Crackers Ingredients
2 cups (260g) flour (any kind)

1 teaspoon (3g) garlic powder

1 teaspoon (3g) onion powder

½ teaspoon (3g) baking powder

⅓ cup black tahini

⅔ cup (150g or 155ml) water

2 teaspoons tamari or soy sauce*
Halloween Party Crackers Directions
Mixing the dough: 15 min + Chilling the dough: 1 hour + Rolling dough and cutting out crackers: 1 hour 15 min + Baking crackers: 40 min = Total time from start to finish: 2 hours 30 min
Dollhouse Shortcut
To save time, you can either make the dough the day before and chill it in the fridge overnight, or you can skip the chilling altogether (but the snap won't be as perfect).
Whisk the dry ingredients together in a bowl: 2 cups (260g) flour, 1 teaspoon (3g) garlic powder, 1 teaspoon (3g) onion powder, ½ teaspoon (3g) baking powder, and ½ teaspoon (3g) pink sea salt (or any kind of salt). I've made these using gluten-free flour, wheat flour, and unbleached white flour, and they all taste great! The garlic and onion powder in this recipe are optional, but I do think including them makes for a tastier cracker.
Mix ⅓ cup organic black tahini (the black tahini makes black crackers, so you should use white tahini if you're making ghost crackers instead of bats), ⅔ cup (150g or 155ml) water, and 2 teaspoons tamari or soy sauce into the dry ingredients. You can mix it by hand or use a stand mixer fitted with the kitchenaid beater attachment (but don't overmix the dough - you want to stop mixing as soon as you no longer see any dry ingredients).
Chill the dough after covering or wrapping it in cling wrap for at least 30 minutes and up to 24 hours. You can speed this step up by freezing the dough for 10 minutes if you're in a hurry.
Preheat the oven to 400°when you take the chilled dough out of the fridge.
Roll half of the dough as thin as you can get it without it breaking. I recommend using a kitchenaid pasta roller to get it evenly thin without as much effort, but if you don't have one and don't want to buy one, then you can roll the dough by hand. Roll it about 1.5mm or 1/16 of an inch in thickness, ideally evenly throughout so it bakes evenly. If you're using gluten-free flour, the kitchenaid pasta roller won't work, because gluten-free dough is much more delicate to work with. When I use gluten-free flour, I roll the dough by hand using a rolling pin set at 1/16". You can get away with making them thicker, but the thinner the crackers are, the crispier they are.
Place the thinly rolled dough on a rolling mat or parchment paper that has been lightly dusted with flour. I usually sprinkle flour on the rolling mat and use my hand to rub it all over all the way to the edges. You don't want the dough to stick to the mat at all or else when you try to transfer the crackers to the baking sheet, they'll be very difficult to pry off the mat.
Cut out as many vegan crackers as you can from the dough, getting them as close together as possible. I used my bat cookie cutter for these, but you can make other Halloween shaped crackers if you don't love bats as much as I do. I've also used a variety of cookie cutter shapes and all of them worked well. If your cutter sticks to the dough at all, just dip it in flour in between every few crackers. If you want them to look more like artisan crackers, skip the cookie cutters and just cut them with a bench scraper/chopper or a knife. I've also seen people use a pasta cutter or a pizza cutter to cut them.
Line two baking sheets with parchment paper or a rolling mat (or don't line the baking sheets at all).
Transfer the unbaked bat crackers to the lined baking sheets.
Poke each cracker numerous times with a toothpick, as if it's a voodoo doll of someone you hate. People sometimes use a fork for this hole-poking part, but I prefer the way it looks when I poke the holes individually, and it doesn't take much longer. DO NOT skip this step. I skipped it once, and they didn't have that crisp snap that crackers should have. The holes give the steam a way to escape the cracker which helps them dry and crisp up.
Sprinkle salt on top of the crackers and press it into the crackers. This step is optional. I make some with and some without salt, and I prefer the ones with salt on top. I used a pretty purple salt that my friend Lizzie got me, which makes them look even more Halloween themed. If you try to avoid salt, you can skip this step.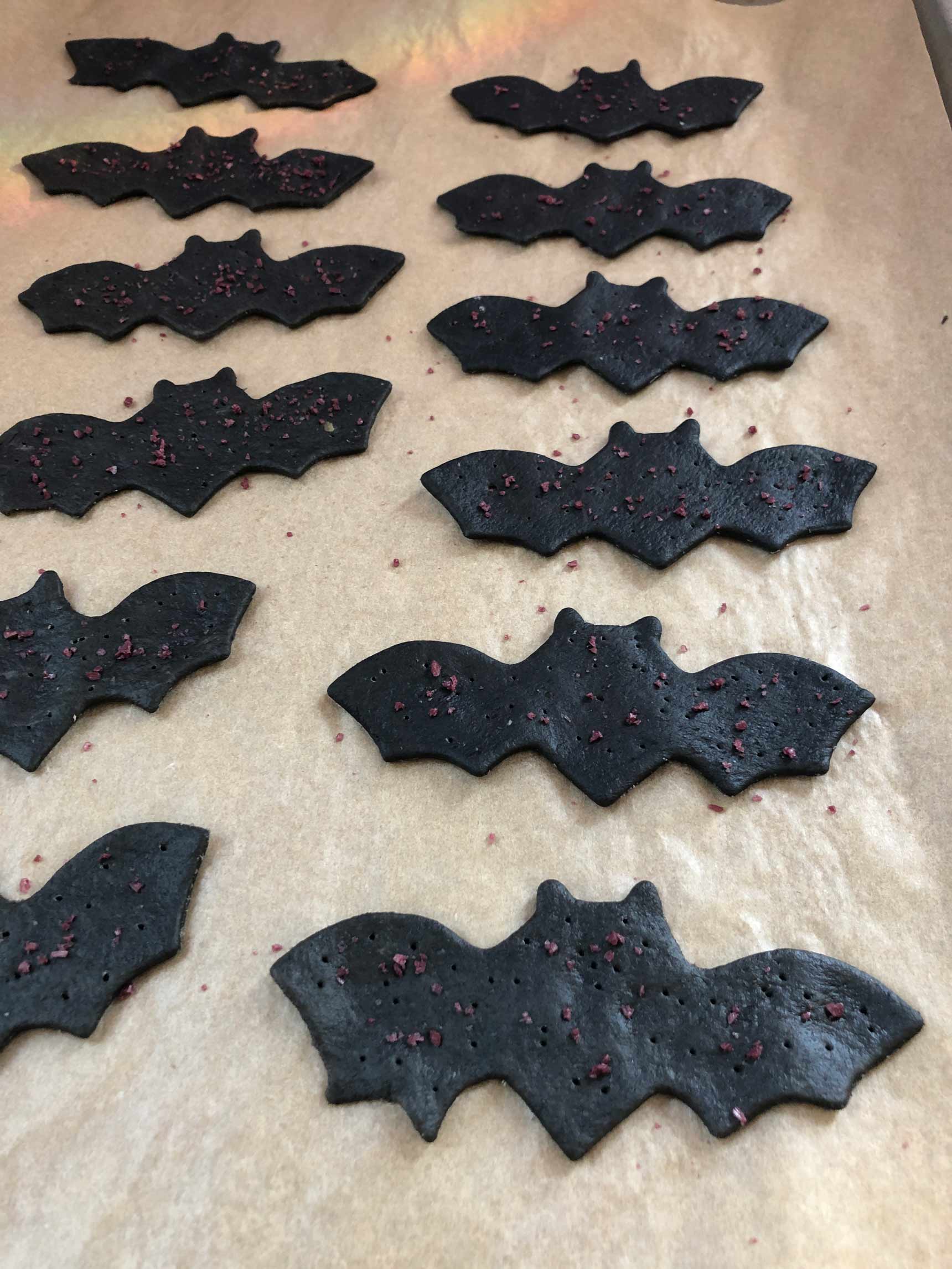 Bake for 8-10 minutes, depending on how hot your oven is. If your oven runs hot (like mine), you should only bake them for 8 minutes. You can also do a test batch to start where you only bake a single cracker and eat it when it comes out to see if it tastes overdone or underdone.
Cool the crackers on the baking trays for 1-2 minutes when they come out of the oven before transferring them to cooling racks. I let mine cool all the way (for a few hours) before transferring them to tupperware to store.
Roll the dough remnants along with the remaining dough, and continue the same steps again while the first tray bakes.
Rotate the trays, so when the first tray comes out of the oven, put the next tray in.
Repeat until all the dough is baked. The last few pieces I usually just bake as blobs. You can feed them to the most naïve member of your family and call them amoebas.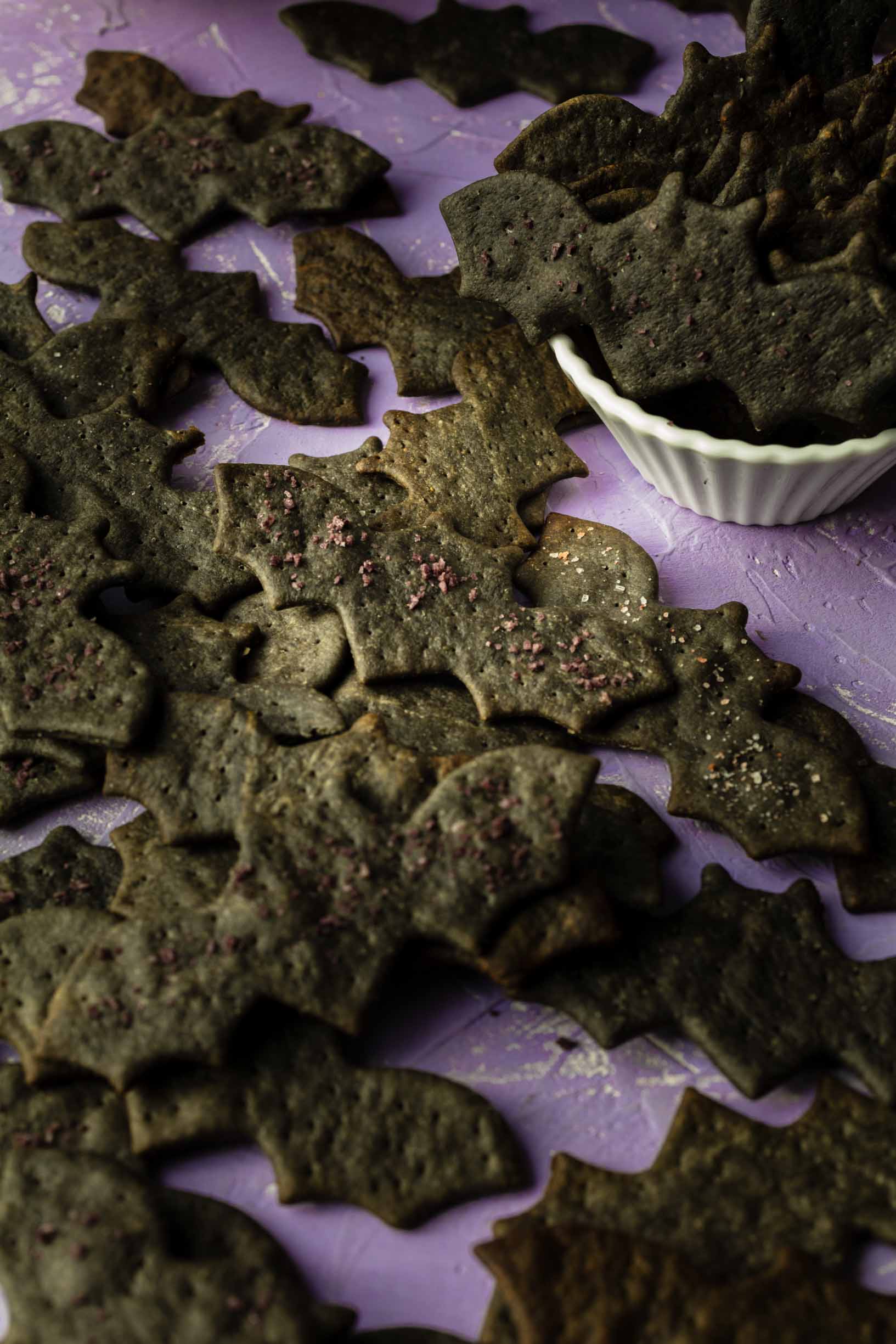 Eat your Halloween crackers with halloween soup or add them to a Halloween or friday the 13th themed charcuterie board or cheese and cracker platter. I brought mine to a Halloween tea party where they were accompanied by a vegan cheese pumpkin that Jocelyn made.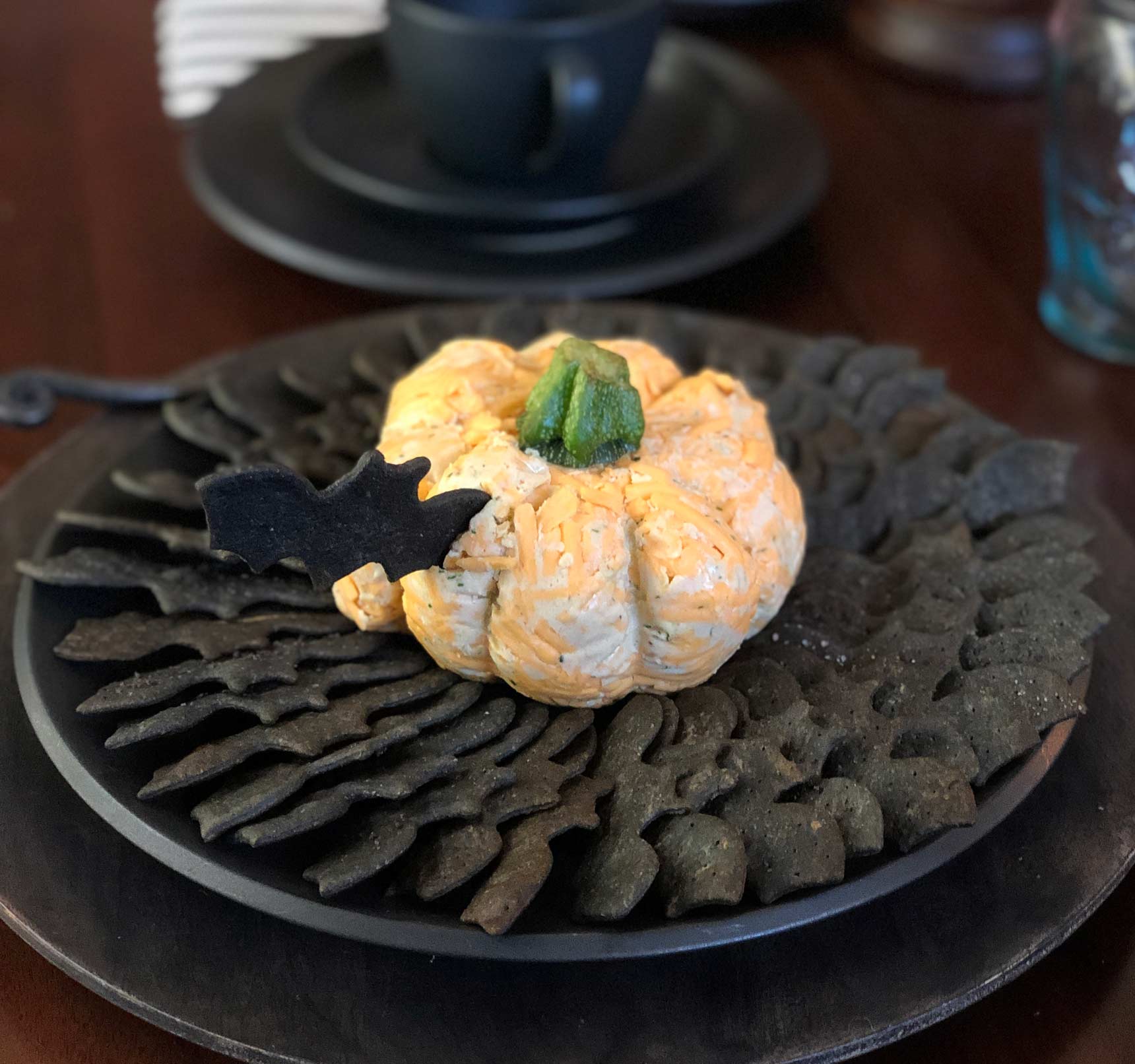 These crackers usually stay good at room temperature in an air-tight container for up to 5 days, but they taste best fresh, so I recommend sharing them with friends, family, or neighbors. People will be impressed that you made crackers from scratch. You don't have to tell them how easy they were to make. I made mine 6 days before the tea party, so the day of the party, I just popped them into the oven for 1-2 minutes to freshen them up before serving them.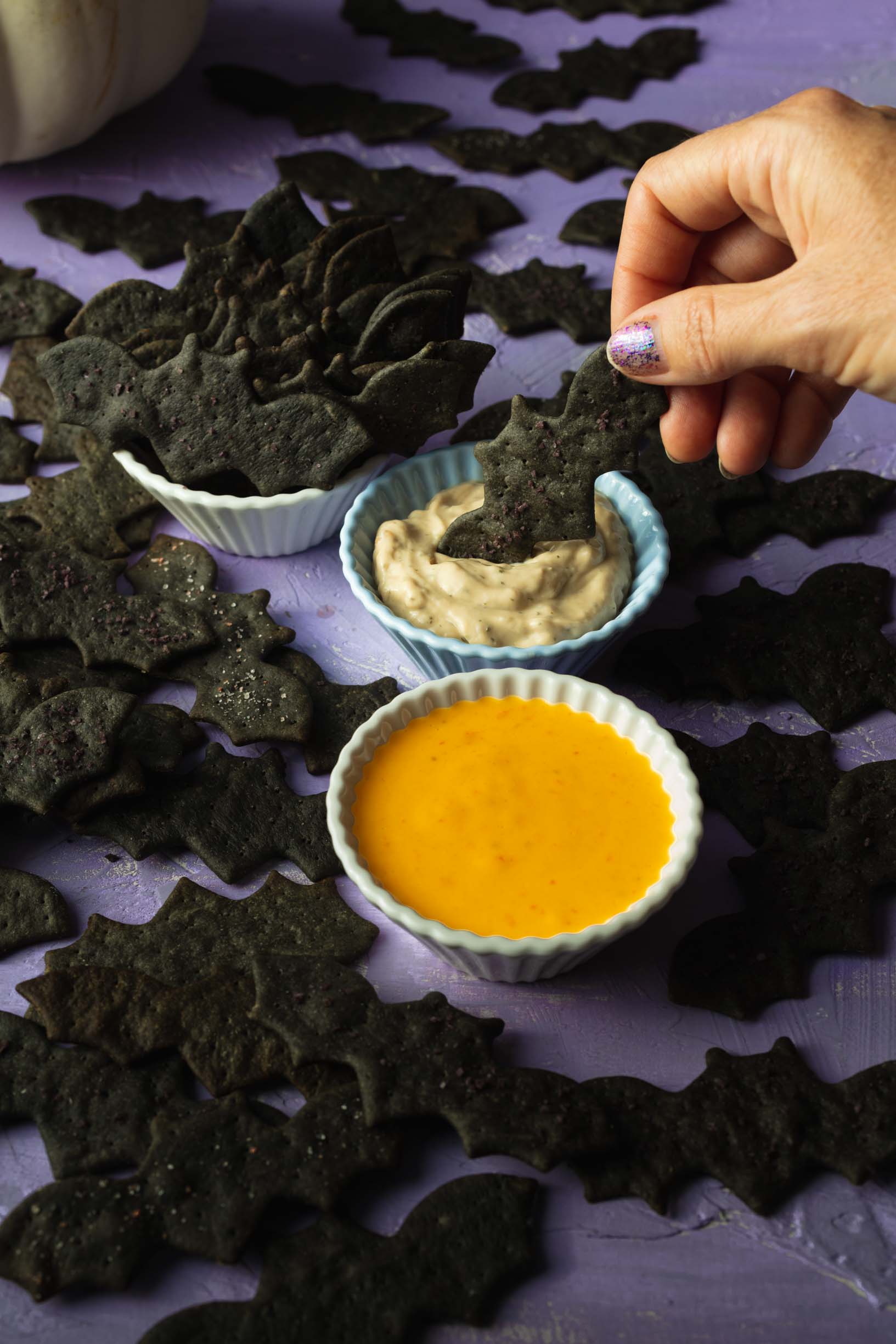 Here's what the inside of the cracker looks like after taking a bite.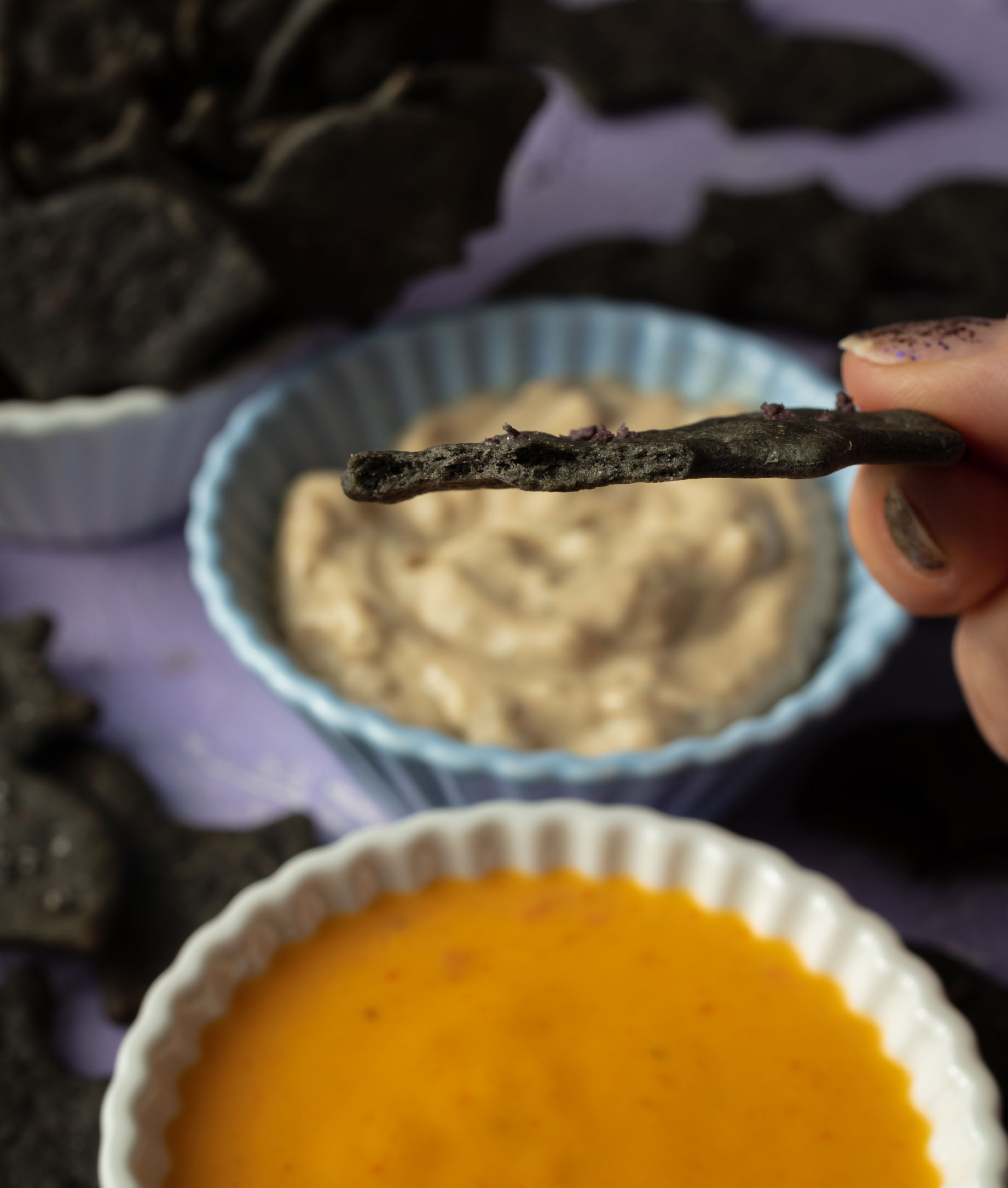 Here's a video of me making this recipe.
If after reading this, you still have questions about how to make homemade crackers, please use the links in the footer of this page to email me or message me on instagram.
☆☆☆☆☆☆☆☆☆☆
* I use mostly organic ingredients when I cook, but I realize that not everyone has the disposable income to purchase all organic ingredients. Therefore, I only specify organic on the ingredients that really matter - when buying the organic version is the only way to ensure that the item is vegan.
☆☆☆☆☆☆☆☆☆☆