Easy Vegan Butterfinger Hello Kitty Candy
published on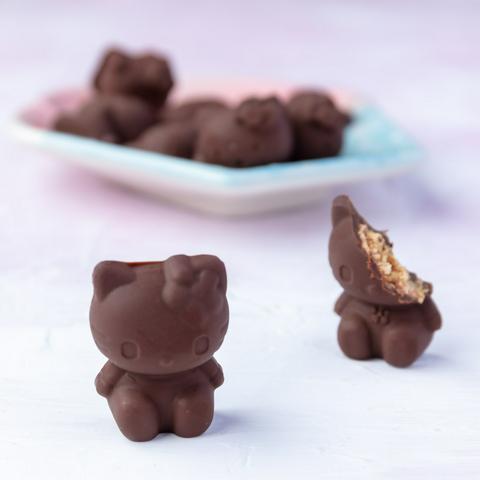 ♫ Listening to: Connecting Visitors to Fun by JORDANN ♫
These vegan butterfinger hello kitty candies are cuter than traditional butterfinger candy bars. This super easy and delicious recipe only requires 2 ingredients. You can even use different shaped molds every time you make them, for a unique experience. These are a perfect birthday or valentine's present or you can make them for easter or halloween.
Table of Contents
(click the links below to skip to the section you're looking for)
This recipe makes 10 vegan butterfinger hello kitty candy bars.
⅔ cup (110g) vegan chocolate chips

5 individually wrapped bite-sized chick-o-sticks (have a few more as backups because some can break when you cut them)
Vegan Butterfinger Directions
melting the chocolate: 5-7 minutes | making the candies: 15 minutes | waiting for the candies harden: 1-12 hours
Dollhouse Shortcut
Melt chocolate chips in the microwave to save time. Melt at 30 second intervals, stirring in between until completely melted.
Unwrap 12 bite-sized chick-o-sticks.
Slice 12 bite-sized chick-o-sticks into sizes that fit into your hello kitty candy molds or whatever molds you're using.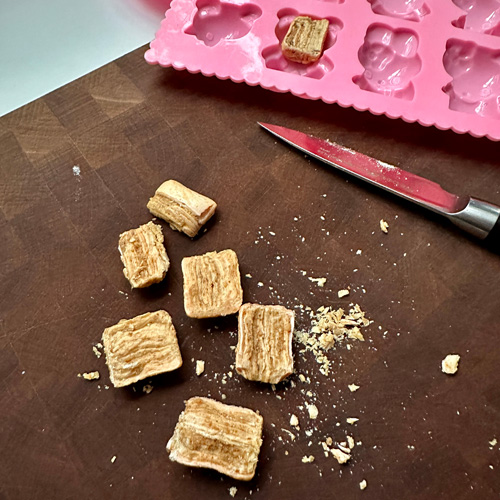 Melt ⅔ of the vegan chocolate chips (80g) in a double boiler. Using a double boiler ensures that the chocolate won't get too hot and burn. If you don't have a double boiler, you can use a metal bowl that fits snuggly inside a small saucepan. This is my method ever since I started using my double boiler for candle making. This step usually takes me 5-7 minutes, but I have a gas stove. Induction stoves will likely be faster, and electric stoves might be slower.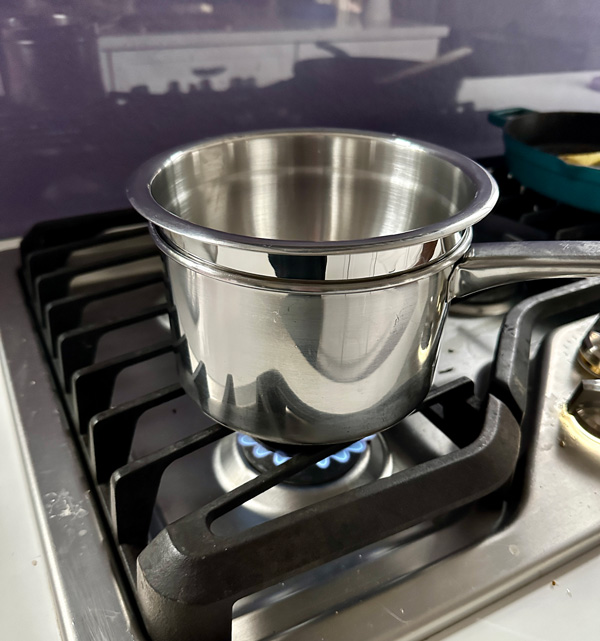 Turn off the stove once the chocolate is completely melted and smooth. Move the melted chocolate off the stove burner if you have any electric stove. If you have a gas or induction stove, you can just turn off the heat.
Add the remaining (30g) vegan chocolate chips.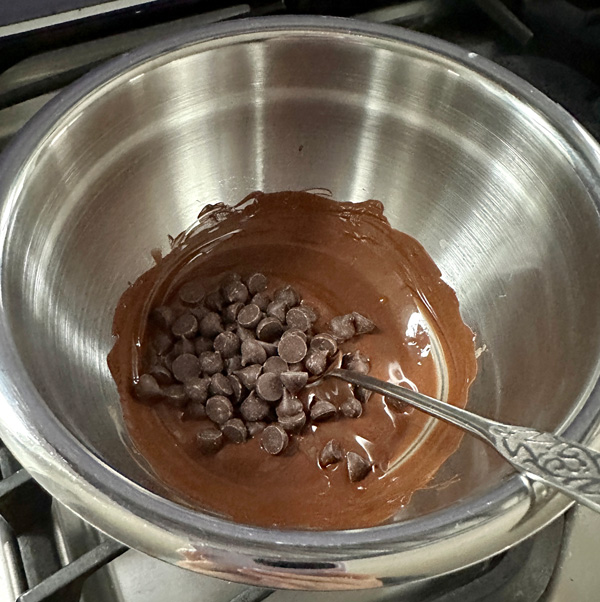 Stir until the newly-added chocolate is completely melted and smooth.
Spoon the melted chocolate into the bottoms of your hello kitty silicone molds. If you don't already have hello kitty silicone molds, you can click on this amazon affiliate link to buy it, and it supports my blogging. Otherwise, you can use whatever molds you have handy.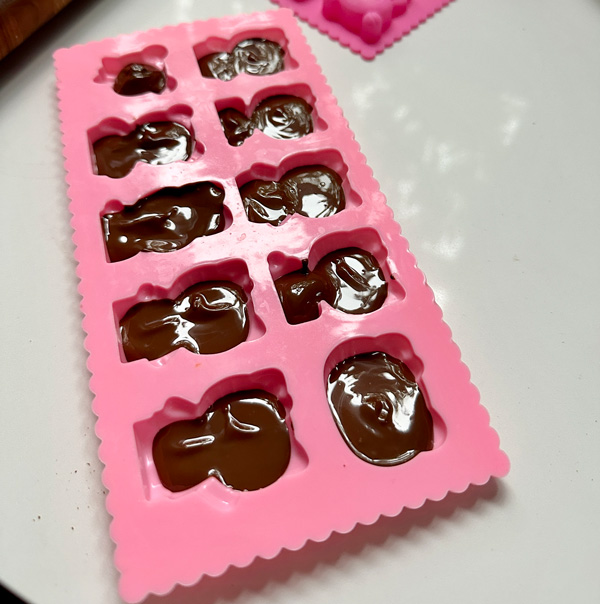 Set the pieces of chick-o-sticks on top of the melted chocolate in the molds.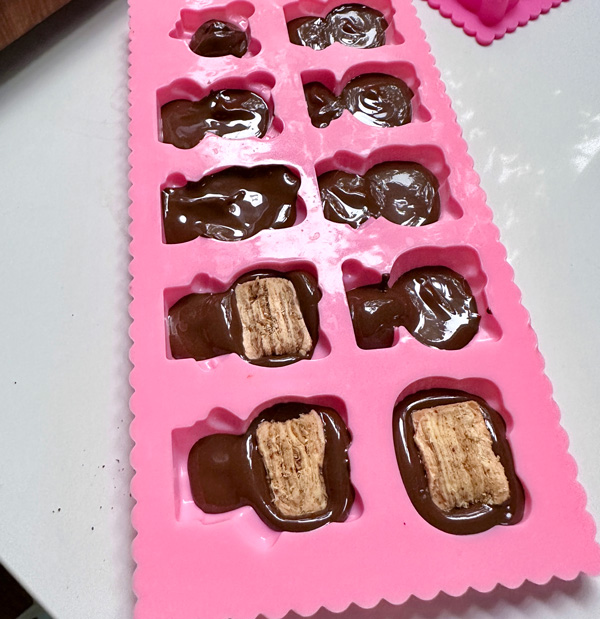 Top the butterfinger candies with more melted chocolate, filling the hello kitty silicone molds. The amount of chocolate this recipe calls for makes exactly 10 hello kitty candies using my hello kitty candy mold. If you use a smaller mold, you might have some melted chocolate leftover. If this happens, you can transfer any remaining melted chocolate to other molds or ice cube trays. Sometimes, I mix leftover melted chocolate with nuts or coconut and then scoop piles onto a tray covered in parchment paper.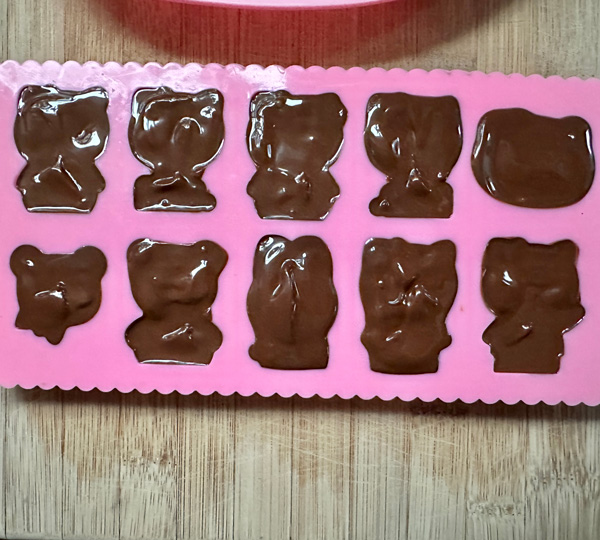 Wait overnight for the chocolate to harden. If it's hot in your house, or you're in a hurry, place them in the refrigerator or freezer to solidify more quickly.
Pop out each butterfinger gently by folding back the rest of the hello kitty silicone mold. Silicone molds are super flexible, so it makes this step super easy.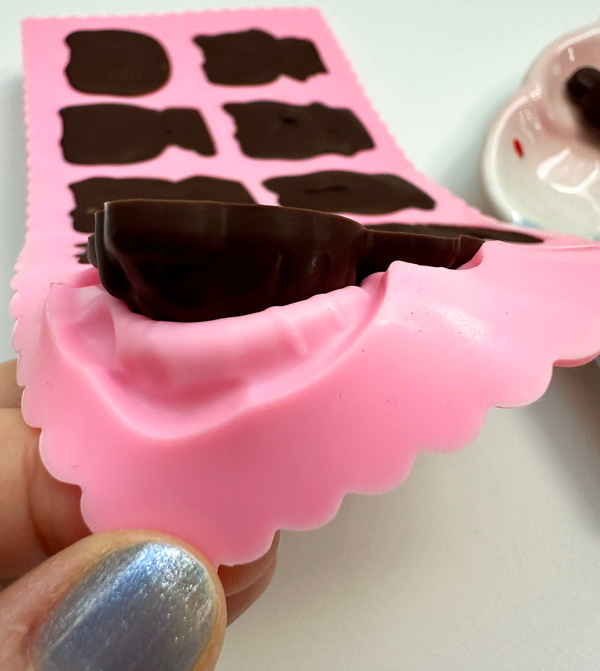 Store them in the fridge or freezer for up to four months. These are great for easter, halloween, or a last minute birthday gift for someone. You can also use heart-shaped molds and make them for valentine's day.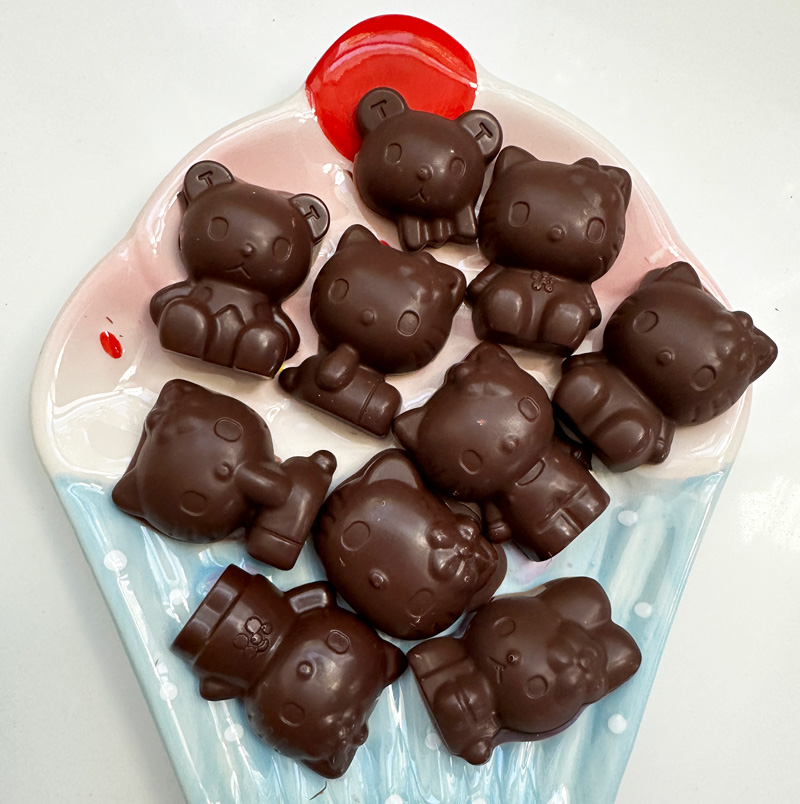 If you make this vegan butterfinger recipe, snap a pic, post to instagram, and tag me @vegandollhouse. I love to see your creations! You can also message me through instagram or email me if you have any questions about the recipe.
Do I need a hello kitty candy mold for this butterfinger recipe?
If you don't have hello kitty silicone molds, you can use other molds you have. If you don't have any silicone molds at all (and don't want to buy any), dip 24 chick-o-sticks (instead of 12) in melted chocolate. Set them onto a tray lined with parchment paper to harden. You can even pop the tray into the fridge if you want them to harden more quickly.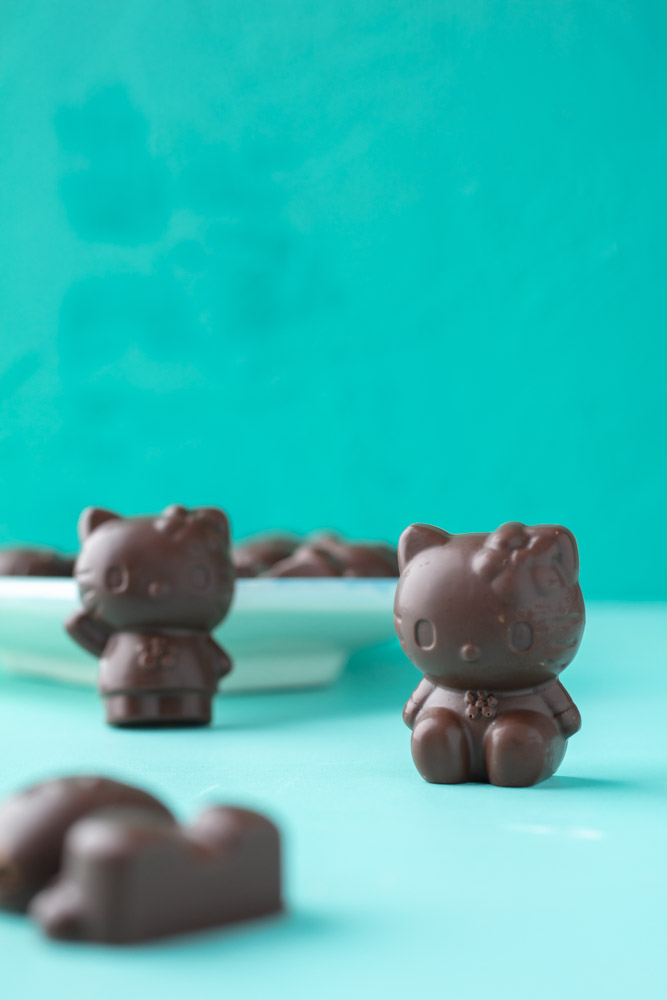 Do you have a butterfinger recipe that makes them from scratch?
I don't, but my instagram friend and fellow vegan blogger Jess from Wild Vegan Flower has a recipe she developed for vegan butterfingers from scratch.
Do you prefer milk chocolate or white chocolate over dark chocolate? Pascha makes vegan milk chocolate chips and vegan white chocolate chips. Like the vegan chocolate chips I use in this butterfinger recipe, Pascha's vegan milk and white chocolate chips are fair trade and organic.
If you don't have vegan chocolate chips but you do have vegan chocolate bars, you can replace the chocolate chips in this recipe with vegan chocolate bars. You'll probably want to chop each chocolate bar into chocolate chip sized pieces with a knife first so that they melt easier/faster.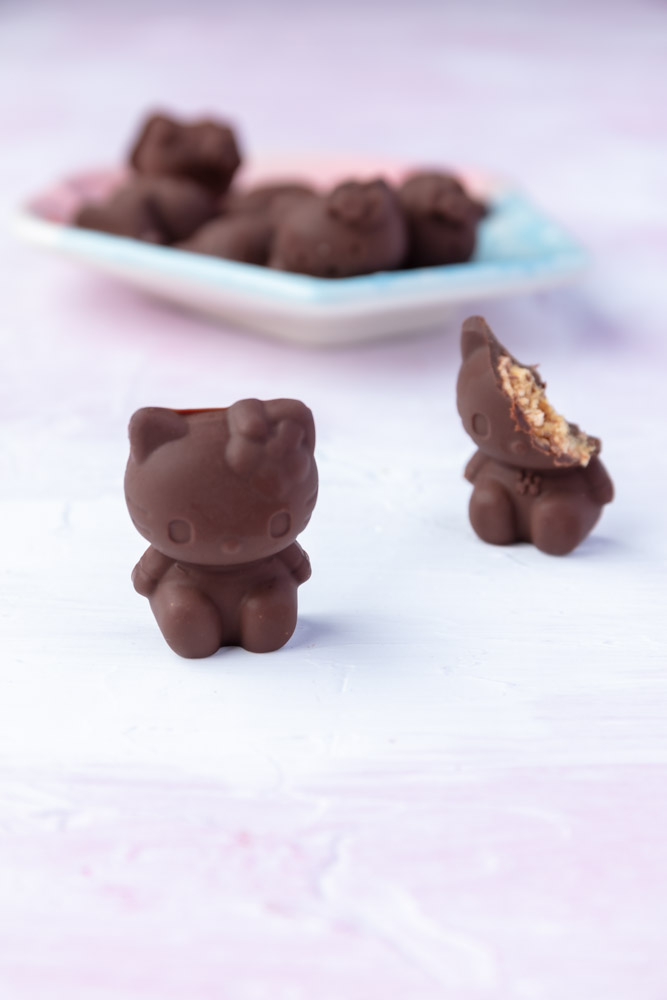 These vegan butterfinger candy are good by themselves, in ice cream, or on top of butterfinger cupcakes.
If you're looking for other quick chocolates you can make, check out these peanut butter chocolate pretzels and these chocolate covered pretzels.
☆☆☆☆☆☆☆☆☆☆
* I use mostly organic ingredients when I cook, but I realize that not everyone has the disposable income to purchase all organic ingredients. Therefore, I only specify organic on the ingredients that really matter - when buying the organic version is the only way to ensure that the item is vegan.