Coffee Cookies
published on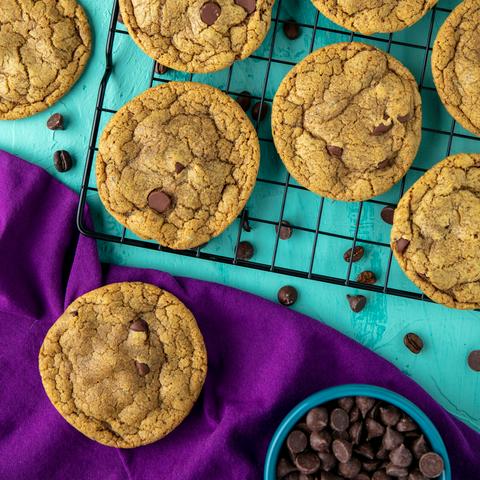 ♫ Listening to: Coffee Mug by Descendents ♫
Vegan coffee cookies are quick and easy to make. They only need 8 ingredients, and they're packed full of chocolate chips for a rich mocha flavor. If you prefer a latte cookie, simply omit the chocolate chips. These coffee flavored cookies are not only delicious, but they offer a nice pick me up after lunch when you start to feel low energy. They're a great addition to a holiday cookie exchange, party, picnic, or potluck.
Table of Contents
(click the links below to skip to the section you're looking for)
You know when you see those coffee memes that are like, find yourself someone who looks at you the way I look at coffee in the morning? Or coffee: because social distancing isn't enough to protect me from idiocy. Well, I am the target audience for those memes. I worked at coffee shops to put myself through college. Just the thought of coffee makes me happy. Even just the smell makes me happy. So, you can imagine how happy these coffee cookies make me. It's an extreme amount of happiness. Like that time the lady at the bank told me to smile less big for my ATM card photo.
If you grew up with a coffee-loving mom who made you ice coffee floats with vanilla ice cream when you were a teenager, then you might just fall in love with these cookies like I did.
This coffee cookies recipe makes around 18 medium-sized cookies or 9-10 large cookies.
1 cup (240g) raw, vegan, or organic sugar*

½ cup (88g) vegan butter or margarine (I use organic whipped earth balance)*

1 ½ cups (200g) flour (I buy organic unbleached all-purpose flour)

1 teaspoon (6g) baking soda

¼ teaspoon (1g) salt

2 tablespoons (8g) instant coffee granules or instant espresso

¼ cup (60g) water, cooled coffee, cold brew, or nondairy milk

1 - 1 ½ cups (170-250g/6-9oz) chocolate chips
How to Make Coffee Cookies with Chocolate Chips
making the dough: 15 min | scoop cookie dough: 5-15 min | bake time: 10-15 min
Dollhouse Shortcut
Make the dough up to 3 days ahead of time and chill it in the fridge until you're ready to bake.
Preheat the oven to 350ºF (175ºC), only if you plan to bake the cookies right away. If you're multitasking with other kitchen tasks or you want to bake these later, don't preheat yet.
Mix 1 cup (240g) sugar with ½ cup (88g) vegan butter or margarine. I used my stand mixer fitted with paddle attachment and mixed for about 5 minutes. If you don't have a stand mixer, you can use a handheld electric mixer or mix it by hand, but expect a serious upper body workout if you're mixing by hand. You want the sugar to be completely incorporated so there aren't any granules and the consistency is light and creamy.
Whisk together the following dry ingredients in a medium-large bowl: 1 ½ cups (200g) flour, 1 teaspoon (6g) baking soda, and ¼ teaspoon (1g) salt.
Grind 2 tablespoons of instant coffee granules into a fine powder using a coffee grinder or a mortar and pestle. You can also put them in a ziplock baggie, and roll them with a rolling pin. Instant espresso powder is already finely ground and can be added straight away if you have that. I had instant coffee, so I used a mortar and pestle to grind mine into a powder.
Add the instant coffee powder to the dry ingredients and whisk until it's evenly speckled with coffee.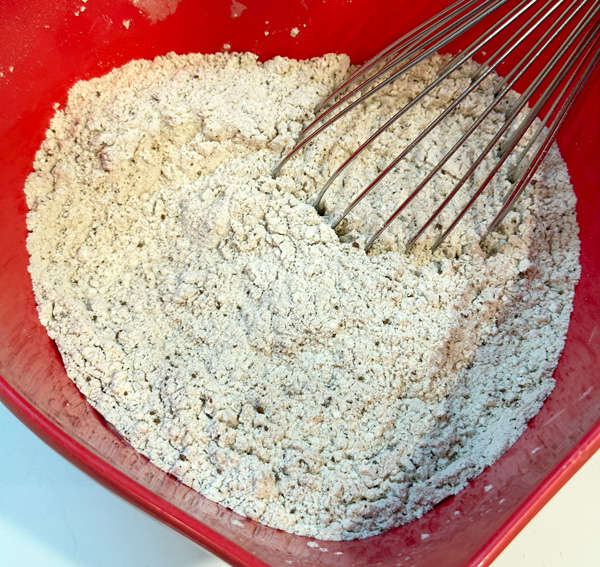 Add ¼ cup (60g) of water, cooled coffee, cold brew, or nondairy milk to the butter and sugar mixture and mix again. When you use an electric mixer, start it on low, and increase the speed as the ingredients start to incorporate. This helps to make sure that you don't splash any ingredients out of your mixing bowl. I have coffee in my refrigerator at all times, so I use coffee for this recipe. However, in general, the liquid that you use does not really matter, as long as you use the right amount.
Add half of the dry ingredients to the wet ingredients and mix.
Add the rest of the dry ingredients and mix again.
Add 1 - 1 ½ cups (170-250g/6-9oz) chocolate chips and mix in using a large mixing spoon or a baking spatula. At this point, I no longer use my stand mixer, and I mix the chocolate chips in by hand. You can use any amount of chocolate chips that you have or feel like using. I use the max amount of chocolate chips, because I love chocolate. However, the chocolate tends to be an overpowering flavor when you do use that much. So if you want to taste the coffee more than you taste the chocolate, I recommend using fewer chocolate chips.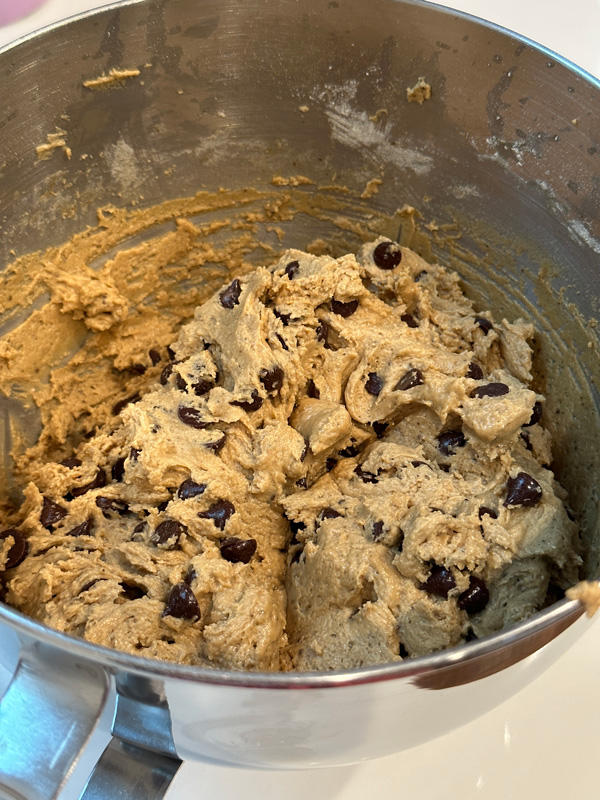 Wrap the cookie dough with cling wrap if you want to leave it in your fridge until you're ready to bake cookies. (This cookie dough will stay good in the fridge for at least a week, but sometimes mine has lasted 2-3 weeks.) Or, you can bake cookies right away.
Preheat the oven to 350ºF (175ºC) when you're ready to bake the cookies. This recipe makes enough to fill 2 cookie sheets, so you should be able to bake them all in one batch if your oven has 2 racks. My oven takes 20 minutes to heat. If your oven heats up slower than it takes you to fill your cookie sheets with cookie dough balls, set the cookie trays in the fridge to help keep their shape while you wait for the oven to finish heating up.
Line two baking sheets with parchment paper if you want easier cleanup later. Otherwise, you can skip this step and just bake the cookies right on the baking trays.
Make balls of cookie dough. The size to make your cookie dough balls depends on the size you want your cookies. You can make these using a scoop, or if you don't have a scoop, you can use your hands and roll them into a ball. I try to get all of them to be the same size if I'm using this method, so sometimes I'll weigh each ball on my kitchen scale. If you don't have a kitchen scale or a scoop, you can just eyeball it and do your best.
My large scoop of cookie dough weighs 90g. My small scoop of cookie dough weighs 20g. When I use my large scoop, it makes large cookies that are the size of the ones made by the Alternative Baking Company that they sell at coffee shops. My small scoop makes little cookies, which are nice, but I have to eat like 3 of them, haha.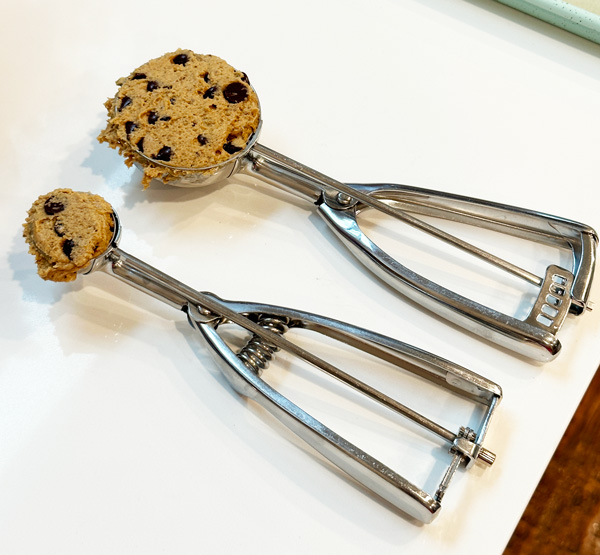 So, I decided to make these ones in between. But I don't have an in-between size scoop, so I weighed each one out with my kitchen scale, aiming for 40 grams, and then rolled them into balls by hand. I actually made them between 38 and 42 grams, because they don't need to be perfectly precise. This method definitely takes longer than scooping them.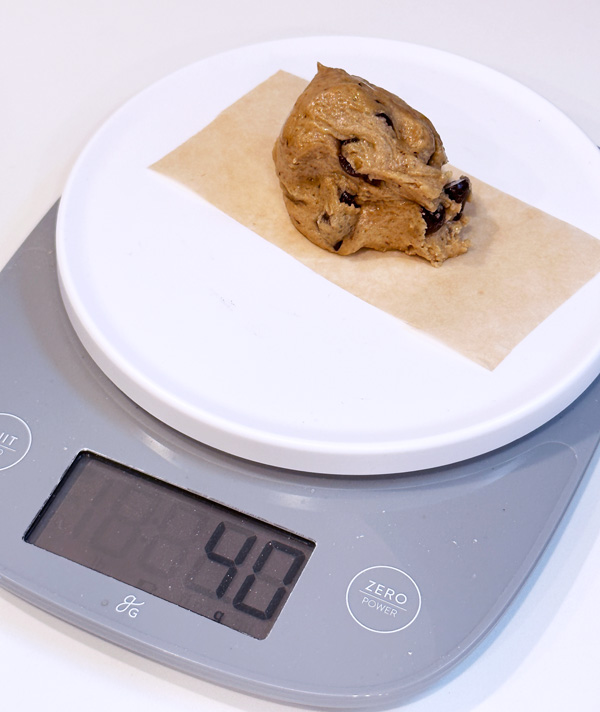 Set the cookie dough balls on the cookie sheets or baking stones, leaving space in between them for the cookies to expand. This bigger the cookies, the more room they need to expand. So, if you use a large scoop, you should only try to fit 4-6 cookies on each baking sheet.
Repeat until the cookie sheets are filled. Chill the cookie sheets of cookie dough balls in the fridge for 5 -10 minutes or until the oven reaches 350ºF(175ºC). Chilling them before you bake them will help keep them from spreading too much, allowing you to fit more on each baking tray. This allows you to bake them all in one batch, saving energy. It's a win-win.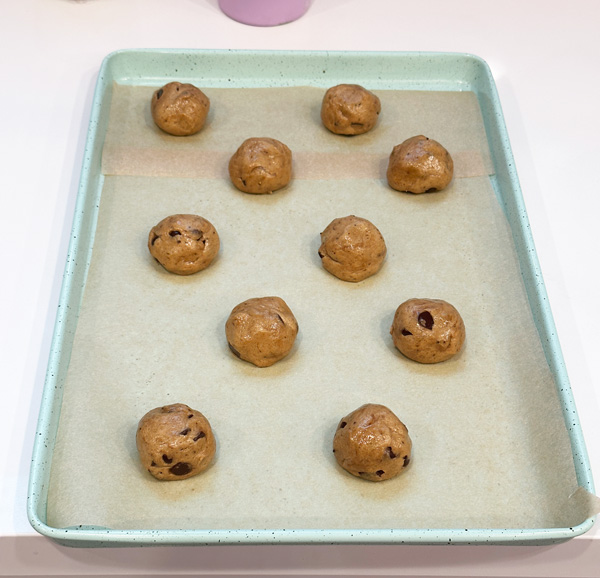 Bake at 350º(175ºC) for 10-16 minutes. The length of time you bake them depends on how big you made your cookie dough balls. If you use a small scoop, you should only bake them for 10-11 minutes. If you use a large scoop, you should bake them for 15-16 minutes. I made medium-sized cookies for these pictures, so I baked these for 12 minutes.
Rotate the cookie sheets halfway through the baking time. When I rotate, I not only switch the bottom tray with the top tray, but I also rotate each tray so the side that was at the front before is now at the back.
Remove from the oven and set the baking trays on the stove or on a cooling rack to cool. They may look like they're not completely baked, but this recipe makes a soft and chewy cookie. Plus, they'll continue to cook a bit after you remove them from the oven, so don't worry. However, if you know from past experience that your oven runs cool, feel free to leave them in the oven an additional minute or 2, especially if you don't care for soft cookies.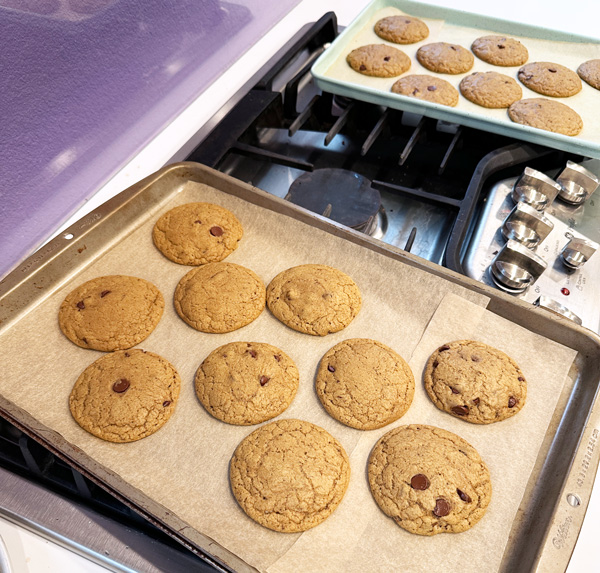 Transfer the cookies from the cookie sheets to cooling racks to cool the rest of the way. Or leave them on the cookie sheets to cool completely.
These cookies are best when they're fresh, but if you manage to make them last a few days, you can always dip them in coffee after a few days to revive them. Yes, I am suggesting some coffee inception here…coffee cookies dipped in coffee. I'm an addict! What did you expect from me? Sorry not sorry. (You can also dip them in tea, just sayin.)
If you make this coffee flavored cookies recipe, snap a pic, post to instagram, and tag me @vegandollhouse. I love to see your creations! You can also message me through instagram or email me if you have any questions about the recipe.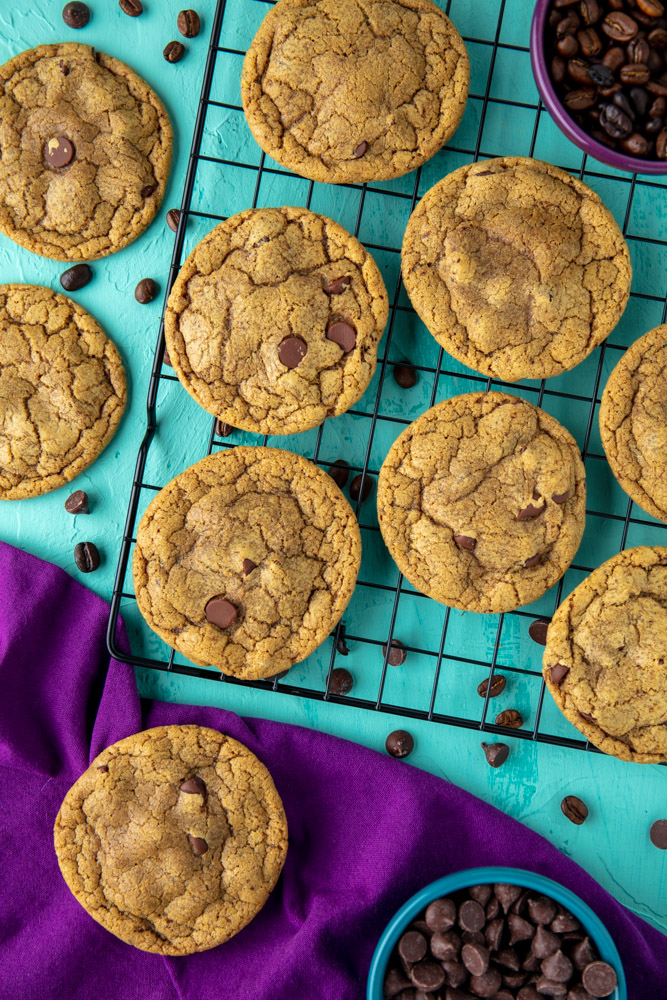 Are these Italian coffee cookies?
This could be an Italian coffee cookie recipe, but because Italian coffee cookies are typically eaten for breakfast, they have less sugar in them. To make this recipe into a traditional Italian coffee cookies recipe, replace the 1 cup (240g) of sugar in this recipe with a ½ cup (120g) of sugar.
How can I make this recipe into chocolate mocha cookies?
This recipe is super easy to convert into a chocolate mocha cookie recipe. All you need to do is replace a quarter cup of the flour with a quarter cup of cocoa powder.
How can I convert this recipe into peppermint mocha cookies?
This coffee cookie recipe is easily converted to a peppermint mocha cookie recipe. Simply replace a quarter cup of the flour with a quarter cup of cocoa powder and add a teaspoon of peppermint extract.
After I make these cookies with instant coffee, what do I do with the rest of the instant coffee?
I totally relate to this conundrum. Before I start making a recipe, I always look for other recipes to use up the rest of the ingredients so that it doesn't go to waste. For instance, if I open a can of pumpkin or a can of coconut milk to make a recipe that only uses part of the can, I have to make something with the rest of the can that day, or else it just gets pushed to the back of the fridge and I forget it exists.
One thing I used to use instant coffee for a lot was when I would make homemade Kahlua for friends for the holidays. That's one good way to use up instant coffee. You can also make my mocha cupcakes recipe which calls for instant coffee. And if you like mochas, you could always make your own at home by mixing instant coffee with a cup of hot cocoa.
What's the best way to make coffee cookies last?
I can relate to this dilemma all too much. Because these coffee cookies taste best freshly baked, I'll tell you one of my favorite things to do. So, I make all the cookie dough, according to the recipe. Then, I scoop the dough, but instead of spacing them apart on the cookie sheet, I put them close together on the parchment paper. Then, I freeze them. Once they're frozen, I transfer them from the cookie sheet to a tupperware or a ziplock freezer bag. Then, when I want freshly baked cookies, I can just take out the number I want and bake those. And if you have a toaster oven or an air fryer, you can just make one or two at a time. This is a great way to have the best coffee cookies, freshly baked, anytime.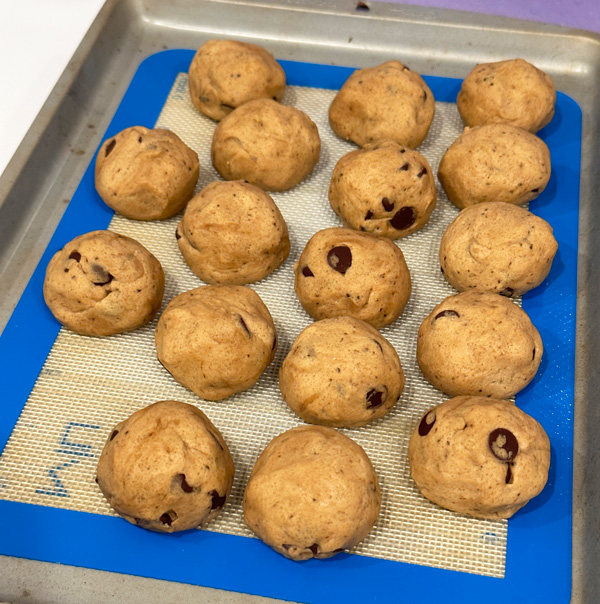 Butter: My favorite is the organic whipped Earth Balance, but if you avoid soy, you can buy the soy-free Earth Balance. If vegan butter or margarine is hard to find or not something you have in your house, you can replace ½ cup (88g) vegan butter or margarine with ¼ cup (55g) safflower, sunflower, or coconut oil in its place. You can also use other oils such as vegetable oil, canola oil, or grapeseed oil.
Sugar: You can use granulated vegan, raw, organic, or brown sugar in this coffee cookie recipe. If you want the cookies to be healthier, you can even use sucanat, coconut sugar, date sugar, maple syrup crystals, or demerara. Just be careful of conventional granulated sugar, because it's sometimes not vegan.
Flour: If you avoid gluten, or if you have friends or family who are gluten free, you can easily substitute the all-purpose flour in this recipe with a gluten-free flour blend to make these cookies gluten free.
Nondairy Milk: If you don't have the full amount of nondairy milk that the recipe requires, you can substitute 1:1 with water, coffee, or nondairy creamer. You can also mix and match different nondairy milks. I do this a lot when my macadamia milk only has a little bit left at the bottom and I use it up, and then I open a new container of almond, oat, or soymilk.
Chocolate Chips: My favorite brand of chocolate chips is Pascha because they are organic, fair trade, and vegan. They have a ton of different varieties, from vegan white chocolate to vegan milk chocolate to completely dark chocolate with no sugar in it whatsoever. My favorite is the 55% chocolate, which is what I use for the majority of my recipes. There are lots of companies that make vegan chocolate chips. Even Trader Joe's sells vegan chocolate chips. Just make sure you read the ingredients to confirm that there's no milk products or butterfat in them. If you don't have any vegan chocolate chips at home when you're about to make this recipe, then you should probably re-evaluate your life decisions. Kiddinnnng (sorta). You can also just omit the chocolate chips. They're optional. The recipe will make fewer cookies, but they will still be delicious.
Baking Soda: If you're out of baking soda, you can replace the teaspoon of baking soda in this recipe with 1 tablespoon of baking powder.
Instant Coffee: If you avoid caffeine, you can replace the instant coffee in this recipe with decaf instant coffee. If you have no instant coffee in the house (you don't steal those little instant coffee packets from hotel rooms like I do? Weird, haha), you can replace the instant coffee in this recipe with ground coffee. Just try to use a fine grind, like one you would use for espresso, or else, you'll have grains of coffee grounds in your cookies.
This recipe was adapted from the coffee cookies made by Kim of Insanely Good Recipes. If you like this coffee cookies recipe, you might also like my coffee cake, my mocha cupcakes, and my coffee ice cream.
☆☆☆☆☆☆☆☆☆☆
* I use mostly organic ingredients when I cook, but I realize that not everyone has the disposable income to purchase all organic ingredients. Therefore, I only specify organic on the ingredients that really matter: when buying the organic (or non-GMO) version is the only way to ensure that the item is vegan.
☆☆☆☆☆☆☆☆☆☆