Vegan Deviled Eggs (Deviled Potatoes)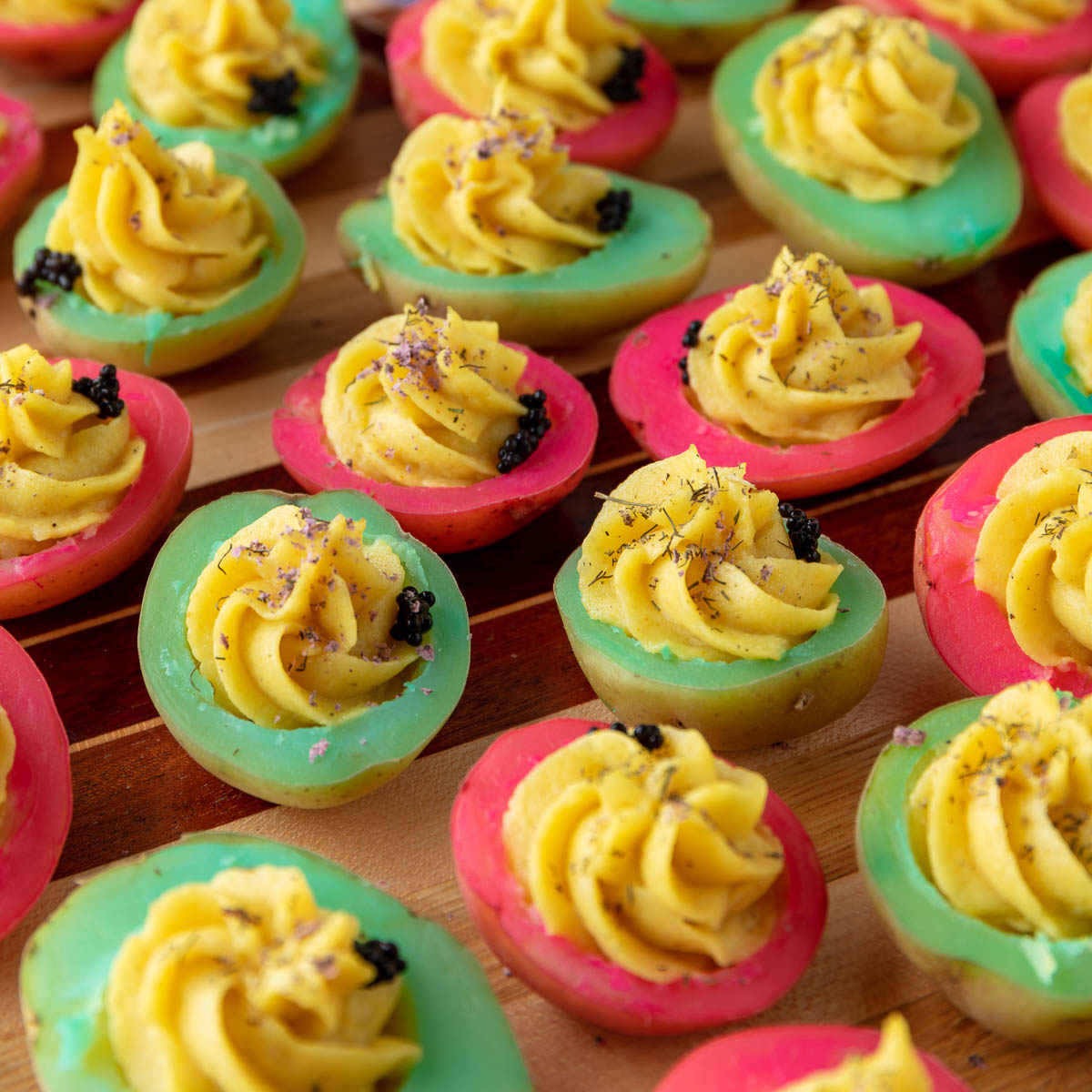 ♫ Listening to: Boys On Film by Freezepop ♫
Vegan deviled eggs will be the hit at your next party, picnic, or potluck. Made with potatoes, instead of eggs, these deviled potatoes are a healthier and more delicious alternative to the traditional deviled eggs of your past. Now you can have your yummy appetizer from your childhood, but without the animal cruelty and cholesterol.
This recipe makes 36 vegan deviled eggs.
Table of Contents
(click the links below to skip to the section you're looking for)
Dollhouse Tip
You can make dyed vegan deviled potatoes or uncolored ones, depending on your preference and what occasion you're making them for. Most of the steps are the same, except if you color them, they do take a little longer and use more dishes.
20 potatoes (choose ones that are similar in size to eggs)
1 teaspoon salt
vegan food coloring (optional)
How to Prep the Vegan Deviled Potatoes
Fill a pot with water and put it on the stove over high heat. If you want to make your deviled potatoes pretty colors, choose how many colors you want, and that's how many pots of water you should put on the stove. If you are coloring yours, now is when you should add the vegan food coloring to each pot. If you're using gel food coloring, you only need a few dollops of each color. If you're using all natural vegan food coloring, you'll need to use quite a bit more to achieve a brighter color. I used wilton rose gel color for the pink ones and a mix of wilton sky blue and wilton leaf green for the teal ones. I made sure the color of the water had a deep hue.
Add a teaspoon of salt to each pot of water.
Wash all of the potatoes, using a potato scrubbing brush, if you have one.
Slice each potato in half lengthwise.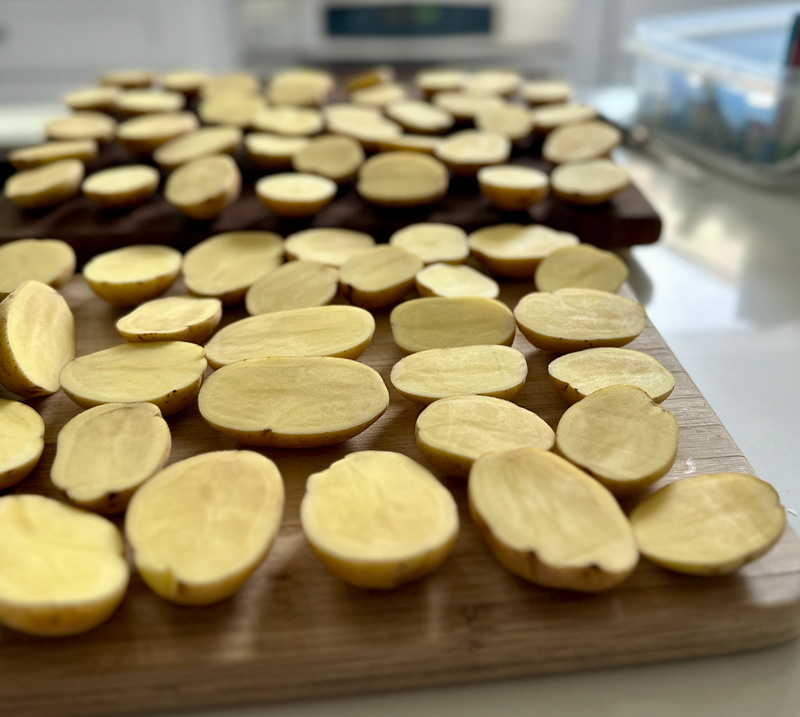 Gently drop the potatoes into the pot of water. No matter how gentle you are, it's inevitable that some water will splash out so be careful to wipe your counters around your stove if you're using colored water.
Boil the water and the potatoes for 10-15 minutes (set the timer for 10 minutes after the water starts to boil). They are done when you can poke a potato with a toothpick and it feels cooked all the way through. On my gas stove, the small and medium pot took only 10 minutes, and the large pot took 15 minutes to boil the potatoes.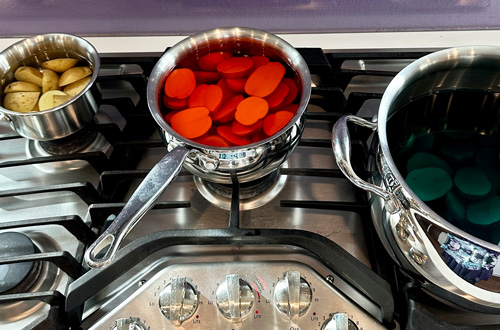 Drain the water by pouring the water and the potatoes into a colander that's in the sink.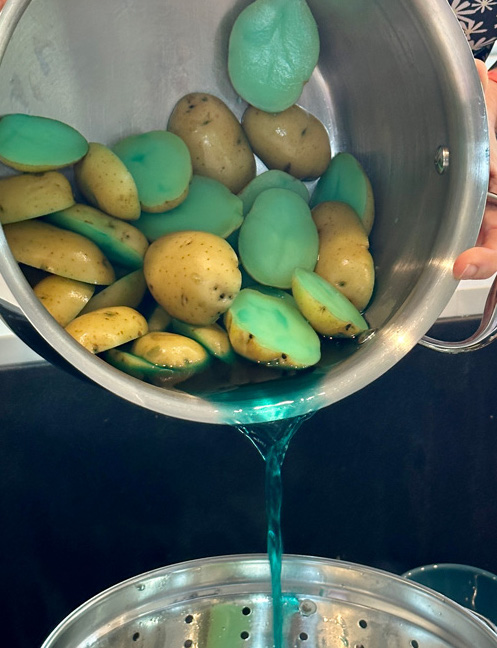 Allow the potatoes to cool down long enough so that when you touch them it doesn't hurt your hands. You can speed up this cooling process in one of 2 ways. Put them in the refrigerator or dump the potatoes into a large bowl of ice water.
Scoop some potato out of the center. I used this small 1 ½ inch scoop. You can just use a regular spoon from your silverware drawer if you don't have a scoop. Transfer all the scoops into a bowl for now.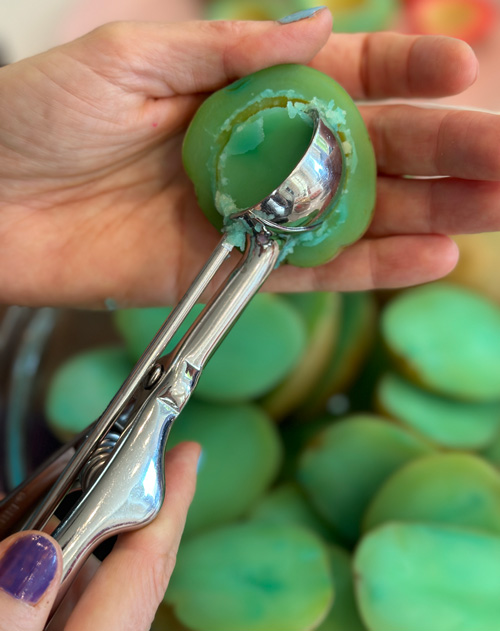 If you're making dyed deviled eggs, you might want to scrape the colored part of the potato scoop into the trash or compost. If you don't, the filling might be tinted from the colors. The potatoes are only colored on the outer half a millimeter, so you barely have to scrape any off.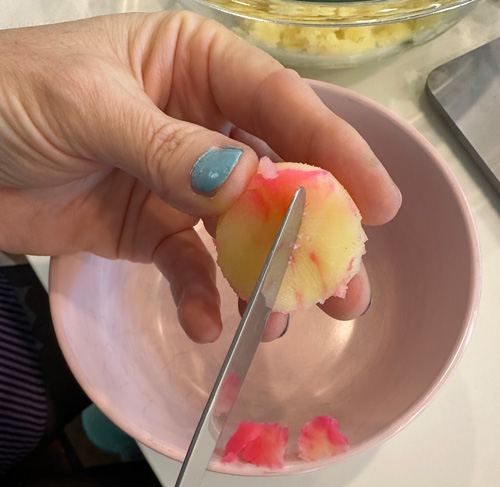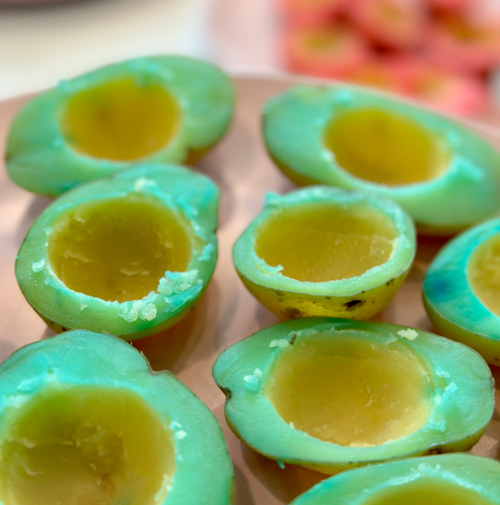 ½ cup vegan mayo (I use the organic veganaise, but if you avoid soy, they have a soy-free one)
2 tablespoons mustard
1 tablespoon vegan butter or margarine (I like organic whipped earth balance, but if you avoid soy, they have a soy-free one)*
3 tablespoons pickle juice
2 teaspoons onion powder
1 teaspoon salt
1 teaspoon paprika
½ teaspoon pepper
¼ teaspoon turmeric
How to Make the Vegan Deviled Egg Filling
Dollhouse Shortcut
You can make the filling up to 3 days ahead of time and store it in the fridge in an airtight container. On the day you want to serve them, skip to the assembly and garnish step.
Choose the 4 potato halves that are the ugliest or that maybe became injured in the boiling process. Peel those 4 and discard the peels. (Don't try to eat the skins thinking that you're doing the world a favor by not wasting food, because they are NOT GOOD, haha.) Add the potatoes to the rest of the potato scoops.
Combine all the potato scoops in a bowl with the following ingredients: ½ cup vegan mayo, 2 tablespoons mustard, 1 tablespoon vegan butter, 3 tablespoons pickle juice, 2 teaspoons onion powder, 1 teaspoon salt, 1 teaspoon paprika, ½ teaspoon pepper, and ¼ teaspoon turmeric.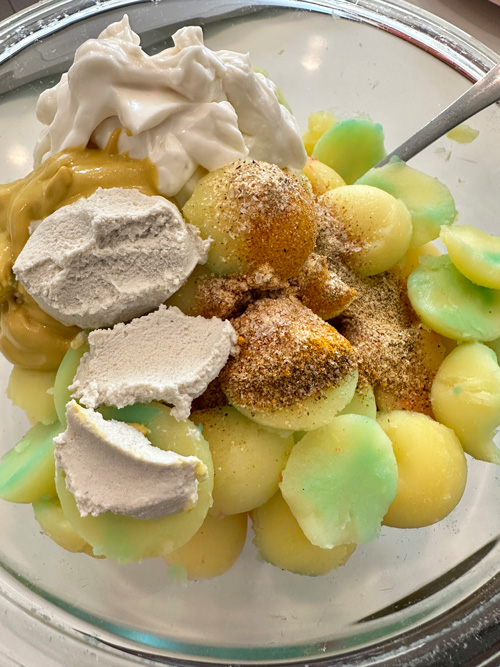 Mix and mash everything. If you want to do it by hand, use a potato masher. My favorite method is to use an electric mixer with a whisk attachment. It makes the filling extra fluffy.
Fill the cooked potato halves with the filling you just made. Use the small 1 ½ inch scoop or a piping bag. If you're making these for Valentine's Day, you can pipe the filling in a heart shape or garnish them with heart sprinkles.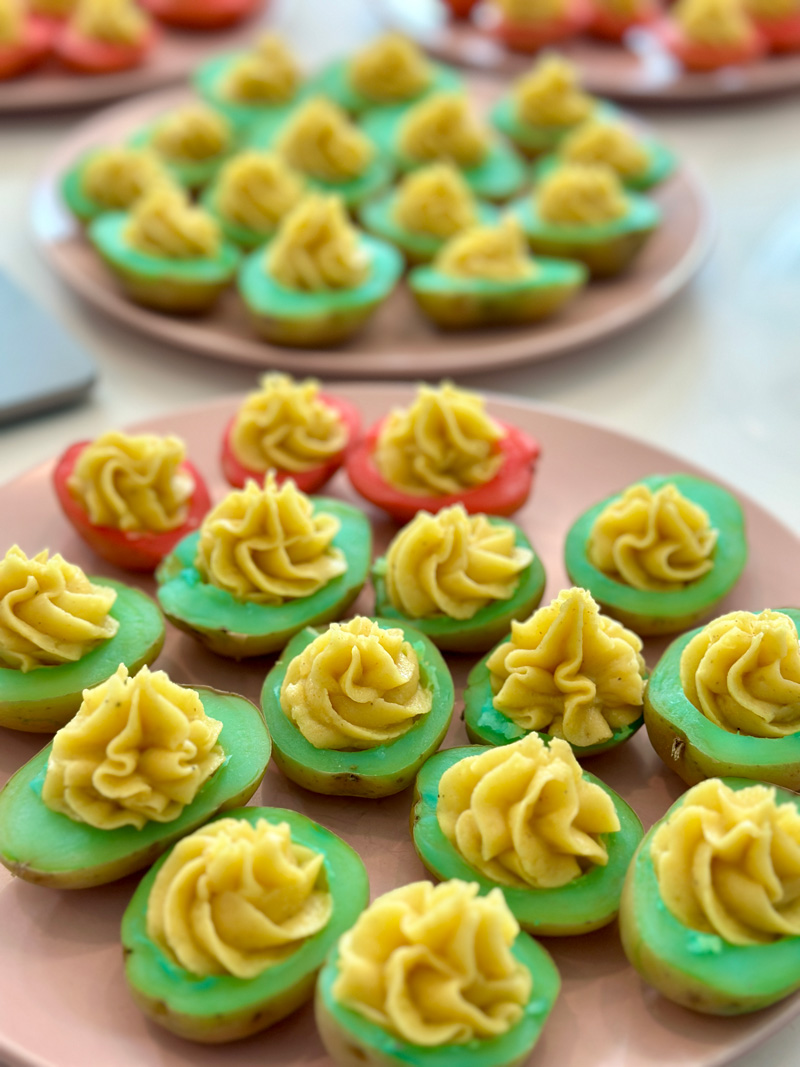 Garnish your vegan deviled eggs with one or more of the following optional ingredients.
vegan caviar
paprika
fermented black garlic
black salt (kala namak)
dill
rosemary
parsley
crumbled tempeh bacon (or bacos if you want them to be gluten-free)
fancy flavored sea salts
You can honestly garnish with anything that sounds good to you. Just make sure you choose gluten-free garnishes, if you're serving these to anyone who avoids gluten. I used dill, vegan caviar, and some purple salt that I bought in Kyoto.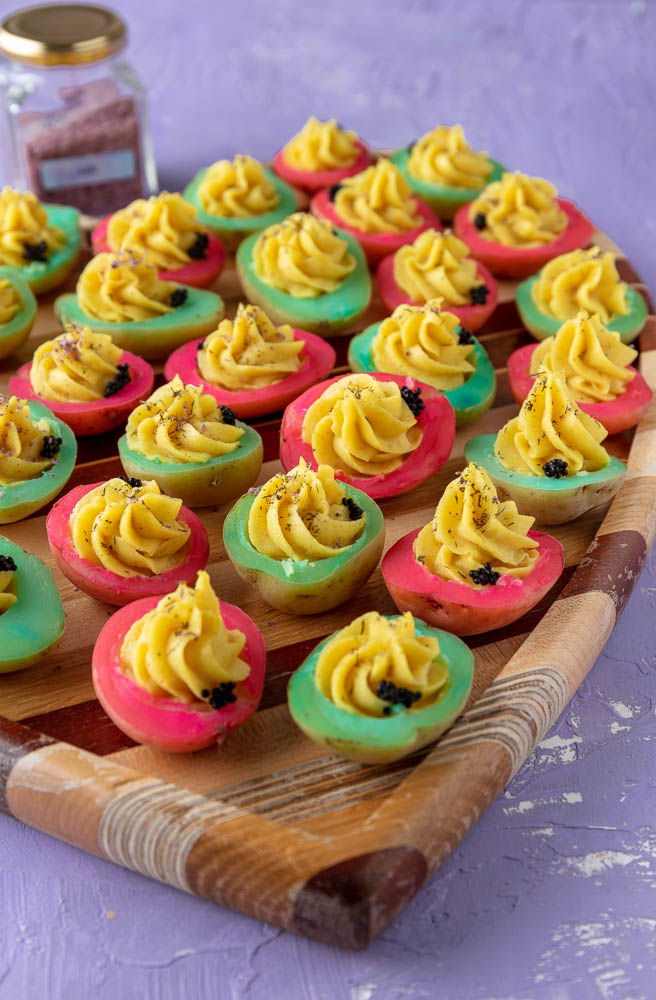 Serve for any event that has appetizers or hors d'oeuvres.
I love making cute appetizers and party food for friends and family, so I jump at any opportunity! Kimmy had a potluck at school, so she came over, and we made these vegan deviled eggs together. We live streamed for like 3 hours while we made a double batch. You can watch it below.
If you make this vegan deviled eggs recipe, snap a pic, post to instagram, and tag me @vegandollhouse. I love to see your creations! You can also message me through instagram or email me if you have any questions about the recipe.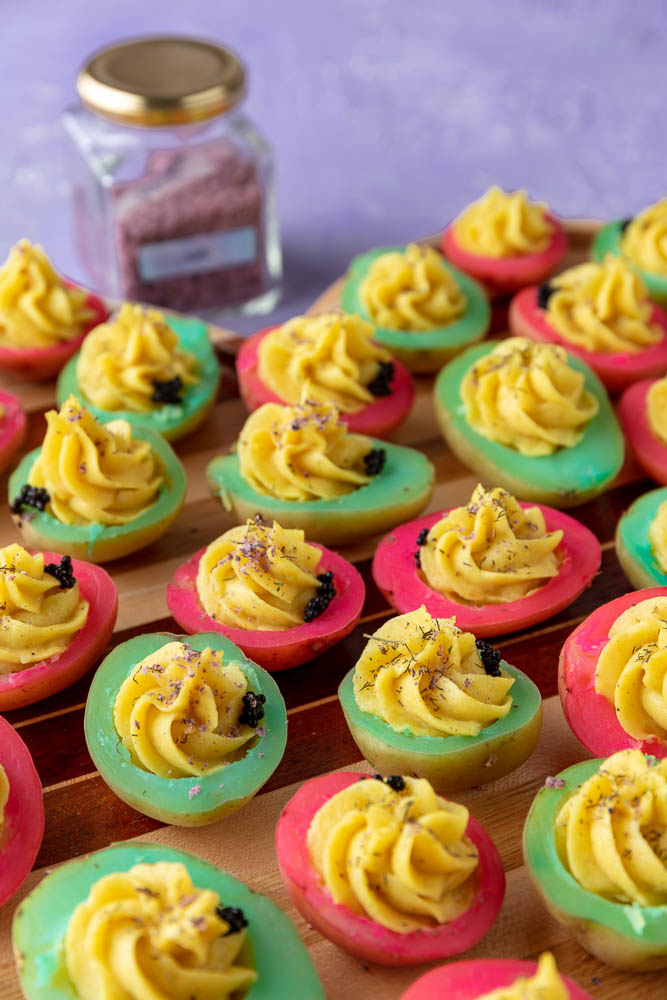 How long are vegan deviled eggs good for in the fridge?
You're in luck! Because the deviled eggs are vegan, they can last 5-7 days in the fridge, depending on how far back in the fridge they are. The closer to the back, the longer they will last, since that's usually the coldest part of the fridge. Just make sure you store them in an airtight container with a lid so they don't dry out.
How did deviled eggs get their name?
Deviled eggs are not devilish (like in the Freezepop song I'm listening to while testing this recipe) in the way I would have hoped. I guess deviled actually means fried or boiled and highly seasoned. And highly seasoned (assuming condiments count as seasonings) boiled eggs is exactly what deviled eggs are, so I guess that makes sense. But I still can't help but picture this when I think of deviled eggs.
Can these vegan deviled eggs be made ahead of time?
Sure! I'm a huge proponent of making things in advance. It helps me to stay stress-free on days when I have events. I've made these up to 3 days in advance. If you want them to look extra fresh on the day you serve them, add your garnishes the day of.
Can these deviled eggs be frozen?
Yes! Unlike traditional deviled eggs, these deviled potatoes CAN be frozen for up to 3 months without compromising the consistency or quality. Just make sure you store them in an airtight container with a lid. When it's time to defrost them, transfer them from the freezer to the fridge 24 hours before you want to eat or serve them.
What is vegan caviar?
The brand of vegan caviar I bought looks like this.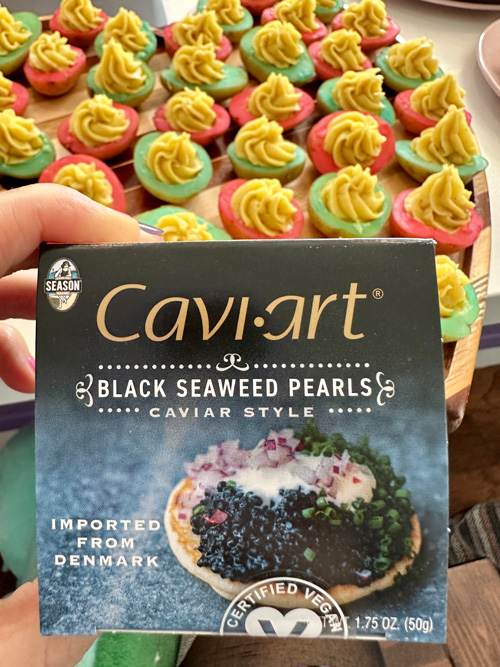 What is deviled eggs in Spanish?
When deviled eggs are served in Spain, they are called huevos rellenos (which translates to stuffed eggs). They are sometimes an appetizer served before a meal. They also serve them at most tapas bars. (I've been to Spain a lot because my husband's family lives there, and tapas bars are super popular.)
The ingredients in huevos rellenos differ from the deviled eggs I grew up eating in the U.S. The main differences between huevos rellenos in Spain and deviled eggs in the United States are that in Spain, they add tuna and chopped green olives to the filling.
Most historical references say that deviled eggs originated in Spain in the 13th century. The method was a little different back then. They would press the halves back together so all the filling was in the middle. That must be where the term stuffed eggs came from.
I guess Americans didn't start making deviled eggs until the 1800s.
Butter: If vegan butter or margarine is hard to find or not something you have in your house, you can omit it or replace it with vegan cream cheese or even just olive oil or truffle oil.
Onion Powder: If you prefer to use fresh herbs and spices, you can replace the 2 teaspoons onion powder in this recipe with 3 tablespoons of freshly and finely chopped chives
Vegan Mayo: If you don't have vegan mayo, you can replace the ½ cup vegan mayo with ½ cup vegan cream cheese, ½ cup vegan sour cream, or ½ cup vegan plain, unsweetened yogurt. If you use sour cream or yogurt in place of mayo, you may want to add extra salt.
Pickle Juice: If you're not a pickle eater, you can replace the tablespoon of pickle juice in this recipe with apple cider vinegar.
Food Coloring: The food coloring in this recipe is of course totally optional. If you do choose to make dyed deviled eggs, there are so many kinds of vegan food coloring to choose from. You can even make naturally dyed deviled eggs using all-natural food-based dyes like color kitchen or color garden.
If you like this vegan deviled egg recipe, you might also like my colored potato salad and my eggless salad sandwiches.
☆☆☆☆☆☆☆☆☆☆
* I use mostly organic ingredients when I cook. I realize that not everyone has the disposable income to buy only organic ingredients. Therefore, I only specify organic on the ingredients that really matter: when buying the organic (or non-GMO) version is the only way to ensure that an item is vegan.
This post may contain links to items I used when I made this recipe. This means that if you click on a button on one of those pages, you may go to a website (like Amazon) where you can purchase a product. Sometimes, I earn money from that purchase from the affiliate partner. I never recommend a product that I don't use and endorse myself. Read more about this in my privacy policy.
☆☆☆☆☆☆☆☆☆☆