Vegan Rainbow Cookies
published on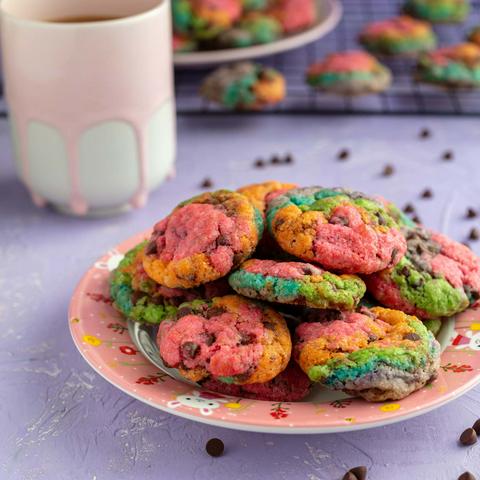 These vegan rainbow cookies are easy to make and packed full of chocolate chips for extra yumminess. They're not only delicious, but also instagrammable. Your friends and family will love taking selfies with these cookies while they gobble them up. If you want to be the life of the next party, bring these cookies to your next St. Patrick's Day event, baby shower, picnic, or potluck.
Table of Contents
(click the links below to skip to the section you're looking for)
♫ Listening to ♫
Pallet Town by Free Throw
This vegan rainbow cookies recipe makes 30-36 small cookies or 18-20 large cookies.
2 cups (240g) flour (I buy organic unbleached all-purpose flour)

1 teaspoon (4g) baking powder (I buy non-aluminum)

¾ teaspoon (4-5g) baking soda

¼ teaspoon (1-2g) salt

1 cup (215g) raw, vegan, or organic sugar*

1 ¼ cups (200g) chocolate chips (if you use mini chocolate chips, use only 1 cup, or 180g)

½ cup (120g) safflower oil

¼ cup (60g) water
How to Make Rainbow Cookies
prep time: 30 min | bake time: 10 min per tray
Dollhouse Shortcut
Make the dough up to 3 days ahead of time and chill it in the fridge until you're ready to bake. This cookie dough will stay good in the fridge for at least a week, but sometimes mine has lasted 2-3 weeks.
Sift and whisk together the following ingredients in a large bowl: 2 cups (240g) flour, 1 teaspoon (4g) baking powder, ¾ teaspoon (4-5g) baking soda, 1 cup (215g) sugar, and ¼ teaspoon (1-2g) salt (optional).
Add 1 ¼ cups (200g) vegan chocolate chips and mix in. If you use mini chocolate chips, use only 1 cup (180g). If you want to know how to make rainbow cookies without chocolate chips, all you have to do is skip this step where you add vegan chocolate chips and follow the rest of the directions normally. (Why anyone would want cookies without chocolate chips is beyond me, but I'm not here to judge.)
Weigh or measure the ingredients and divide as equally as possible into 5 bowls. Mine weighed 680g, so when I divided it into 5 bowls, I had 136g per bowl.
Add 24g of oil into each bowl (I divided 120g by 5 to get that number). You can use measuring spoons if you don't have a kitchen scale (½ cup oil = 24 teaspoons, divided by 5 = 5 teaspoons) and add 5 teaspoons of oil to each bowl.
Measure 12 grams of water (I divided 60g by 5 to get that number) and add your first color of vegan food coloring to the water (and mix it up). You can use measuring spoons if you don't have a kitchen scale (¼ cup = 12 teaspoons, divided by 5 = around 2 ½ teaspoons) and measure out around 2 ½ teaspoons of water. I used 5 wilton gel colors that I already had (rose, orange, leaf green, sky blue, and violet), but if you don't already have gel colors, you can buy the multi-color pack of wilton gel food coloring to save money.
Mix until you can no longer see any dry ingredients.
Repeat with 4 more colors of vegan food coloring until you have 5 bowls of different colored cookie dough.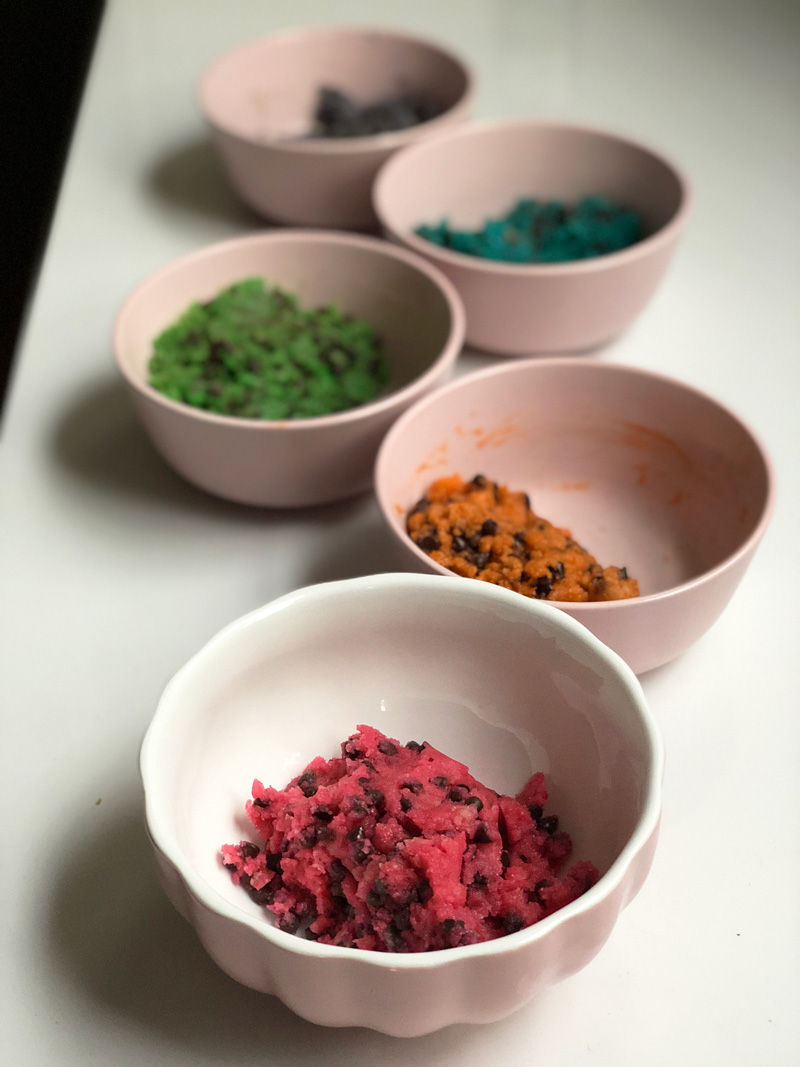 At this point, you can either cover the cookie dough and leave in your fridge until you're ready to bake cookies. Or, you can bake the rainbow cookies right away by following the next set of instructions.
Preheat the oven to 350º.
Line 2 baking sheets with parchment paper for easier cleanup or use a baking stone if you have one.
Grab a pinch of each color of cookie dough and roll it into a cookie dough ball if you're doing this by hand, or use a cookie scoop. I used a 1 ½ inch mini scoop so I could make more cookies and they would bake faster. (I'm all about using less electricity whenever possible.)
Set cookie dough balls on the cookie sheets or baking stones, leaving space in between them for the cookies to expand.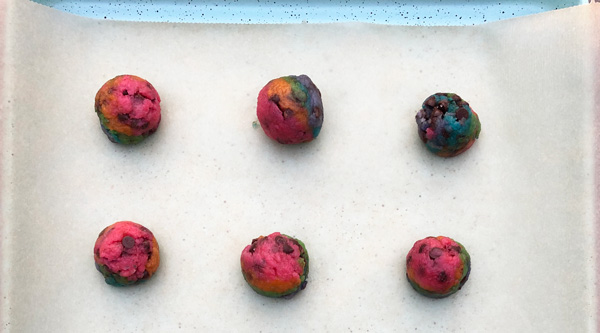 Repeat until the cookie sheets are filled. If you prefer to have different colored cookies where each cookie is its own color, you can do that instead of my method. I've done it both ways, and both look super cute.
Bake at 350º for 10-14 minutes. The length of time you bake them depends on how soft/crispy you like your cookies and how big you made your cookie dough balls. If you use a number 100 (2 teaspoon) scoop like I did with the cookies pictured here, you should only bake them for 10 minutes.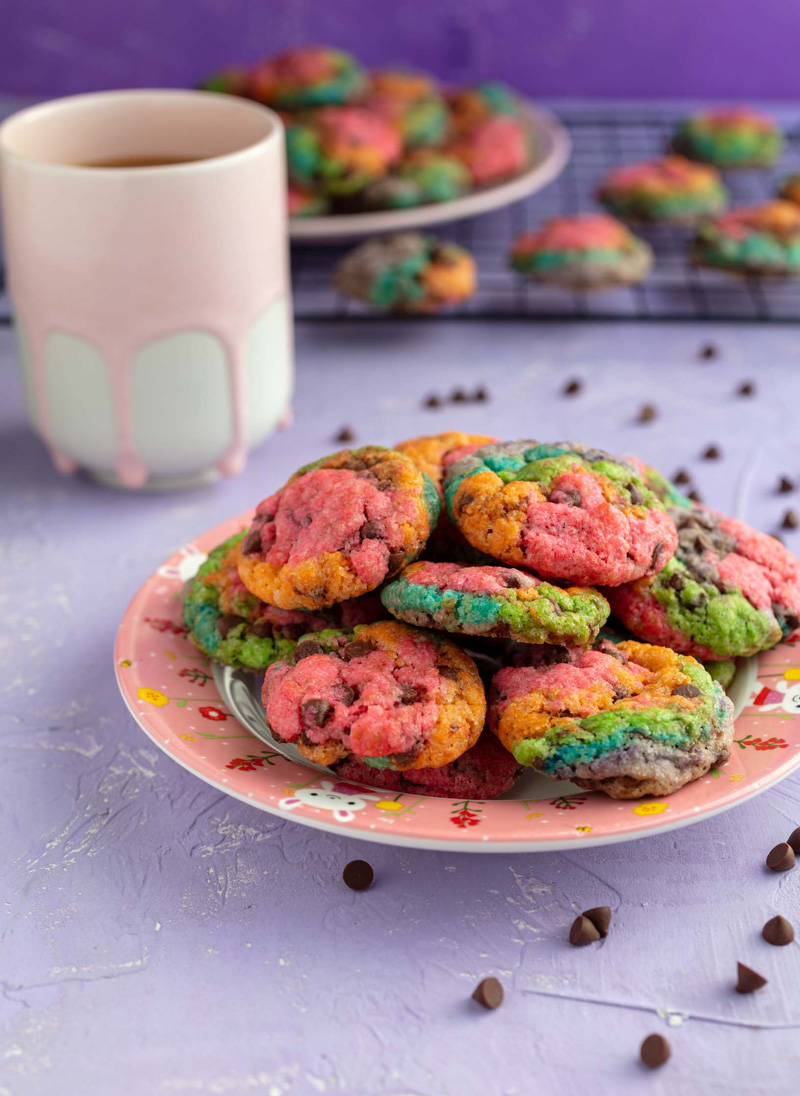 Here's what the inside of the colored cookies looks like.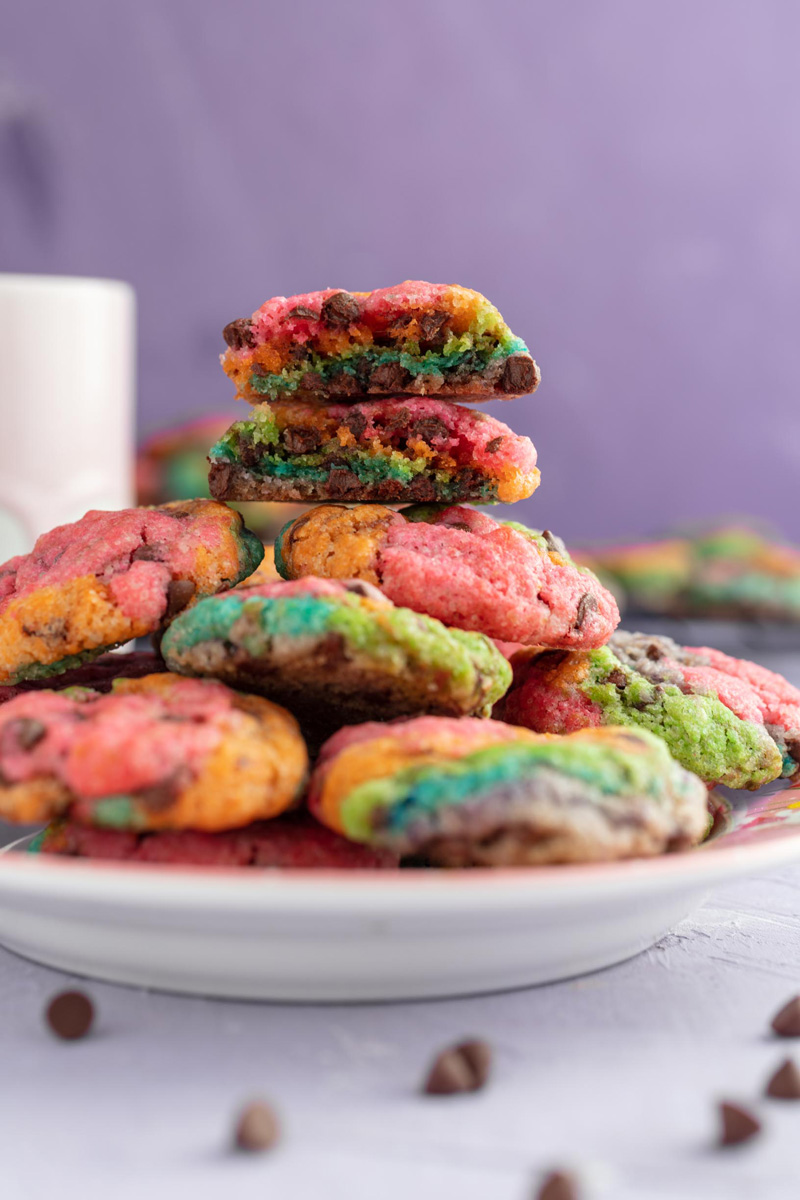 If you make this recipe, snap a pic, post to instagram, and tag me @vegandollhouse. I love to see your creations! You can also message me through instagram or email me if you have any questions about the recipe.
How can I convert this recipe into a normal vegan chocolate chip cookie recipe?
This recipe can easily become a recipe for regular chocolate chip cookies by following the first 2 steps to combine all the dry ingredients with the vegan chocolate chips. Then skip the part where you divide it into 5 bowls and just leave it all together. Then add ½ cup (120g) safflower oil and ¼ cup (60g) water and mix. Now you have regular (non-rainbow) chocolate chip cookies that are vegan.
Are these Italian rainbow cookies?
Italian rainbow cookies only have 3 colors and are a layered cookie that takes longer to make. These rainbow cookies are quicker to make and are much prettier with all of the colors of the rainbow. If you want these to taste more like Italian rainbow cookies, just add 1 teaspoon of almond extract.
Can rainbow cookies be frozen?
You can freeze these rainbow cookies once they're baked. Just set a piece of parchment paper in between each layer of cookies and store them in an air-tight container in the freezer. They should stay good for a few months.
You can also freeze the cookie dough balls so that you can bake them later. When you scoop the dough, put them close together on the parchment paper lined cookie sheet, instead of spacing them apart. Then, freeze the tray of cookie dough balls. Once they're frozen, transfer them from the cookie sheet to a tupperware or a ziplock freezer bag. Then, when you want freshly baked cookies, just take some out and bake those. If you have a toaster oven or an air fryer, you can just make one or two at a time.
Here's a quick video of me scooping the cookie dough.
Oil: I recommend using safflower, sunflower, or coconut oil for baking cakes because those oils are made for high heat, which helps you avoid transfats. However, you can use any other oil such as vegetable oil, canola oil, grapeseed oil, etc. People even make cakes with olive oil, but I don't recommend it.
Flour: To make these cookies gluten-free, just replace the all-purpose flour with a gluten-free flour blend.
Sugar: For the sugar in this rainbow cookie recipe, you can use any number of sugars, as long as they're vegan: brown sugar, sucanat, coconut sugar, raw sugar, organic sugar, or demurara. If you're not sure if your sugar is vegan, you can contact the company and ask, but basically, just avoid conventional white sugar or granulated sugar, and you should be ok.
Food Coloring: I used wilton gel colors for this recipe, but you can look at my entire list of vegan food coloring for other options.
If you like this vegan rainbow cookies recipe, you might also like my rainbow cake, my rainbow pasta salad, and my rainbow sprinkles cookies.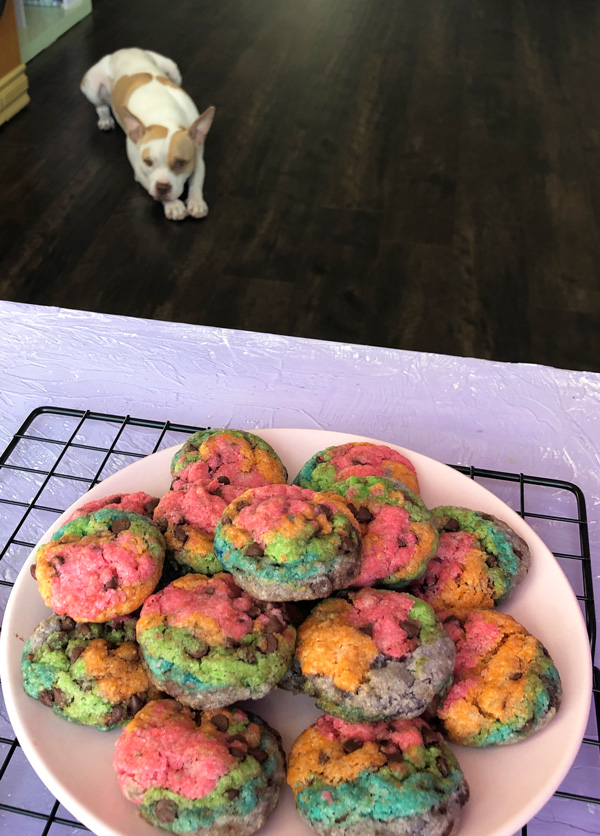 For other St. Patrick's day recipes, check out my mint chocolate shake and my vegan ham.
☆☆☆☆☆☆☆☆☆☆
* I use mostly organic ingredients when I cook, but I realize that not everyone has the disposable income to purchase all organic ingredients. Therefore, I only specify organic on the ingredients that really matter - when buying the organic (or non-GMO) version is the only way to ensure that the item is vegan.
This post may contain affiliate links. Read more about them in my privacy policy.
☆☆☆☆☆☆☆☆☆☆