Dill Pickle Popcorn and Homemade Dill Pickle Seasoning
published on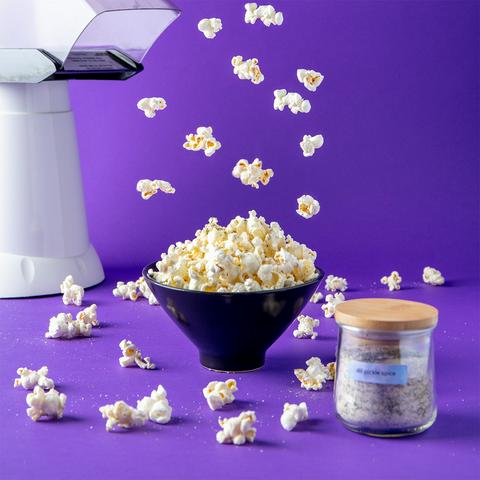 ♫ Listening to: affection by BETWEEN FRIENDS ♫
These two recipes are for all you pickle lovers out there: dill pickle popcorn and dill pickle seasoning. Pickled popcorn is the best snack you'll make all year. You can also make just the seasoning and give it as gifts.
Table of Contents
(click the links below to skip to the section you're looking for)
Have you ever had the dill pickle kettle chips? I've been obsessed with them ever since my friend Kimmy recommended them, but I don't buy them very often for a couple of reasons. One reason is that they're not organic , and I try to buy only organic whenever possible. The other reason is that sometimes, they hurt the roof of my mouth. I know this may sound weird, but I'm not the only one! I did an instagram poll, and 17 people had the same problem! So, I knew it was time to come up with an alternative.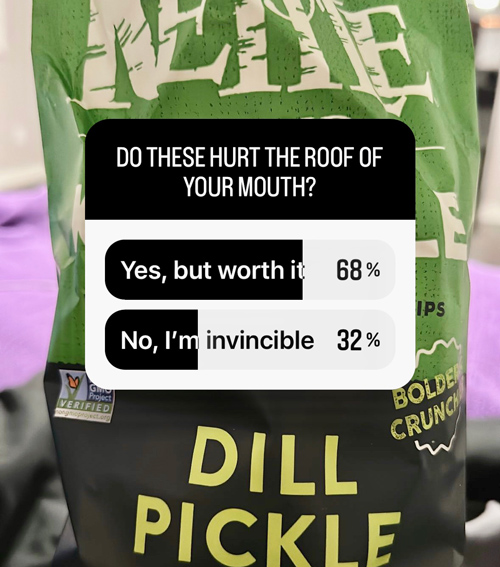 I wasn't sure if the cause of the oral injuries was the citric acid in the chips or the sharp crispiness of the chips. So, to play it safe, I decided on popcorn as a soft pillowy base for the dill pickle powder seasoning. I've been a fan of popcorn for over 20 years, and have made my own regularly that entire time. I also consumed my fair share of the Popcorn in a Pickle from Trader Joe's, because it was an easy thing for my muggle (non-vegan) friends to buy when I came over.
I combined my memory of the since-discontinued Trader Joe's dill pickle flavored popcorn with a side-by-side taste test of the dill pickle kettle chips to create this recipe. Then, I had friends taste it, and tweaked it yet again. Once it was finally perfected, I made spice jars of the seasoning for my friends for solstice so they could make their own dill pickle popcorn at home.
This recipe makes 10 tablespoons (⅔ cup, 1 oui jar, or 2 spice jars) of dill pickle popcorn seasoning and 3 bowls of dill pickle popcorn.
3 tablespoons pink sea salt

2 tablespoons vinegar powder

2 tablespoons onion powder or onion granules

4 teaspoons garlic powder

4 teaspoons dried dill

2 teaspoons vegan or organic sugar*

1 teaspoon dried parsley
How To Make Dill Pickle Seasoning for Popcorn
preparing the seasoning: 5 minutes
Dollhouse Tip
Double or triple this recipe to make this as gifts to give people. I did this for solstice, and everyone LOVED it.
Measure the following ingredients into a medium sized mixing bowl: 3 tablespoons pink sea salt (or any salt you have), 2 tablespoons vinegar powder, 2 tablespoons onion powder, 4 teaspoons garlic powder, 4 teaspoons dried dill, 2 teaspoons vegan or organic sugar, and 1 teaspoon dried parsley.
Whisk the ingredients together.
Transfer the dill pickle seasoning to a jar that you want to store it in. This pickle popcorn seasoning recipe makes around 10 tablespoons of spice (which is equivalent to around ⅔ cup). This amount of pickle seasoning can fit nicely into 2 standard sized spice jars or 1 oui jar. Oui jars are the jars that Yoplait Oui yogurt comes in. I found nice wooden lids for them on amazon so I could reuse the yogurt jars. Then I made little labels with my label maker so I could give this as gifts to friends and family.
⅓ cup (70g) organic popping corn*

2 teaspoons (8-9g) olive oil

2 teaspoons (12g) homemade dill pickle seasoning
How To Make Dill Pickle Popcorn
popping time: 5 minutes | seasoning time: 2 minutes
Pop ⅓ cup of organic popping corn. Set some pieces aside for your dog before you add your pickle seasoning.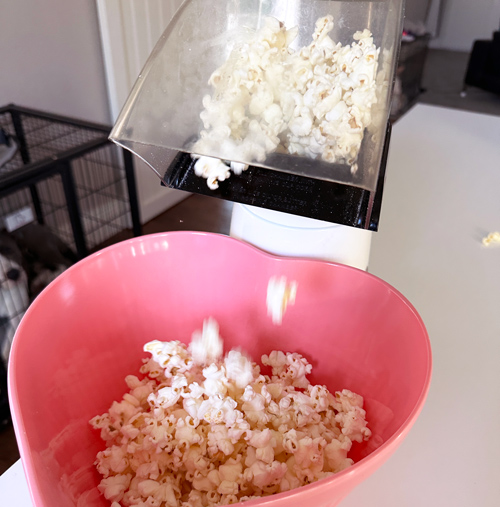 Spray the top layer of popcorn with an oil sprayer filled with olive oil.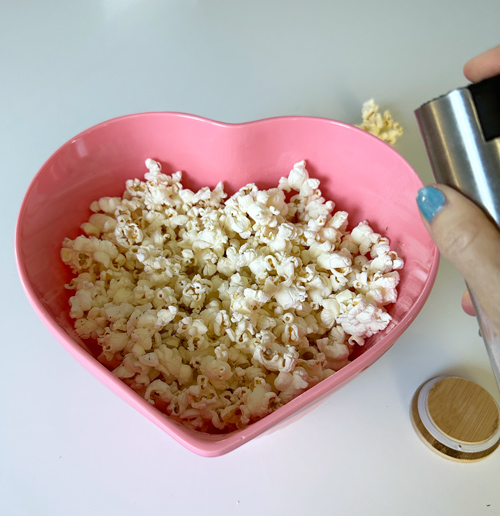 Sprinkle your homemade dill pickle seasoning all over the part you just sprayed.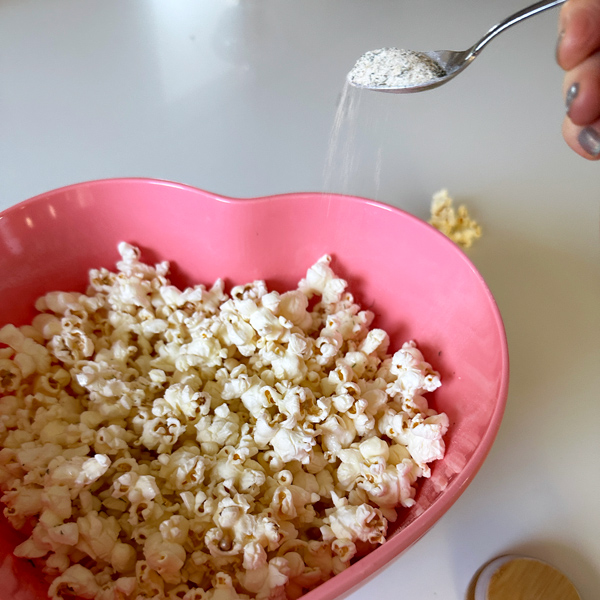 Turn the popcorn over in a motion as if it was all one popcorn cloud and you're rotating it 60 degrees to the left. I do this by pressing down on the left side of the popcorn, while turning the right side over.
Repeat these steps (spray, dust with pickle seasoning, turn to the left) until you get back to the part that's already sprayed and seasoned the first time.
Divide the dill pickle popcorn into 3 bowls (or just eat the whole big bowl yourself…there's no judgment here).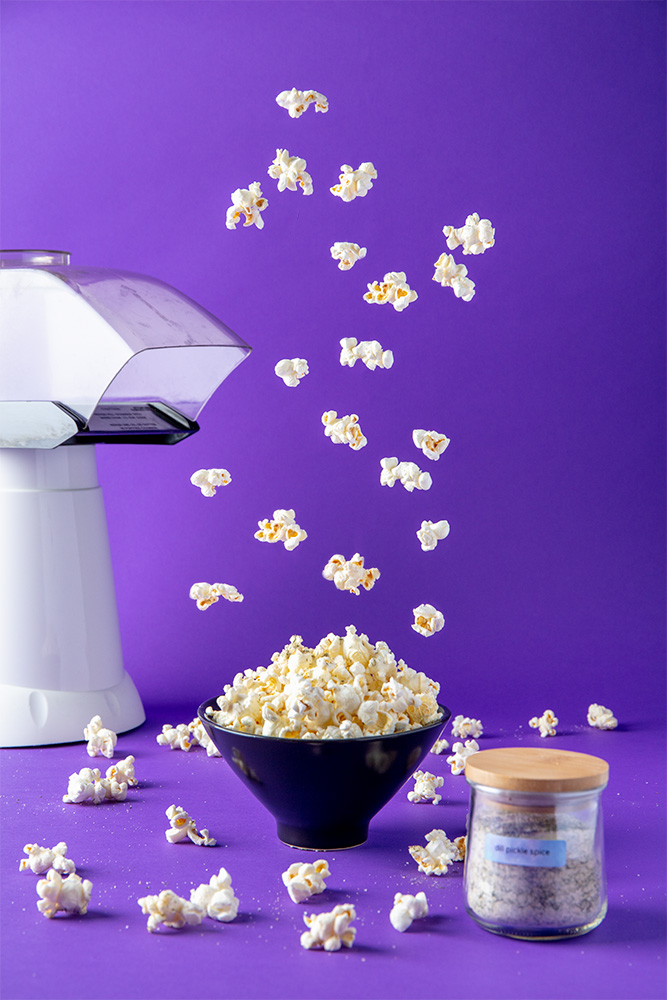 If you make this dill pickle popcorn recipe, snap a pic, post to instagram, and tag me @vegandollhouse. I love to see your creations! You can also message me through instagram or email me if you have any questions about the recipe.
What's the best way to store dill popcorn without it going stale?
I've only ever found one tried and true way to keep popcorn from getting stale after it's popped and seasoned. Wait for it to cool to room temperature and transfer it to an air-tight container or ziplock bag. Then store it in the freezer until you're ready to eat it. I know it sounds weird, but it won't freeze. It doesn't even come out of the freezer cold. Science is cool.
Will this taste like the fried pickle popcorn from City Pop?
If you want this dill popcorn recipe to taste like fried pickle popcorn, you should add nutritional yeast to your popcorn, along with the dill pickle seasoning.
Does this taste anything like the Seasoning in a Pickle seasoning blend spice from Trader Joe's?
Yes! I was actually inspired by both the pickle seasoning, as well as the Popcorn in a Pickle popcorn from Trader Joe's. Unfortunately, Trader Joe's discontinued both of these dill pickle flavoring items, so we're on our own. It's like foraging in the woods for dill pickle flavor popcorn.
Can you use the dill pickle seasoning for anything besides popcorn?
Yesssss you can! I've had this dill pickle seasoning in my spice drawer for at least a month now, and I've been using it on veggies, toast, and on salads. It's great on so much more than just popcorn.
Can I spray pickle juice on popcorn instead of oil?
The oil makes the popcorn taste more like dill pickle chips, so I wouldn't omit it. If you avoid oil completely and have no other option, then pouring pickle juice into your oil sprayer and using that in place of oil seems like a decent alternative. It will make your popcorn a little soggy on the parts it touches though. I've done this with braggs and I don't care for the sogginess, but it works in a pinch.
Can I make up a tongue twister about this pickle popcorn recipe?
Please do! I can't get Parker picked a pot of pickled popcorn out of my head, and I need someone else to take it from my brain.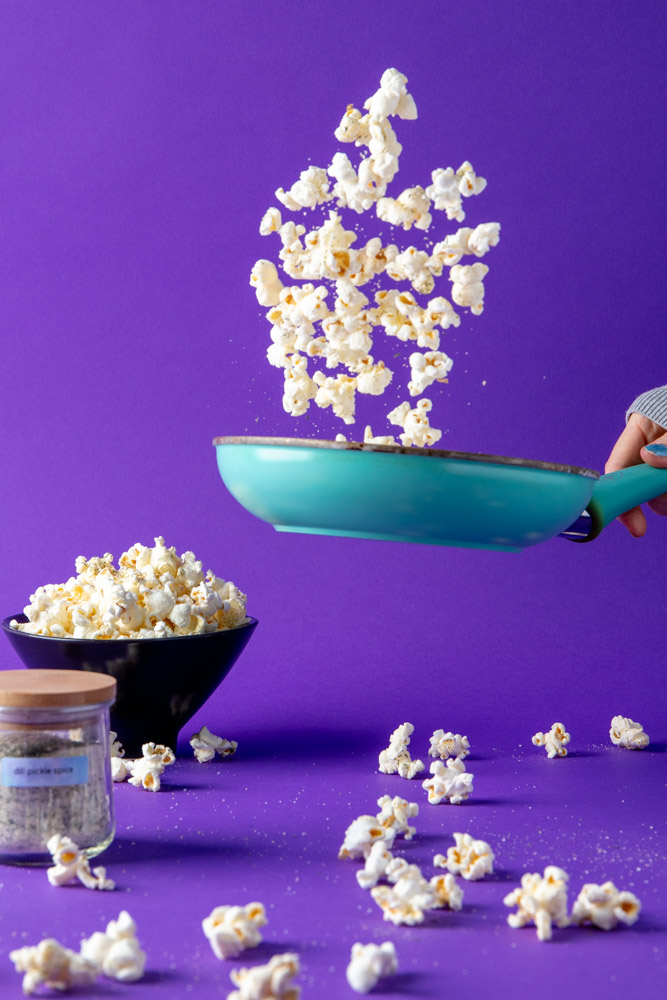 Olive Oil: If you don't have an oil sprayer, you can melt vegan butter or margarine and drizzle that over your popcorn. It won't get as evenly coated as it does with an oil sprayer, so you won't get as much of the seasoning to stick to the popcorn, but it will still be good.
Sugar: I suggest looking for vegan or organic sugar because sometimes conventional granulated sugar is not vegan. If you avoid sugar, you can omit this ingredient or replace it with xylitol.
If you like dill, you might also like my potato salad and my ranch dressing recipes, since they're both heavy on the dill.
☆☆☆☆☆☆☆☆☆☆
* I use mostly organic ingredients when I cook. I realize that not everyone has the disposable income to buy only organic ingredients. Therefore, I only specify organic on the ingredients that really matter: when buying the organic (or non-GMO) version is the only way to ensure that an item is vegan.
This post may contain links to items I used when I made this recipe. This means that if you click on a button on one of those pages, you may go to a website (like Amazon) where you can purchase a product. Sometimes, I earn money from that purchase from the affiliate partner. I never recommend a product that I don't use and endorse myself. Read more about this in my privacy policy.
☆☆☆☆☆☆☆☆☆☆