Vegan Garlic Hot Dog Buns (on a stick)
published on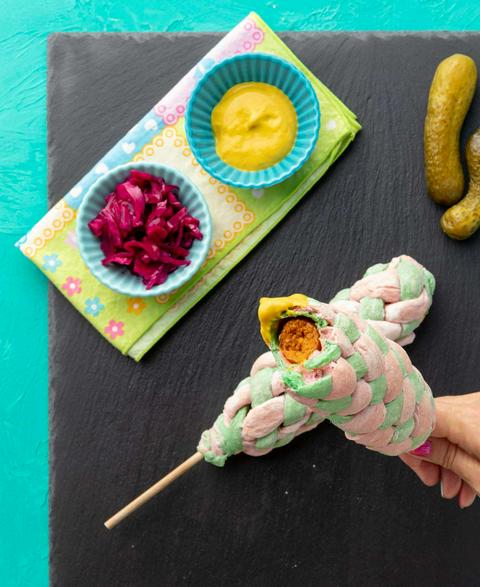 ♫ Listening to: Simple Girl by Bad Cop, Bad Cop ♫
I don't want to claim that I'm an expert on picnicking, but I'm definitely not an amateur. I first got the idea for these from those rainbow swirl lollipops that you see in candy stores. I started by just wrapping rainbow swirl garlic knot dough around sticks to make breadstick lollipops. Then that evolved into wrapping dough around vegan sausages in that same lollipop twist style. Eventually, I learned that Upton's had come out with their Updogs, and Izzy suggested a basket weaved dough rather than the lollipop swirl. This recipe has instructions for both the basket weave and the lollipop method, and you can use any brand of vegan sausages or hot dogs.
If you like corn dogs and garlic knots, you're gonna love this hot dog on a stick recipe. It's basically pigs in a blanket if they were on corn dog sticks and their blankets were a pretty colored cozy garlic bun. This cute addition to any picnic, party, BBQ, or meal with friends or family is easy and clean to eat because they have a built-in bun.
This recipe makes 8 vegan hot dogs in buns on sticks.
Vegan Hot Dog on a Stick Ingredients
Dollhouse Shortcut
If you don't have time to make your own dough, you can buy pizza dough from Trader Joe's and just color it.
2 cups warm water (between 95-110 degrees)

2 teaspoons organic, vegan, or raw sugar*

1 ½ tablespoons active dry yeast (you can sub instant yeast if that's what you have)

1 tablespoon sea salt

1 teaspoon garlic powder (optional)

5 ½ cups unbleached all-purpose flour, plus more for dusting your surfaces

2 packages of vegan hot dogs or sausages (I've successfully made these with Upton's Updogs and Tofurkey and Field Roast sausages)

vegan food coloring (optional)
Vegan Hot Dog on a Stick Directions
Dollhouse Tip
If you have leftovers, you can reheat them in the oven, toaster oven, or air fryer.
Whisk 1 ½ tablespoons of yeast, 2 cups warm water, and 2 teaspoons sugar in a large bowl. I use the bowl of my stand mixer fitted with the dough hook.
Add 3 cups (410-420g) of the flour. Mix well to blend.
Add the (optional) 1 teaspoon garlic powder, remaining 2 cups (275-280g) of flour, and 1 tablespoon pink sea salt and stir well.
Knead the dough for a few minutes, either using your stand mixer or by hand on a flour covered board, adding flour if it gets too sticky (you'll know if it's too sticky because it won't come off the sides of the mixing bowl).
If you don't plan to color your dough…
Form all the dough into a ball and place it into a large lightly oiled bowl.
Cover the bowl with a kitchen towel or cling wrap and set it in a warm place for 45 minutes to an hour to rise.
If you plan to color your dough…
Remove half of the dough and place it in a lightly oiled bowl. If you want more than 2 colors, just divide the dough that many times.
Add a few drops of one color of vegan food coloring to the dough that is still in the mixing bowl. For my pink color, I used wilton pink gel color and for my green, I used a combination of wilton sky blue gel color and wilton leaf green gel color so my green would come out a minty color.
Mix until the color has changed noticeably. This usually takes at least a minute with my stand mixer on high and me babysitting it to make sure it doesn't wobble itself off the edge of the counter (it's never happened but you'd be surprised how quickly it can travel when it thinks I'm not looking).
Transfer that color dough to a lightly oiled bowl once you're happy with the color (sometimes I have to add another drop of food coloring to the dough if the color is too light).
Cover the bowl with a kitchen towel or cling wrap and set it in a warm place for 45 minutes to an hour to rise.
Grab the remaining uncolored dough and plop it into the bowl of the stand mixer and repeat the same steps with the other color you want to use.
Wait for 45-60 minutes for the dough to rise. You want to see at least double in size before you know it's ready to work with.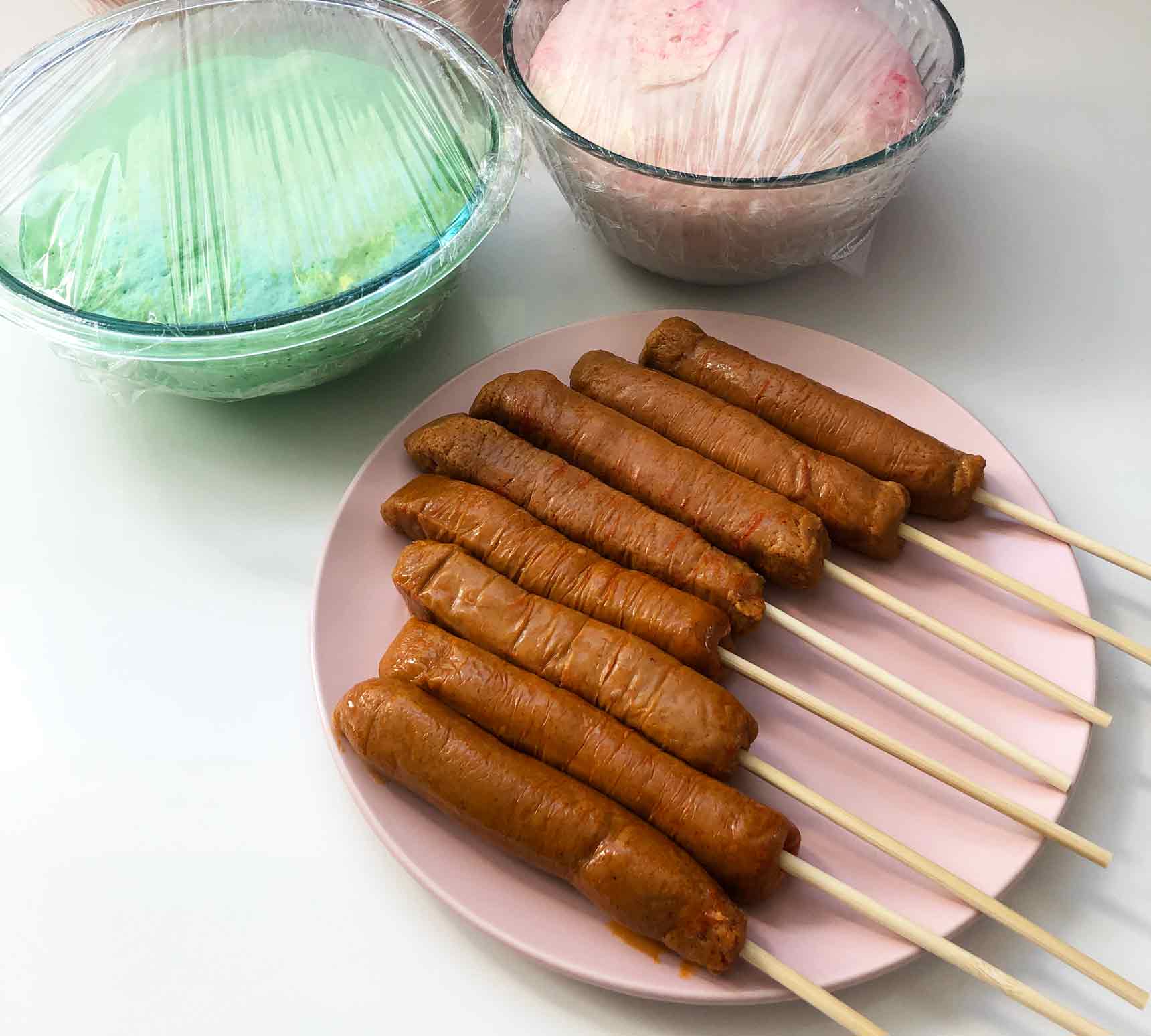 Poke corn dog sticks into the centers of all 8 sausages. This step is optional because they're cute and easy and fun to eat with or without the sticks.
Line two baking sheets with parchment paper or a silicone rolling mat (both work equally well).
Preheat the oven to 400°.
Grab one color of the dough and roll it out on a rolling mat before cutting it into long strips with scissors.
At this point, you can decide if you want to try the basket weave method or the lollipop wrap method.
For the lollipop wrap method…
Roll the strips of dough you cut into long thin snakes that have the body girth of a gummy worm. Once you have long dough snakes, twist the colors together and roll them so that they're the same thickness they were when they were just one color.
Wrap the multi-colored dough snake around a hot dog or sausage on a stick starting at the top and ending at the bottom pinching it together on both ends so it doesn't come unraveled in the oven. Place on the parchment paper or rolling mat covered baking sheet.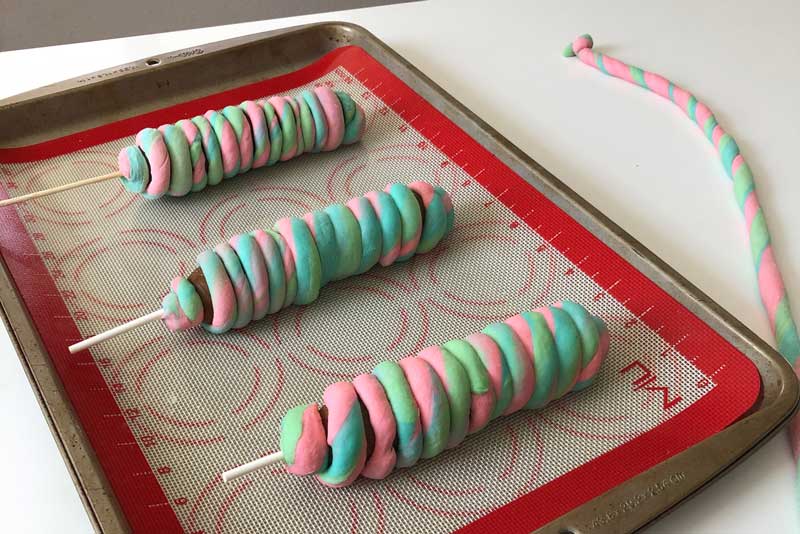 Repeat with the remaining hot dogs and sausages. Sometimes I bake the trays as I finish them, rather than waiting for them all to be done at once.
For the basket weave method…
Roll out half of one color of dough on a floured surface so it doesn't stick.
Cut long thin strips of dough using kitchen scissors.
Set the long strips of dough onto a floured surface.
Roll half of the other color of dough on a floured surface.
Cut long strips of that color.
Weave the dough strips using the below photo as a guide. There's also a video below that might help.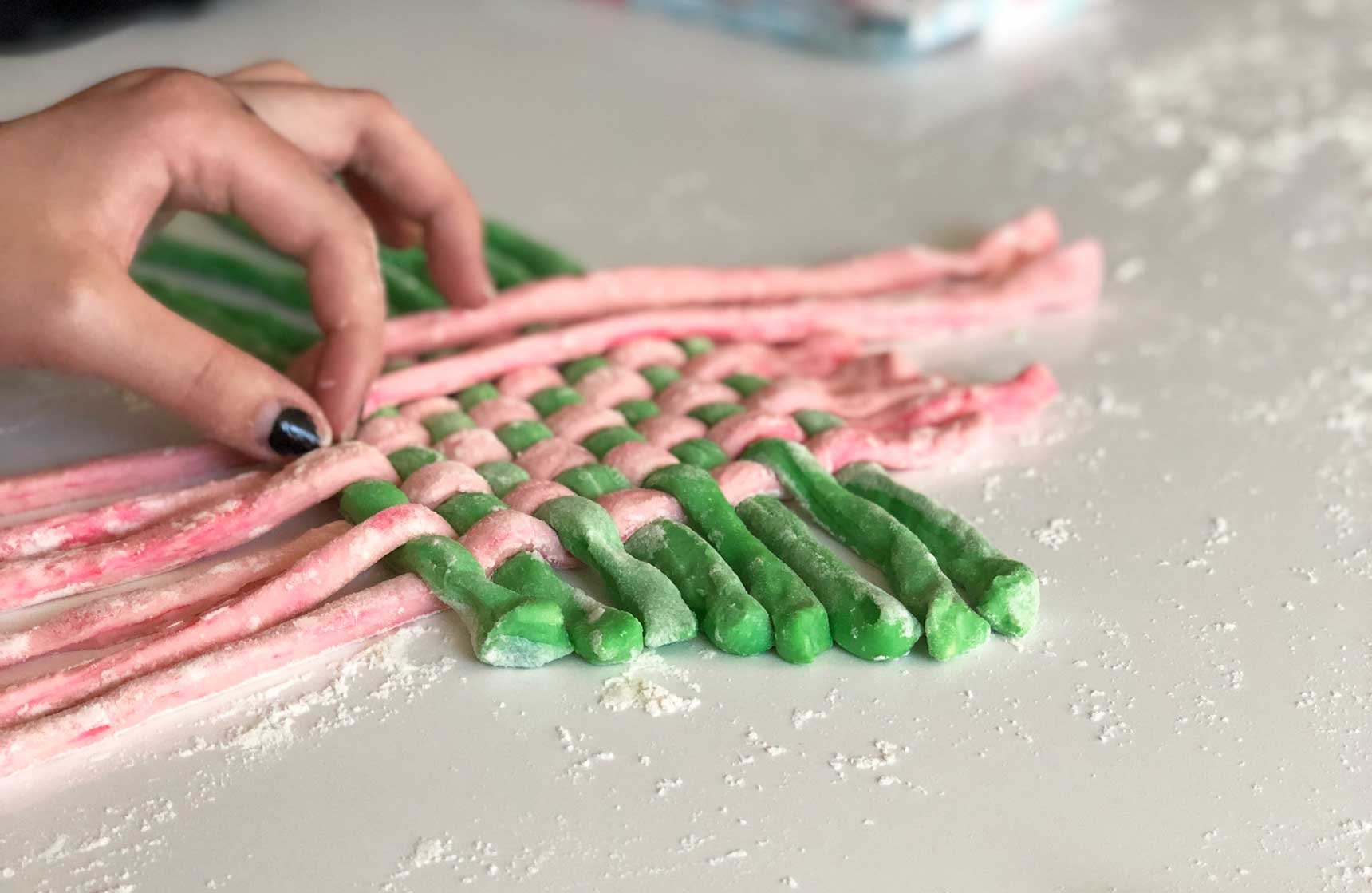 Create a piece using the basket weave method that's as big as possible so you can wrap as many hot dogs as possible.
Wrap the hot dogs on sticks in the basket weaved garlic dough, cutting the dough to just the right size to wrap around the hot dog (but leaving a little extra at the top and bottom), and pinching the seam at the back where the ends meet to keep it closed.
Twist the ends to make sure they don't come unraveled in the oven.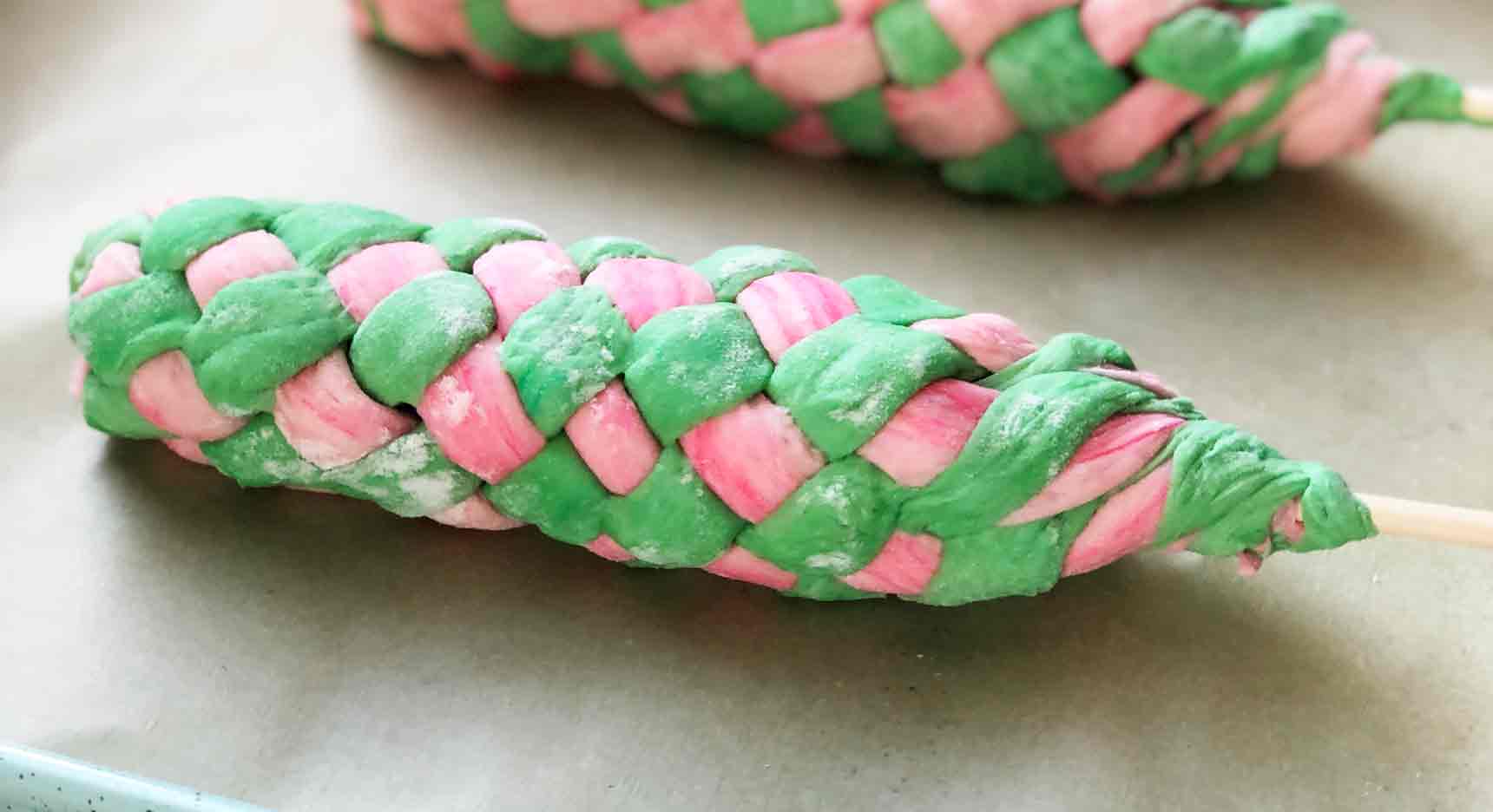 Bake at 400º for 10-15 minutes, depending how hot your oven gets. You want to take them out as soon as you see them starting to brown.
Cool on trays for 2-3 minutes before touching them.
Repeat with the remaining dough and hot dogs on sticks while the first batch bakes. You can also roll out all your scraps and just do a normal wrap which saves a lot of time, but doesn't look quite as pretty.
Optional: If you're taking them to a BBQ or a picnic or party and want them to look even cuter, wrap the sticks with washi tape once they're cooled down enough to touch.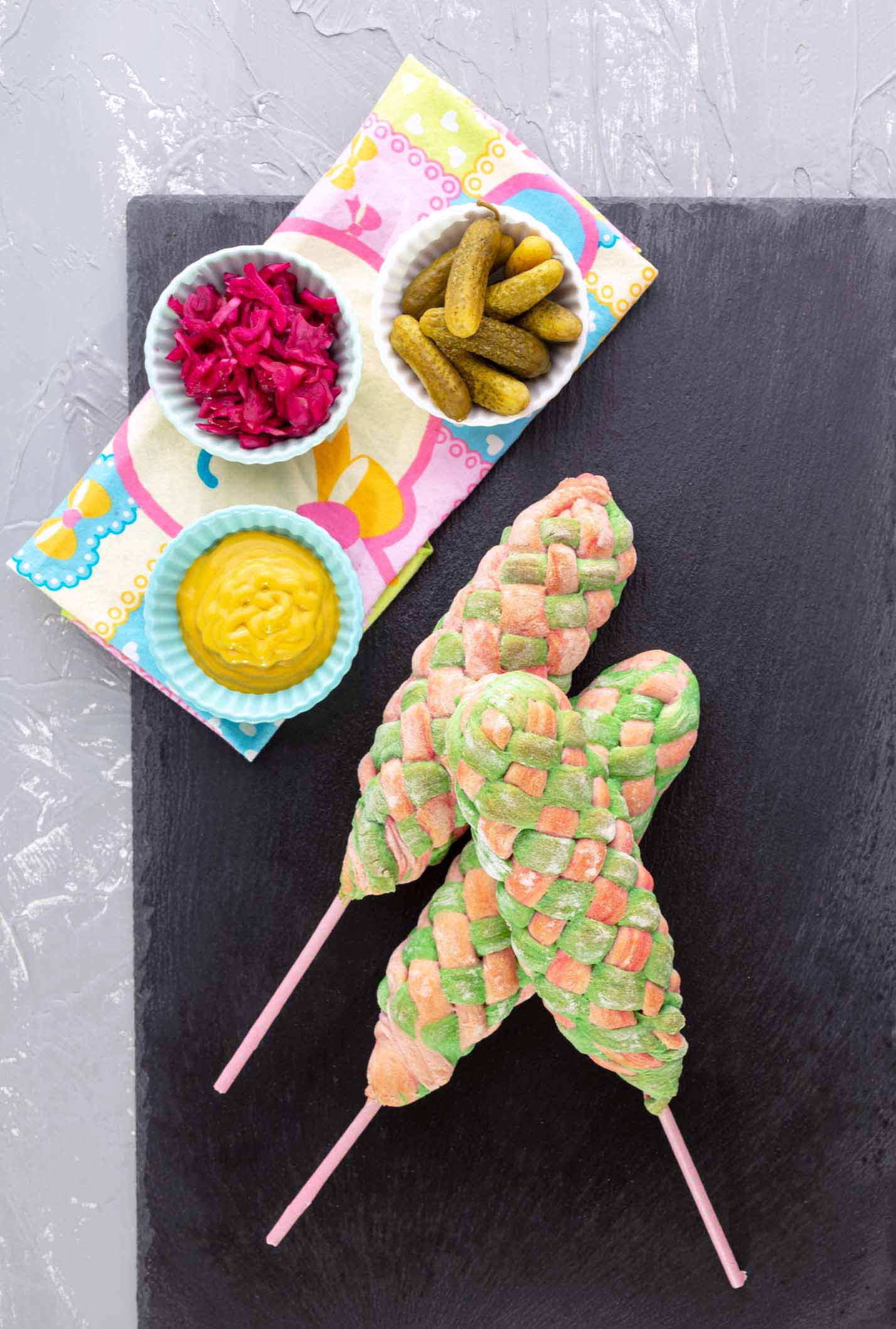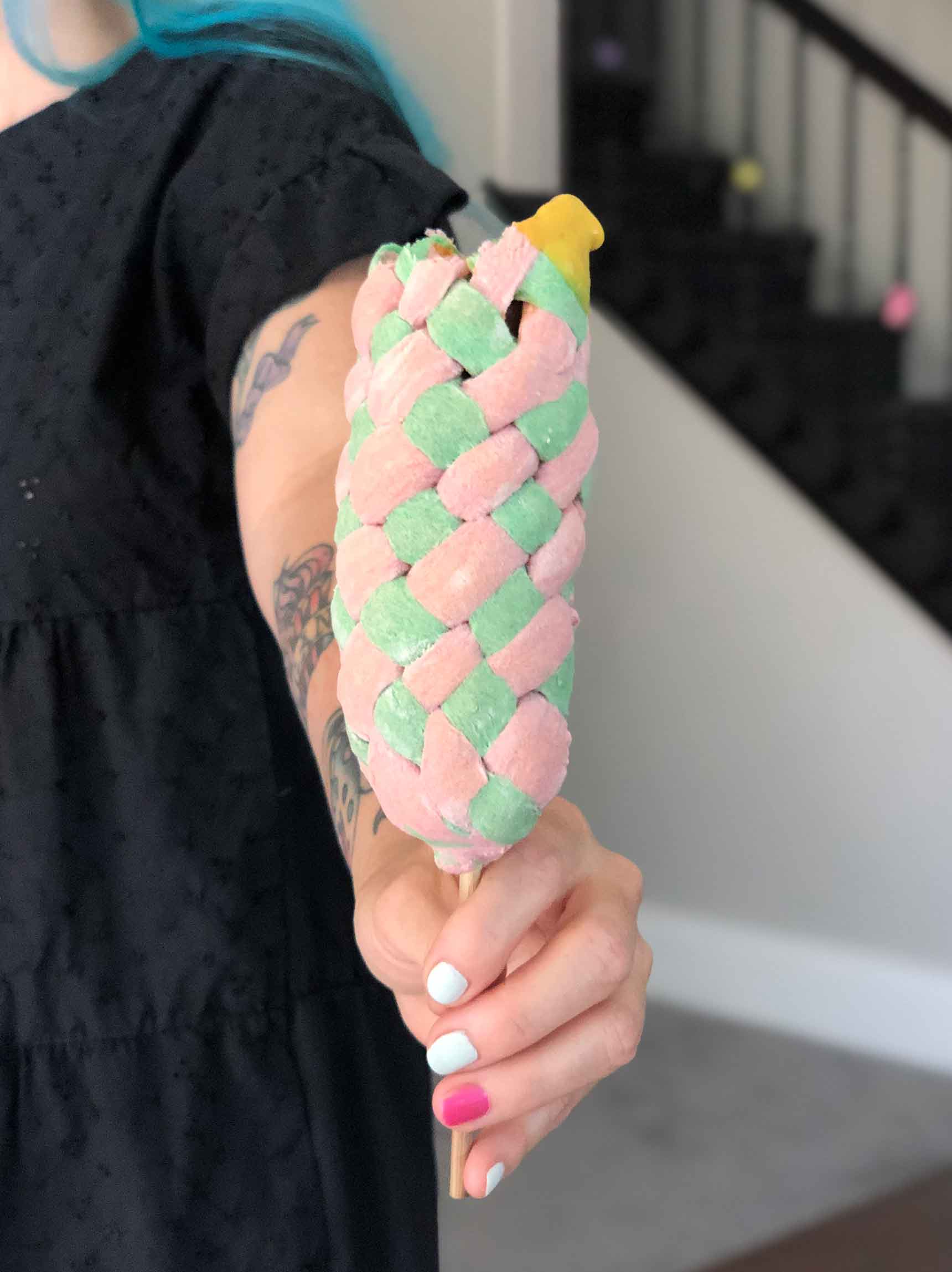 These would go well with my radish wands as a side. If you want to use less yeast, you can follow the shortcut for making overnight dough in my pizza roll recipe.
☆☆☆☆☆☆☆☆☆☆
* I use mostly organic ingredients when I cook, but I realize that not everyone has the disposable income to purchase all organic ingredients. Therefore, I only specify organic on the ingredients that really matter - when buying the organic version is the only way to ensure that the item is vegan.