Rainbow Pasta Salad
published on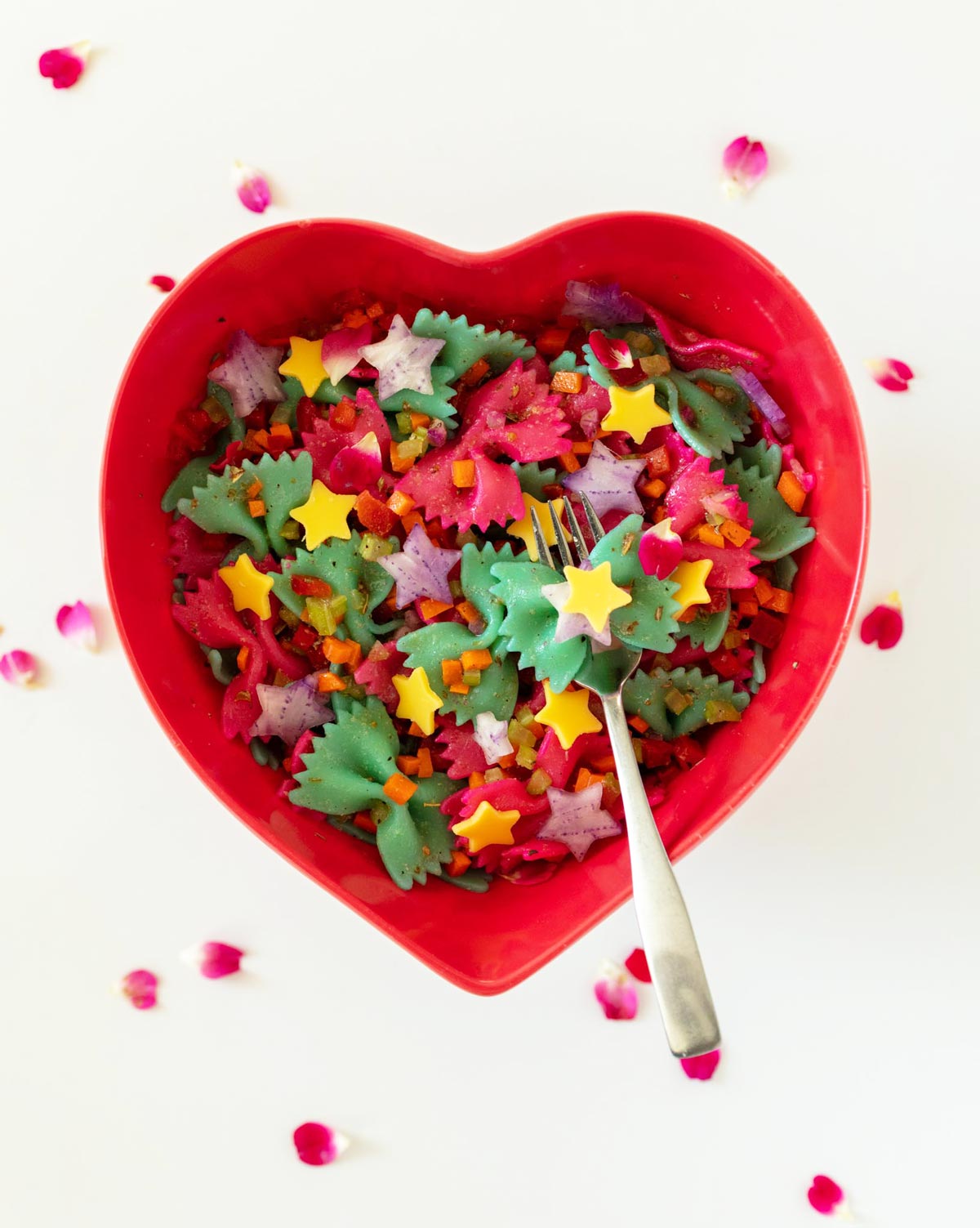 ♫ Listening to: Sea Blue by BLOXX ♫
Did you know that boiling pasta in water colored with vegan food coloring completely converts the pasta into something unique? All pasta shapes and sizes work, but I have an affinity for bows (in case you hadn't noticed). Unlike macaroni salad (that has a mayo-based dressing), this pasta salad has an italian dressing that's light and flavorful, making this cold pasta salad a perfect summertime lunch or dinner. Letting the pasta salad chill in the fridge for an hour or two after you make it is the key to extra yumminess because the dressing has time to infiltrate the pasta and veggies.
I made this pasta salad with bows and star shapes because it was for a sailor moon party, but you can make your colored pasta salad in less time if you don't care about the star shapes. This recipe has modifications for both options, as well as substitutions for harder to find ingredients.
This recipe makes 8 cups of rainbow pasta salad.
Rainbow Pasta Salad Ingredients
½ cup finely diced carrots
½ cup finely diced celery
½ cup finely diced red pepper (or sub tomato)
2 slices vegan cheese (I used Violife mature cheddar)
3-4 slices purple daikon radish (or sub ½ cup finely diced purple cabbage)
10-11 ounces (150g) of bow tie (farfalle) pasta (or sub any shape I guessssss)
pink and blue vegan food coloring (see below for links to what I used)
1 teaspoon salt
edible flowers (optional)
Rainbow Pasta Salad Directions
prep time: 35min (if you don't care about having stars, you can cut this time down to 20min, and if you use a food processor for the veggies, only 15min)
Dollhouse Shortcut
Use a food processor with an S blade to dice the veggies faster if you want to save time.
Dice your veggies as finely as possible. You want them to look like confetti. Add them to a large mixing bowl.
Cut tiny stars from your vegan cheese slices and your purple daikon radish slices using a tiny fondant cutter that's star shaped. Your daikon slices should be a similar thickness to a slice of cheese or a little thicker. Save these for garnishing before you serve.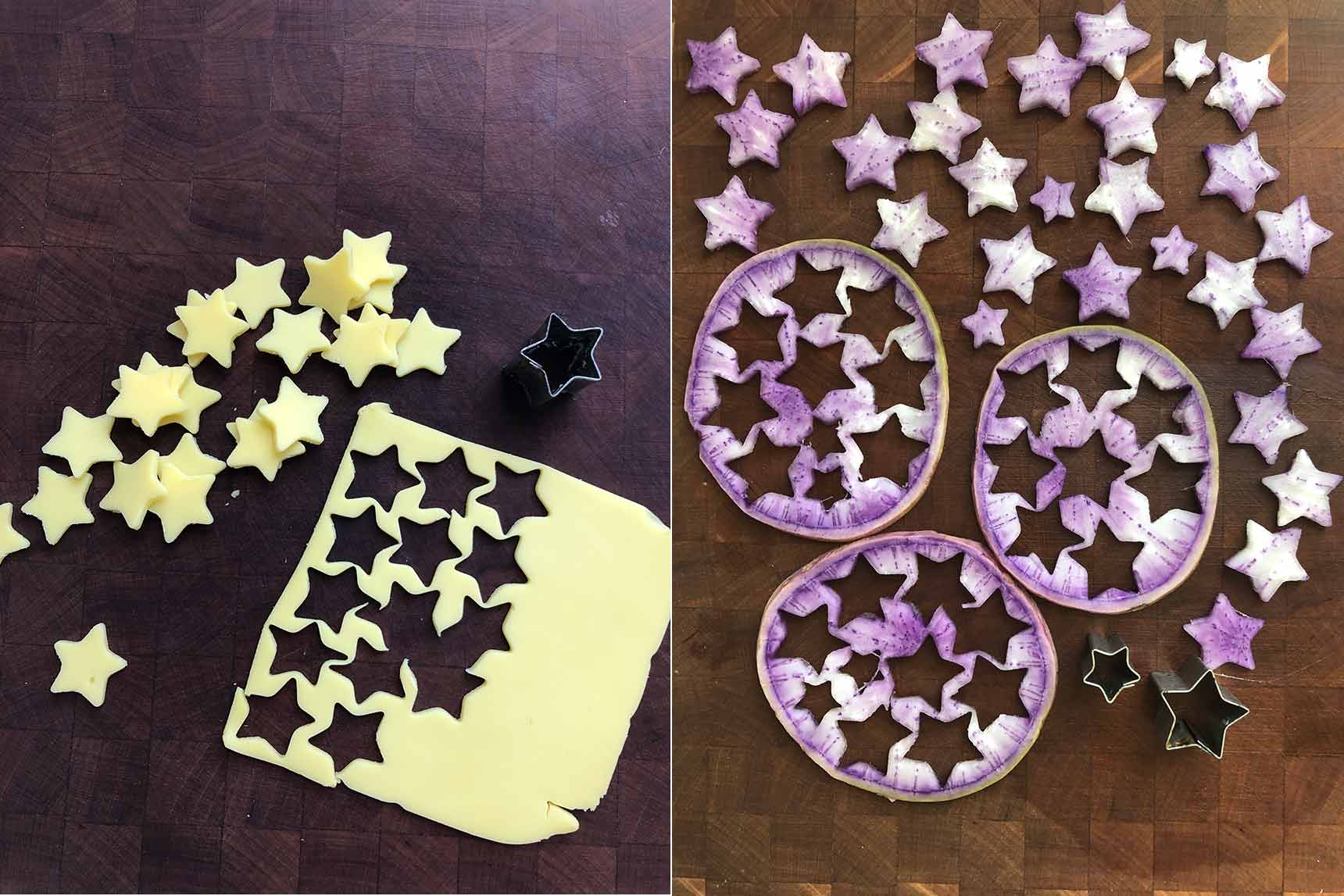 Dice the scraps from cutting out the stars as finely as possible and add those confetti scraps to the mixing bowl.
Boil 2 medium-sized pots of water.
Add pink and blue vegan food coloring to the pots of water. I used wilton rose gel color and wilton sky blue gel color and if I had to guess the amount of food coloring I used in each pot, it's probably the equivalent of a baby bump of coke. Not familiar with that measurement? Weeeiiirrrrd, haha. How about more than you can scoop with a toothpick, but less than a butter knife. I'm not great at describing this, am I? Just try to get the color of your water to look as dark as mine in the photo below.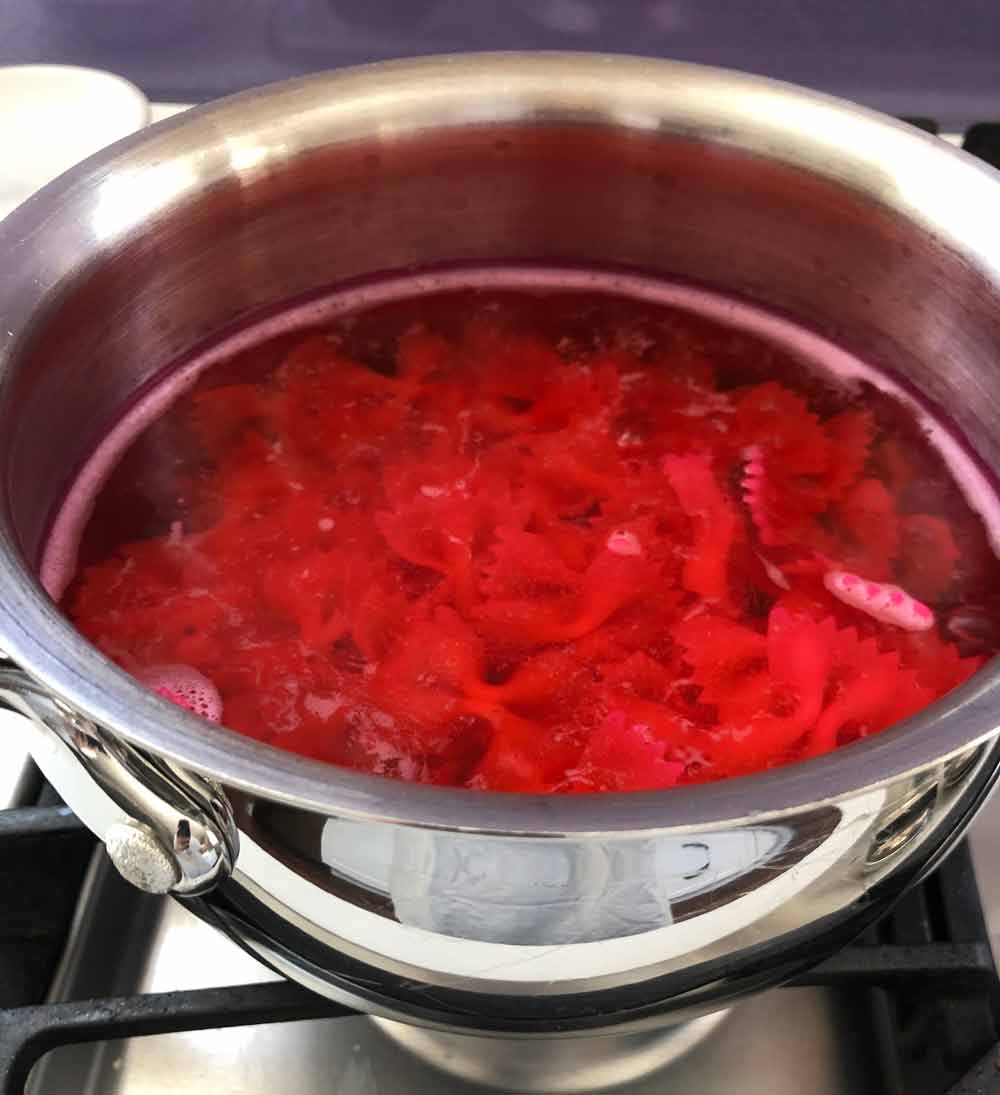 Add half a teaspoon of salt to each pot.
Weigh or measure or just eyeball a third of a 16-ounce package of pasta into a bowl and another third in another bowl. If all you can find are 8-ounce packages of pasta, divide it in half.
Add the pasta to each pot, only when both pots of water have started boiling.
Boil for as long as the package tells you to. I boiled mine for 12 minutes.
Dump the cooked pasta into a colander and rinse with cold water to stop the cooking process.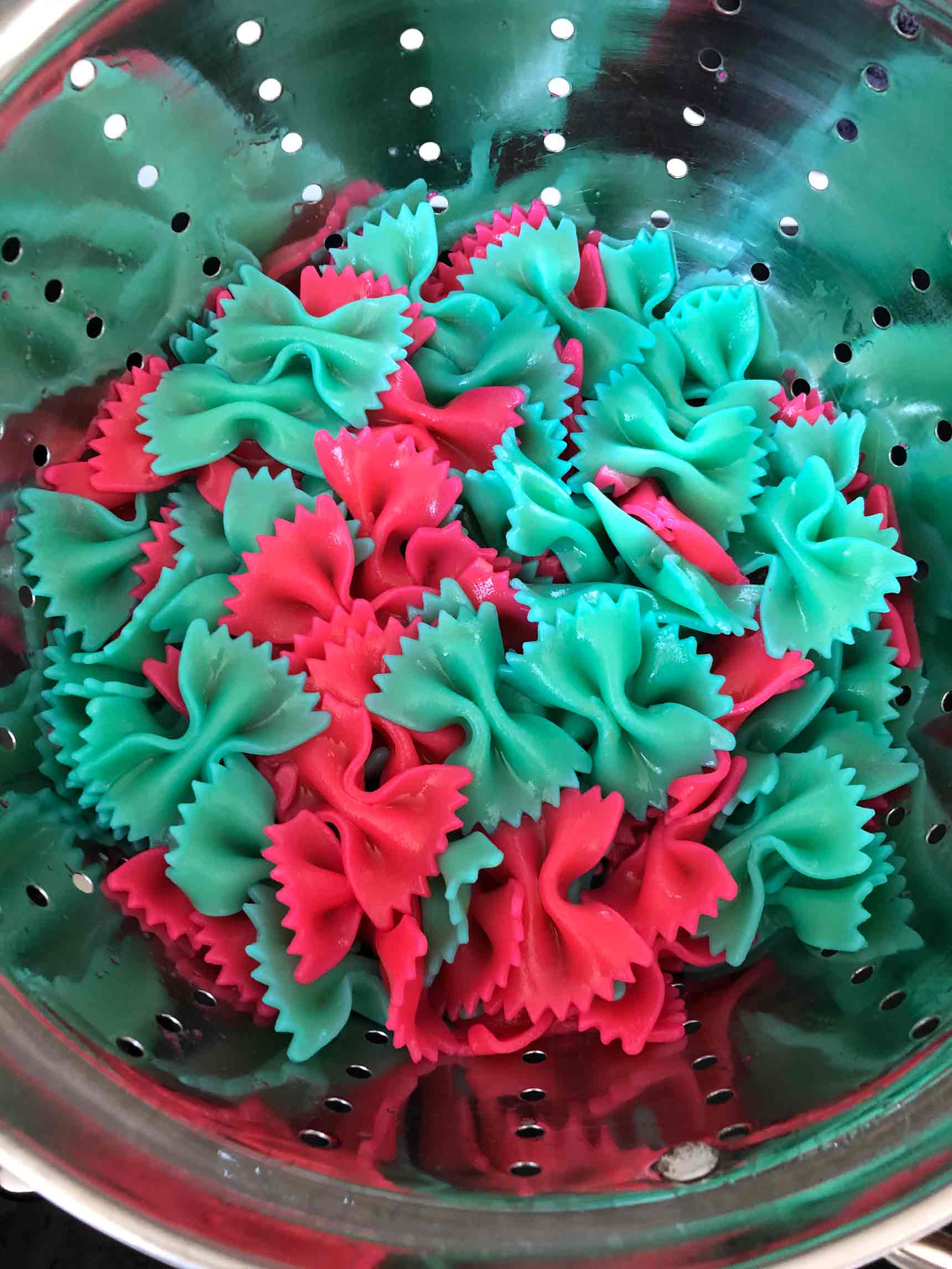 Add pasta to the mixing bowl with the finely diced veggies.
Rainbow Pasta Salad Dressing Ingredients
⅓ cup olive oil (I use cold-pressed, extra virgin)
¼ cup apple cider vinegar
1 teaspoon onion powder
1 teaspoon garlic powder or granules
1 teaspoon oregano
1 teaspoon basil
½ teaspoon salt
¼ teaspoon pepper
1 teaspoon nutritional yeast (optional)
Rainbow Pasta Salad Dressing Directions
prep time: 5-10 minutes
Dollhouse Shortcut
This pasta salad can be made up to 2 days in advance of when you want to serve it.
Measure the following ingredients either right into the mixing bowl or into a jar with a lid if your pasta is still cooking: ⅓ cup olive oil, ¼ cup vinegar, 1 teaspoon onion powder, 1 teaspoon garlic powder, 1 teaspoon oregano, 1 teaspoon basil, 1 teaspoon nutritional yeast (optional), ½ teaspoon pink sea salt (or any salt), and ¼ teaspoon pepper.
Shake the jar (with the lid on tightly) to mix the ingredients, or if you just poured them directly over the pasta, then just skip to stirring.
Pour the dressing over the pasta salad.
Stir the pasta salad to coat it evenly with the dressing.
Transfer to the bowl you want to serve it in.
Optional: garnish with cheese and daikon stars and edible flower petals (I used rose petals from my sweetbriar rose bushes).
Cover with cling wrap until you're ready to serve.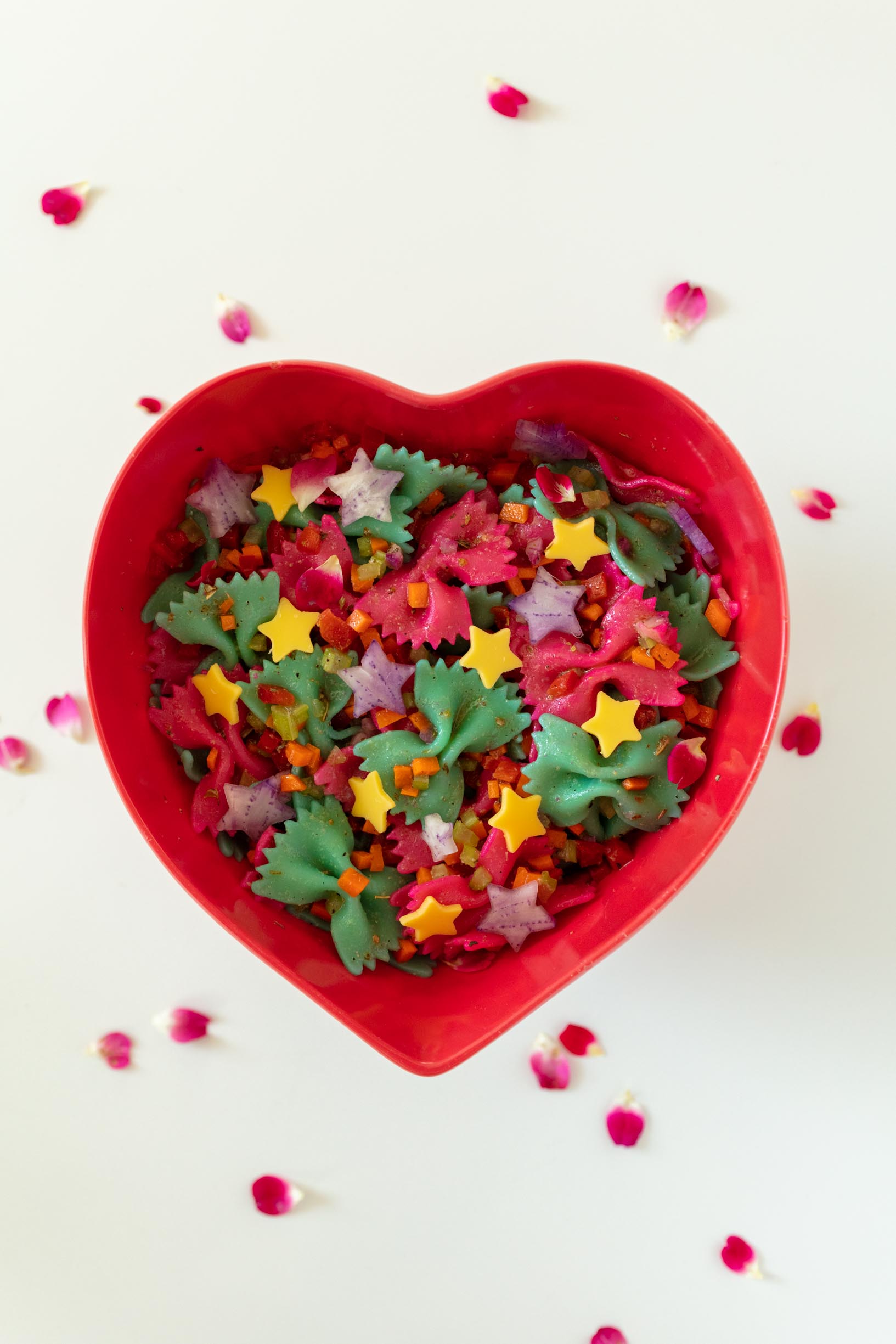 Here's a short (possibly shaky) video of me making this.
If you like colorful picnic food, you might also like my hot dog on a stick, my colorful potato salad, my deviled potatoes, and my rainbow cookies recipes.