Vegan Lemon Tart
published on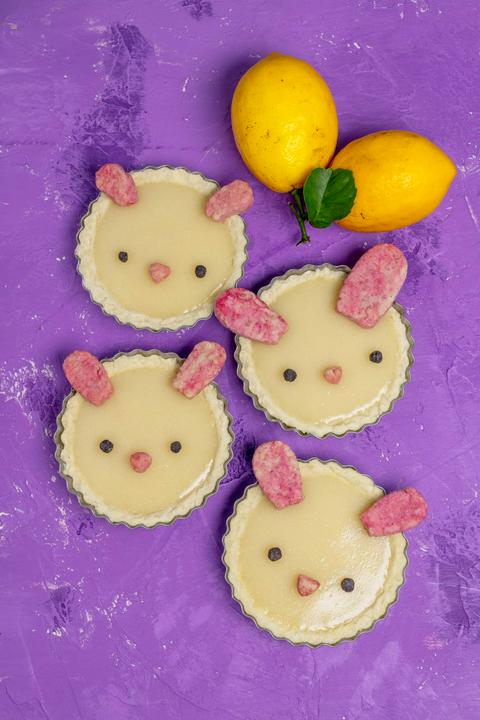 ♫ Listening to: Seconds by LCD Soundsystem ♫
This recipe is super versatile. It can be made into a large tart, mini tartlets, or lemon bars, depending on your mood. I made mine into bunny tartlets because my mood is always hyper Kawaii. For lemon bars, just press the dough into the bottom of a loaf pan instead of rolling it out for a tart pan.
If you like lemon, you might also like my strawberry lemonade cake or my Lemony Snicket cupcakes.
This recipe makes 4-6 lemon tartlets, depending on the size of your mini tart pans.
Lemon Tartlet Crust Ingredients
1 cup all-purpose flour (or sub another kind of flour, as long as it's not coconut flour)

⅓ cup vegan butter or margarine (I like the organic whipped earth balance) or spectrum palm shortening (I used a combination of both)*

⅛ teaspoon salt

1 tablespoon powdered sugar

2 tablespoons ice water

pink pitaya powder or other pink vegan food coloring (optional)

black cocoa powder, activated charcoal, or other black vegan food coloring (optional)
Lemon Tartlet Crust Directions
Make crust: 10 min | Chill crust: 20 min | Roll crust: 30 min | Bake crust: 15 min
Dollhouse Shortcut
Save time by baking your crust up to 3 days ahead of time or by skipping the bunny features
Process 1 cup flour, ⅓ cup spectrum sustainable organic palm shortening and/or vegan butter, ⅛ teaspoon pink sea salt (optional), and 1 tablespoon powdered sugar using a food processor fitted with the S blade.
Drizzle in 2 tablespoons of ice water while the food processor is still running. The dough should start to come together into a dough ball.
Pinch off 2-3 tablespoons of dough.
Wrap the rest of the dough in cling wrap and set in the fridge to chill for 20 minutes while you color the small portion you kept out.
Add pink vegan food coloring to two-thirds of the dough you pinched off and mix well. I used pink pitaya powder for mine.
Add black vegan food coloring to the remaining third of the dough and mix well. I used activated charcoal for mine.
Wrap these colored doughs and place them in the fridge as well. Once 20 minutes have passed, remove the large dough ball from the fridge.
Preheat the oven to 350°.
Roll the dough to your desired thickness. With tartlets, I prefer as thin as possible (between ⅛ and ¼ inch thick). Roll on top of a piece of parchment paper or use a rolling mat if you have one.
Cut out circles from the dough that are bigger than your mini tart pans.
Drape the circles of dough over the tart pans and press the bottoms down so they fit nicely.
Trim the excess dough that's hanging over the edges.
Poke the bottoms with a fork or fill them with blind bake filling.
Bake for 15 minutes (if you're making lemon bars, bake for 20 minutes).
Shape the colored dough into facial features and ears.
Bake ears and facial features for 7 minutes. While they bake, start on the lemon curd filling.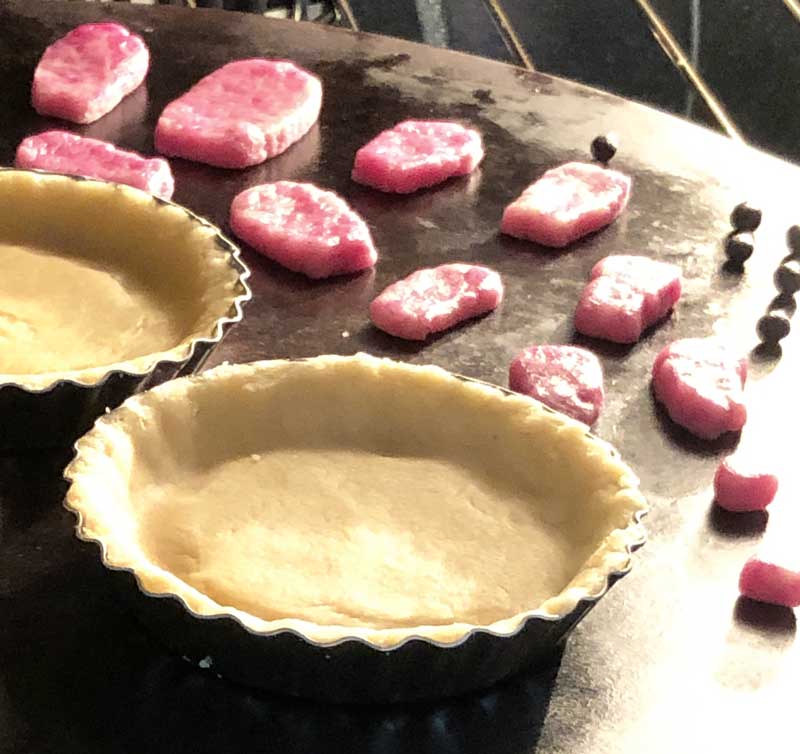 Cool on a cooling rack until the lemon curd filling is ready.
Vegan Lemon Curd Filling Ingredients
½ cup soymilk*

½ cup lemon juice

⅓ cup organic or raw sugar*

2 ½ tablespoons arrowroot powder or organic cornstarch*
Vegan Lemon Curd Filling Directions
Cooking time: 5 min
Whisk ½ cup soymilk, ½ cup lemon juice, ⅓ cup sugar, and 2 ½ tablespoons of arrowroot powder or organic cornstarch in a medium saucepan.
Heat to medium heat and continue whisking until the sugar dissolves and the mixture thickens.
Remove from heat, and pour into mini crusts.
Place the facial features and ears onto each bunny tartlet.
Chill the tartlets in the fridge for 2 hours, or overnight.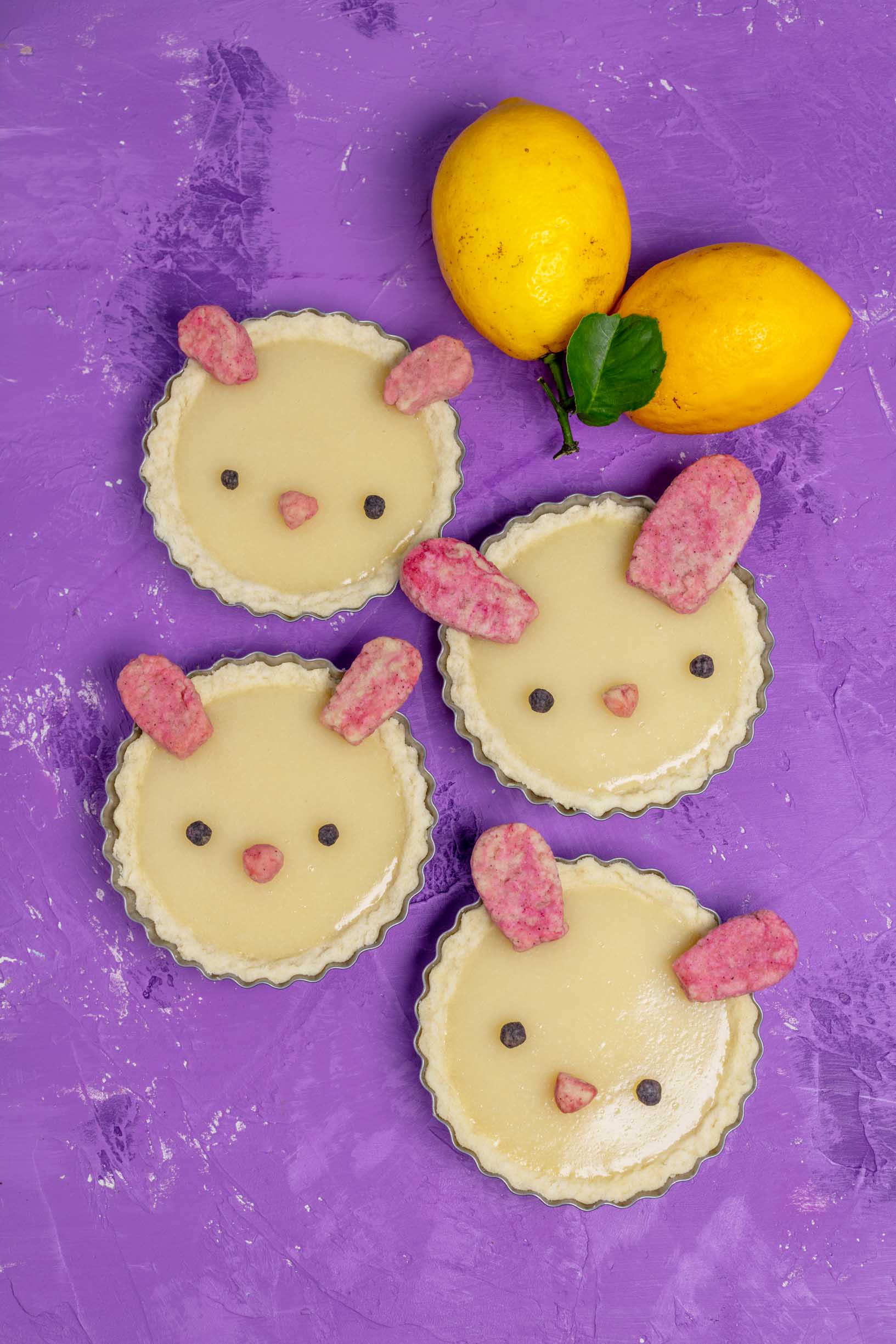 ☆☆☆☆☆☆☆☆☆☆
* I use mostly organic ingredients when I cook, but I realize that not everyone has the disposable income to purchase all organic ingredients. Therefore, I only specify organic on the ingredients that really matter - when buying the organic version is the only way to ensure that the item is vegan.