Lemon Blueberry Cookies
published on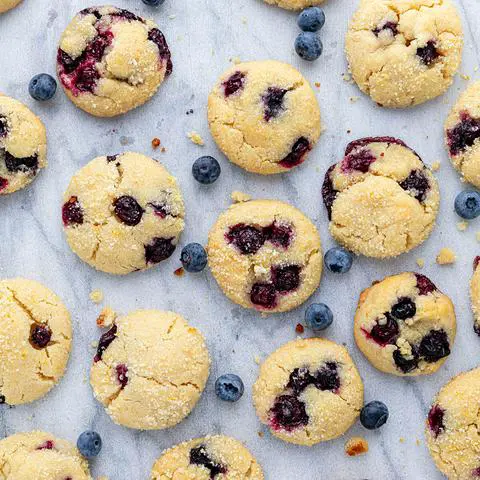 Are you ready for a new favorite cookie? These lemon blueberry cookies are soft and chewy. The slightly golden bottoms give the vegan cookies a tiny bit of crispiness in that first bite. With fresh blueberries, lemon juice, and lemon zest, you won't be able to stop thinking about the flavors.
This recipe makes around 36 cookies, depending on the size of your cookie scoop.
Table of Contents
(click the links below to skip to the section you're looking for)
♫ Listening to ♫
Dirtball by Modern Nun
So, I went blueberry picking for 3 hours and came home with quite a lot of blueberries. I could have just frozen them all for future smoothies, but I wanted to make something. I'm usually a firm believer that desserts should contain chocolate. But somehow these lemon blueberry cookies became my new second favorite cookie! (In case you're wondering, my first favorite are my butterfinger cookies.)
How did these blueberry cookies become so well loved so quickly? I have no idea, but if I had to describe why, I'd say this. The combination of the slightly crisp bottom from the melted vegan butter and the soft and chewy insides make the perfect cookie texture. And those giant pops of flavor from the lemon zest and freshly picked blueberries! Oh, and of course, they're vegan and plant based, because I love animals!
This recipe was inspired by and adapted from the lemon blueberry cookies created by Megan at Olives + Thyme. Give yourself 2 full hours to make these. This is generous and includes time to bake all 3 trays individually, using the same cookie sheet. I think 5 cookies is a serving because I ate 6 at once, and I felt like that was maybe one too many, haha.
(jump to the substitutions section to see ingredient details and suggestions for substitutions)
2 ½ cups (325g) all purpose flour

2 teaspoons (8g) baking powder

¼ tsp (2g) salt

1 ¾ cups (350g) vegan sugar

2-3 lemons, zested

1 cup (176g) vegan margarine or butter, melted

1 ½ teaspoons (6g) of egg replacer mixed with 2 tablespoons (30g) lemon juice

1 tsp (4g/5mL) vanilla extract

1 cup (130g) fresh blueberries (small ones)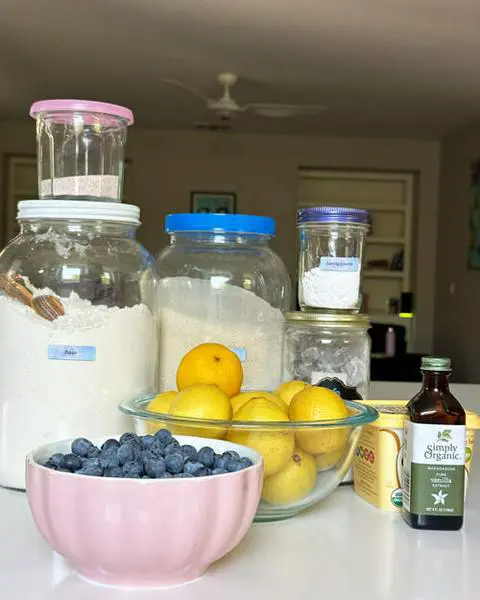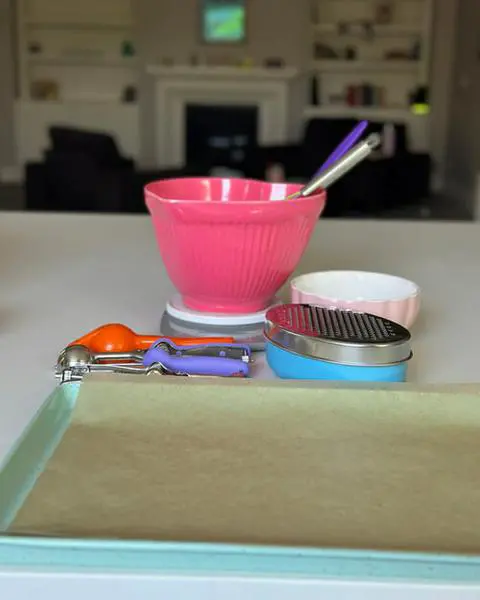 prep time: 1 hour | bake time: 14 min (per tray)
Dollhouse Tip
When you're ready to have a leftover lemon blueberry cookie, warm it up in an air fryer for 90 seconds at 375ºF for that fresh baked cookie vibe.
Preheat the oven to 375ºF (190ºC).
Rinse 1 cup (130g) of blueberries and dry them with a tea towel gently, if you haven't already washed them.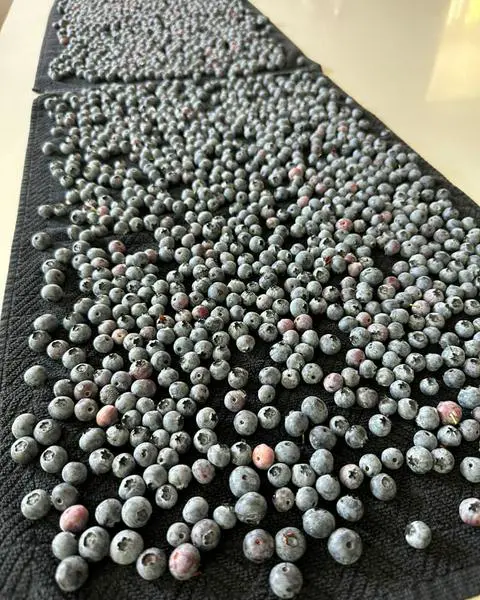 Line a large baking sheet with parchment paper.
Melt 1 cup (176g) vegan margarine or butter if you haven't already. Only melt it long enough to liquify it, and not long enough to sizzle. Set aside.
Zest 2-3 lemons, if you haven't already. I use a cheese grater with the smallest grate holes for this, because I don't have a zester.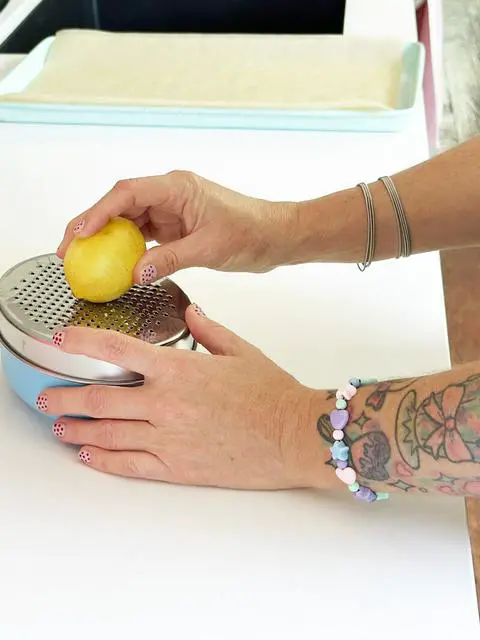 Juice the lemons after you remove the zest from them.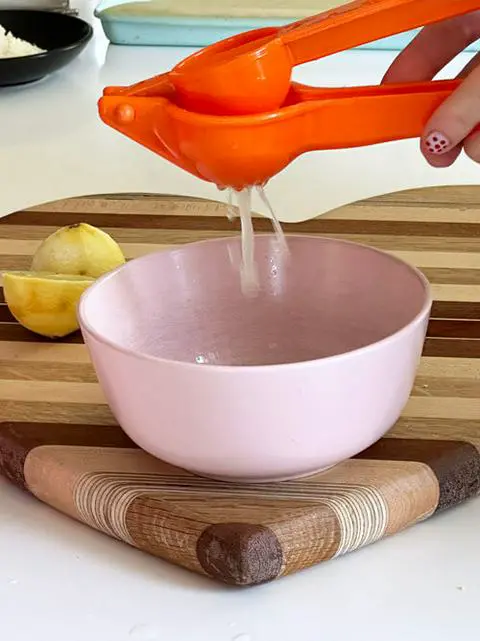 Mix 1 ½ teaspoons (6g) of ener-g egg replacer with 2 tablespoons (30g) of your fresh squeezed lemon juice, if you haven't already.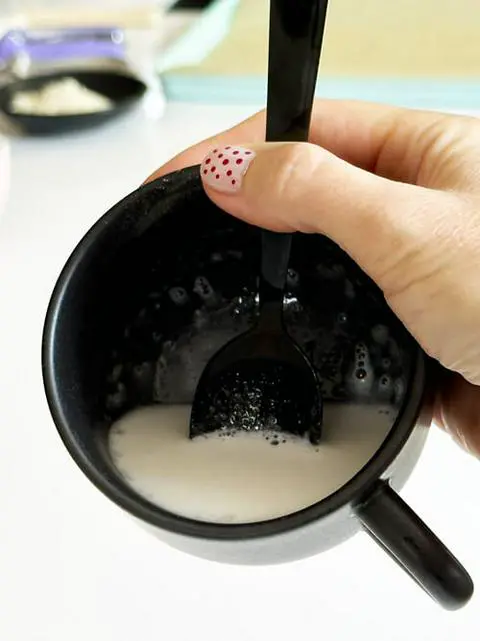 Sift and whisk the dry ingredients: 2 ½ cups (325g) all purpose flour, 2 teaspoons (8g) baking powder, and ¼ tsp (2g) salt.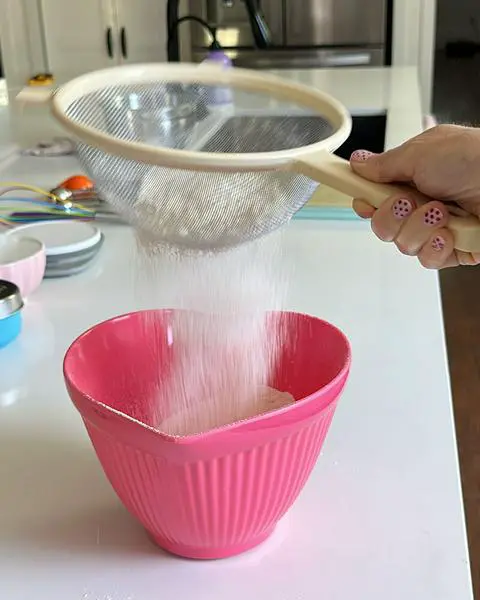 Mix 1 ¾ cups (350g) vegan sugar with the zest from all 3 lemons.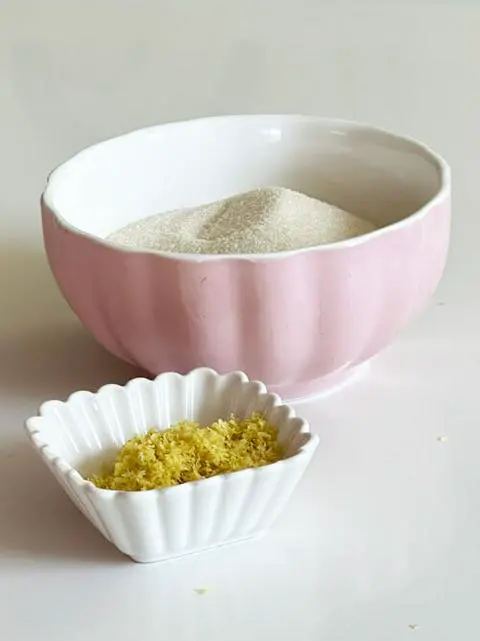 Measure ¼ cup (50g) of the damp lemon sugar into another shallow bowl or dish. You'll save this lemon sugar for rolling the cookie dough balls in before baking them.
Mix the melted vegan butter into the rest of the lemon sugar.
Mix the egg replacer / lemon juice, 1 tsp (4g/5mL) vanilla extract, and melted butter and sugar either by hand or with a stand mixer fitted with the whisk or paddle attachment.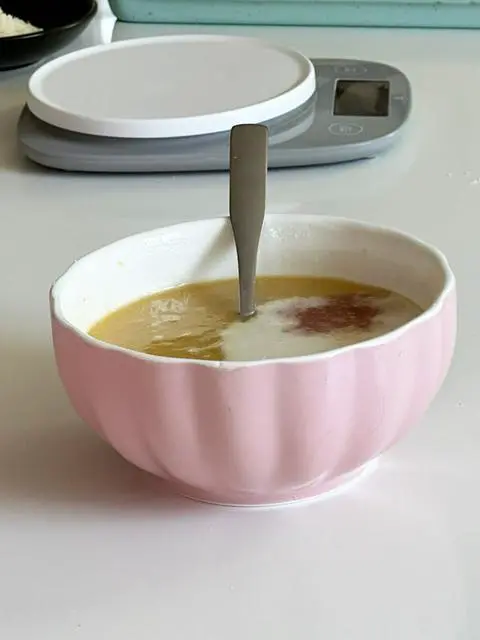 Combine the dry ingredients with the wet ingredients just until you no longer see any dry ingredients, and then stop mixing.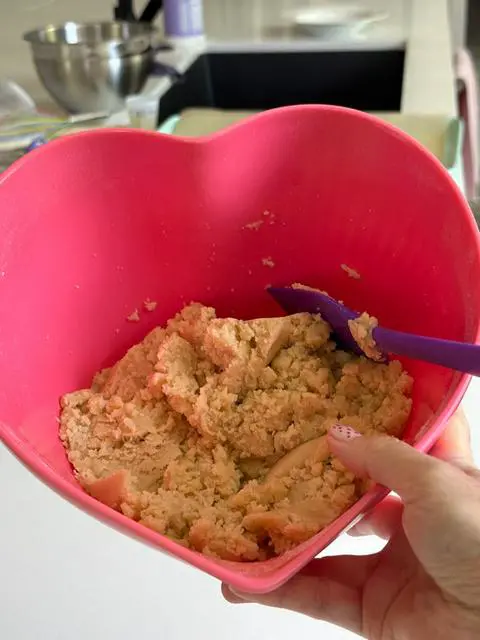 Fold a cup (130g) of the smallest blueberries you have into the cookie dough GENTLY. (Whenever I use the word fold now, I think of David and Moira Rose cooking together on Schitt's Creek.)
Scoop balls of cookie dough using a medium sized cookie scoop, if you have one. If you don't, use whatever size you have or just use any spoon to scoop the dough.
Roll the scoops of cookie dough between your palms until they're round.
Roll each cookie dough ball into the lemon zest sugar that you set aside before you started mixing the dough.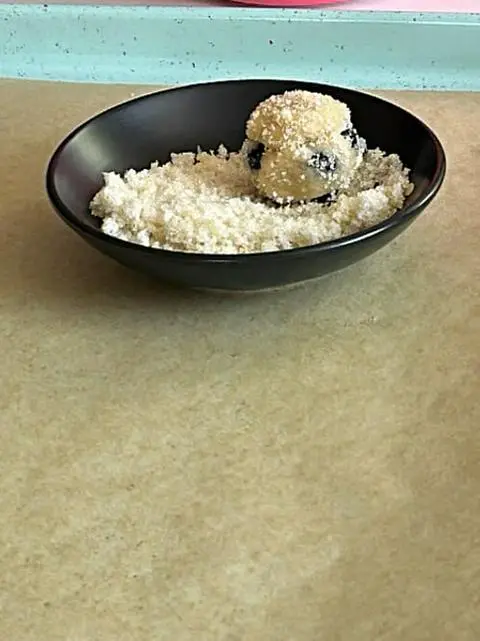 Place the cookie dough ball onto the parchment paper lined baking sheet.
Repeat until the baking sheet is filled with balls of cookie dough. You want to leave space in between each one so they can expand when they bake. I recommend leaving about 2 inches (5cm) of space between each one. You should end up with 3 columns of cookie dough balls. See my picture below for my spacing.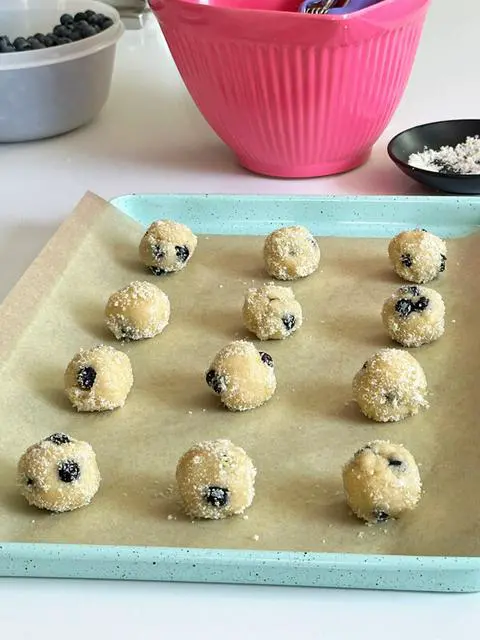 Bake at 375ºF (190ºC) for 13-15 minutes, depending on how hot your oven runs. I baked mine for 14 minutes, until the bottoms of the cookies turned light brown and the cookies were nice and chewy. If you use a smaller or larger cookie scoop, the bake time will be different. I made a tray using my small scoop, and I only baked them for 9 minutes, and it was perfect.
Remove the cookies from the oven and leave them on the cookie sheet for a few minutes. If they aren't as round as you want them, now is when you shape them a bit. I didn't do this with mine, which is why they each look a little different from each other. But if you're a perfectionist, you can shape them before they start to cool.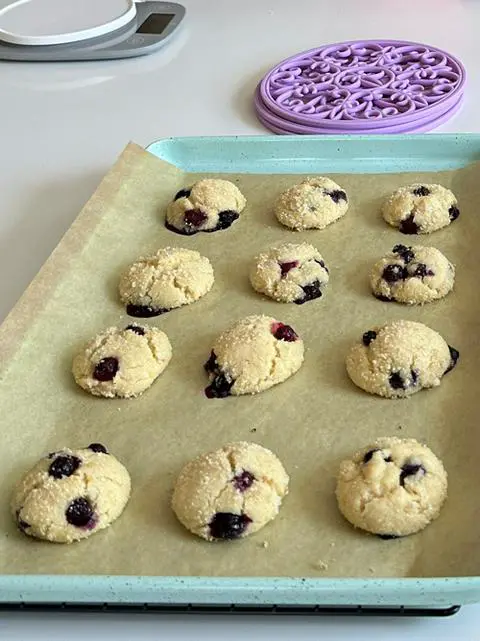 Transfer the lemon blueberry cookies to a cooling rack to cool the rest of the way.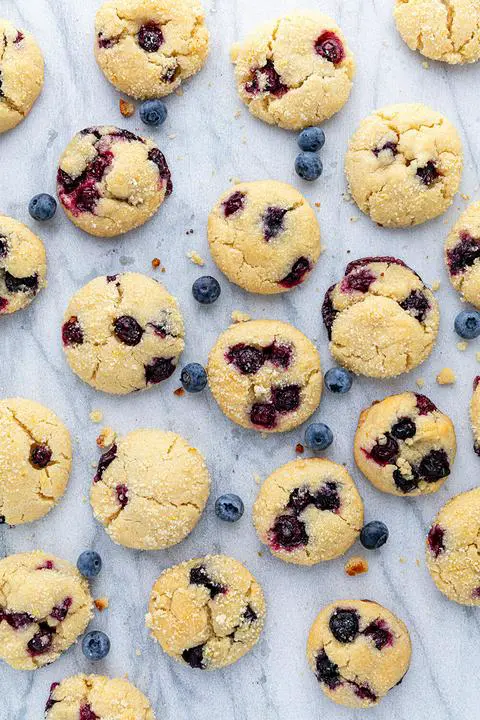 Store leftover cookies in a sealed container in the fridge.
What is the best way to store blueberry lemon cookies?
Store lemon blueberry cookies in an airtight container in a pantry, cupboard, or the fridge. Make sure they've cooled completely before putting them in the container. When you're ready to have a leftover lemon blueberry cookie, warm it up in an air fryer for 90 seconds at 375ºF for that fresh baked cookie vibe.
Are blueberry lemon cookies gluten-free?
Lemon blueberry cookies can easily be a gluten-free recipe. Just replace the flour in the recipe with your favorite gluten-free flour blend.
How long do lemon blueberry cookies typically stay fresh?
I haven't had these lemon blueberry cookies last longer than a week because they're amazing. If you think you won't eat them within a week, I recommend freezing some of them as soon as they cool.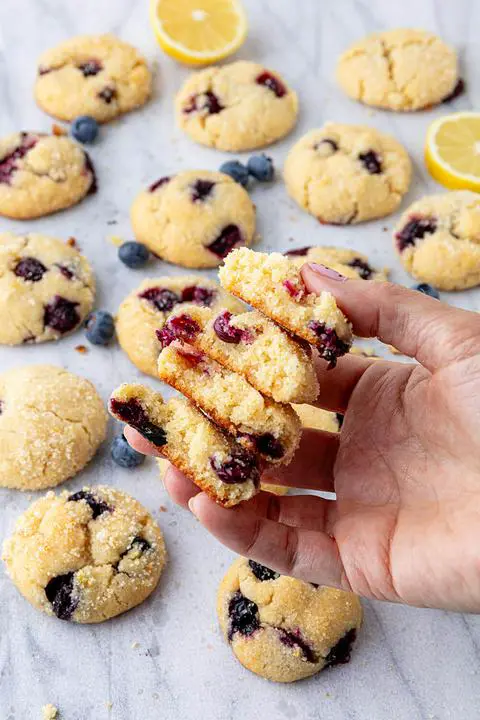 Flour: I almost always use unbleached organic all-purpose flour in my baking. If you avoid gluten, or if you have friends or family who are gluten free, you can easily substitute the all-purpose flour with a gluten-free flour blend to make these cookies gluten free.
Baking Powder: Keep in mind that baking powder does expire, so it works best if it's fresh/newish. I use non-aluminum because my memory is already terrible, and I don't want Alzheimer's Disease. But if all you have is regular baking powder, that will work. If you're out of baking powder, you replace it with ¾ teaspoon baking soda.
Vegan Sugar: I used organic sugar, but you can use vegan, raw, or organic sugar. You can also use brown sugar, sucanat, or coconut sugar if that's what you have. Just be careful of conventional granulated sugar, because it's sometimes not vegan.
Lemon Zest: Try to buy organic lemons if you can, since you're using the peels.
Vegan Butter: My favorite is the organic whipped earth balance. If you avoid soy, earth balance makes a soy-free version. If vegan butter or margarine is hard to find or not something you have in your house, replace the cup of melted vegan butter in this recipe with ¾ cup oil. Choose safflower oil, sunflower oil, or any other neutral vegan oil.
Egg Replacer: I use Ener-G brand egg replacer. It's the one that looks like they haven't changed their branding since the 70s. If you don't have any and don't want to buy it, you can replace it with 1 ½ teaspoons (6g) of organic (or non-GMO) cornstarch.
Vanilla Extract: I always use pure organic vanilla extract, because imitation vanilla is often not vegan. If you want your lemon cookies to be extra lemony, swap the vanilla extract with lemon extract.
Blueberries: If you don't have 1 cup (130g) of small fresh blueberries, you can replace the fresh blueberries in this recipe with frozen. If you do this, expect to have them look different. When you fold in frozen blueberries, they tend to color the cookie dough, so you end up with some blue swirls in your cookies whether you want them or not.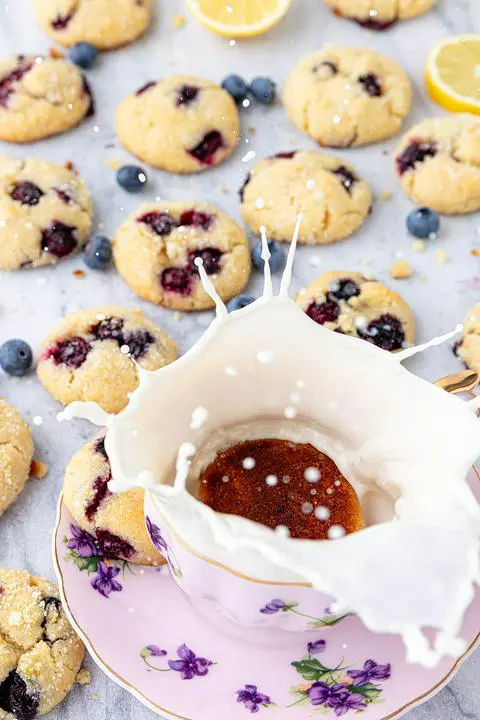 If you like lemon desserts, you might also like my lemon cake, my lemon blueberry cake, my funfetti lemonade cake, and my strawberry lemonade cake.
If you like these lemon blueberry cookies, you might want to check out my cookies category.
Comments or Questions?
If you make this blueberry lemon cookie recipe, snap a pic, post to instagram, and tag me @vegandollhouse. I love to see your creations! You can also message me through instagram or email me if you have any questions about the recipe.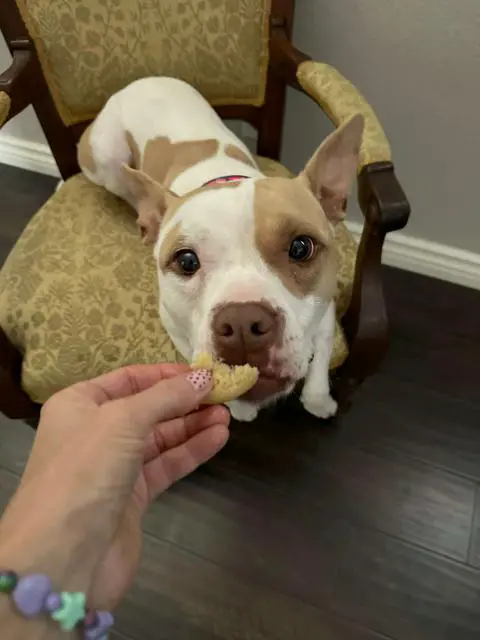 ☆☆☆☆☆☆☆☆☆☆
* I use mostly organic ingredients when I cook. I realize that not everyone has the disposable income to buy only organic ingredients. So, I only specify organic on the ingredients that matter: when buying the organic (or non-GMO) version is the only way to ensure that an item is vegan.
This post links to items I used when I made this recipe. If you click on the purple Buy Now button on a product page, you will go to a website (like Amazon) where you can buy the same product I used. Sometimes, the store you purchase from (Amazon, Etsy, etc.) will pay me for referring you. This costs you nothing extra, and I would never recommend a product that I don't use. These affiliate programs help me buy the ingredients to create these recipes for you. Read more about this in my privacy policy.
☆☆☆☆☆☆☆☆☆☆