Just Egg Quiche
published on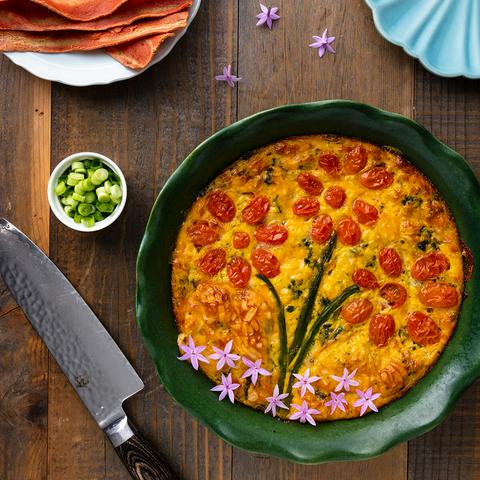 Savory Just Egg quiche is egg-free, dairy-free, and vegan. Without cream and without crust, this is a healthier, crustless, gluten-free version of traditional quiche. This 4-ingredient quiche is an easy, quick, and perfect make-ahead breakfast recipe for busy mornings.
This recipe makes 6 slices of vegan quiche.
Table of Contents
(click the links below to skip to the section you're looking for)
♫ Listening to ♫
It Should Have Been Fun by Pip Blom
I first made vegan quiche cupcakes 12 years ago for a vegan cupcake party my friends and I had in San Francisco. That was the day I met my life partner. It was a week before my birthday, and my wish was to have a cupcake party. So, all my friends each made a dozen vegan cupcakes and brought them to our friend's house. There must have been a hundred cupcakes there. Some of them needed to be less like dessert and more like food, so I made quiche cupcakes with sun-dried tomato cream cheese frosting.
Back then, there weren't any egg substitutes, so I had made them with tofu (kind of how I made my frittata). But thanks to Hampton Creek, we now have Just Egg, which makes quiche without eggs even easier to make.
(jump to the substitutions section to see ingredient details and suggestions for substitutions)
Dollhouse Shortcut
Sauté your veggies ahead of time and store them in the fridge to save time on the day you want to make your quiche.
1 (12oz/355mL) bottle of Just Egg

½ cup (120g/mL) unsweetened, unflavored nondairy milk

½ teaspoon (4g) salt

¼ teaspoon (1g) black pepper

1 ½ - 1 ¾ cups cooked veggies

¾ cup (3oz/80g) grated vegan cheese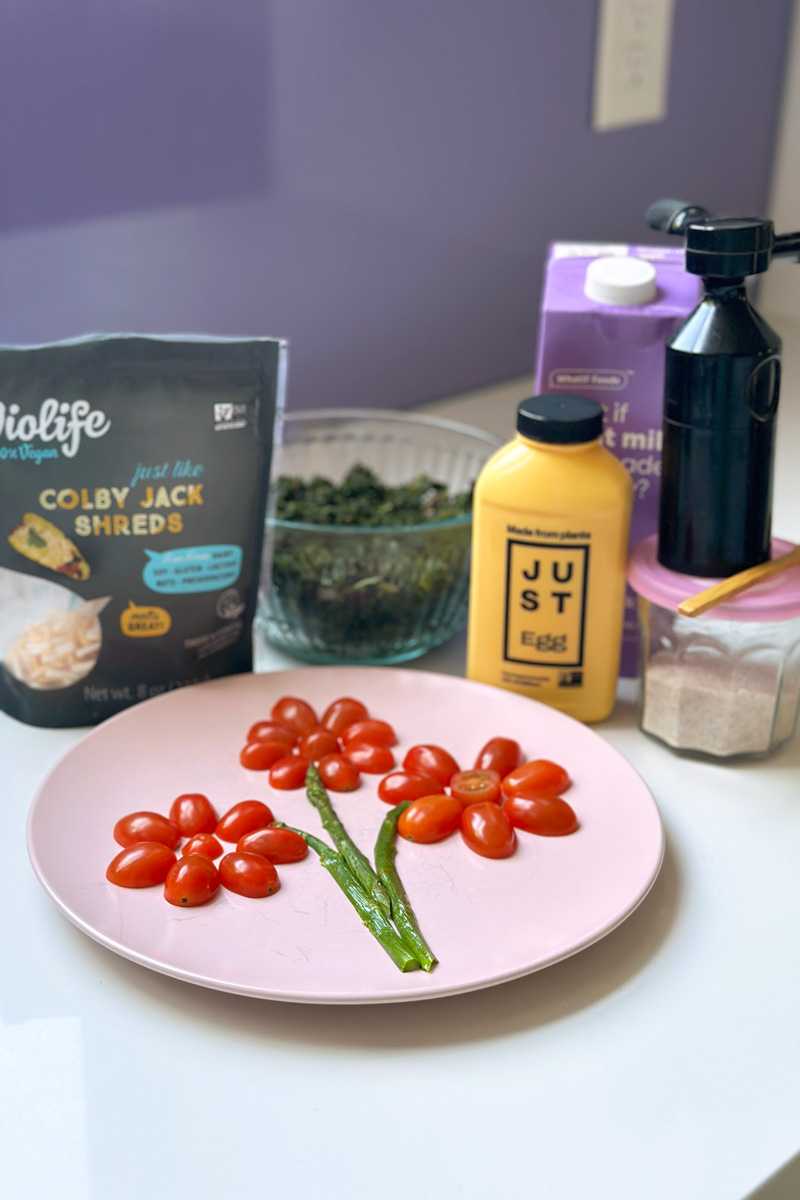 How to Make Just Egg Quiche
prep time: 11 min (20 min with decorating) | bake time: 40 min
Dollhouse Shortcut
You can make this quiche in a cast iron pan or a cupcake pan instead of a pie pan. The cupcake pan will cut down on the baking time by more than half if you're in a hurry or just like to save energy.
Cook your veggies if you haven't already (in my recipe times, I assume you've already done this step). I used cremini mushrooms, frozen spinach, and frozen broccoli for my veggie quiche. I cooked them in my instant pot using the sauté button just long enough to get all the extra liquid to evaporate.
Determining how many veggies you need to start with to equal 1 ¼ cups of cooked veggies can be a learning curve. For instance, an 8-ounce package of mushrooms cooks down to ¾ cup. A pound of frozen broccoli cooks down to 3 cups. A cup of frozen spinach cooks down to ⅓ cup. I usually cook more veggies than I think I'll need and eat the leftovers, yum!
Preheat the oven to 375°.
Mix 1 bottle (12oz/355mL) of Just Egg, ½ cup (120g/mL) unsweetened, unflavored nondairy milk, ½ teaspoon (4g) sea salt, ¼ teaspoon (1g) black pepper, and ¾ cup (3oz/80g) grated vegan cheese in a medium sized mixing bowl.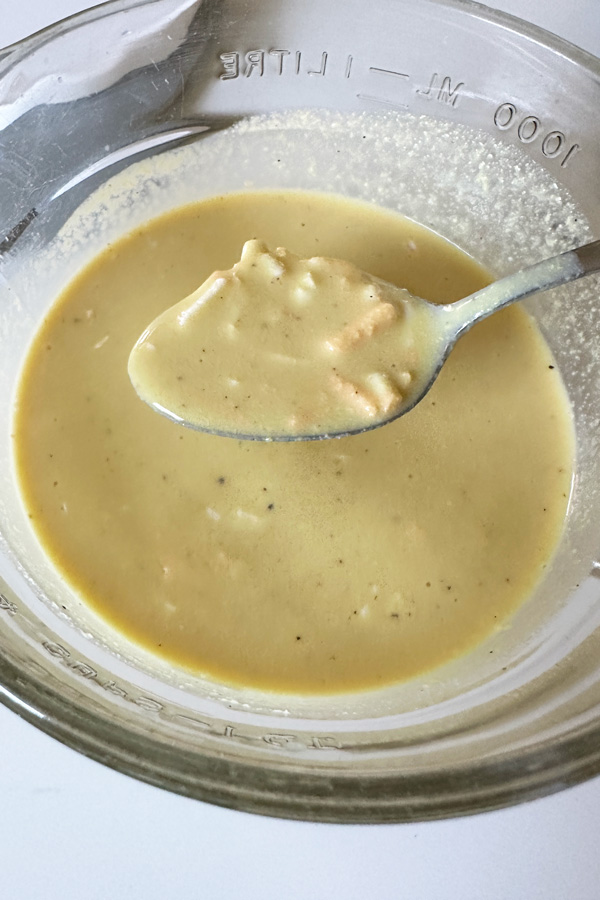 Oil a pie pan with safflower oil (or any vegetable oil) using an oil sprayer. If you don't have an oil sprayer, you can use a paper towel or your hands to coat it with oil.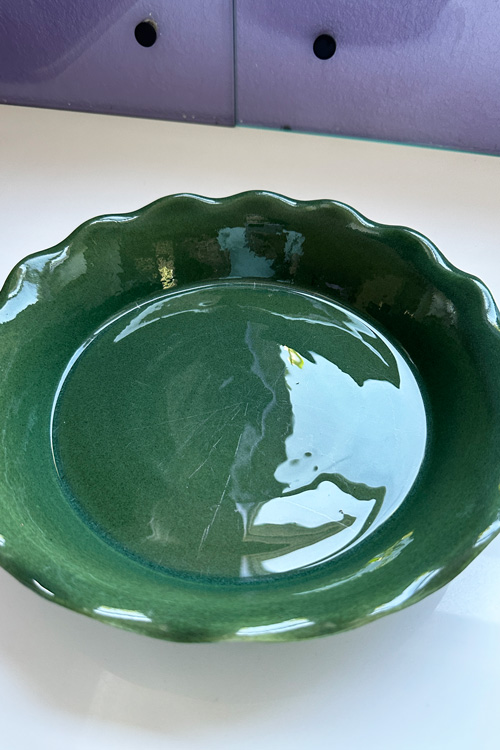 Layer the cooked veggies in the pie pan, trying to get the layers as even as possible. You want an equal amount of each flavor in each bite, if possible.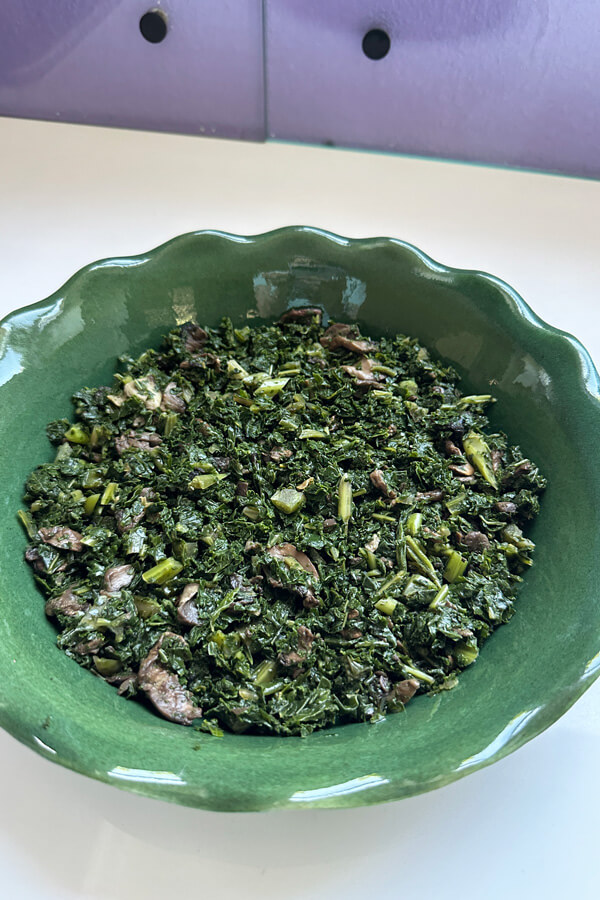 Pour or ladle the Just Egg mixture into the pie pan covering all the veggies.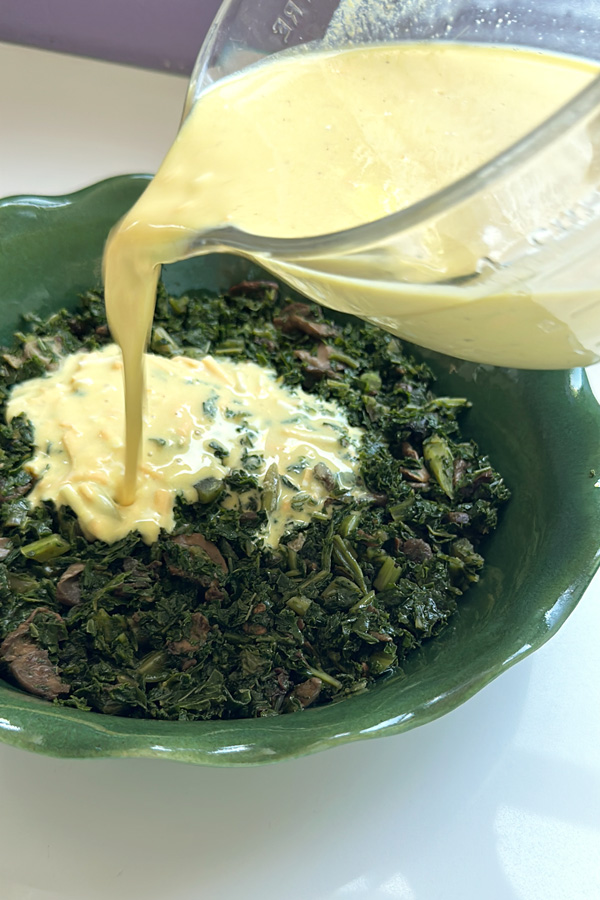 At this point, you can bake your quiche, or you can decorate it like I did. Decorating takes an additional 5-10 minutes.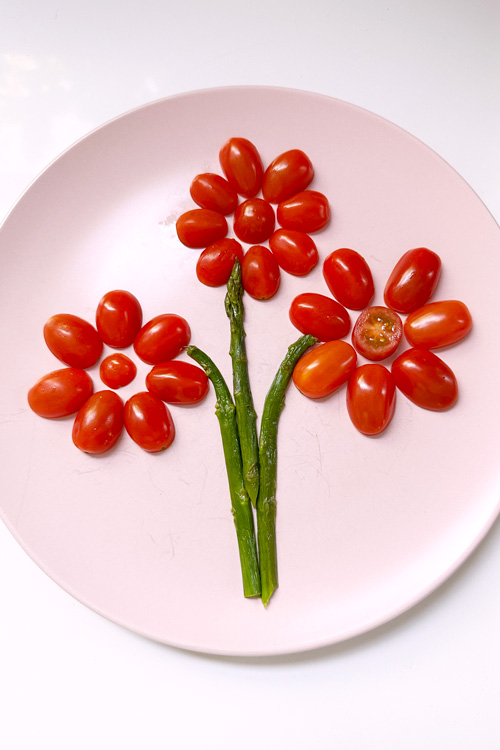 Decorate the top. I used asparagus and grape tomatoes to make flowers, but you can use anything. You can even sprinkle some finely diced chives if food art isn't your thing.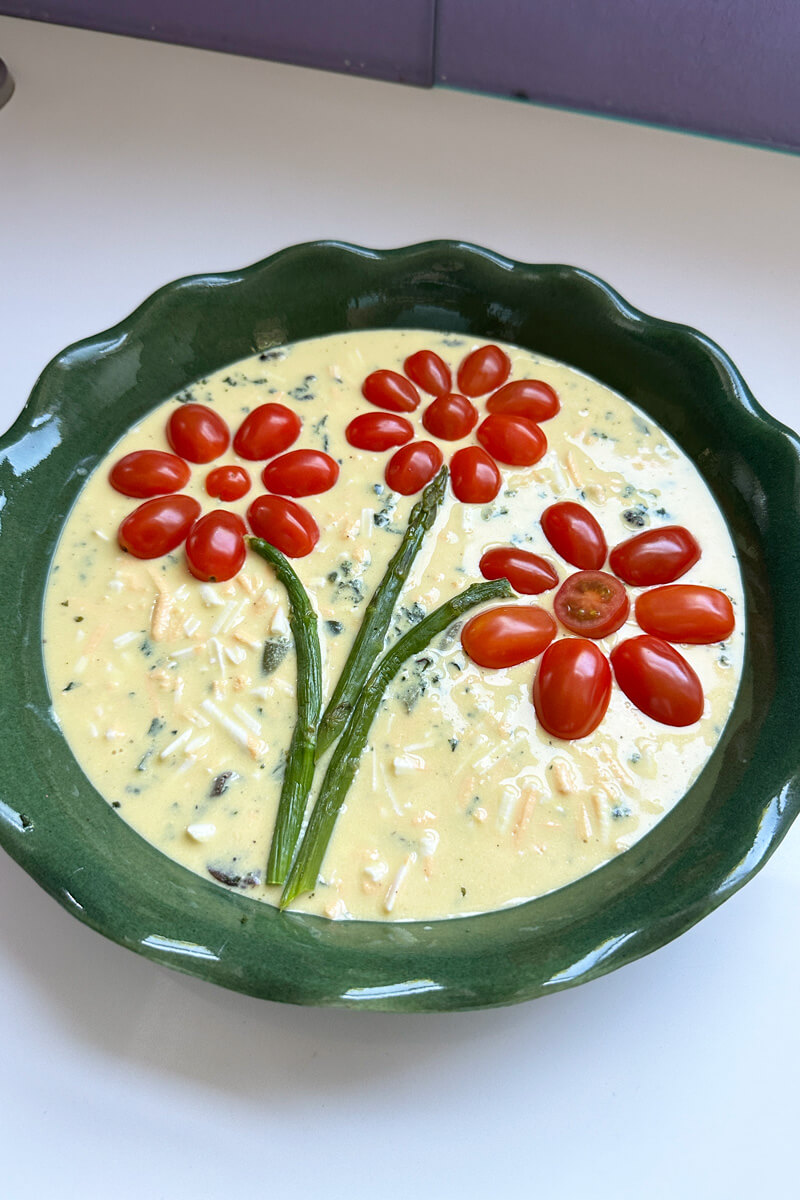 Bake Just Egg vegan quiche for 40-45 minutes, depending on how hot your oven runs. I baked mine for 40 minutes.
Remove the quiche from the oven and set it on a cooling rack to cool for 5-10 minutes.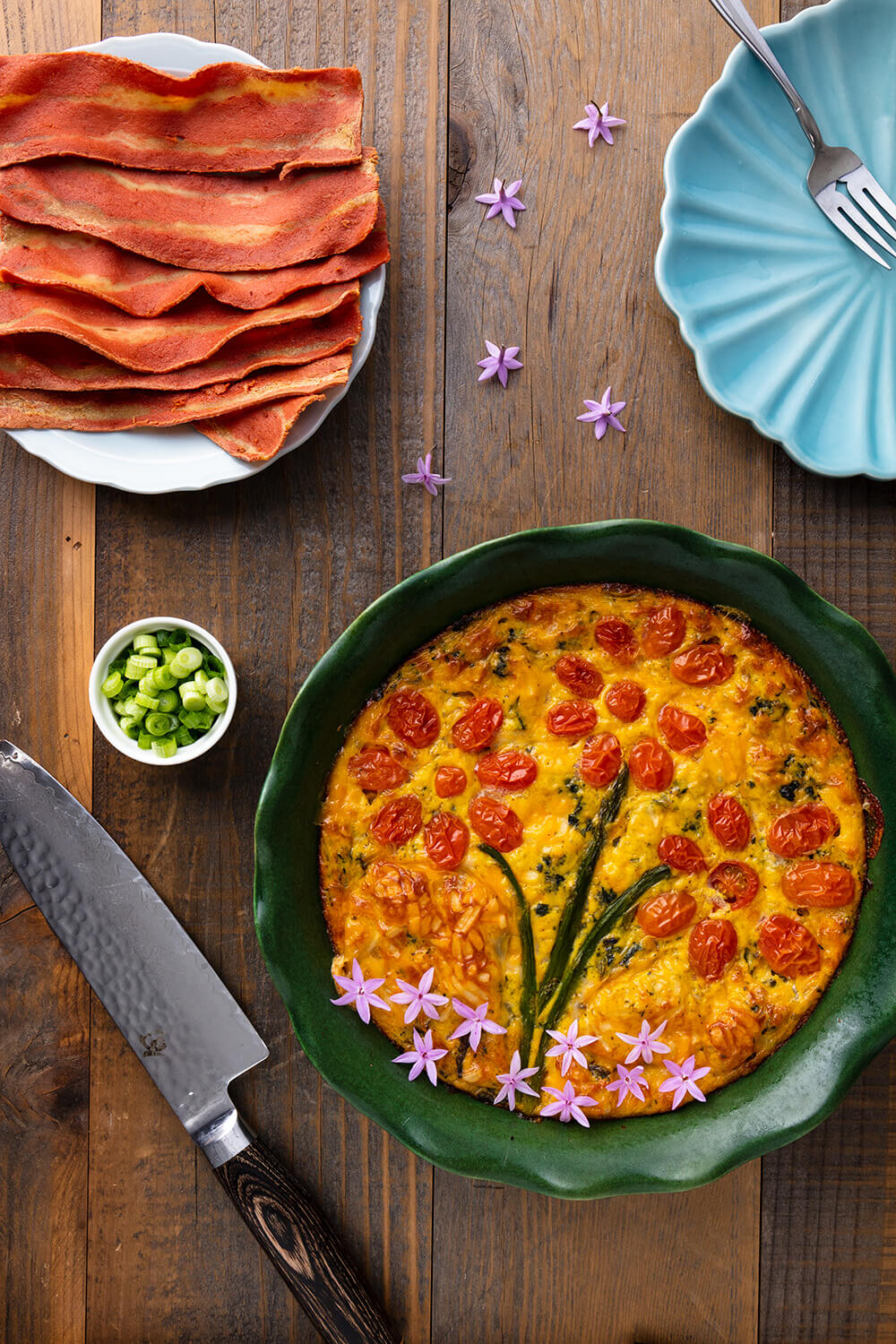 Cut it into as many pieces as you want. I recommend aiming for 6, 8, or 12 slices. I cut mine into 6 slices because I have a papa bear sized appetite.
Shimmy a silicone spatula or a knife around the perimeter of the quiche to loosen it from the edges of the pan.
Lift each slice of quiche out of the pan and transfer them to serving plates.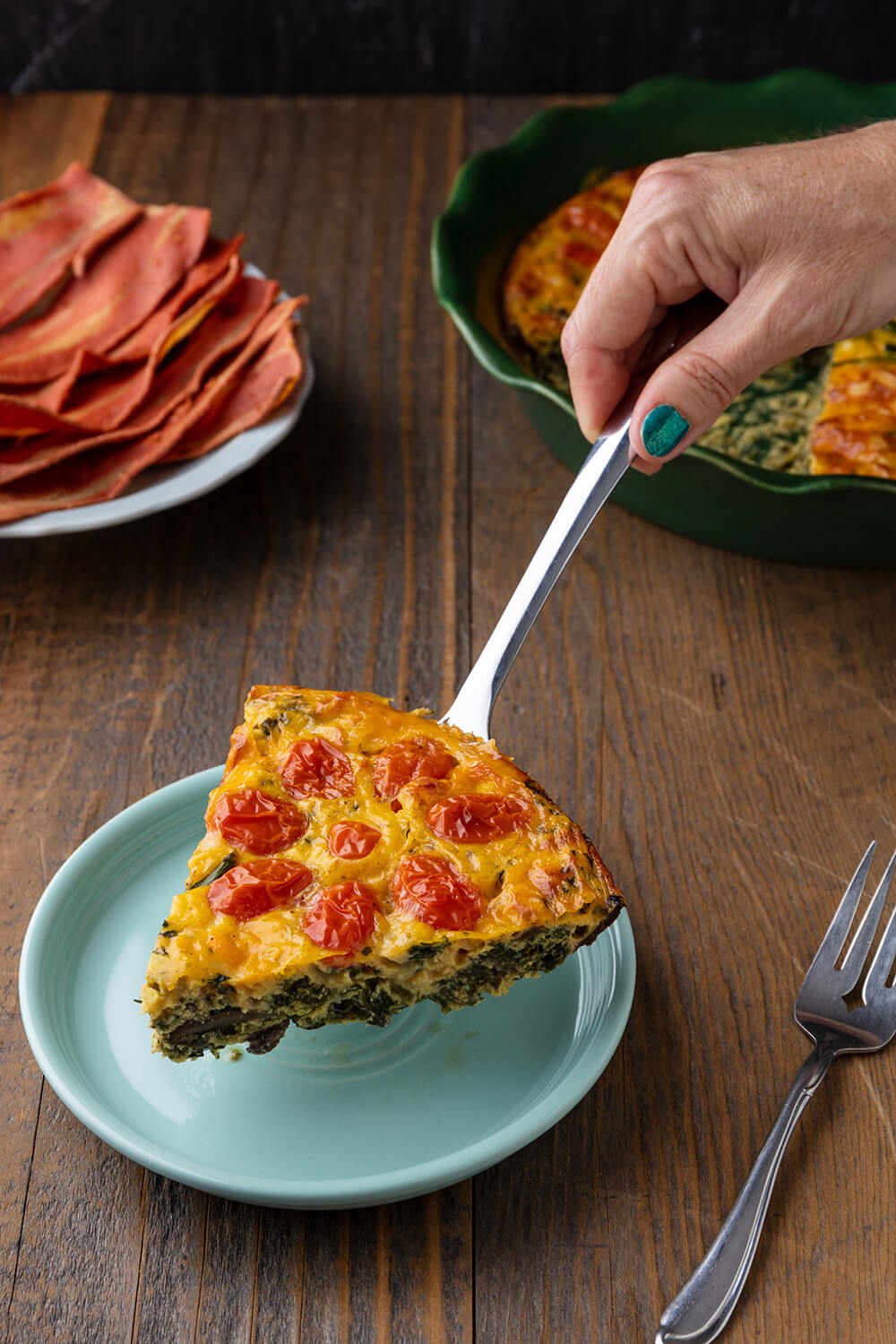 Is Just Egg the only egg substitute for quiche?
Just Egg isn't your only option if you want to make an eggless quiche. Another way to make vegan quiche is to use a blended tofu mixture, like the process I used in my eggless frittata recipe.
Can I use other vegetables in this quiche?
Just Egg quiche can include any ingredients you like. The possibilities are endless. Some combinations you could try are the following.
leek and squash quiche
courgette quiche
pesto quiche
sun dried tomato quiche
roasted vegetable quiche
I like a veggie quiche where you use whatever veggies you have on hand. Make sure you cook your veggies first, and then follow the rest of the instructions the same way as they're listed.
How can I save and reheat leftover quiche?
Store your leftover quiche in an airtight container in your fridge for up to a week. Take a slice out, and reheat it in the microwave for a minute or in the air fryer for 4 minutes. If you don't think you'll eat them within a week, you can freeze them for up to 3 months. I copy the directions on the Costco mini quiche or Nancy's petite quiche. Remove them from the freezer and reheat in a 400ºF oven or toaster oven for 13 minutes, or air fryer set to 375º for 8 minutes.
Can you make this Just Egg quiche recipe in a cupcake pan or a mini muffin pan?
Vegan mini quiche cupcakes can be baked in a normal sized or mini muffin pan. This is a great idea if you want these for a tea party or as party appetizers, because they're smaller, and it makes a lot more of them. This recipe will make 12 mini vegan quiche that are cupcake sized, or 36 mini quiche that are mini cupcake sized. For the minis, bake them for 12-13 minutes. For the normal-sized cupcakes, bake them for 23-26 minutes.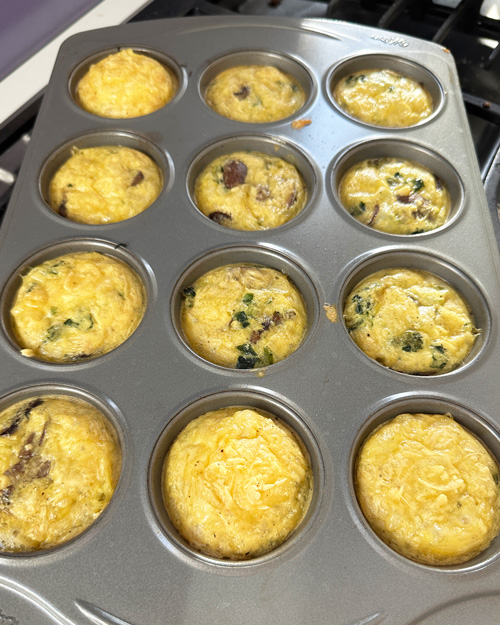 Just Egg: If you can't find Just Egg or prefer to not use it, you can use blended tofu in its place. See my frittata recipe for more info on this method.
Nondairy Milk: You can use any kind of plant milk in this recipe, as long as it's plain (unsweetened and unflavored). You can even use nondairy creamer (if it's unsweetened and unflavored). The recipe is super forgiving. You can use almond milk, soy milk, oat milk, coconut milk, and even cashew milk.
Salt: I used pink sea salt in this recipe because I'm not a big fan of that egg flavor that the black salt has. But if you have some black salt (kala namak) and want to use it, just replace the sea salt in this recipe with black salt.
Veggies: If you want to get creative, use any veggies you like. People make quiche with all kinds of veggies. Try tomatoes (I know, I know, they're a fruit), zucchini, pumpkin, eggplant, asparagus, red peppers, and broccoli. You can even replace the veggies with vegan meats like vegan bacon, vegan ham, or vegan sausage. If you want to save time, sauté frozen veggies so you won't have to wash and chop your veggies. I just learned that you can even buy mushrooms frozen! I'm smitten by this tidbit of new-to-me knowledge.
Vegan Cheese: I like Chao and Violife grated cheddar cheese, but you can use any vegan cheese you like. I know people like to make quiche with feta, stilton, and parmesan cheeses, and you can find vegan versions of most kinds of cheese nowadays. You can also omit the cheese altogether and add extra of other fillings. If you do this, you may want to double the salt if you like salty food as much as I do.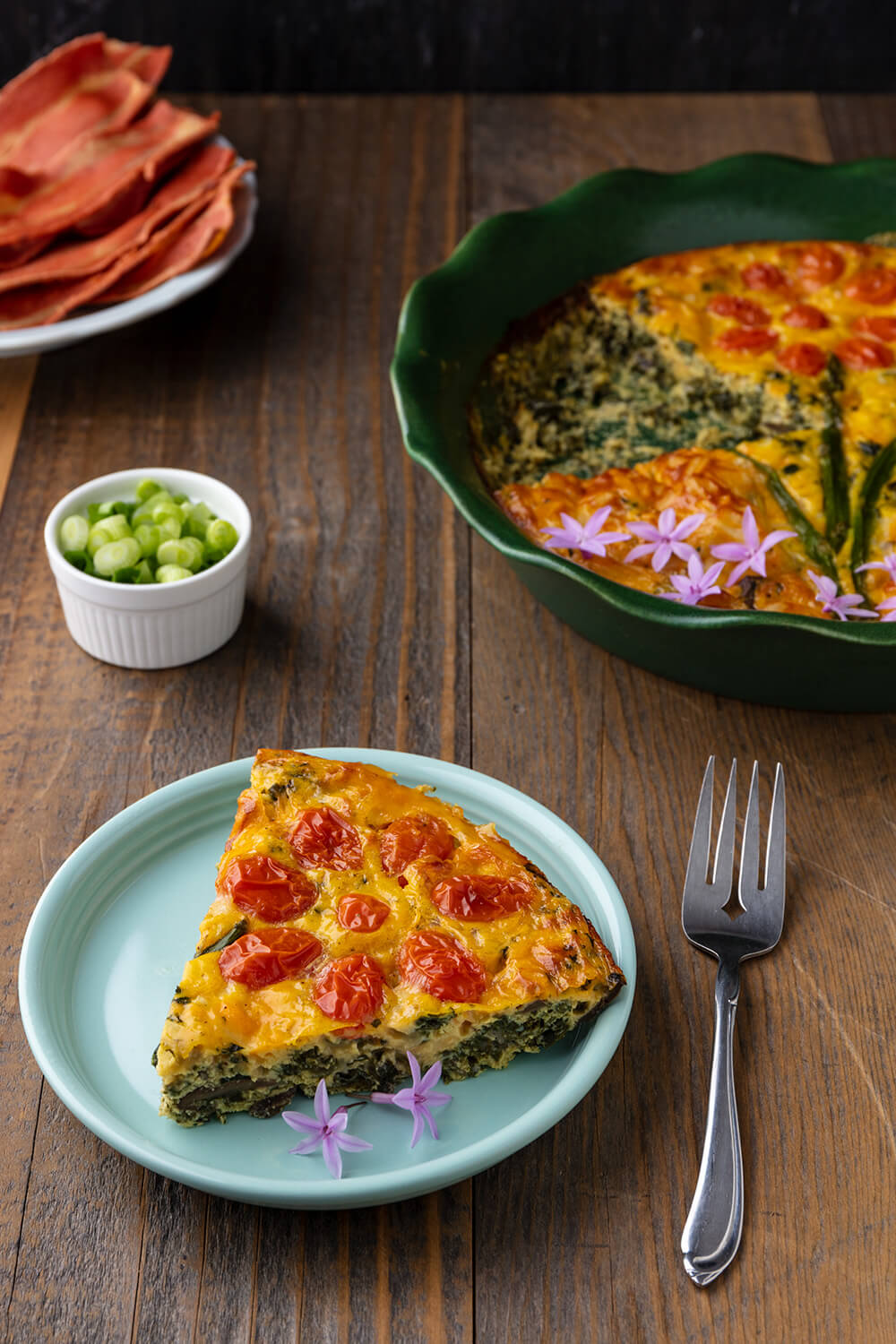 If you have fun decorating the top of this Just Egg quiche, you might also like my focaccia art and my ice cream pie.
The nutritional information below for Just Egg Quiche is based on a slice of quiche if you slice your quiche into 6 slices.
Servings: 6
Calories 146
Total Fat 10g
Saturated Fat 1.8g
Cholesterol 0mg
Sodium 752mg
Total Carbohydrate 6g
Dietary Fiber .8g
Total Sugars .9g
Protein 7.6g
Comments or Questions?
If you make this gluten-free quiche recipe, snap a pic, post to instagram, and tag me @vegandollhouse. I love to see your creations! You can also message me through instagram or email me if you have any questions about the recipe.
☆☆☆☆☆☆☆☆☆☆
* I use mostly organic ingredients when I cook. I realize that not everyone has the disposable income to buy only organic ingredients. So, I only specify organic on the ingredients that matter: when buying the organic (or non-GMO) version is the only way to ensure that an item is vegan.
This post links to items I used when I made this recipe. If you click on the purple Buy Now button on a product page, you will go to a website (like Amazon) where you can buy the same product I used. Sometimes, the store you purchase from (Amazon, Etsy, etc.) will pay me for referring you. This costs you nothing extra, and I would never recommend a product that I don't use. These affiliate programs help me buy the ingredients to create these recipes for you. Read more about this in my privacy policy.
☆☆☆☆☆☆☆☆☆☆