Vegan Colorful Potato Salad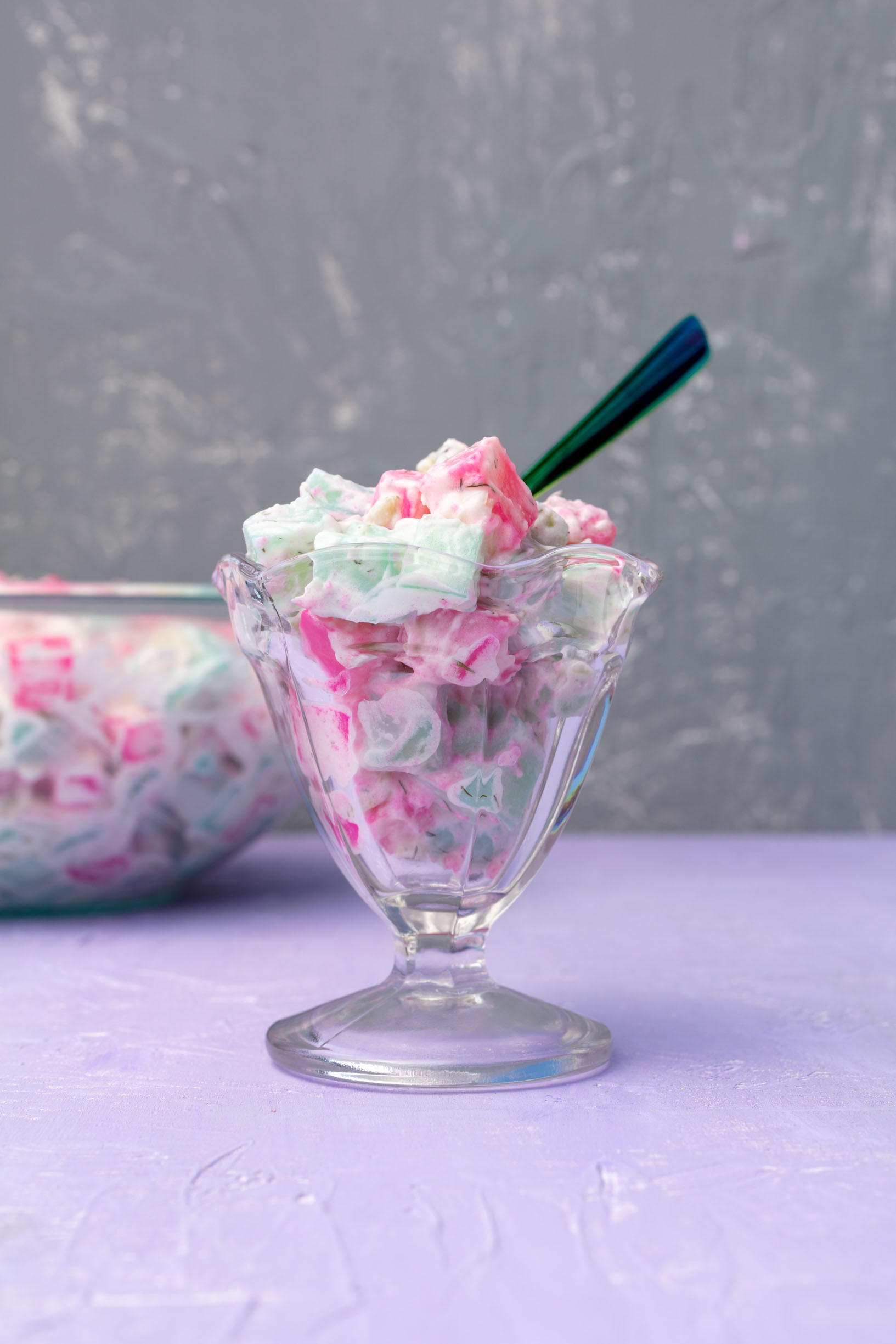 ♫ Listening to: bloodstream by Soccer Mommy ♫
Who doesn't love potato salad? Well, I guess maybe people who hate mayo might not like it. But, overall, I think we can agree that when you go to a BBQ, picnic, potluck, or any other occasion where food is being eaten outdoors, potato salad and macaroni salad are the best things on the menu.
I made this pastel colored potato salad for a backyard social distance baby shower tea party picnic, so that's why I chose pink and blue for my colors. You can get creative and make them all the colors of the rainbow or just choose certain colors based on what you like. You can call it unicorn potato salad and add glitter to the tops if you want. I'll admit that more than one person may have thought this was ambrosia salad when they first saw it, but I grew up in California, so I don't think I've ever had ambrosia salad, much less know how to make it. So, that being said, I guess this could also be an April Fool's joke menu item. If you like colorful picnic food, you might also like my rainbow pasta salad and my hot dog on a stick recipes.
This recipe makes 12 servings of vegan pastel rainbow potato salad.
Pastel Vegan Potato Salad Ingredients
7 pounds red or yukon gold potatoes
1 teaspoon sea salt
8 cups water (just enough to cover the potatoes)
1 ⅓ cups of vegan mayo (try to find an organic or soy-free one)*
1 cup pickled celery, finely diced (or sub ½ cup diced pickles plus ½ cup diced celery)
½ teaspoon sea salt
½ teaspoon onion powder
½ teaspoon garlic powder
1 teaspoon dill
⅛ - ¼ teaspoon pepper (optional)
vegan food coloring
Pastel Vegan Potato Salad Directions
Total time: 45 minutes
Cut 7 pounds of potatoes into rectangles. If you don't need your potato salad to be in perfect little cubes, you can just peel your potatoes and cut them into any shape pieces. But my fancy friends requested perfect cubes, so I used all the parts of the potatoes I cut off to make mashed potatoes (because I'm not a waster).
Add vegan food coloring to half of the water in a large or medium sized pot. I added a few drops of wilton rose gel color for my first pot and a few drops of wilton sky blue gel color for my second pot.
Add ½ teaspoon salt to the colored water.
Add half of the potato cubes to the colored water and bring to a boil.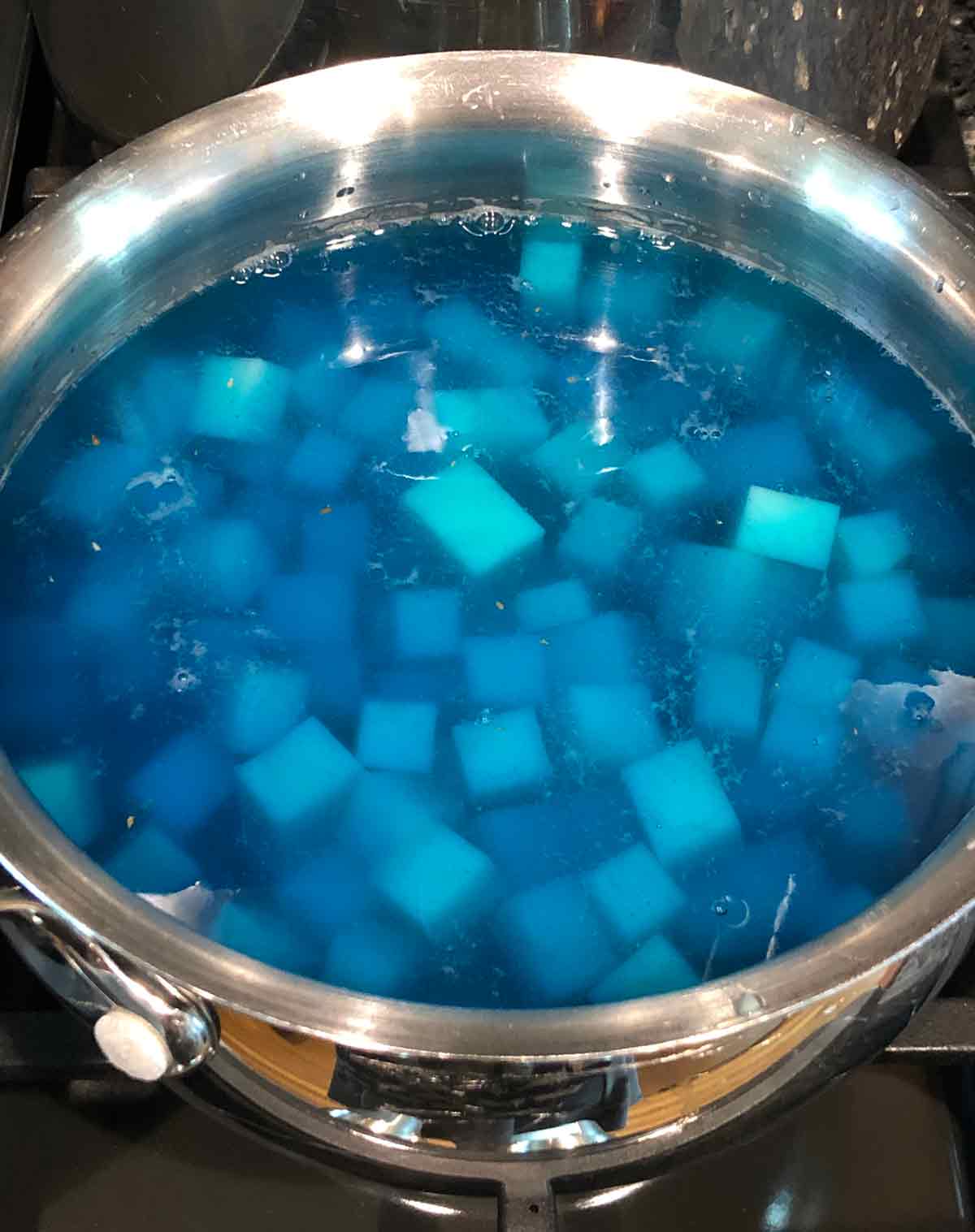 Boil the potatoes for 9 minutes. Don't set the timer until the water starts to boil. While they cook, you can prepare your next color of water.
Repeat these steps with the remaining potatoes, using a different color of food coloring.
Drain the cooked potatoes using a colander.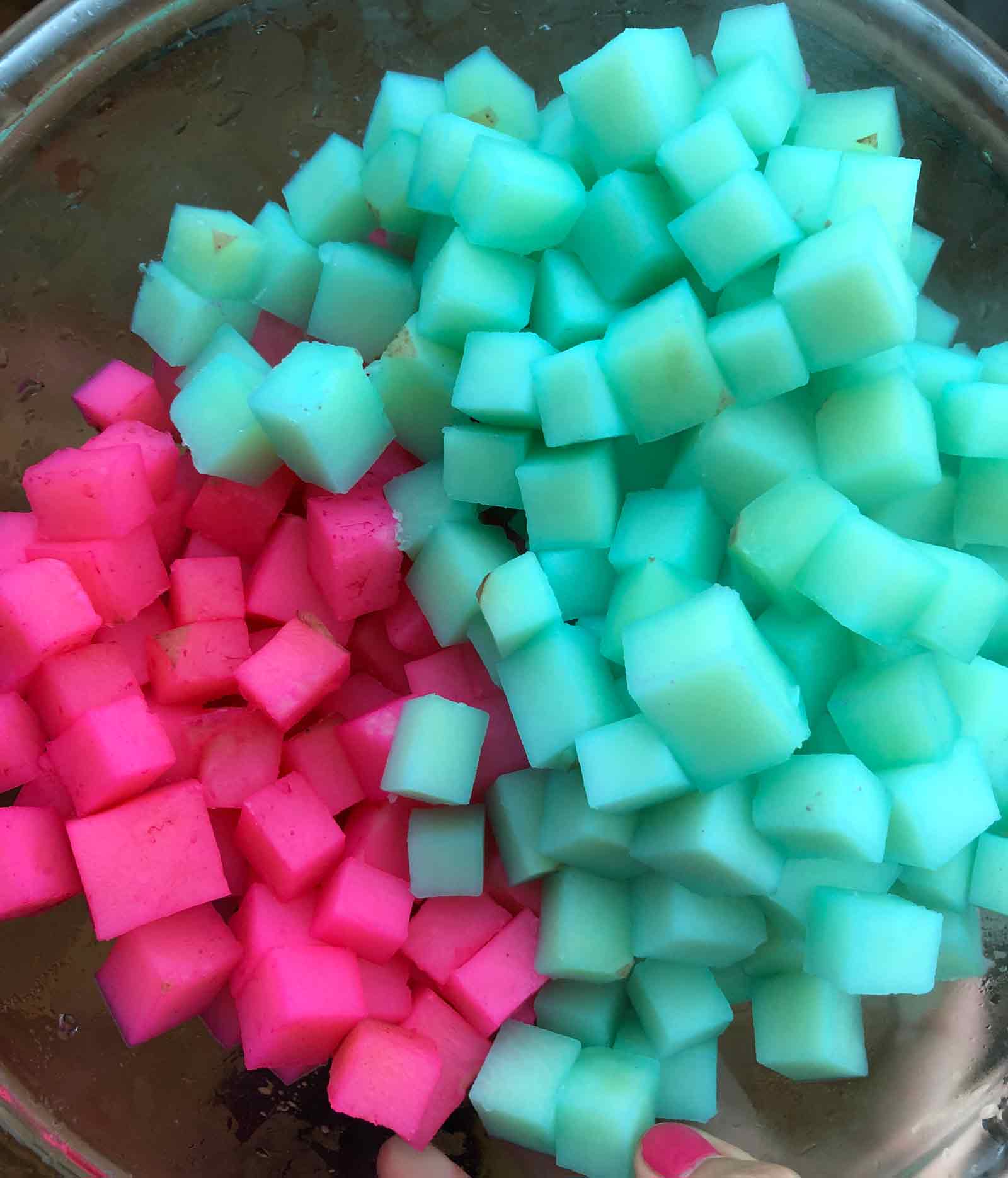 Mix 1 ⅓ cups of vegan mayo, 1 cup of finely diced pickled celery, ½ teaspoon pink sea salt , ½ teaspoon onion powder, ½ teaspoon garlic powder, 1 teaspoon dill, and ⅛ - ¼ teaspoon (optional) pepper in a large bowl.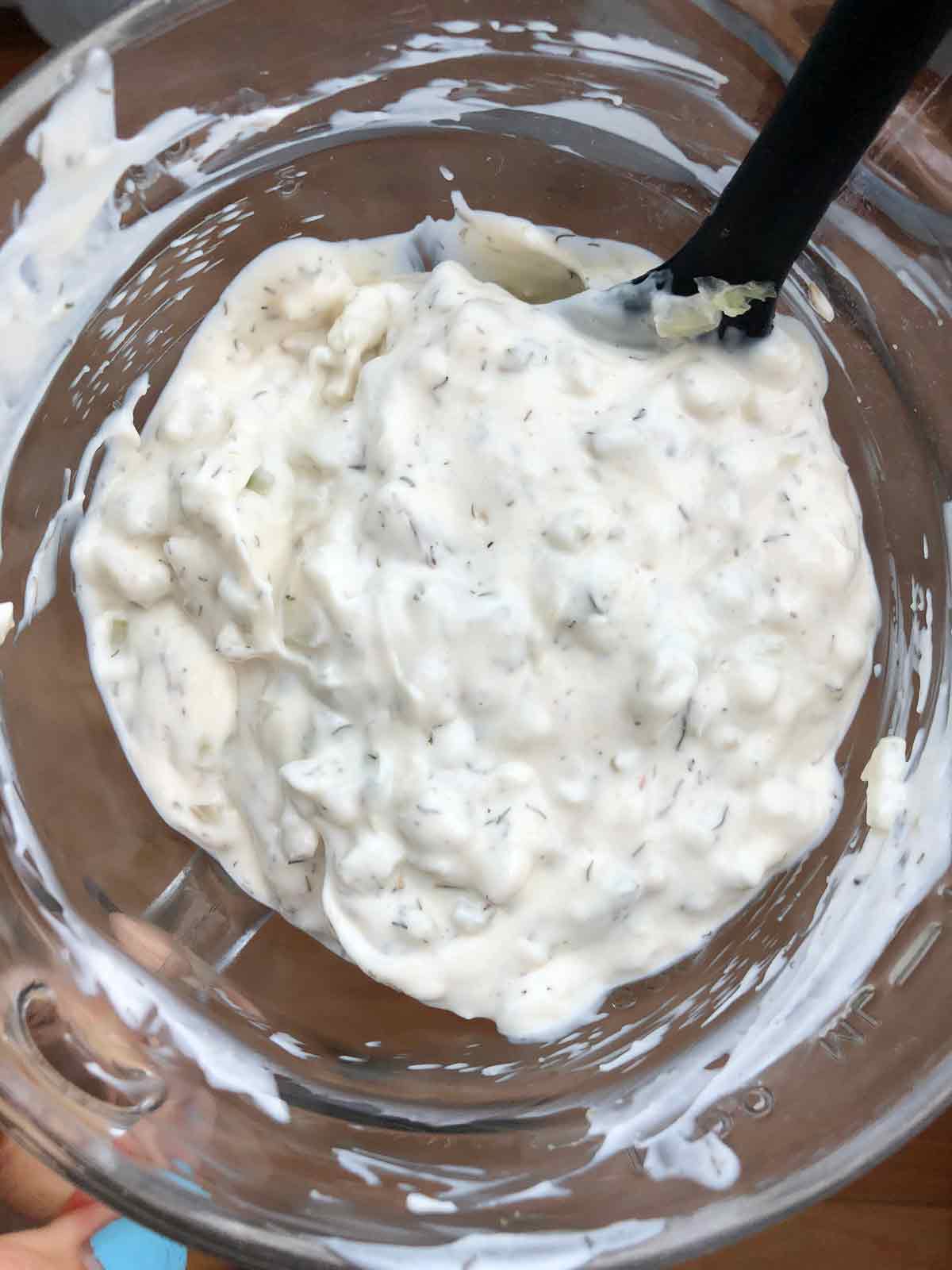 Add the cooled potatoes and mix with a silicone spatula until they're evenly coated.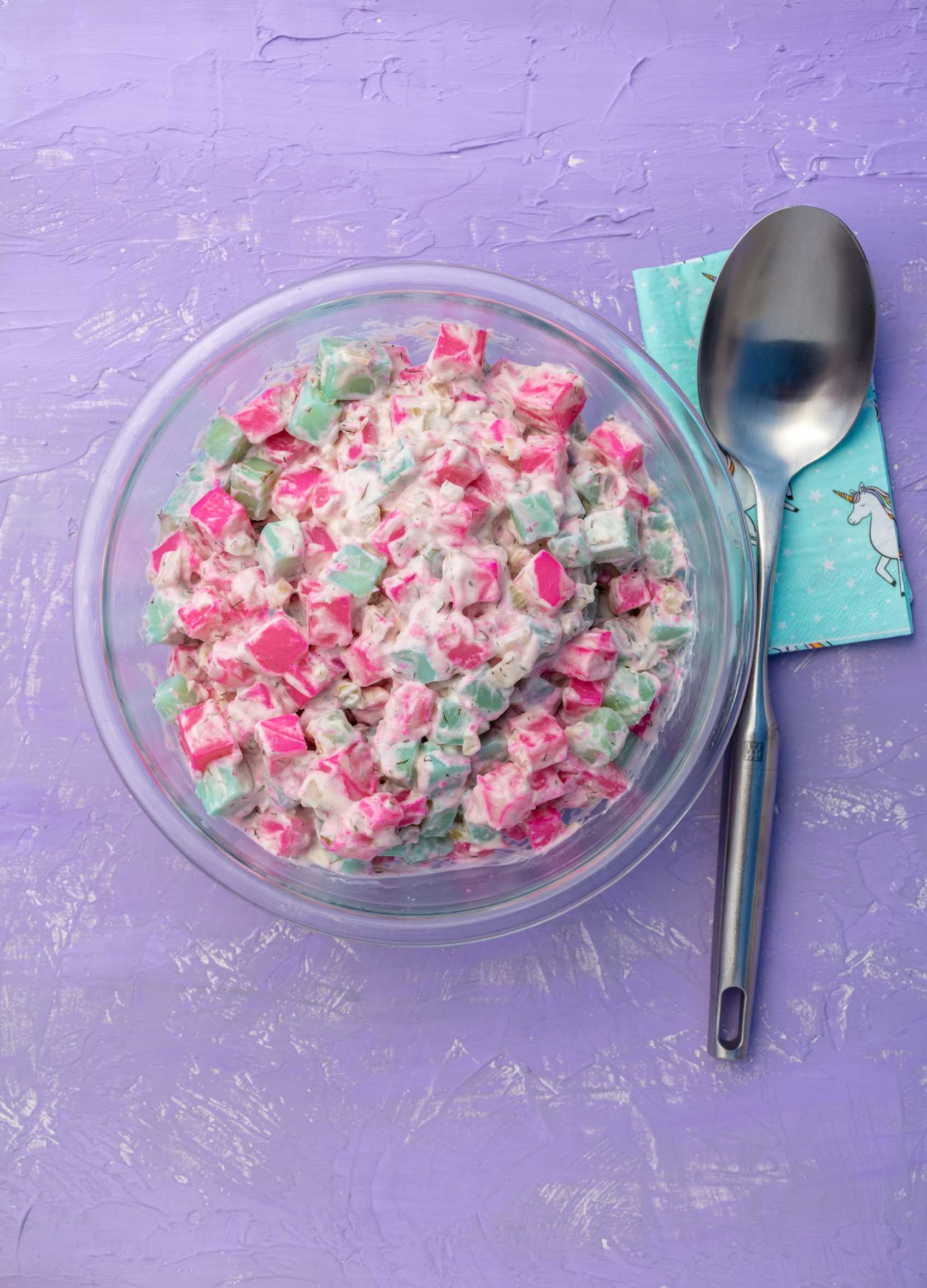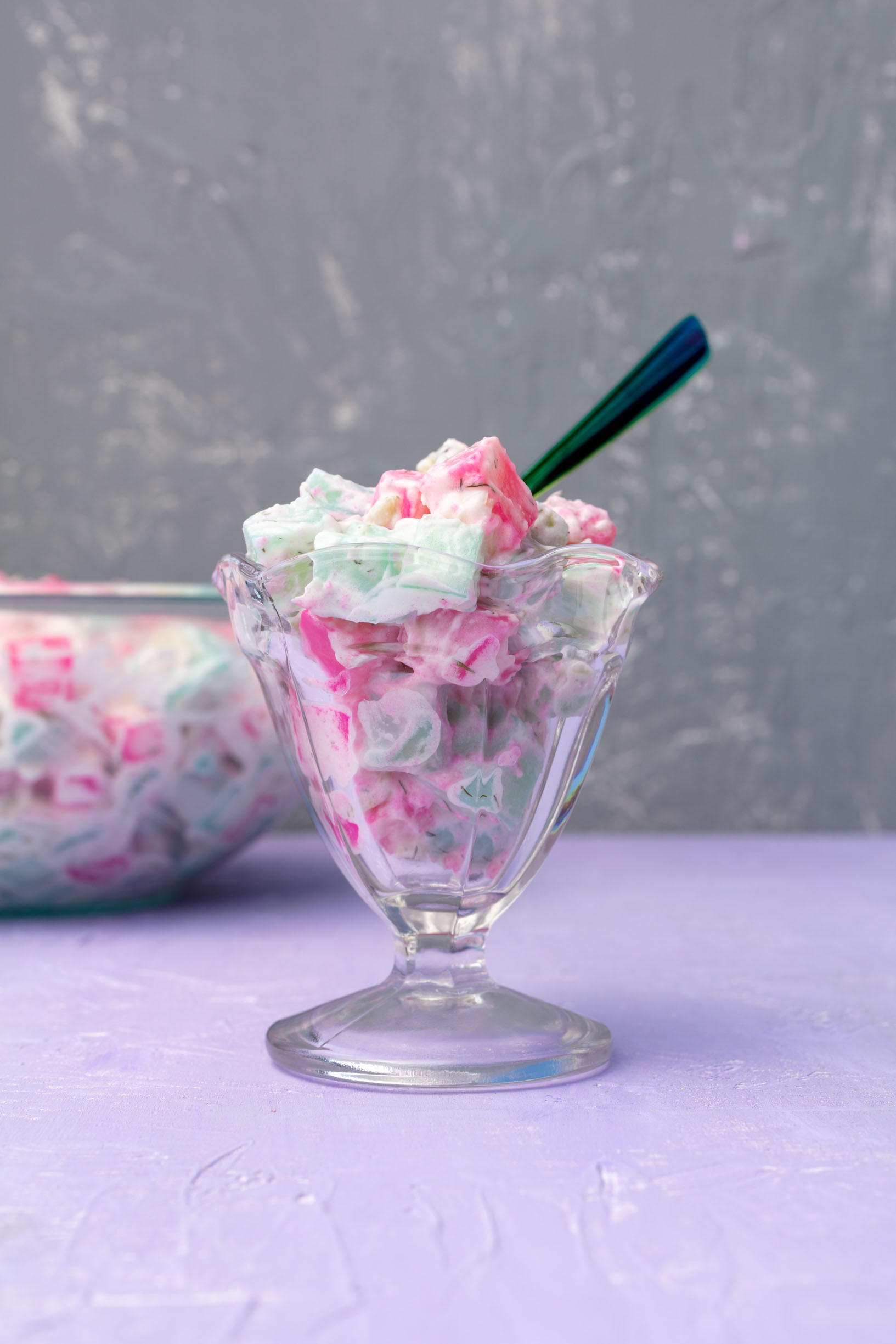 Chill until ready to serve. Since I was making this for a social distance picnic baby shower, I went ahead and spooned it into the little punch cups at this point and wrapped them with cling wrap .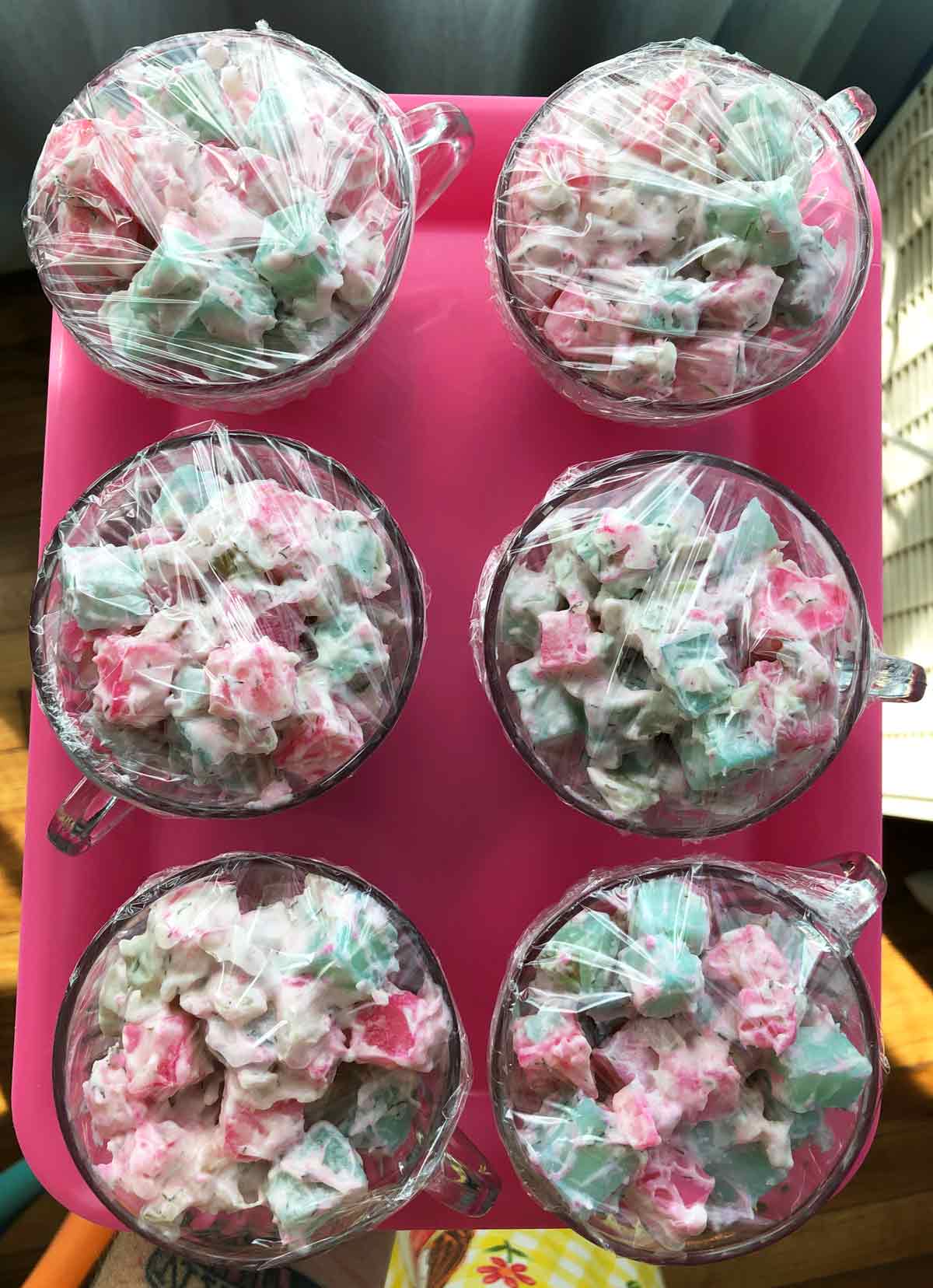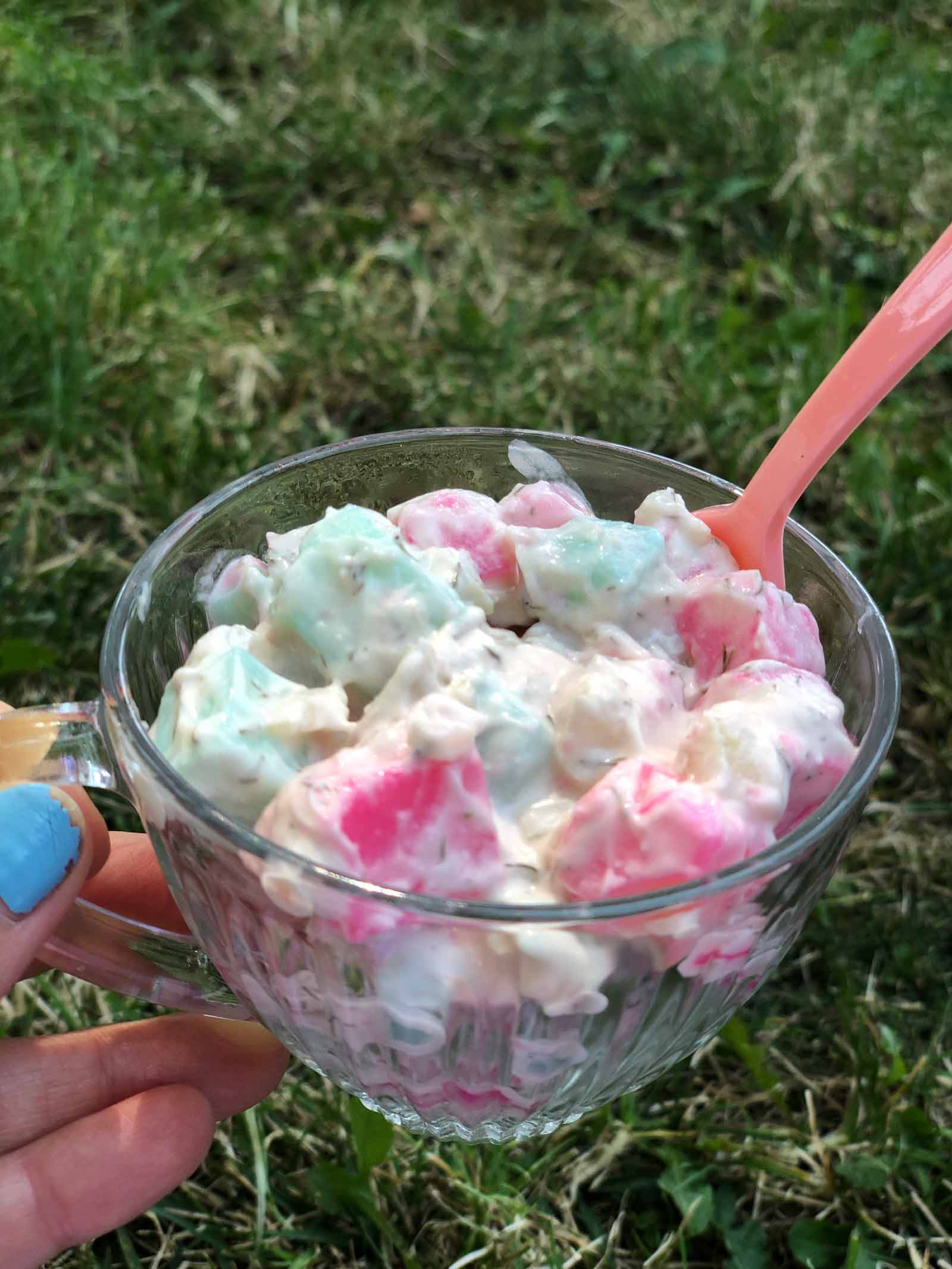 ☆☆☆☆☆☆☆☆☆☆
* I use mostly organic ingredients when I cook, but I realize that not everyone has the disposable income to purchase all organic ingredients. Therefore, I only specify organic on the ingredients that really matter - when buying the organic version is the only way to ensure that the item is vegan.