Panera Bread Ten Vegetable Soup (copycat recipe)
published on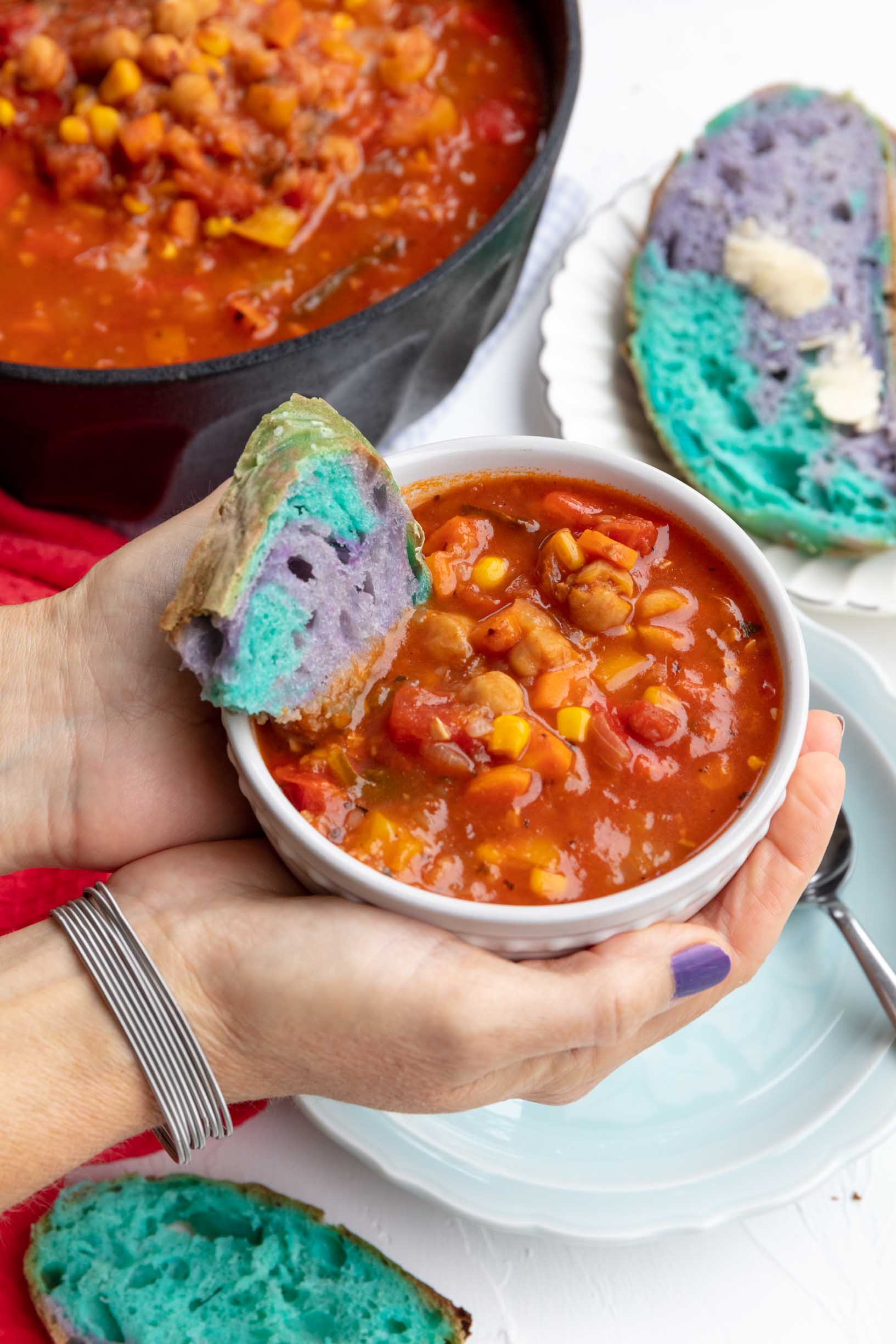 ♫ Listening to: The Great Commandment by Camouflage ♫
This healthy, vegan copycat Panera 10 vegetable soup recipe is the perfect rainy day meal to warm you up on a cold day.
Have you tried this soup at the restaurant and then wondered how you can make Panera's 10 Vegetable Soup at home? Or are you more the type of person who wonders why would anyone make it at home when you can buy the vegan soup already made? Here are a few reasons.
Unlike the Panera Bread original recipe (which uses spelt, wheat berries, and red fife), this yummy recipe for Panera Bread 10 vegetable soup is gluten free and soy free, so if you have allergies, you can still enjoy this yummy soup.
If you're craving Panera Bread soup that's loaded with vegetables but don't want to face the cold winter weather to leave the house to get it, you can easily make this panera bread 10 vegetable soup copycat recipe in the comfort and warmth of your own home without having to take off your pitbull pajamas and unicorn slippers (okay, I might just be describing my own winter home attire).
Making this copycat recipe for panera bread 10 vegetable soup at home saves money and is healthier.
The original Panera Bread 10 vegetable soup recipe has chia seeds and hot peppers in it (poblano peppers and dried Aleppo chiles), which I am omitting in my version of the panera bread 10 vegetable soup recipe because 1) chia seeds get stuck in my teeth, and are therefore my arch nemesis, and 2) spicy foods hurt my everything (tongue, lips, face, tummy, etc.).
This panera bread ten vegetable soup copycat recipe is excellent for anyone who does batch cooking and meal prep or someone who is trying to incorporate more vegetarian meals into their week. Now that it's getting colder out, I am replacing my daily lunch salad with leftovers that I reheat for lunch. This soup also freezes and defrosts well in case you want to save some for a future night when you're not feeling well or too busy with work to cook. And if all those weren't enough ways to use up this giant pot of soup you're about to make, here's one more: share some with a neighbor, family member, or friend. I gave some to my neighbor, and she replied with heart emojis, which as everyone knows is one of the best forms of thank you in this day and age. Okay, I'll stop telling you what to do with your soup now. Here's how to make Panera 10 vegetable soup.
This recipe makes 8 bowls of soup.
Table of Contents
(click the links below to skip to the section you're looking for)
Dollhouse Tip
This recipe is very forgiving. While it tells you what you need to make Panera 10 Vegetable Soup authentically, you can substitute other veggies and grains for any ingredients you don't have.
2 tablespoons olive oil (if you avoid oil, replace this with water)
1 large (or 2 small) diced onion
3 stalks diced celery
3 diced carrots
1 red bell pepper, diced
1 yellow bell pepper, diced
1 ½ cups frozen organic corn *
1 can chickpeas (garbanzo beans), drained and rinsed
1 cup frozen spinach or 3 cups (loosely measured, not packed) raw spinach (I used New Zealand spinach because I had some growing in the backyard)
8 cups vegetable broth
1 (6 ounce) can organic tomato paste *
2 (15 ounce) cans of organic diced tomatoes *
½ cup rinsed brown rice or roasted buckwheat (also known as kasha)
2 tablespoons soy sauce, tamari, or braggs liquid aminos
2 tablespoons (~6 cloves) minced or finely chopped garlic
1 tablespoon of lemon or lime juice
2 teaspoons mirin (or sub sushi or rice vinegar)
2 tablespoons nutritional yeast
1 tablespoon sea salt
2 teaspoons basil
2 teaspoons cumin
1 teaspoon chili powder
1 teaspoon black pepper
2 bay leaves
Panera 10 Vegetable Soup Directions
Dollhouse Tip
Freeze your leftovers from this recipe, and defrost on a future night when you don't want to cook. (Did you know that freezing foods is the best way to preserve the nutrition and flavor?)
Chop all your veggies if you haven't already, starting with the onion, so you can be sautéing the onion while you chop the others.
Sauté the diced onion in olive oil in a large pot over medium heat on the stove or in the instant pot using the sauté button. If you avoid oil, replace the oil in this step with water.
Stir occasionally (every minute or 2) for 7ish minutes until the onions start to brown.
Add the following diced veggies to the pot: celery, carrots, and bell peppers. Stir occasionally (every minute or 2) for 7ish minutes.
Add the frozen corn and spinach, and continue to sauté while stirring occasionally.
Add the rinsed chickpeas.
Add the following spices: 2 teaspoons basil, 2 teaspoons cumin, 1 teaspoon chili powder, ¼ teaspoon black pepper, 2 bay leaves, 2 tablespoons nutritional yeast, and 1 tablespoon pink sea salt (you can use any salt you have, but Panera Bread uses sea salt and I do as well).
Add either 8 cups of veggie broth or 8 cups of water plus 3 tablespoons of Better Than Bouillon vegetable base paste. I buy the size from Costco, because it lasts longer and it's more affordable. Turn the heat up to high if you're cooking this on the stove (if you're using an instant pot, just leave it on sauté for now).
Stir in a (6 ounce) can of organic tomato paste, 2 (15 ounce) cans of organic diced tomatoes, ½ cup rinsed brown rice or kasha, 2 tablespoons soy sauce, tamari, or braggs liquid aminos, 2 tablespoons minced or finely chopped garlic, 1 tablespoon of lemon or lime juice, and 2 teaspoons mirin (or sushi/rice vinegar).
Reduce the heat to medium-low once everything starts to boil if you're using the stovetop method. If you're using your instant pot (or other pressure cooker), now is when you want to lock the lid in "sealing" position and either set it to high pressure for 15 minutes or just press the soup button if you have one. At this point in the recipe, I've been cooking for 30 minutes. The rest of the time is just waiting time, so I usually clean the kitchen.
Cover the soup pot with a lid and cook for 30 minutes, until the grains are soft.
Uncover the soup, remove the bay leaves (I compost mine), and ladle the soup into bowls.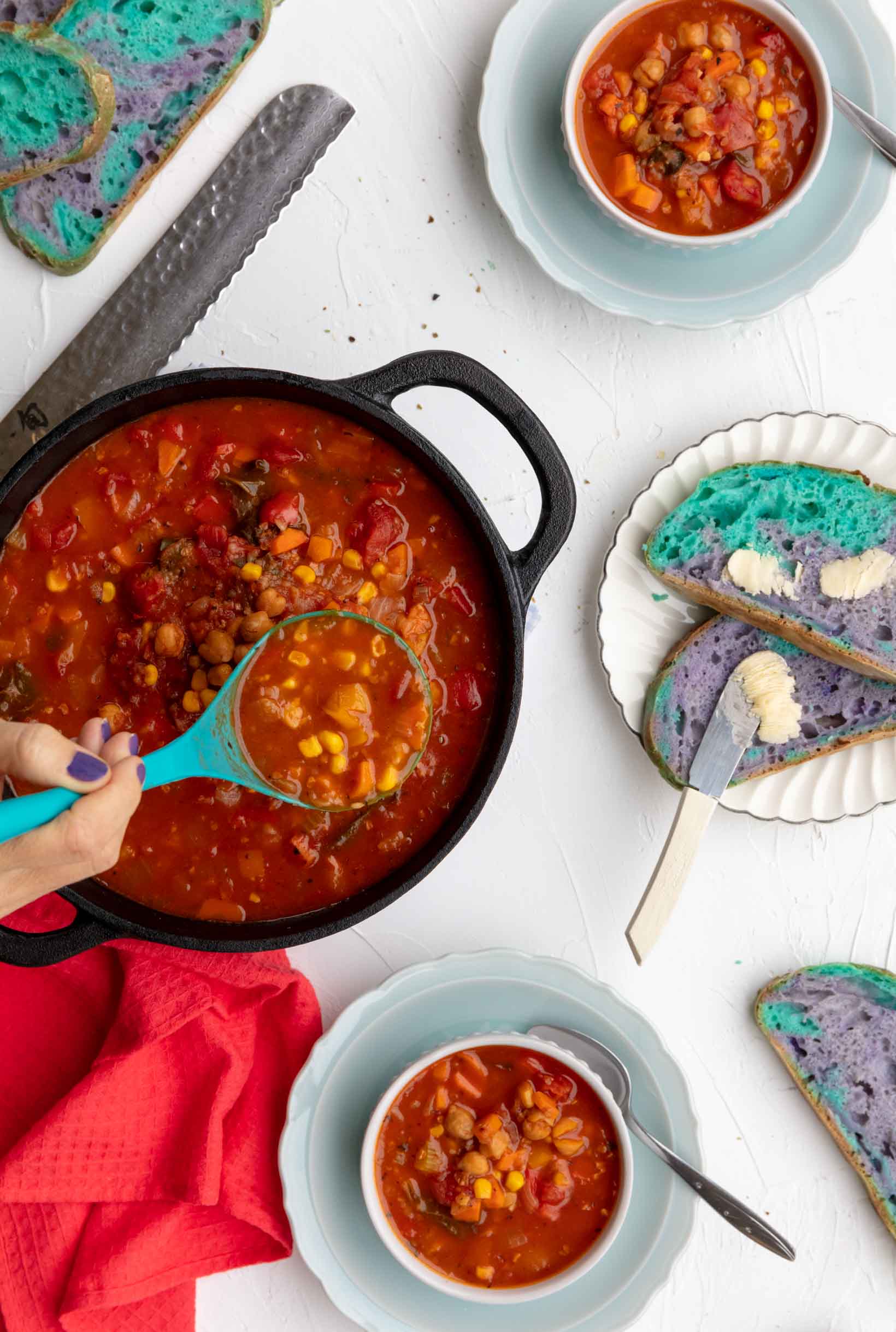 Can I substitute black beans for the garbamzo beans in this Panera Vegetable Soup recipe?
Sure! This vegan ten vegetable soup recipe is quite versatile and still tastes great with most varieties of beans.
Can I substitute vegetable stock for the veggie broth in this Panera soup recipe?
OMG yes! If you make your own vegetable stock, that's SO AWESOME! I was making my own for awhile, but I've since gotten lazy and have stopped. But yeah, if you make this substitution, just add more salt, since veggie broth usually has salt in it.
What should you serve Panera's ten vegetable soup with?
Serve this 10 Vegetable Soup from Panera Bread either in a bread bowl or in a ceramic bowl with a side of bread, crackers, or savory scones. Or for a lighter and healthier option, just serve it by itself.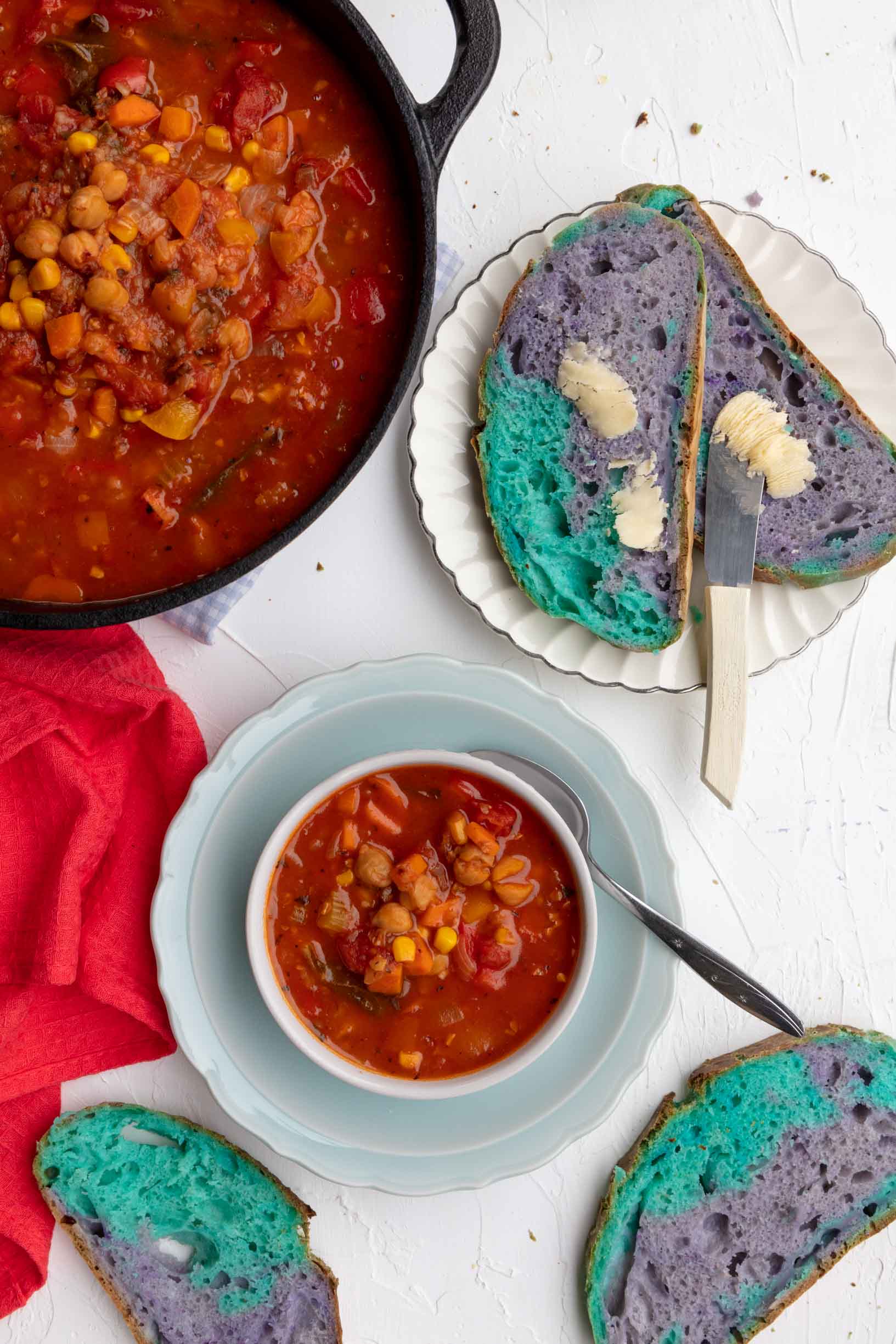 If you don't have olive oil, use safflower, sunflower, vegetable oil, canola oil, grapeseed oil, or any other vegan oil.
If you don't have fresh garlic, you can substitute 2 teaspoons of garlic powder in lieu of the 2 tablespoons of minced garlic in this recipe.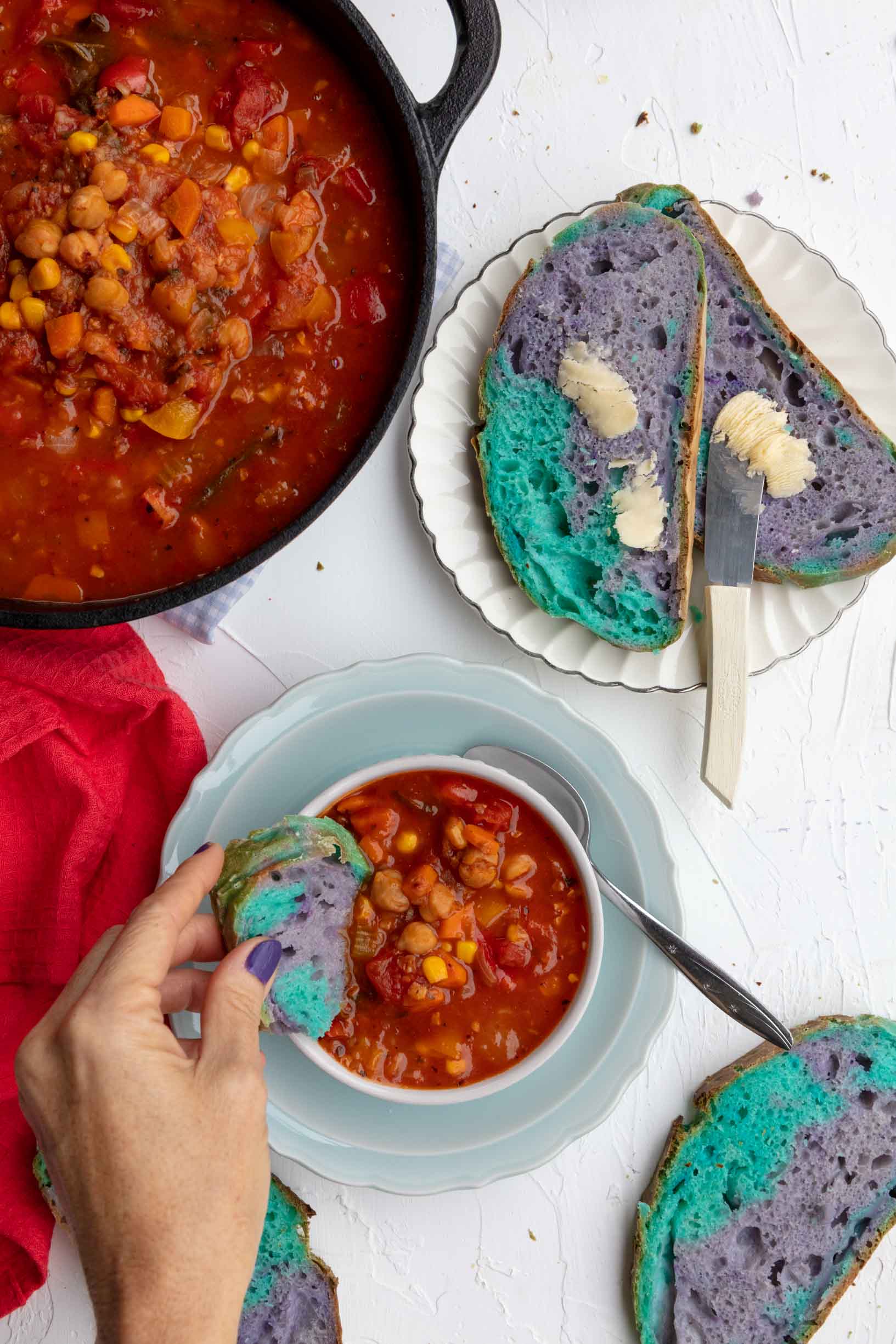 Here's a video of me making Panera's Ten Vegetable Soup in my instant pot.
☆☆☆☆☆☆☆☆☆☆
* I use mostly organic ingredients when I cook, but I realize that not everyone has the disposable income to purchase all organic ingredients. Therefore, I only specify organic on the ingredients that really matter - when buying the organic version is the only way to ensure that the item is vegan.
This post may contain affiliate links. This means that if you click on a link that takes you to a website (like Amazon) where you can purchase a product, I may earn money from that purchase from the affiliate partner. Read more about this in my privacy policy.
☆☆☆☆☆☆☆☆☆☆