Vegan Risotto (Instant Pot)
published on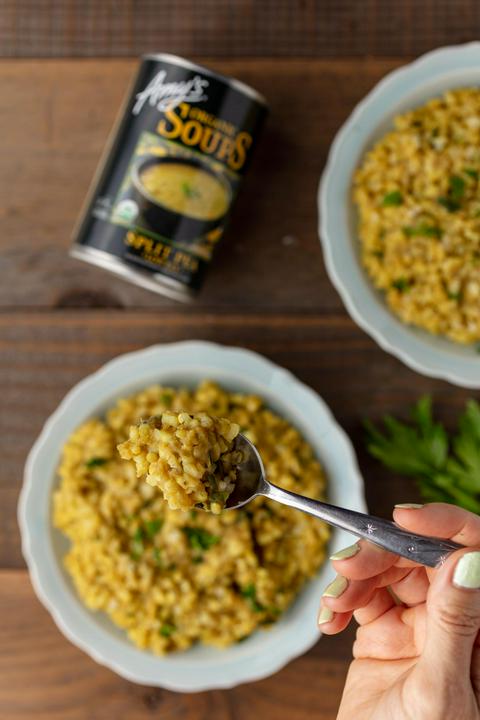 ♫ Listening to: Psychic Reader by Bad Bad Hats ♫
Can you use short grain rice for risotto?
Have you been wondering if you can use short grain rice to make risotto? Risotto rice is traditionally made with Arborio rice, but I've been experimenting with other types of rice, and you can obtain the same creamy risotto from short-grain brown rice by following this vegan instant pot risotto recipe. This was a huge breakthrough for me, because I prefer brown rice over white rice, and risotto is typically made with white rice. So, I introduce you to my short grain brown rice risotto recipe.
This dairy-free risotto is an excellent recipe for meatless monday or any weeknight when you need an easy dinner because you're busy with work or chores or kids or pets or (am I stressing you out? sorrrrrry) and don't want to spend much time in the kitchen. In addition to being an easy weeknight dinner, this easy Instant Pot risotto is also a filling meal for dinner parties. Before I had an instant pot, I would only have risotto at restaurants because making stove-top risotto was too labor intensive, but now, I can make this easy risotto recipe at home for a fifth of the price. From start to finish, this recipe takes around an hour to an hour and a half, but only 5 minutes is the actual time that you're cooking. The rest of the time is waiting time when you can be doing other things. If you don't have an instant pot, this recipe can also be made as an easy pressure cooker meal. It will still be easy to make like the instant pot version, but you will have to set an additional timer to remember to turn off the stove.
The addition of Amy's split pea soup to this tasty plant-based risotto not only adds a creamy, velvety texture, but it also makes it a meat-free protein-rich risotto with extra nutrients. And since the soup has nutritious veggies already in it, you don't have to add extra vegetables. While this split pea risotto is scrumptious, you can also make this easy healthy risotto recipe with other flavors of your favorite soups, but if you want this easy gluten-free risotto recipe to remain a gluten free, vegan, allergen free recipe, make sure the soup you choose is also gluten free and made without butter or cheese or milk. Read on to learn how to make instant pot vegan risotto without dairy, and if you have any questions, please don't hesitate to email me. If you like the idea of making recipes with canned soup, check out this other recipe.
This basic risotto recipe for 2 makes 2 filling bowls of vegan risotto as a main course or 4 side dishes.
Risotto Ingredients
1 teaspoon salt

¼ teaspoon cumin

¼ teaspoon turmeric

¼ teaspoon garlic powder (optional)

¼ teaspoon onion powder (optional)

⅛ teaspoon black pepper

1 can of Amy's Split Pea Soup

1 can of water (around 1 ½ cups or 375ml)

1 cup of any short grain rice (190g)

2 tablespoons chopped parsley (optional)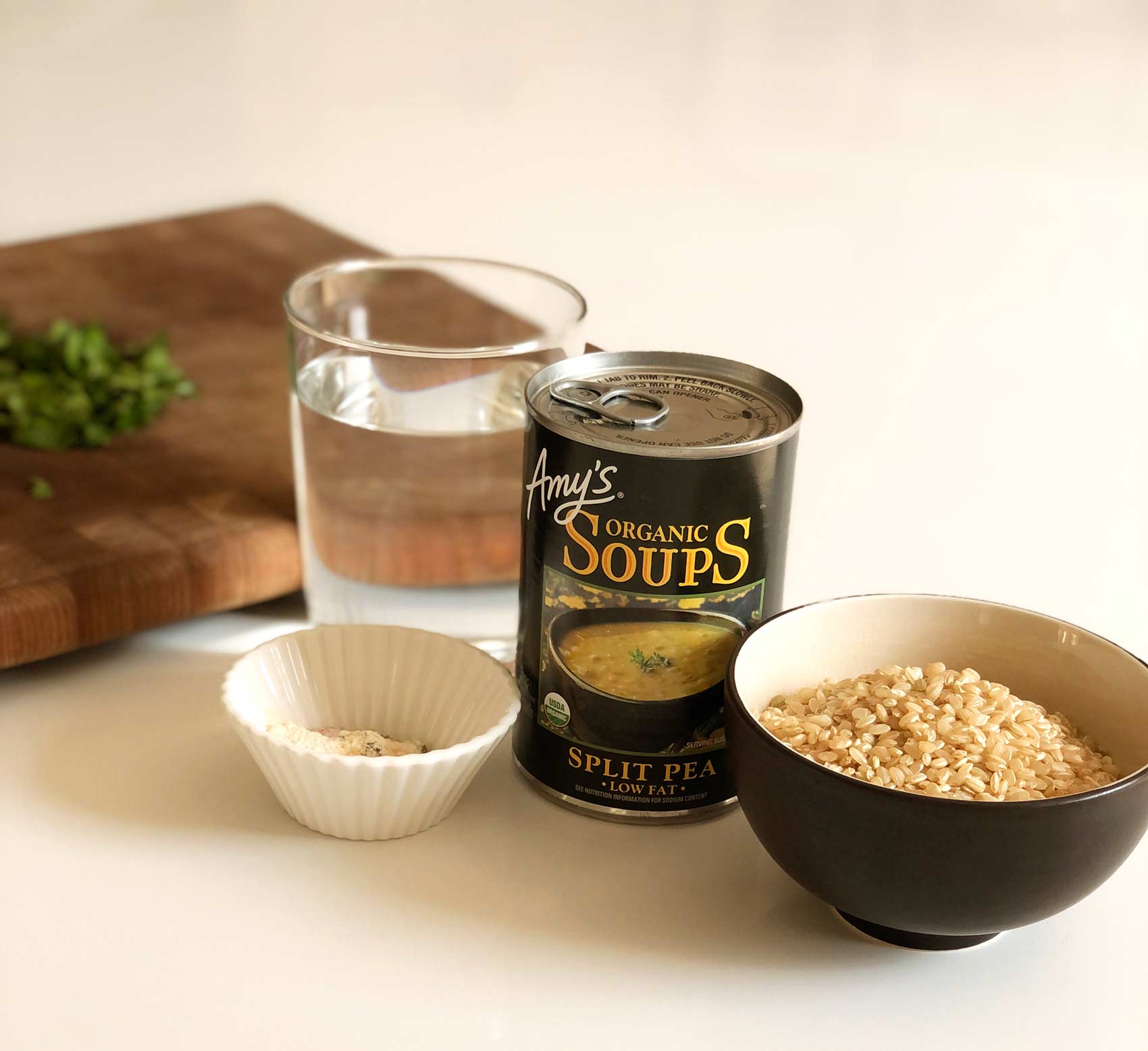 Risotto Directions
prep time: 5 min | time to come to pressure: 12 min | cook time: 8 min | natural pressure release time: 10 min | cool/rest time: 40 min
Dollhouse Tip
Start the vegan gluten-free risotto an hour and 15 minutes before you want to eat.
Add a can of Amy's Split Pea Soup and 11g of spices to the instant pot liner: 1 teaspoon pink sea salt (or any salt), ¼ teaspoon cumin, ¼ teaspoon turmeric, ¼ teaspoon garlic powder, ¼ teaspoon onion powder, and ⅛ teaspoon black pepper. The garlic powder and onion powder are optional in this recipe, but it will be tastier if you include them.
Fill the empty soup can with water, just shy of the top, and pour that into the instant pot liner. If you don't feel comfortable just winging this step, you can measure out 1 ½ cups or 375ml of water and pour that into the can. This helps get the last of the soup out of the can so that you don't waste any.
Whisk or stir all the wet ingredients and spices together.
Sprinkle 1 cup of rice over the top of the liquid. Do not stir it in. The starch in the rice is one of the reasons risotto is so creamy and rich (which is why most risotto recipes you see call for arborio rice, because it's an exceptionally starchy rice), don't rinse the rice before you measure it into the instant pot. This will ensure that you keep all of the starch from the rice for your risotto.
Place the instant pot liner gently into the instant pot being careful not to tilt it too much.
Set the instant pot to high pressure for 8 minutes. If you're using a stovetop pressure cooker, rather than an instant pot, you'll need to stay near the kitchen for this part so that you can wait to set the timer when the pressure valve pops up.
Release the pressure naturally. This means that if you try to open the lid, and it won't budge, then you need to leave it alone until the lid opens easily when you try. DO NOT manually release the pressure by changing the pressure valve from the sealing to the venting position. For me, the natural release usually takes around 15 minutes.
Remove the instant pot lid after the pressure has released naturally. From start to finish (bringing the pressure cooker to pressure, cooking the risotto, and waiting for the natural release), this should take around a half hour. Don't be alarmed if it seems too liquidy at this point.
Stir in two-thirds of the optional chopped parsley. Save a little for garnishing the risotto later.
Place the instant pot lid back on, but do not lock it in place. Just set it there loosely.
Let the risotto rest for about 40 minutes while the remaining liquid continues to infuse the rice and the sauce thickens. This can feel like the longest 40 minutes of your life because the aroma that fills your home is mouthwatering.
Serve your creamy risotto dish, and garnish with optional remaining parsley.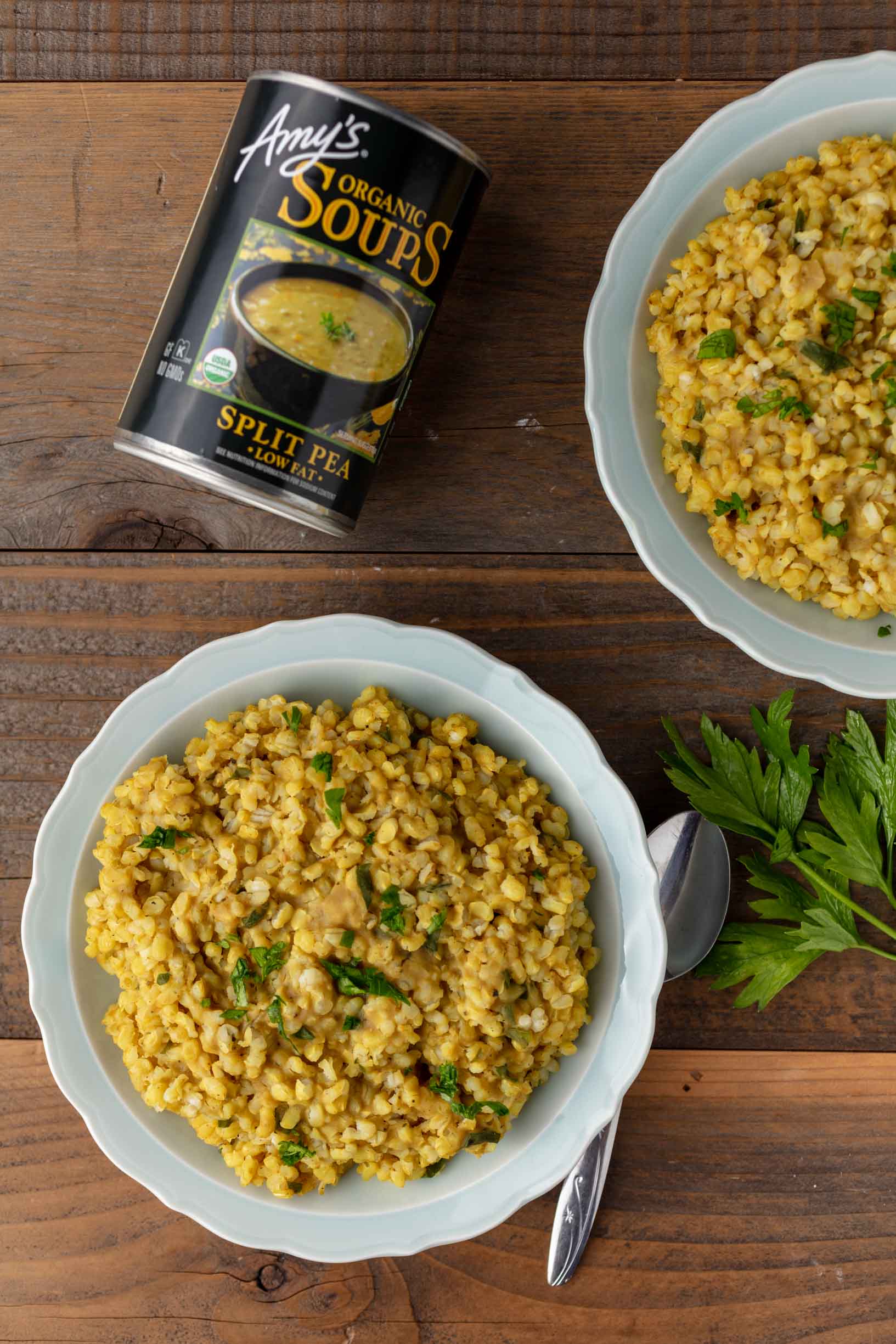 If you want to save some of this risotto and eat it as leftovers, I recommend reheating it with a few tablespoons of added water to add back some of the creaminess that will be lost while it sits in the fridge overnight. This should keep covered in the fridge for up to a week.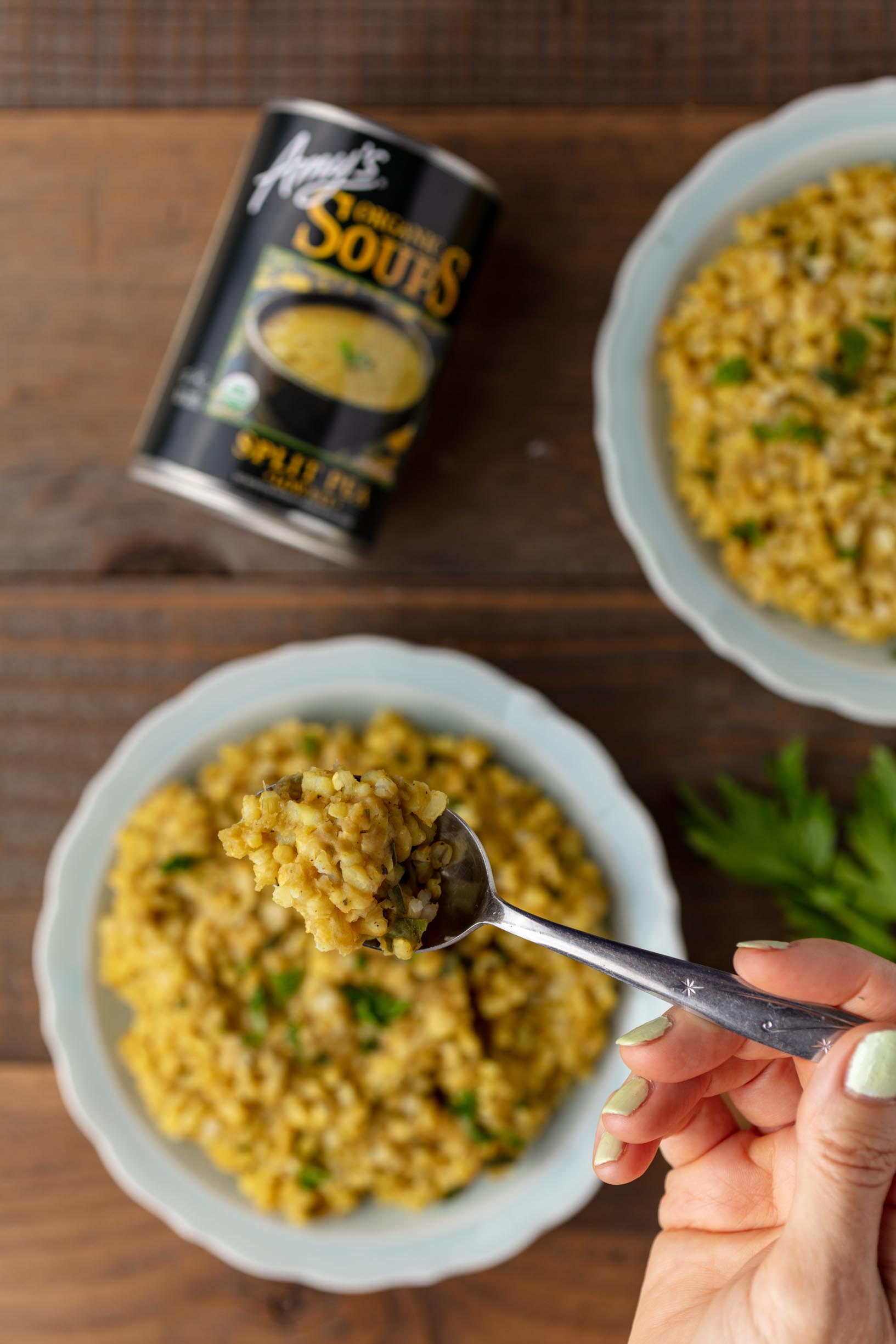 If you decide to have this as a side dish instead of a main course, it pairs well with vegan sausage, garlicky green beans, and broccoli slaw or salad.
☆☆☆☆☆☆☆☆☆☆
* I use mostly organic ingredients when I cook, but I realize that not everyone has the disposable income to purchase all organic ingredients. Therefore, I only specify organic on the ingredients that really matter - when buying the organic version is the only way to ensure that the item is vegan.
This post was made possible thanks to the support of Amy's Kitchen. All content and opinions are unbiased and entirely my own.