Sobrasada Recipe (Vegana)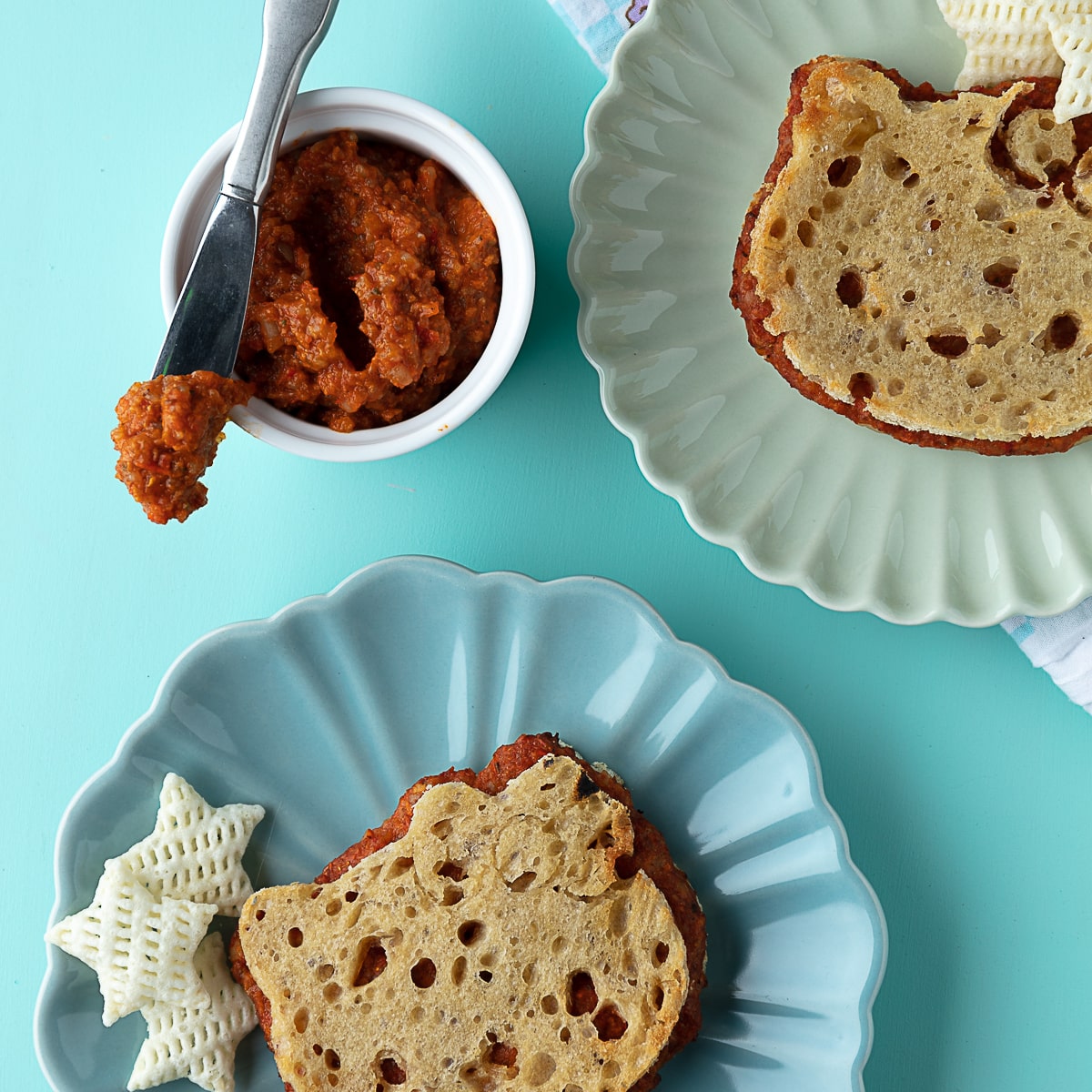 ♫ Listening to: Mi Fábrica De Baile by Joe Crepúsculo ♫
This sobrasada is made with vegan chorizo, roasted red peppers, and potatoes. It can be spread on crackers or focaccia, used as a dip for veggies or chips, or be a hearty filling for sandwiches. This Spanish sobrasada recipe includes instructions for making vegan grilled cheese and sobrasada sandwiches with it, which is a common way to serve it in Spain.
Table of Contents
(click the links below to skip to the section you're looking for)
My husband is from Spain, so we go there once a (non-pandemic) year to visit his parents. Everytime we go back, there is almost always some new vegan spot that wasn't there the year before, which is super exciting. One time we were there, we found some vegan sobrasada spread. David remembered it from his childhood, so we picked some up. When he was a kid, his mom would make him sandwiches with cheese and sobrasada. So, that's what I had to do with mine.
I don't even want to know what animal Spanish sobrasada is traditionally made with, but the base of this one is a mix of vegan chorizo, roasted red peppers, and potatoes.
This recipe makes 4 cups of sobrasada.
1 package (8 ounces or 225g) cooked vegan chorizo (if you avoid oil or soy, omit this ingredient)*
1 pound (450g) potatoes (2-3, depending on size)
3 cloves of garlic, minced or finely chopped
2 red bell peppers
1 tablespoon lemon juice (you can sub vinegar in a pinch)
1 teaspoon onion powder
1 tablespoon paprika
1 teaspoon oregano
1 teaspoon sea salt
1 tablespoon nutritional yeast (optional)
water to get it to process smoothly (optional)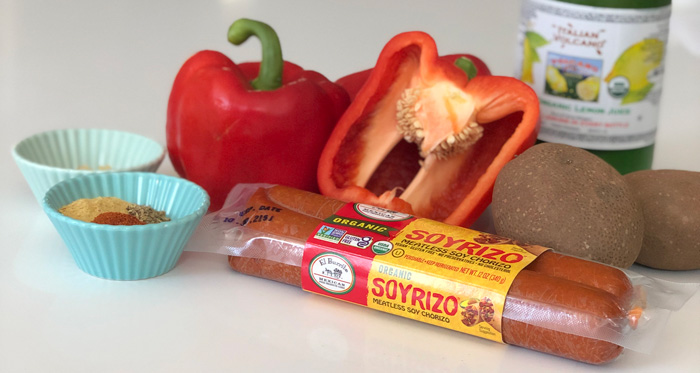 Vegan Sobrasada Directions
total time: 35 minutes
Dollhouse Shortcut
If you want to roast your peppers in an air fryer, skip the first 2 steps, and set the air fryer to 390º for 13 minutes.
Preheat the oven to 400°.
Optional: Line a baking sheet with parchment paper and set aside. You don't have to do this step, but if you don't have a dishwasher and don't like washing dishes, it does help with cleanup.
Wash red peppers.
Cut the peppers in half lengthwise, and remove the stem, seeds, and white parts from the insides.
Set the peppers on the baking sheet, cut side down.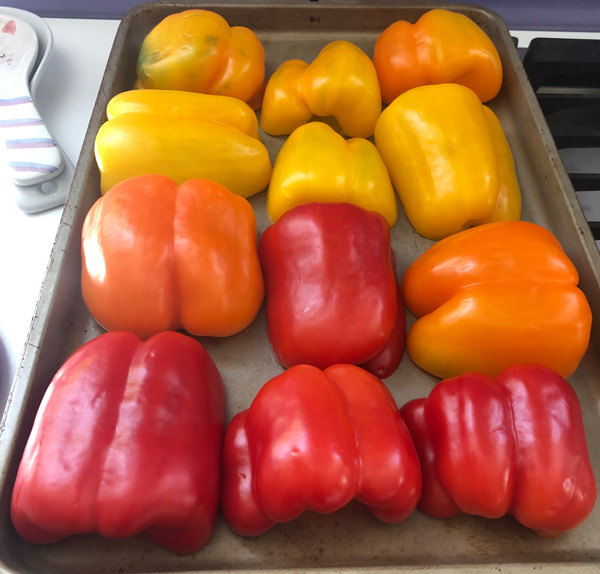 Spray or brush the peppers with olive or any vegetable oil. If you avoid oil, you can skip this step.
Bake the peppers for 20-25 minutes, until they start to turn black on top.
Wash and cut 2-4 potatoes, depending on their size (you want them to weigh around a pound or 450g). I cut small ones into quarters and big ones into eighths.
Cover the potatoes with water in a small pot.
Boil potatoes for 5-10 minutes, until when you pierce one with a fork, it slides in easily.
Add the following ingredients to the food processor while you wait for the peppers to roast: 8 ounces vegan chorizo, 3 cloves of minced garlic, 1 tablespoon lemon juice, 1 teaspoon onion powder, 1 tablespoon paprika, 1 teaspoon oregano, 1 tablespoon nutritional yeast, and 1 teaspoon sea salt (you can increase the salt if you omit the chorizo). All these amounts are just suggestions. I don't even usually measure my spices for recipes. So, you can just eyeball it.
Peel the boiled potatoes.If the potatoes are too hot to touch, drain their hot water and fill the pot with ice water and let it sit for a few minutes. If you don't like wasting food, you can eat the skins with salt and pepper. That's what I do.
Transfer the peeled potatoes and the roasted peppers to the food processor when they're done cooking.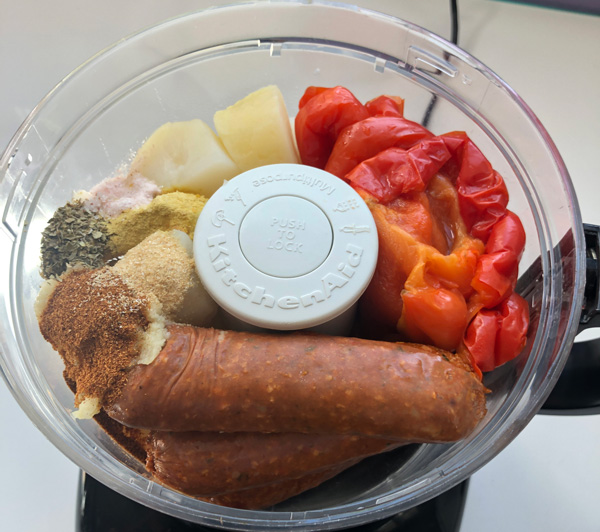 Lock the lid onto the food processor and process until all the big lumps are gone. If it needs help, add filtered water through the hole in the lid, very slowly, a teaspoon at a time, until it blends. I didn't need any additional liquid for mine.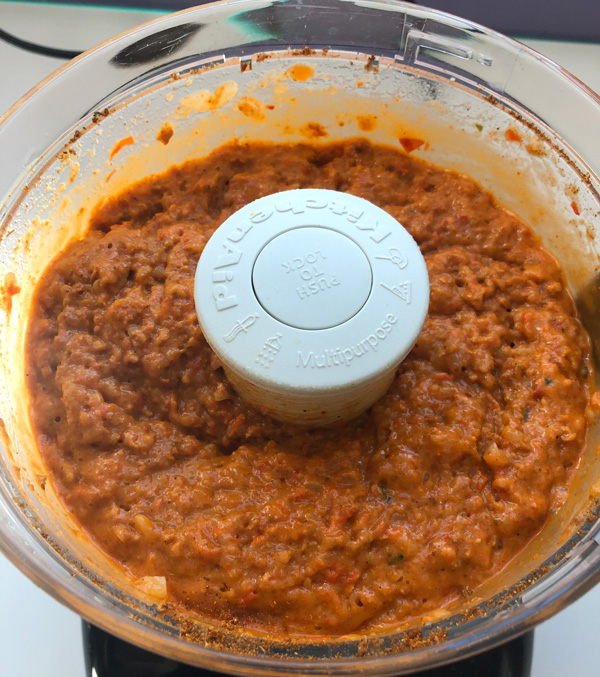 Serve immediately if you plan to use it as a dip with veggies. If you plan to use it as a sandwich spread, you'll want to chill it first.
Transfer the sobrasada to a container with a lid. If it's still warm, choose a glass container rather than plastic.
Chill the sobrasada in the fridge for at least 2 hours if you plan to make sandwiches with it. It should stay good in the refrigerator for up to a week.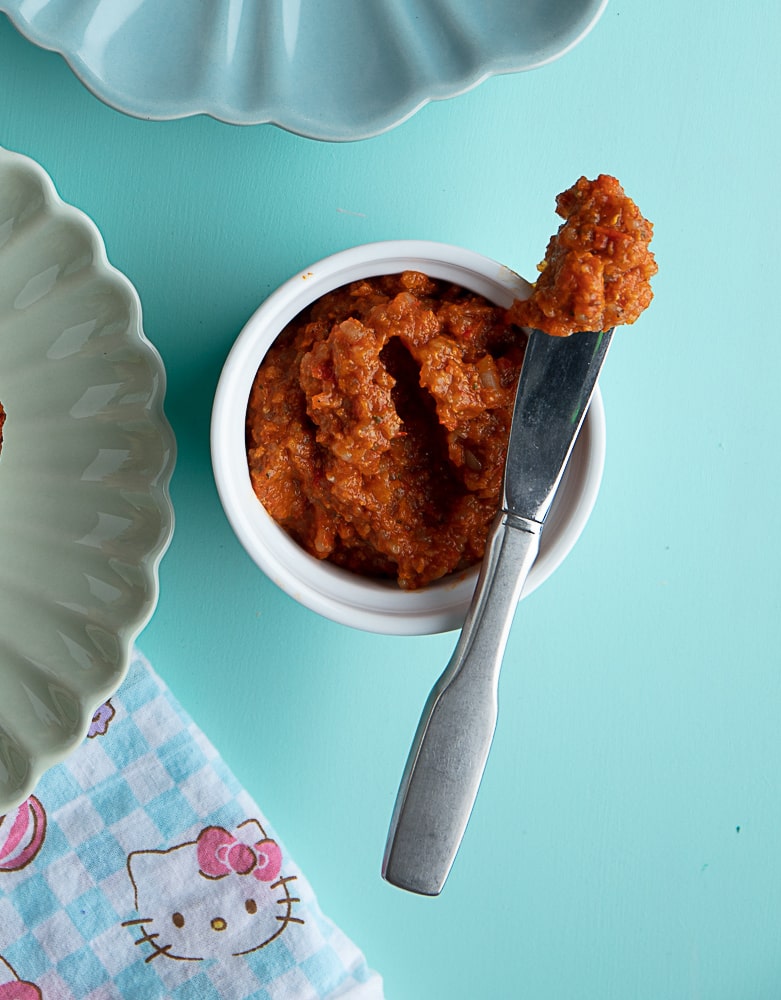 bread
vegan cheese slices (I like violife)
vegan butter or margarine (I like organic whipped earth balance)
How to Make Grilled Cheese and Sobrasada Sandwiches
Place a cookie cutter on top of 2 slices of bread. I used my rainbow bread recipe but omitted the food coloring (which I guess just makes it normal bread, haha). However, I think the sandwiches would look better using bread with a tighter crumb.
Cut the shape out of the bread by pressing down on the cookie cutter onto a cutting board. If the cookie cutter doesn't cut the bread, try tracing around the cookie cutter with a filet knife or any serrated knife that has a point at the end. I used my hello kitty cutter.
Cut the same shape out of vegan cheese slices (I prefer violife mature cheddar).
Spread vegan butter on the outsides of both slices of bread.
Set the cheese on the inside of the bottom slice of bread.
Spread sobrasada onto the cheese slice.
Top with the other slice of bread, buttered side up.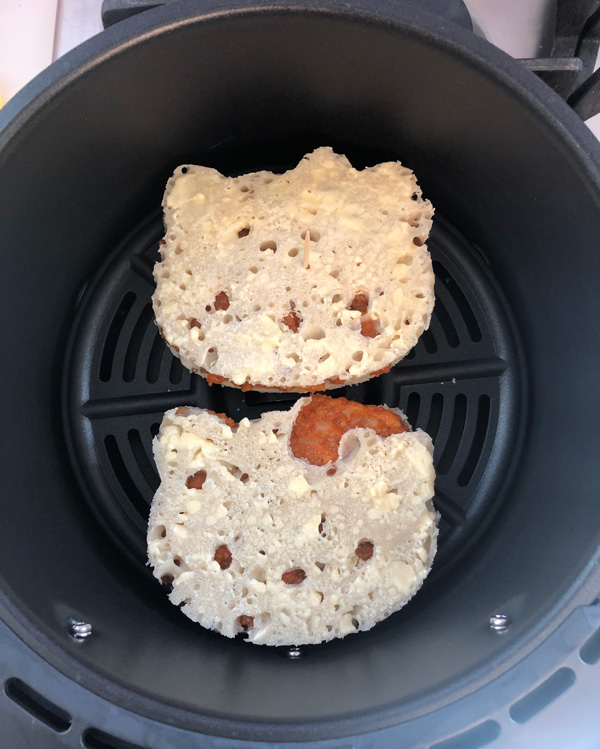 Grill the same way you would make a grilled cheese sandwich. I actually just cooked these in the air fryer because I didn't feel like getting out a frying pan and turning on the stove. If you use your air fryer, make sure you put toothpicks in your sandwiches so that the bread doesn't fly all over the place.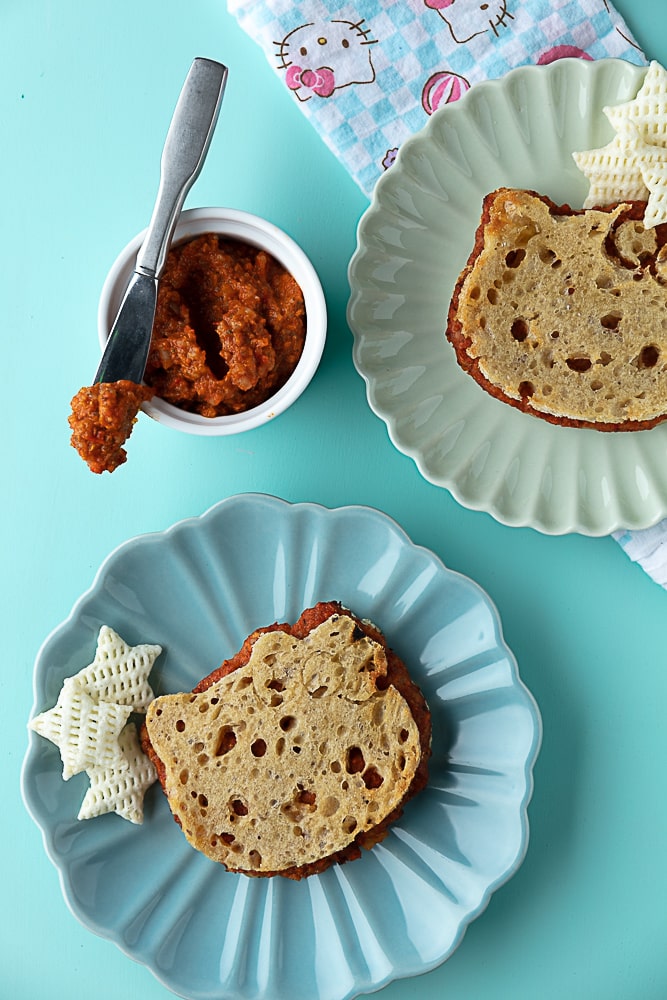 Are there brands of vegan chorizo that are soy-free and/or gluten-free?
If you avoid soy, make sure you buy a brand of vegan chorizo that is soy-free (such as the Sweet Earth brand). If you avoid gluten, make sure you buy a brand of vegan chorizo that is gluten-free (such as the Sweet Earth brand or the Trader Joe's brand).
What is Sobrasada? (Sobrasada Que Es?)
Spanish sobrasada originates in the Balearic Islands in Spain. The Balearic work is spelled sobrassada. The Spanish word is spelled sobrasada.
I don't even want to know what animal sobrassada is traditionally made of, because it will make me sad (I think it's either salami or sausage). This sobrassada is made with vegan chorizo, roasted red peppers, and potatoes, but the spices (like paprika) are an integral part of what makes it taste like sobrasada.
What do you do with sobrasada?
There are many ways to eat sobrasada. When my husband was growing up in Spain, his Spanish mom made him sobrassada and cheese sandwiches, so I included instructions above for grilled cheese and sobrasada sandwiches. Other ways to eat it are spread onto crackers or bread or as a dip for chips or veggies. You can also use it as a pasta sauce.
Can you freeze sobrasada?
Yes! This recipe makes quite a lot, so I have frozen it and defrosted it a month later for a quick weeknight dinner. Just make sure it's in an air-tight container before freezing it, so it doesn't take on any weird freezer smells.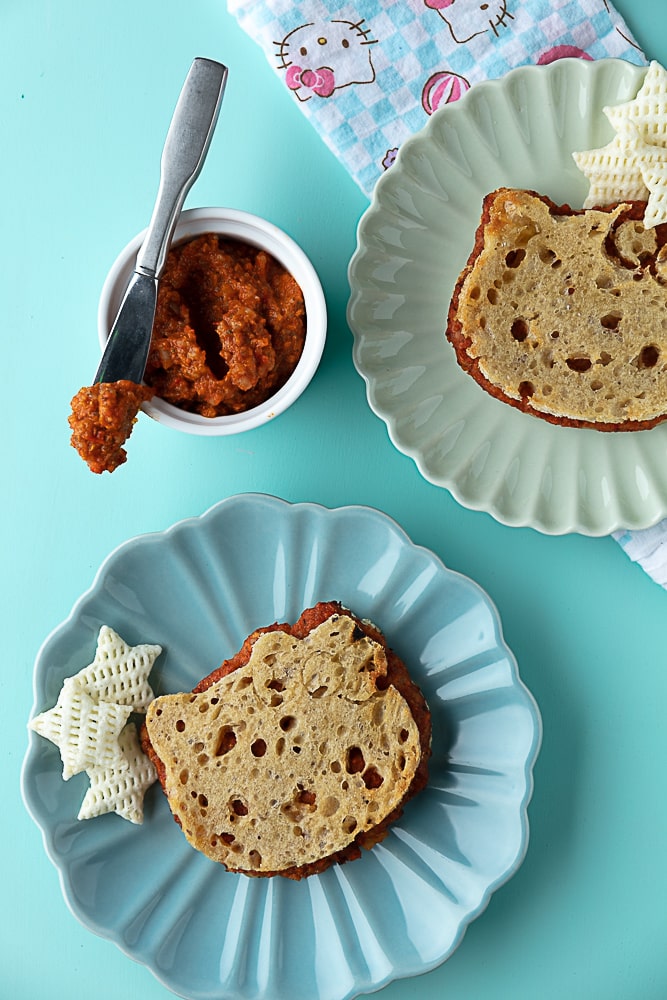 Peppers: You can replace the roasted red peppers in this recipe with red peppers from a jar or with soaked sun-dried tomatoes.
Chorizo: If you avoid processed foods or live in an area where you don't have access to vegan chorizo, replace the soyrizo in this sobrasada recipe with cannellini beans, navy beans, or any other white beans. You can even use soaked cashews.
Garlic: If you don't have fresh or minced garlic, you can replace the garlic in this recipe with 1 teaspoon of garlic powder.
If you're always looking for more dips and spreads, you might also like my kale pesto pâté and my sauerkraut hummus.
☆☆☆☆☆☆☆☆☆☆
* I use mostly organic ingredients when I cook, but I realize that not everyone has the disposable income to purchase all organic ingredients. Therefore, I only specify organic on the ingredients that really matter - when buying the organic version is the only way to ensure that the item is vegan.
☆☆☆☆☆☆☆☆☆☆