Vegan Sushi Cupcakes
published on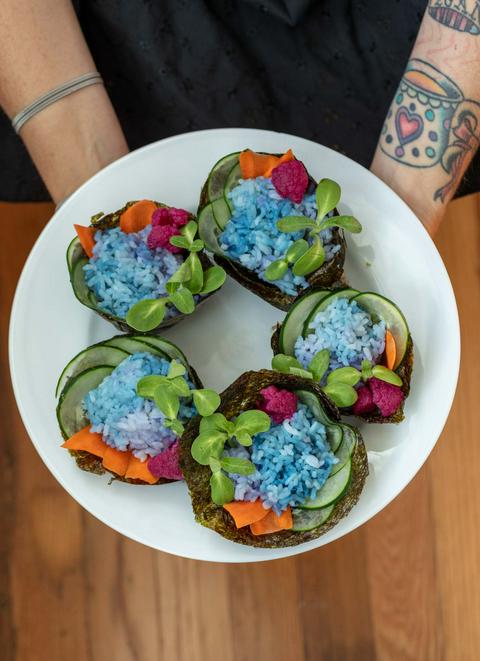 ♫ Listening to: Jeniiwagokigennaname by Hi-Posi ♫
I used to have a cupcake blog before VeganDollhouse was born (ieatcupcakes.com). I just figured I could eat everything in cupcake form for the rest of my life, but, eventually, I wanted to branch out to other food shapes. One kind of cupcake I never made for ieatcupcakes.com is a sushi cupcake. Better than never, right?
I used dried butterfly pea flowers to naturally color the sushi rice, and they're gluten-free by nature, so we can probably even go as far as to call these healthy (at least compared to everything else I make).
This recipe makes 12 sushi cupcakes.
Vegan Sushi Cupcakes Ingredients
1 ½ cups water

small handful of butterfly pea flowers

1 cup white sushi rice

2 tablespoons sushi vinegar

variety of toppings (I used carrot, pickled cauliflower, sunflower sprouts, and cucumber)
Vegan Sushi Cupcakes Directions
Dollhouse Shortcut
If you don't have an instant pot, cook the rice on the stove as you normally would.
Add 1 ½ cups of water, 1 cup of white sushi rice, and a small handful of dried butterfly pea flowers to the liner of your instant pot and lock the lid, making sure the vent is sealed. If you don't want to pick the flowers out of the rice later, you can put your dried butterfly pea flowers into a nut milk bag or a reusable tea bag and toss that in with the water and rice.
Press the rice button. Turn off the keep warm button if it's on.
Gather and chop your toppings while the rice cooks. I used carrots, cucumber, sunflower sprouts, and pickled cauliflower.
Transfer the rice (once the pressure has released naturally) to a large pan so it can cool off more quickly. I used my lasagna pan for this, but you can use a cookie sheet, a parchment paper lined cutting board, a rolling mat or whatever you have that's convenient.
Sprinkle seasoned sushi rice vinegar over half of the cooling rice. After a few minutes, you should notice an obvious color change. You'll want to use both colors of rice in each cupcake to give it more depth of color.
Set a bowl on a stack of nori sheets and trace around the perimeter of the bowl with something sharp.
Cut (with scissors) through as many sheets of nori as you can at a time following the circle that you traced onto the top sheet. You want 12 of these seaweed circles.
Place one nori circle into one of the cubbies of a cupcake pan.
Set your bigger veggie pieces into the nori cupcake wrapper first.
Wet your hands, and then grab a ball of rice, trying to grab some of each color, and set the ball into the nori cupcake paper with veggies.
Add the smaller toppings to the top.
Repeat with the other 11 cupcakes.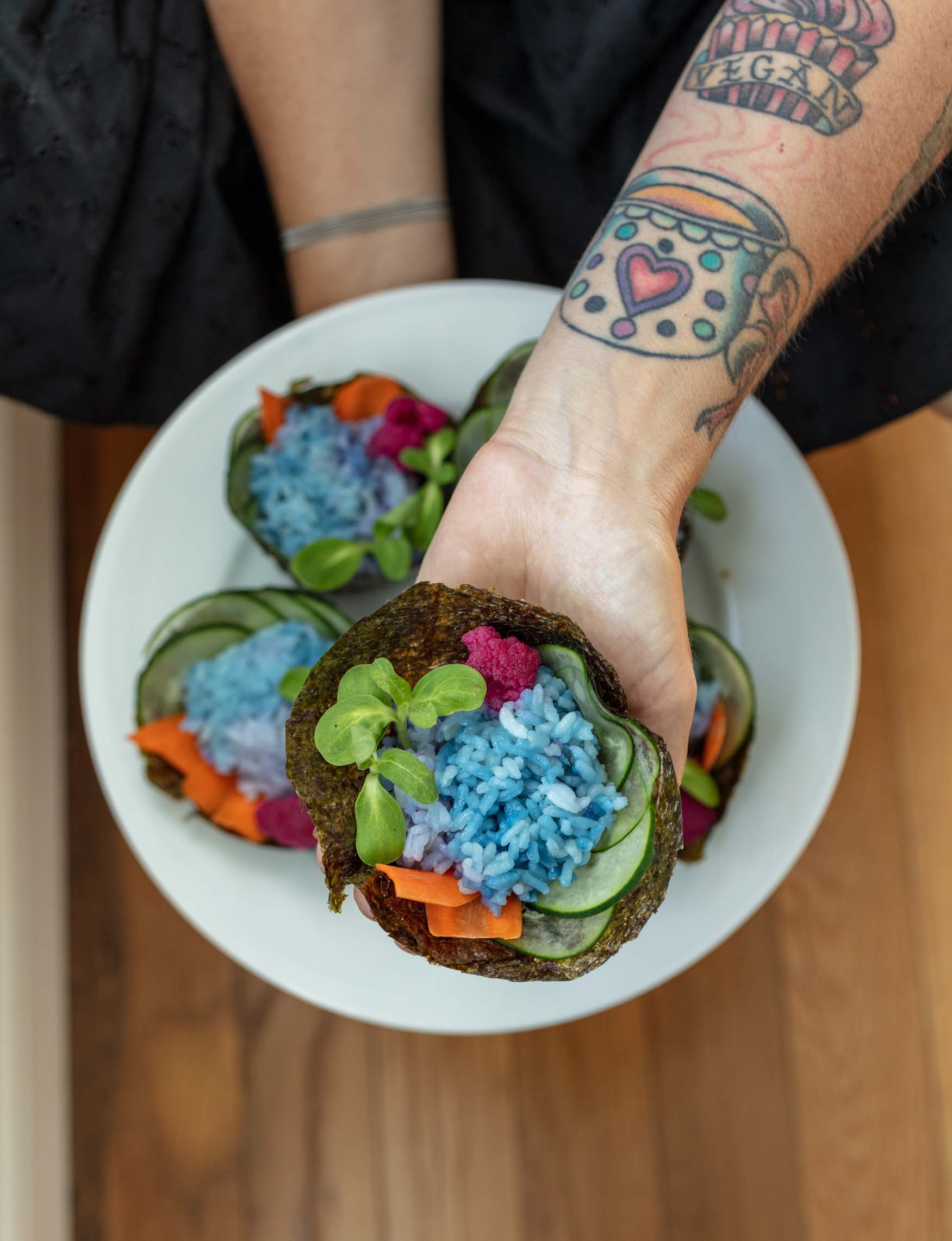 If you like sushi, you might also like my galaxy sushi bowl recipe, my temaki recipe, and my sushi cake recipe. The sushi cake recipe can also give you ideas for making other colors of rice to make these even cuter.
☆☆☆☆☆☆☆☆☆☆