Vegan Sushi Cones (Temaki)
published on , modified on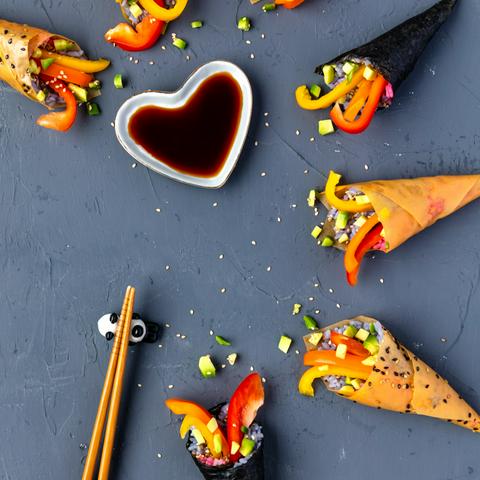 I decorated these vegan sushi cones (aka temaki) to look like the party popper emoji because I like to celebrate special occasions with food. This recipe shows you how to make sushi rice using an instant pot. It also teaches you how to color your sushi rice naturally using superfood powders. And then you'll learn how to hand roll temaki party sushi.
Table of Contents
(click the links below to skip to the section you're looking for)
♫ Listening to ♫
Everybody Wants to Love You by Japanese Breakfast
I made these temaki sushi cones once for a potluck hosted by the amazing Rosie after procuring some Soy Wrappers from Vegan Republic (our local vegan store). They were a huge hit at the potluck.
I invented these while brainstorming what to add to my New Year's Eve menu this year. The party popper emoji is in my favorite emojis menu (along with the sparkly heart and unicorn emojis, of course). If I were to recreate the party popper emoji with food, these temaki sushi cones seemed like the closest thing I could think of. Although, I also considered a cone-shaped cannoli with rainbow sprinkles and dried fruit pieces. If you like making food to celebrate things, you might like these party popper emoji sushi cones.
This recipe makes 8 party popper emoji sushi cones.
1 cup white sushi rice

1 cup water

¼ cup organic sushi rice vinegar (sometimes called seasoned rice vinegar)*

¼ teaspoon beetroot powder (optional)

¼ teaspoon macqui berry powder (optional)
How To Make Vegan Sushi Rice in the Instant Pot
prep time: 5 minutes | cook time: 30 minutes
Dollhouse Shortcut
If you don't want colored rice, transfer all the sushi rice from the instant pot to a single bowl and mix ¼ cup organic sushi rice vinegar into the cooked rice.
Measure 1 cup of white sushi rice into a wire mesh strainer. If you don't have a strainer, you should be able to use a nut milk bag or a colander lined with cheesecloth. If the holes of your colander are super tiny, you may be able to use that, but my colander has holes that the grains of rice would just fall right through.
Rinse the sushi rice for at least a minute by running water over it. I know this might feel like you're wasting water, so you're welcome to do this over a large pot or bowl to catch that water and then use it in your garden.
Transfer the rinsed sushi rice to the instant pot liner.
Add 1 cup of water to the instant pot liner.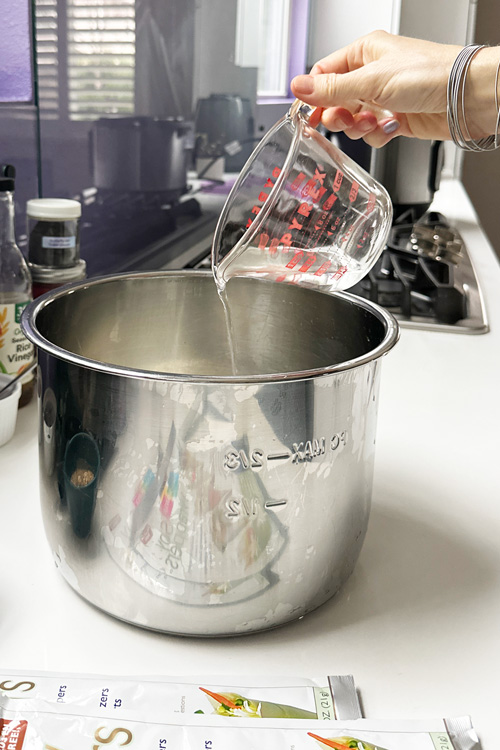 Lock the lid on the instant pot, and push the valve to the "sealing" position (on mine, that means I push the pointer on the dial towards the back).
Press the rice button. It should show that the pressure is set to high and the minutes are set to whatever you cooked rice at last time. For me, that was 8 minutes. You should be fine if it's anywhere between 8 and 10 minutes. Just make sure the pressure level is on high and not low. I usually also press the warm button to turn of the keep warm setting. This is optional, but letting the rice cool down after it's done cooking will make it easier to handle when you're assembling your temaki rolls.
Optional: If you want colored rice, get out 2 small bowls or ramekins.
Measure 2 tablespoons of organic sushi vinegar into each ramekin.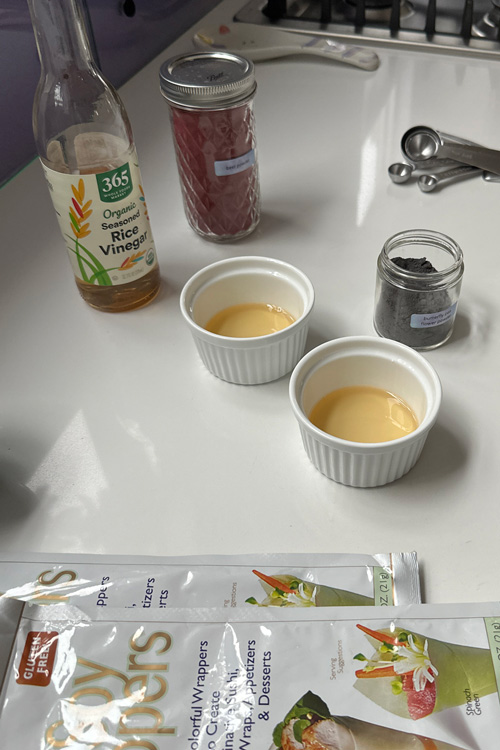 Add ¼ teaspoon beetroot powder to one bowl of vinegar and ¼ teaspoon macqui berry powder to the other bowl of vinegar.
Mix each bowl well to dissolve the superfood powders. Set aside.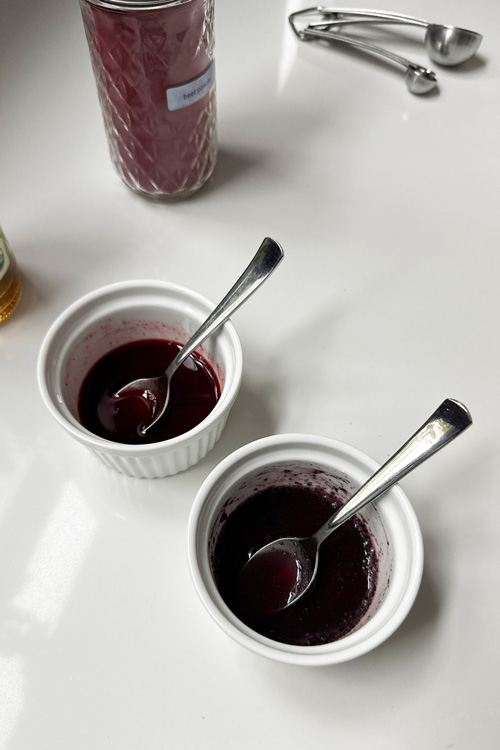 Set your kitchen timer for 10-12 minutes once the rice is done cooking and the instant pot display says "off." It will only say off if you turned off the "keep warm" feature. If you left that on, it will start counting up the minutes since it's been done.
Remove the lid from the instant pot when the timer goes off. By now, the pressure should have naturally released and the lid should come off easily. If it doesn't, manually quick release the remaining pressure by turning the valve towards the "venting" position.
Divide the rice into 2 bowls, as evenly as possible. If you're not coloring your rice, you can skip this step.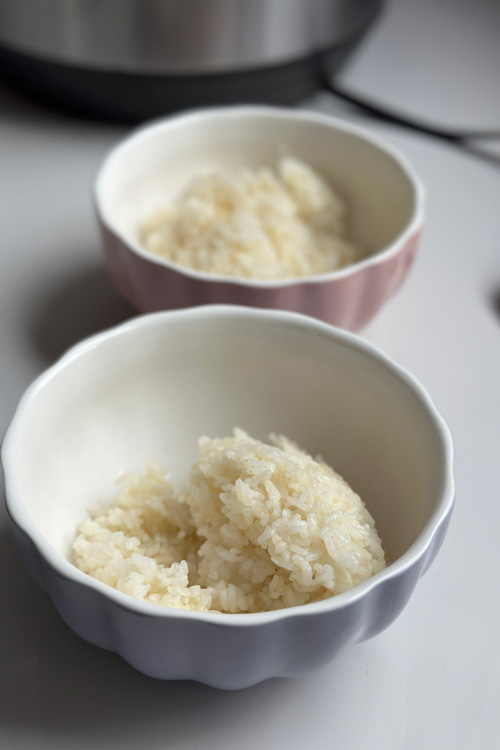 Pour the colored vinegar over each bowl of cooked sushi rice, and gently mix to combine. If you decided not to color your rice, you still want to add organic sushi vinegar to the rice.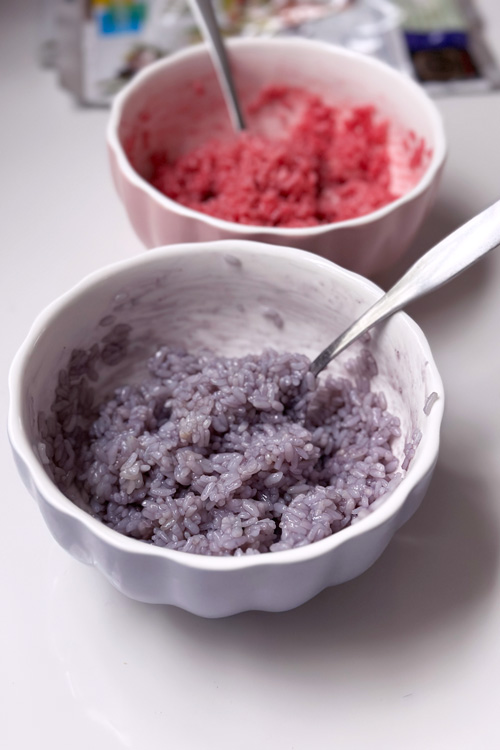 Here's a video showing how I make sushi rice and then how I color it naturally using superfood powders.
1 package Non-GMO soy wrappers

half a red bell pepper

half a yellow bell pepper

1 carrot

¼ cup diced purple cabbage

1 tablespoon unhulled sesame seeds (black or brown)

organic nama shoyu (soy sauce) or tamari (optional)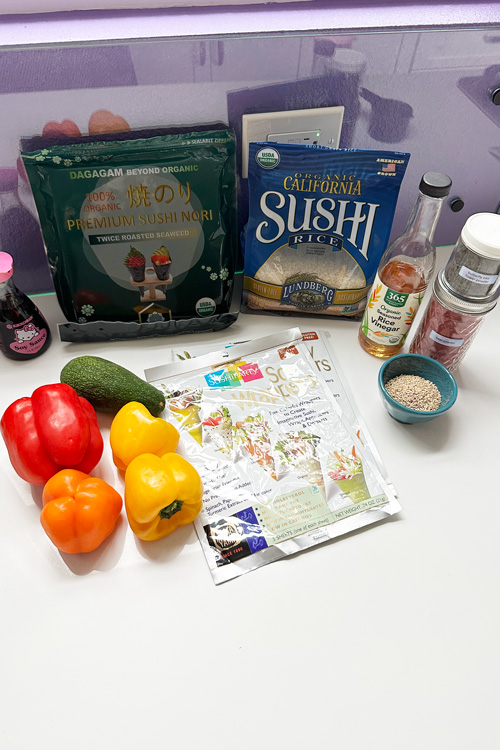 Temaki Sushi Cones Directions
prep time: 30 minutes
Cut half a red bell pepper, half a yellow bell pepper, and 1 carrot into long thin strips.
Chop ¼ cup of purple cabbage, if you haven't already. If you don't have purple cabbage, see the substitutions section below for alternatives.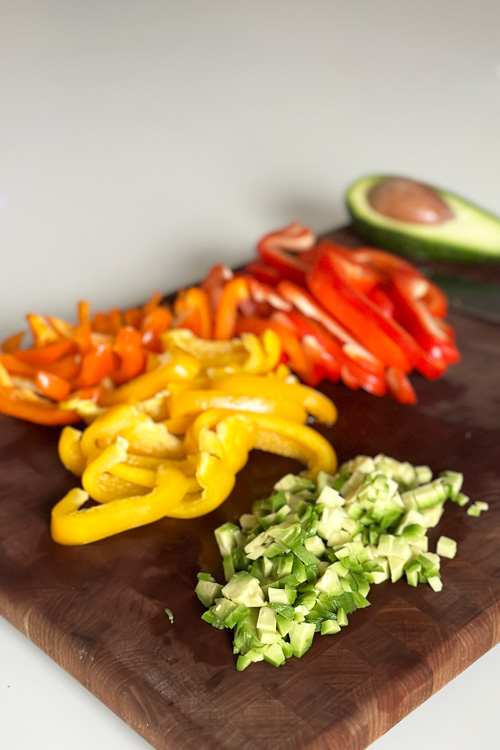 Measure 1 tablespoon of black or brown unhulled sesame seeds into a small bowl or ramekin.
Open a package of soy wrappers, and cut 4 of them in half, making 8 rectangles.
Assemble the cones. See the video below for how I did it, but I'll also list my steps here.
Cover the left half of the rectangle with rice.
Sprinkle sesame seeds over the rice.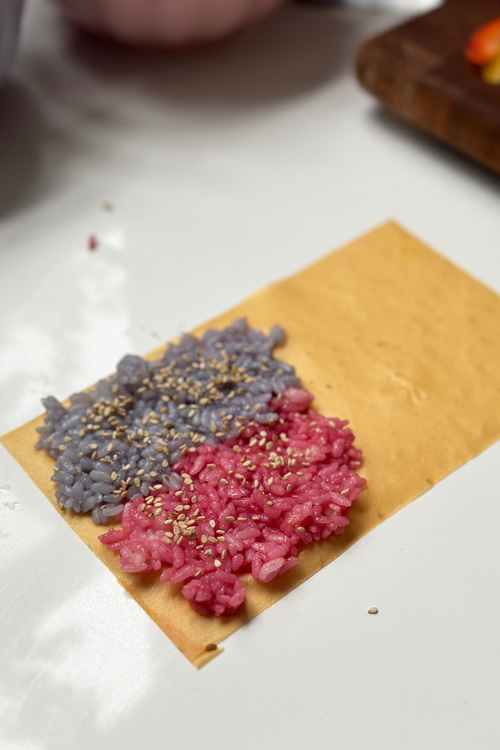 Place one strip of each color of pepper and/or carrot in a diagonal direction from the top left corner.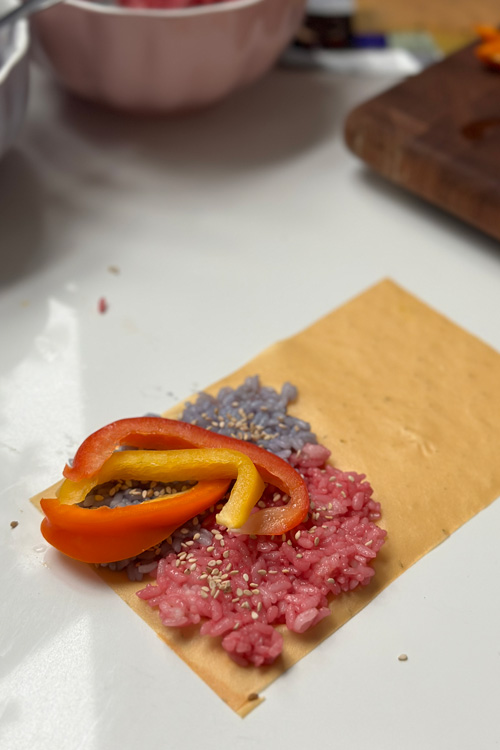 Roll the temaki, and when you get to the end, use a couple grains of sushi rice as glue to adhere the end of the wrapper to the cone.
Sprinkle the purple cabbage confetti into the wrapped sushi cone.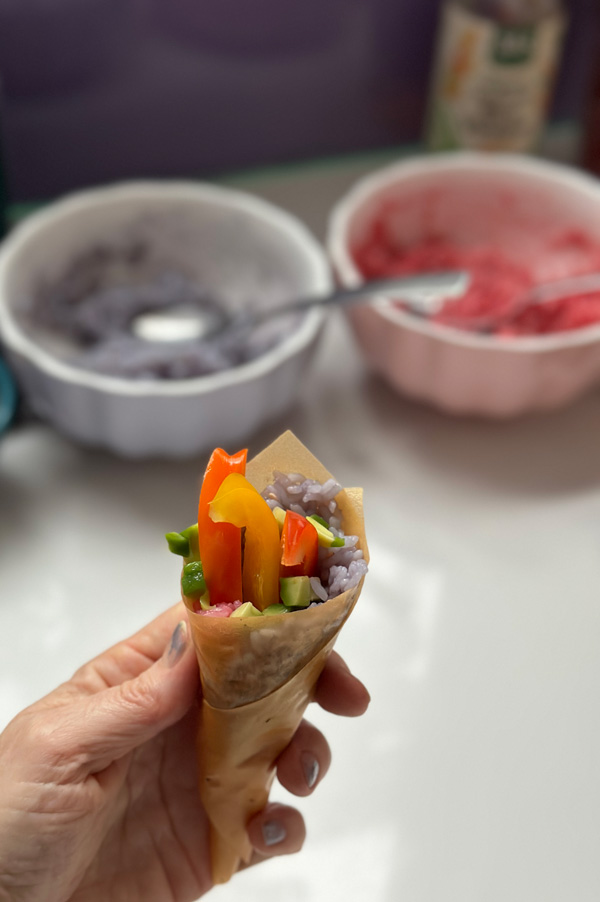 Serve with a side of organic nama shoyu (soy sauce) or wasabi if you're into that (I personally despise wasabi).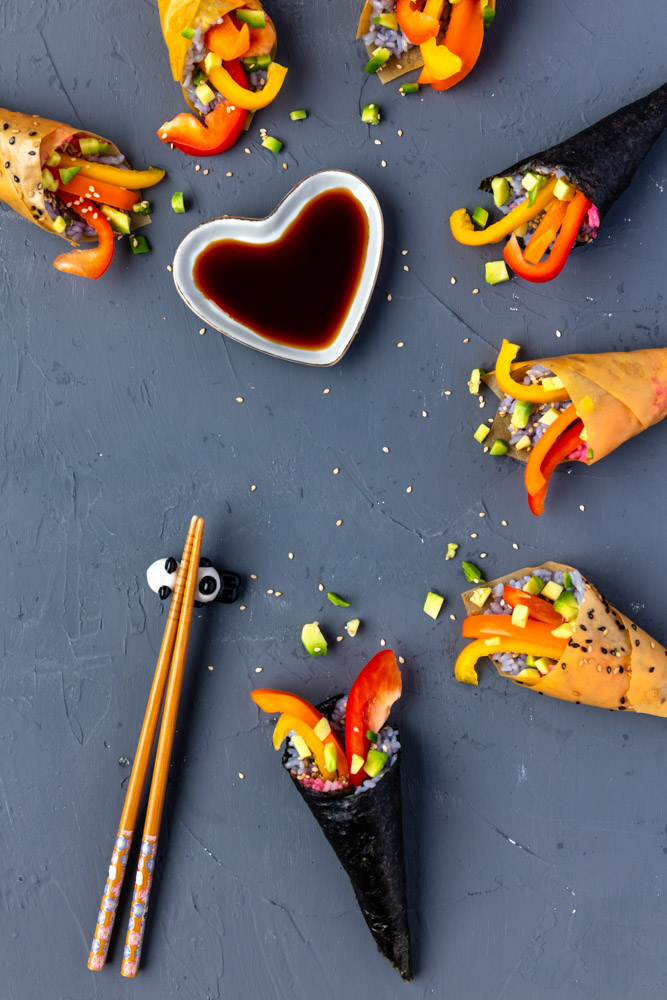 Here's a video showing how to assemble / hand roll temaki sushi cones.
If you make this temaki recipe, snap a pic, post to instagram, and tag me @vegandollhouse. I love to see your creations! You can also message me through instagram or email me if you have any questions about the recipe.
I want to take these to a potluck, so I need to make twice this amount. Can you tell me how to double this recipe?
To make 16 temaki sushi cones, use twice as much of everything, and plan to spend an hour and a half to two hours making them. The cooking instructions for the rice remain the same, even though you're making twice as much.
What other recipes can I use naturally colored sushi rice for?
You can use sushi rice to make maki sushi rolls, temaki sushi cones, sushi cake, sushi cupcakes, or a sushi bowl.
Should you soak your sushi rice before cooking it?
Soaking (also called sprouting) your rice does it make it more easily digestible, but not everyone has time. If you do have time, cover the rice in filtered water and set aside for 1-4 hours to soak. If you have less than an hour, you can add fresh squeezed lemon juice to help speed up the process. Then drain the water and rinse the rice before proceeding with normal cooking instructions.
Sushi Vinegar: If you can't find sushi vinegar or seasoned rice vinegar, you can make your own. Combine ¼ cup rice vinegar, 1 tablespoon of vegan, raw, or organic sugar, and 1 teaspoon of salt either in a saucepan on the stove or in the microwave. Heat and stir to dissolve the salt and sugar. This can take 15 seconds in the microwave or 5 minutes on the stove.
Purple Cabbage: If you don't have purple cabbage, you can use any other vegetable that is a new color that you haven't already used. I often use diced avocado in place of purple cabbage. Diced beets would be pretty, as would diced purple daikon radish or diced watermelon radish.
Carrot: If you don't have a carrot, you can use half an orange bell pepper.
Soy Wrappers: If you avoid eating soy or oil, use nori sheets instead of soy wrappers (see what this will look like in the picture below). Other companies make these soy wrappers, but make sure you check the ingredients. If you see black, pink, or red soy wrappers, they may not be vegan.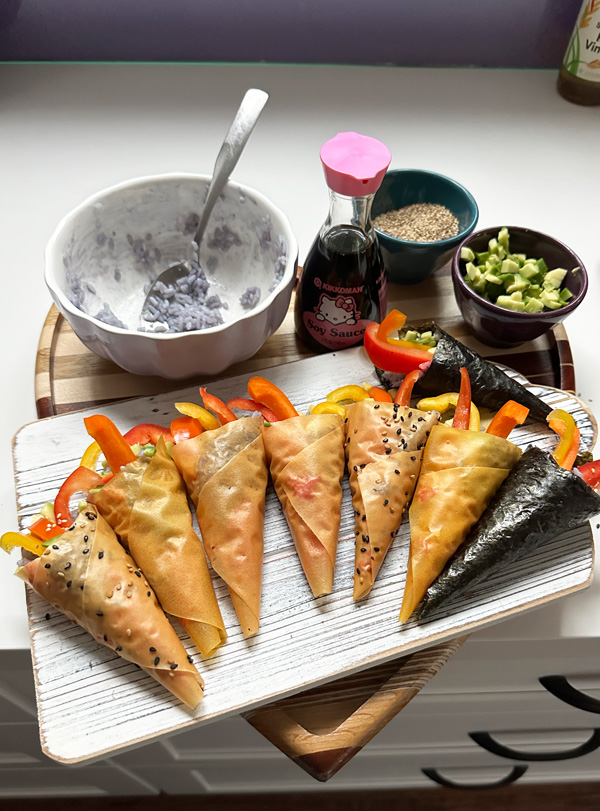 Here's a video showing how I made my hand roll temaki sushi cones with naturally colored rice.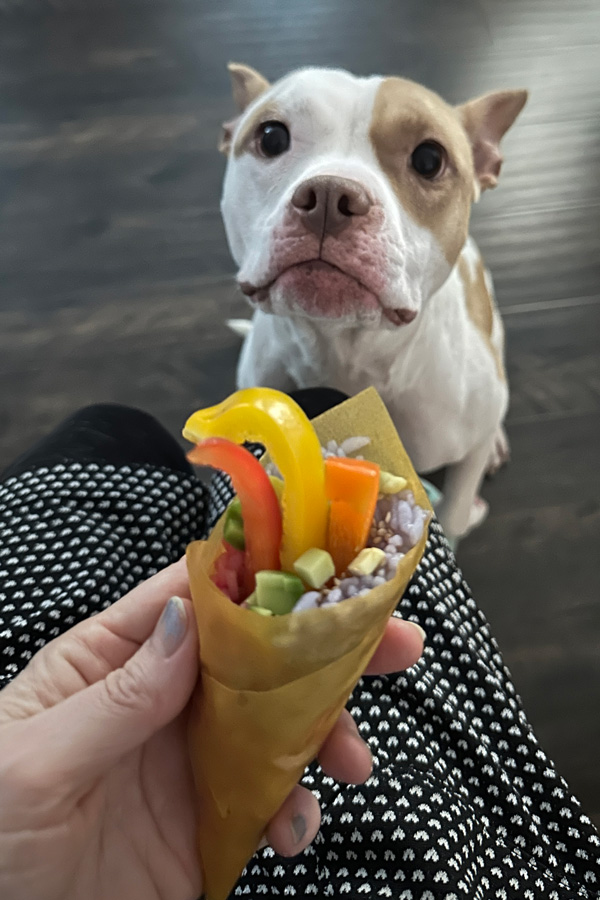 If you like these sushi cones as much as my dog Macchiato does, you might also like my sushi cake and my sushi cupcakes. For another recipe that uses sushi rice, check out my Korean Rice Balls recipe.
☆☆☆☆☆☆☆☆☆☆
* I use mostly organic ingredients when I cook. I realize that not everyone has the disposable income to buy only organic ingredients. Therefore, I only specify organic on the ingredients that really matter: when buying the organic (or non-GMO) version is the only way to ensure that an item is vegan.
This post links to items I used when I made this recipe. If you click on the purple Buy Now button on a product page, you will go to a website (like Amazon) where you can purchase the same product I used. Sometimes, the store you purchase from (Amazon, Etsy, etc.) will pay me for referring you. This costs you nothing extra, and I would never recommend a product that I don't use. These affiliate programs help me buy the ingredients to create these recipes for you. Read more about this in my privacy policy.
☆☆☆☆☆☆☆☆☆☆
☆☆☆☆☆☆☆☆☆☆
I published this recipe in 2016, and updated it in 2023. Below are the old pictures from 2016.