Vegan Bat Truffles
published on
These bat-shaped vegan truffles are made with brownies stuffed with vegan candy bars.
This recipe makes 12 vegan bat truffles. If you decide to double the recipe, don't double the eyeball ingredients, or else you'll end up with hundreds of leftover eyes.
Table of Contents
(click the links below to skip to the section you're looking for)
♫ Listening to ♫
Candy Walls by TR/ST
Dollhouse Shortcut
You can save time by buying already made vegan candy eyes instead of making them yourself.
This is a modified version of Cara's Fork & Beans googly eyes recipe.
½ cup organic powdered sugar (I buy Whole Foods 365 brand because it's less expensive than other brands)*

½ tablespoon organic corn syrup (I used wholesome sweeteners brand)*

1 teaspoon water

mini vegan chocolate chips (I used Enjoy Life brand)
Vegan Eyeball Directions
Sift the ½ cup of powdered sugar into a bowl.
Add the ½ tablespoon corn syrup and teaspoon of water to the powdered sugar.
Mix with a spoon, a baking spatula, or your hands. I think I started with a baking spatula, but ended up kneading it with my hands in the end since it's more of a dough consistency than anything else.
Pinch off about 10% of the dough and wrap the rest in plastic wrap or whatever you have to keep it from drying out.
Pinch off a tiny piece and shape it into a ball.
Set the tiny ball onto a baking sheet or cutting board lined with unbleached parchment paper.
Press one of the fair trade mini chocolate chips into the center of the mini white dough ball until it looks like an eyeball. The video below will show you exactly how I did this.
Repeat with all of the eyeball dough or until your tray or cutting board is filled with eyeballs.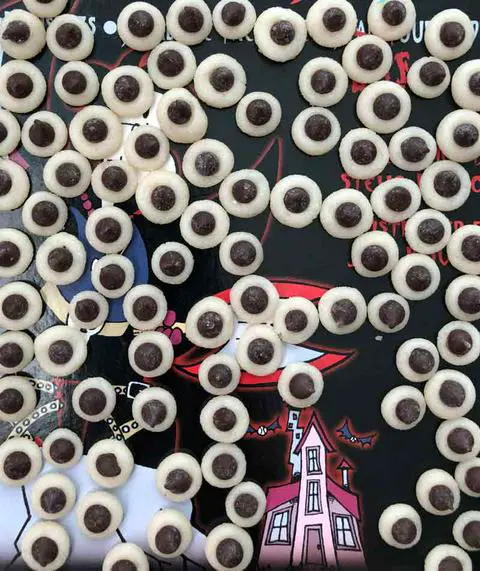 1 ¾ cups vegan chocolate chips

1-2 tablespoons coconut oil

1 batch of my squirrel brownies (or any brownies, but the link to mine is below)

½ cup vegan buttercream frosting, cream cheese, or ⅓ cup coconut cream

3 Amy's Sunny Bars
Chocolate Coconut Bat Truffle Directions
Dollhouse Shortcut
You can omit the double dip if you're short on time and skip straight to assembling your bats after the first dip. They won't be quite as smooth looking, but still very cute.
Melt ¾ cup vegan chocolate chips either in a double boiler or by microwaving for 30 seconds, stirring, microwaving for 30 more seconds, and stirring until smooth.
Transfer melted vegan chocolate chips into a disposable piping bag with a Wilton small round tip 1 (or just use a ziplock baggie with the tiniest tip cut off).
Draw (or trace) 24 bat wings (12 pairs) onto a baking tray or cutting board lined with parchment paper (I'm not good at drawing, so I printed a picture of a bat and slid it under my parchment paper so I could trace the wings instead).
Freeze the tray of wings when you're done with all 12 sets (I made 13 sets of wings, just in case one of them broke, but I didn't end up needing the extras). When you put the wings in the freezer, you can also toss a pair of small tongs or tweezers into the freezer to chill at the same time.
Rub the brownie scraps between your fingers until they're all just crumbs. I usually make my squirrel brownies and then use the scraps after cutting out all the squirrel shapes to make these truffles.
Mix 2 cups of brownie crumbs with ½ cup vegan buttercream frosting, ½ cup vegan cream cheese, or ⅓ cup coconut cream. Coconut cream is either sold in a can, or you can just chill canned coconut milk in the fridge overnight and the thick part when you open the can is the part you use. I've made these using all 3 methods, and they're all equally delicious.
Cut each of the Amy's Sunny candy bars into 4 pieces by cutting each one in half and then cutting each half in half (you should have 12 pieces when you're done).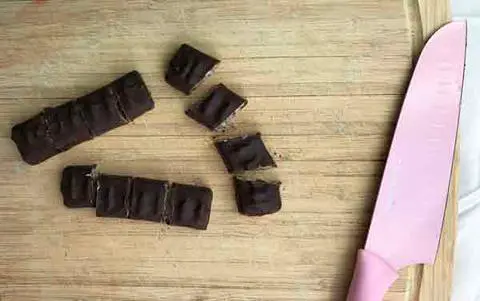 Form about 2 tablespoons of brownie mixture around each piece of sunny bar, shaping them into little balls and setting them onto a parchment paper lined baking sheet (or a cutting board).
Chill them for an hour in the fridge (or if you're in a hurry, you can freeze them for 15 minutes).
Melt the remaining cup of vegan chocolate chips either in a double boiler or by microwaving for 30 seconds, stirring, microwaving for 30 more seconds, and stirring until smooth.
Add 1-2 tablespoons of coconut oil to the melted vegan chocolate chips in order to thin it out enough to be an ideal dipping consistency.
Dip each truffle into the melted chocolate using a fork, scrape off any excess chocolate with another fork, and set back onto the parchment paper.
Stick the chocolate chip ears on the top of each truffle, set back onto parchment paper, and chill them for another 10 minutes or so.
Dip each truffle for a second time into the melted chocolate using the same method as before. Only dip 4 at a time before adding all their other bat features so you don't risk the chocolate hardening before your wings are attached.
Stick wings on the sides of each bat using tongs that you've pre-chilled in the freezer. If you try using your hands, the warmth of your hands might melt the wings a little bit, and your bats don't want your fingerprints on them. What if you commit a crime? Those bats will link you right to it. Never leave any evidence!
Add the eyes to the front of the bats. I like to space my eyes pretty far apart because I think it makes them look cuter.
Repeat with the rest and chill your bat truffles until you're ready to serve them.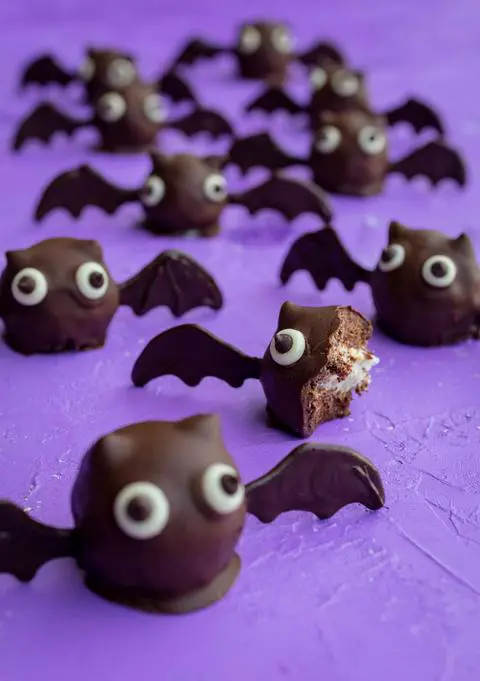 I made these a few years before I actually posted the recipe here for a Halloween party at Jessica's house in 2014. Michelle did my skull makeup, because she's got mad skillz, so here's a picture from that party with me and my bat truffle.
Here's a video of me making these cute little bats.
If you like chocolate and coconut, you might also like my mounds cake. If you like bats, you should definitely check out my ice cream batwiches.
For other spookicute recipes, check out my list of vegan halloween recipes.
☆☆☆☆☆☆☆☆☆☆
* I use mostly organic ingredients when I cook, but I realize that not everyone has the disposable income to purchase all organic ingredients. Therefore, I only specify organic on the ingredients that really matter - when buying the organic version is the only way to ensure that the item is vegan.
This post was made possible thanks to the support of Amy's Kitchen. All content and opinions are unbiased and entirely my own. For more recipes using Amy's products, sign up for their newsletter. To get (very infrequent, sorry haha) updates from Vegan Dollhouse, sign up for my newsletter.
☆☆☆☆☆☆☆☆☆☆