Vegan Snake and Spider Stew
published on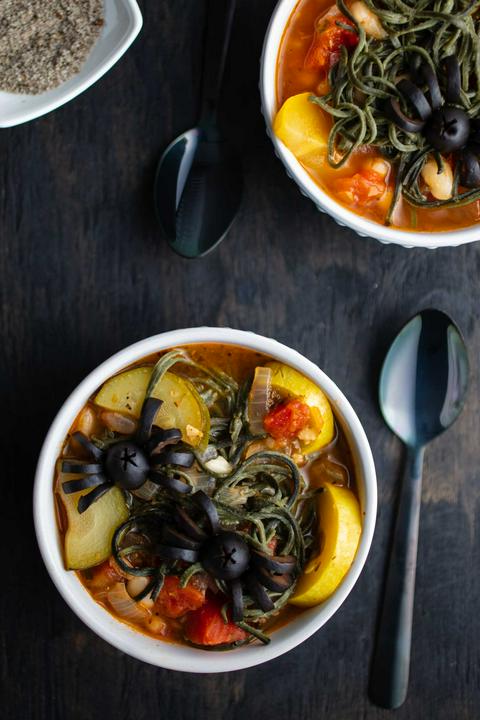 ♫ Listening to: Kidnap the Sandy Claws by Danny Elfman ♫
This snake and spider stew is featured in the Nightmare Before Christmas song Kidnap the Sandy Claws. It's a classic minestrone soup adapted from a recipe used at an Italian restaurant I worked at when I was in college.
Working there as a waitress was how I learned that to make a perfect minestrone soup from scratch, you have to cook the pasta seperate from the soup, and add it into the bowl when you serve it. Otherwise the pasta gets soggy.
One of my (gazillion) favorite things about Nightmare Before Christmas is that it can be celebrated at both Halloween AND Christmas. Since my family celebrates Solstice instead of Christmas (no, I don't wear patchouli oil instead of deodorant), this is the type of dinner we eat during the holidays.
If you like Nightmare Before Christmas, you might also like my Nightmare Before Christmas cookies and this other Nightmare Before Christmas soup.
This recipe makes ~6 large bowls of soup.
Vegan Snake and Spider Stew Ingredients
Dollhouse Shortcut
See the substitutions section below for things you can swap out. This recipe is very forgiving.
2 tablespoons olive oil

1 large yellow onion, diced

3-4 cloves garlic chopped (~1 tablespoon)

4 medium-sized summer squash, halved and sliced thickly

2 (15oz/420g) cans of organic diced tomatoes*

½ pound (8oz/225g) of great northern, white kidney, or navy beans, soaked overnight, cooked, and rinsed (equals around 3-4 cups cooked)

4 cups (946mL) veggie broth

1 teaspoon basil

1 teaspoon oregano

1 teaspoon thyme

½ teaspoon pepper

1 teaspoon sea salt

8 ounces spaghetti, cooked using the instructions on the package (if you avoid gluten, use gluten-free pasta)

10 black olives (I've used kalamata olives or canned black olives)
Vegan Snake and Spider Stew Directions
Sauté the diced onion in olive oil for 5 minutes over medium heat (or until the onion softens are starts to look translucent).
Add the garlic and spices and continue to sauté.
Add the 2 cans of diced tomatoes as soon as the onion start to stick to the bottom of the pot.
Add the 4 cups of veggie broth to the pot and stir.
Add the summer squash chunks to the pot. I use a combination of zucchini and yellow crooked neck squash, depending on what I can get my hands on.
Add the cooked beans to the pot and stir.
Simmer the soup until the veggies are cooked. When I use my instant pot (or whatever brand electric pressure cooker you might have), I rest the lid on top so that the soup doesn't splatter all over the kitchen. When I say rest, I mean, not nested into position, but sitting on top in a way that doesn't seem like it would fit.
Cut the olives to make spiders while the soup cooks. The bodies of the spiders will be the closed end of the olive. The legs are made by slicing the olive lengthwise and then slicing them horizontally to make short legs.
Ladle the soup into bowls. Top with some cooked and rinsed spaghetti (see below for gluten-free and high-protein pasta options). Add another small spoon of soup on top.
Garnish each bowl of soup with a spider or two.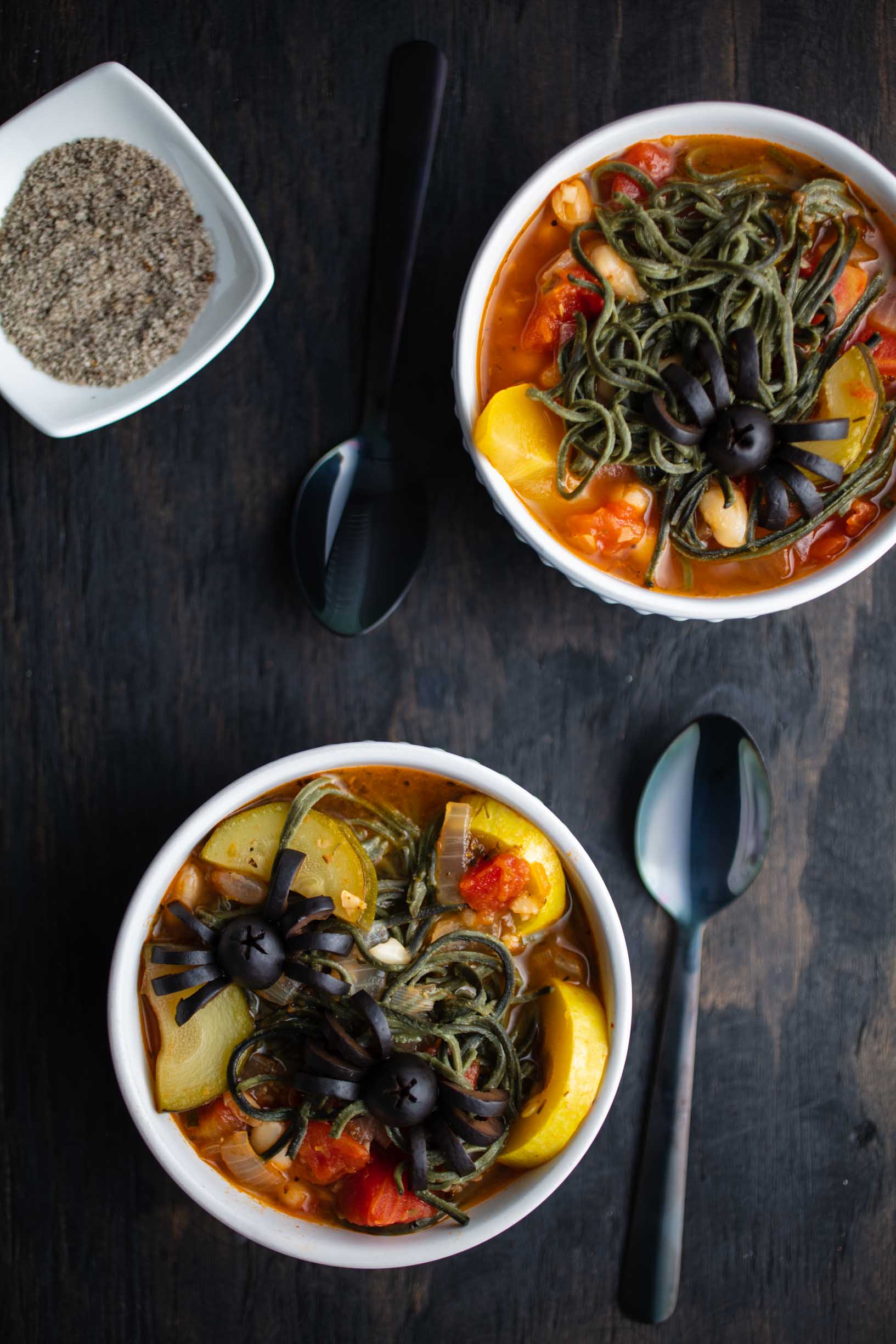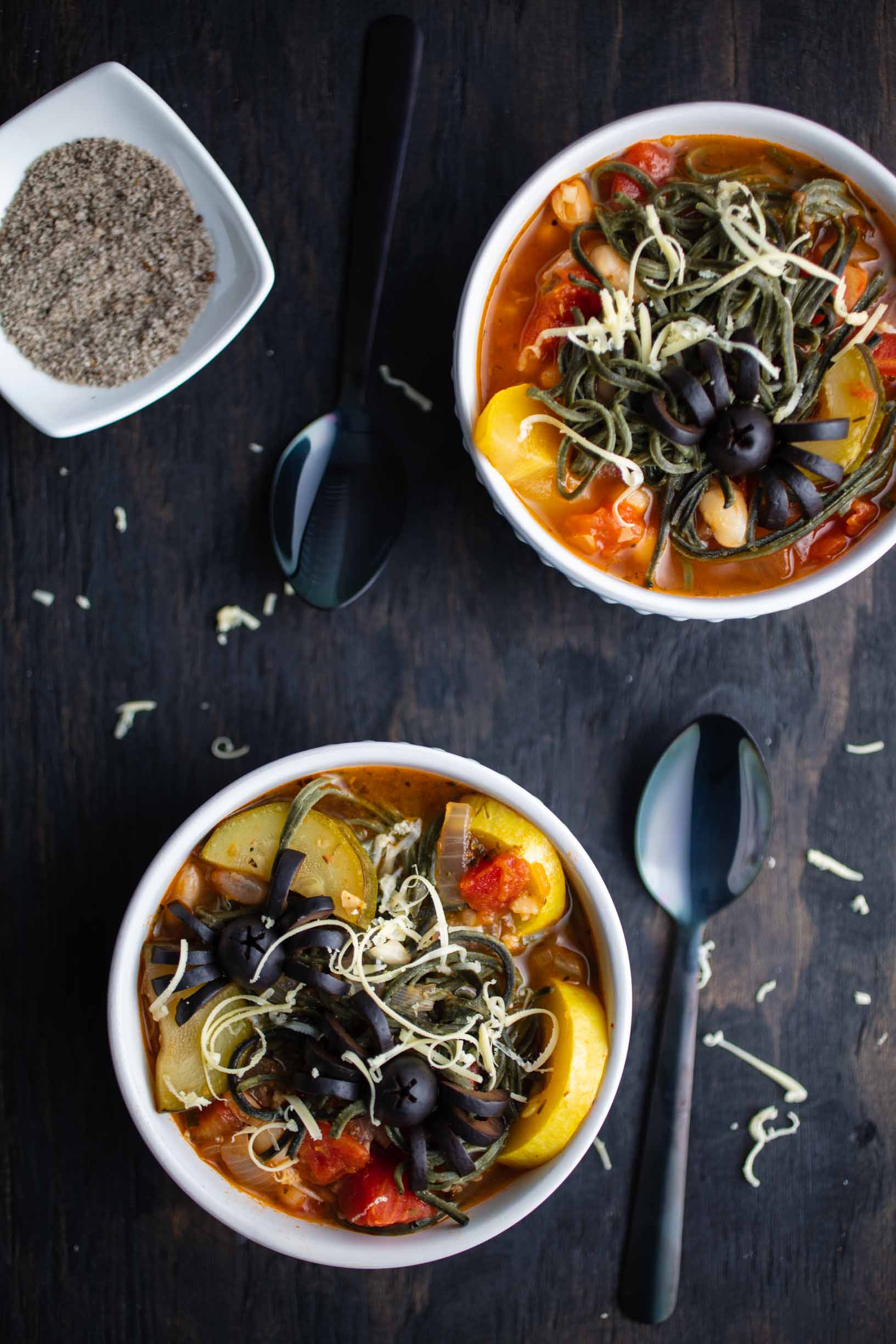 Frequently Asked Questions, Tips, and Substitutions
Can I make minestrone soup in an instant pot?
Definitely! I use the sauté button on my instant pot and do all the steps above with my instant pot on sauté. It takes the same amount of time as making it on the stove.
I'm only one person, and 6 bowls of soup seems like a lot. Can I make less?
Sure! You can make a half batch of this recipe by just dividing all the measurements by 2, and all the other directions should remain the same. However, I recommend making the full batch, and here's why… leftovers! You could have your lunches made for you for the rest of the week! How easy would that be?
Can I heat up the leftovers?
Yes! If you have a microwave, you can use that. I like to reheat my soup on the stove, because I'm old fashioned like that. Just make sure when you store your leftover soup that you store the pasta seperately from the soup, so that pasta doesn't absorb all the broth and get soggy.
What can I serve this minestrone soup with?
I recommend making my halloween focaccia to go with your snake and spider stew.
Substitutions
If you don't have veggie broth, you can substitute 4 teaspoons of Better Than Bouillon vegetable base plus 4 cups of hot water.
If you don't have garlic, you can substitute 1 teaspoon of garlic powder.
To save time, you can substitute 2 cans of any white beans for the soaked, cooked, and rinsed dried beans.
If you grow your own tomatoes or have been gifted a large amount, you can use 2 pounds (900g) of freshly diced organic tomatoes instead of the 2 cans of organic diced tomatoes.
Explore makes some fun green and black gluten-free and protein-packed spaghetti noodles out of beans if you want to make it extra spooky.
I originally wrote this recipe in 2016 and updated it in 2022 with new photos. Below are the original photos, using semolina spaghetti for the pasta.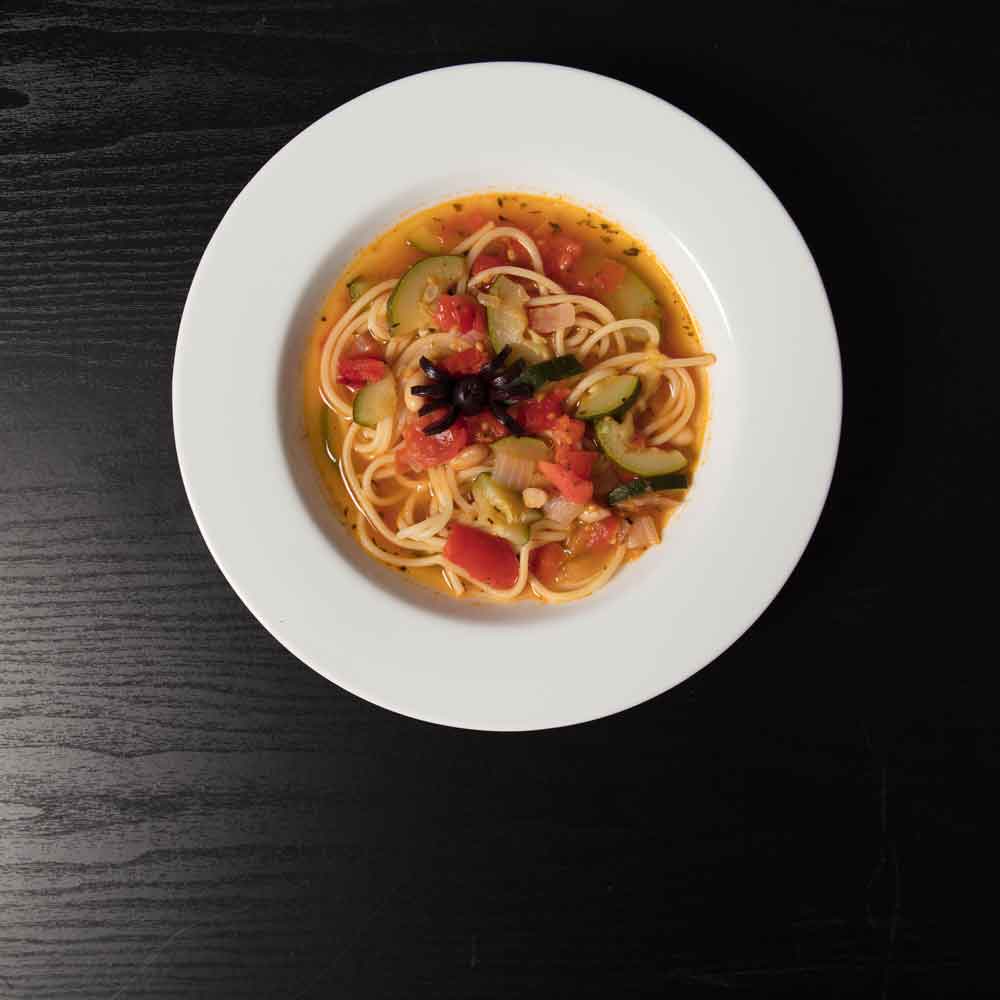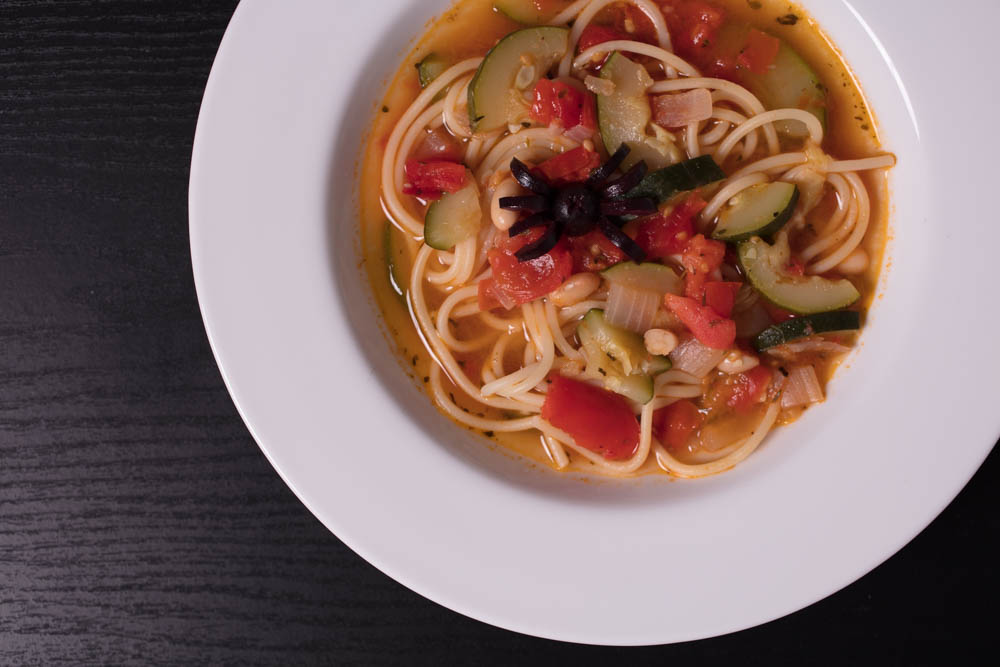 ☆☆☆☆☆☆☆☆☆☆
* I use mostly organic ingredients when I cook, but I realize that not everyone has the disposable income to purchase all organic ingredients. Therefore, I only specify organic on the ingredients that really matter - when buying the organic (or non-GMO) version is the only way to ensure that the item is vegan.