Black Bean Pasta Recipe
published on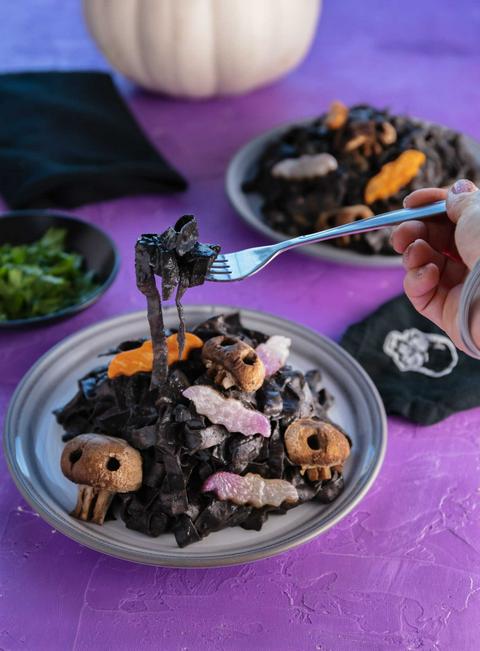 ♫ Listening to: Stop Dead by The Cure ♫
Gluten-free, soy-free, and high in protein, iron, and potassium, black bean pasta with roasted veggies and tahini sauce is a healthy and festive Halloween dinner.
I normally don't purchase gluten-free pasta because it usually falls apart when I cook it, but this black bean fettuccine didn't do that (which surprised me because it's literally pasta made with black beans)! Not only that, but the consistency was chewy, not in the same way as semolina pasta, but I'd never have guessed it was gluten-free. Besides trying to avoid gluten, are you wondering if black bean pasta is healthy? The black bean pasta nutrition facts are another reason to make this healthy pasta recipe. Black bean pasta is higher in protein, iron, and potassium than regular pasta.
Why do vegans care about black pasta besides the aforementioned reasons? What is black pasta made of?
Oftentimes when you see black pasta in stores, it's been dyed black with squid ink. So gross. So, to find a naturally colored black pasta without squid ink that is vegan and free of chemical dyes is pretty awesome! Grab some black pasta this Halloween food season, make this recipe for black bean pasta, and sleep well, knowing that the squid of the world remain unharmed.
This recipe makes 4 entree-sized portions of black bean pasta.
Black Bean Tahini Pasta Ingredients
1 yam

1 purple daikon radish

1 package of mushrooms (button or cremini)

sunflower, safflower, or coconut oil to toss the veggies with

½ cup black tahini

2 tablespoons lemon juice

2 tablespoons tamari (if you don't avoid soy, you can sub soy sauce)

1 clove of garlic, minced or finely chopped

freshly ground pepper

a few basil leaves (optional)

water (if needed for the consistency)
Black Bean Tahini Pasta Directions
Dollhouse Shortcut
If you don't care about having black pasta sauce, use any store-bought sauce in place of the black tahini sauce in this recipe.
Preheat the oven to 375º.
Fill a medium-large pot with water and put it over high heat on the stove to bring the water to a boil while you start the veggies.
Cut the veggies into any shape you prefer. I chose bats and skulls since it's October. If you don't care about cute food (weirrrrrrd), you can just cut them into chunks to save time. If vegan mushroom pasta isn't your thing, feel free to mix and match using whatever veggies you like.
Fill a baking sheet or a lasagna pan with veggies, and drizzle oil over all of them. Add any spices you like.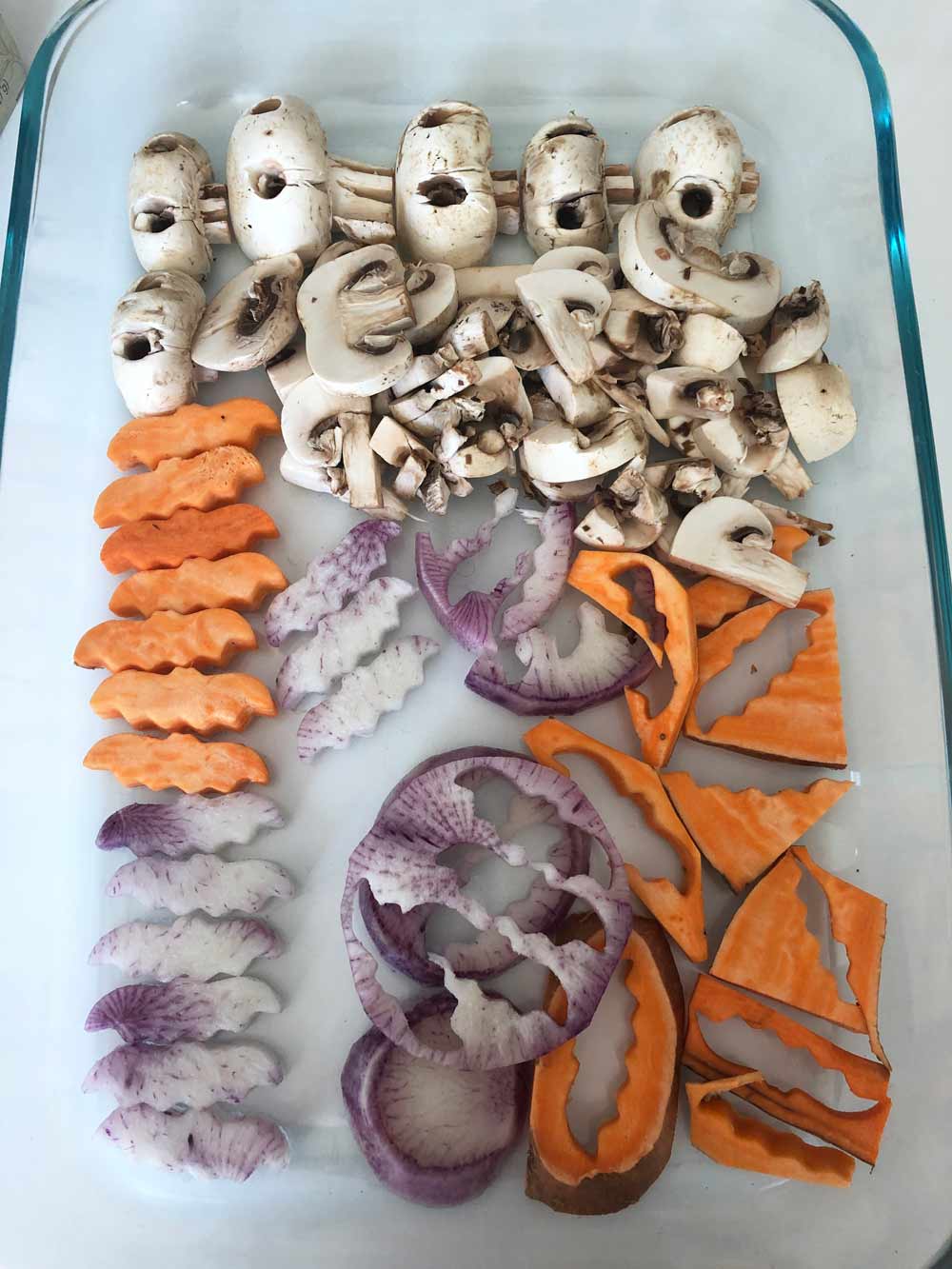 Bake the veggies in the oven for 30-35 minutes, until you can poke them easily with a fork.
Add the pasta to the boiling water and cook according to the package directions. I used the black bean and black sesame fettuccine noodles from Explore Cuisine. If you know how to make black pasta from scratch, feel free to replace the store-bought kind with your own homemade pasta recipe.
Blend or mix the following ingredients to make the sauce for the black bean pasta while the pasta cooks: ½ cup organic black tahini (or any tahini if you don't want to buy black tahini), 2 tablespoons lemon juice, 2 tablespoons tamari (or soy sauce), 1 clove of minced/chopped garlic, freshly ground pepper, a few optional basil leaves, and some optional water to get it to blend and be pourable.
Drain the pasta using a colander in the sink.
Return the black pasta noodles to the now empty pot.
Pour the sauce over the pasta and toss to coat evenly.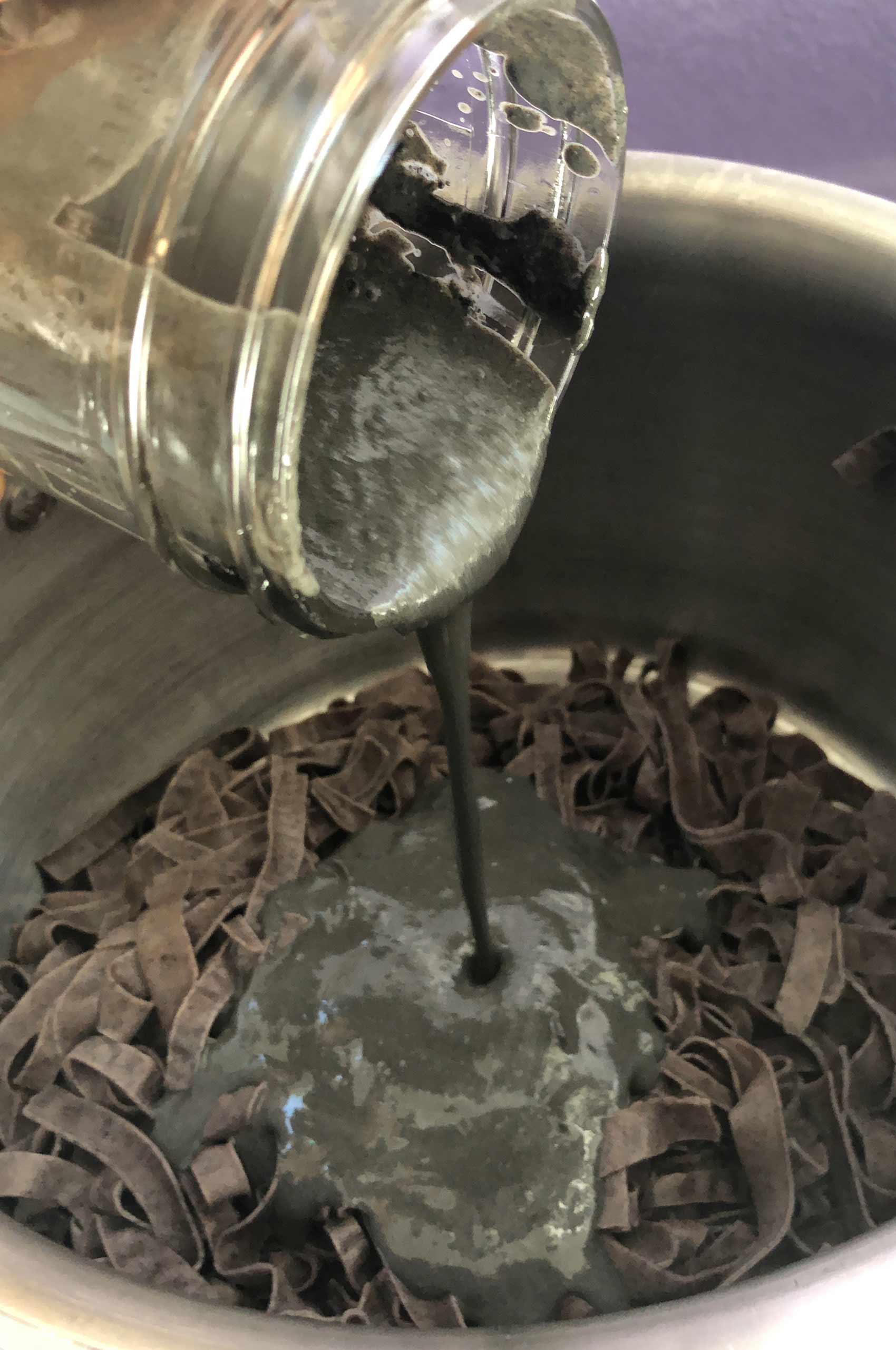 Add any roasted veggies that aren't cut into cute shapes to the pasta and mix them in.
Plate the pasta, and add any remaining roasted veggies to the tops of the pasta before serving as black pasta bowls or plates.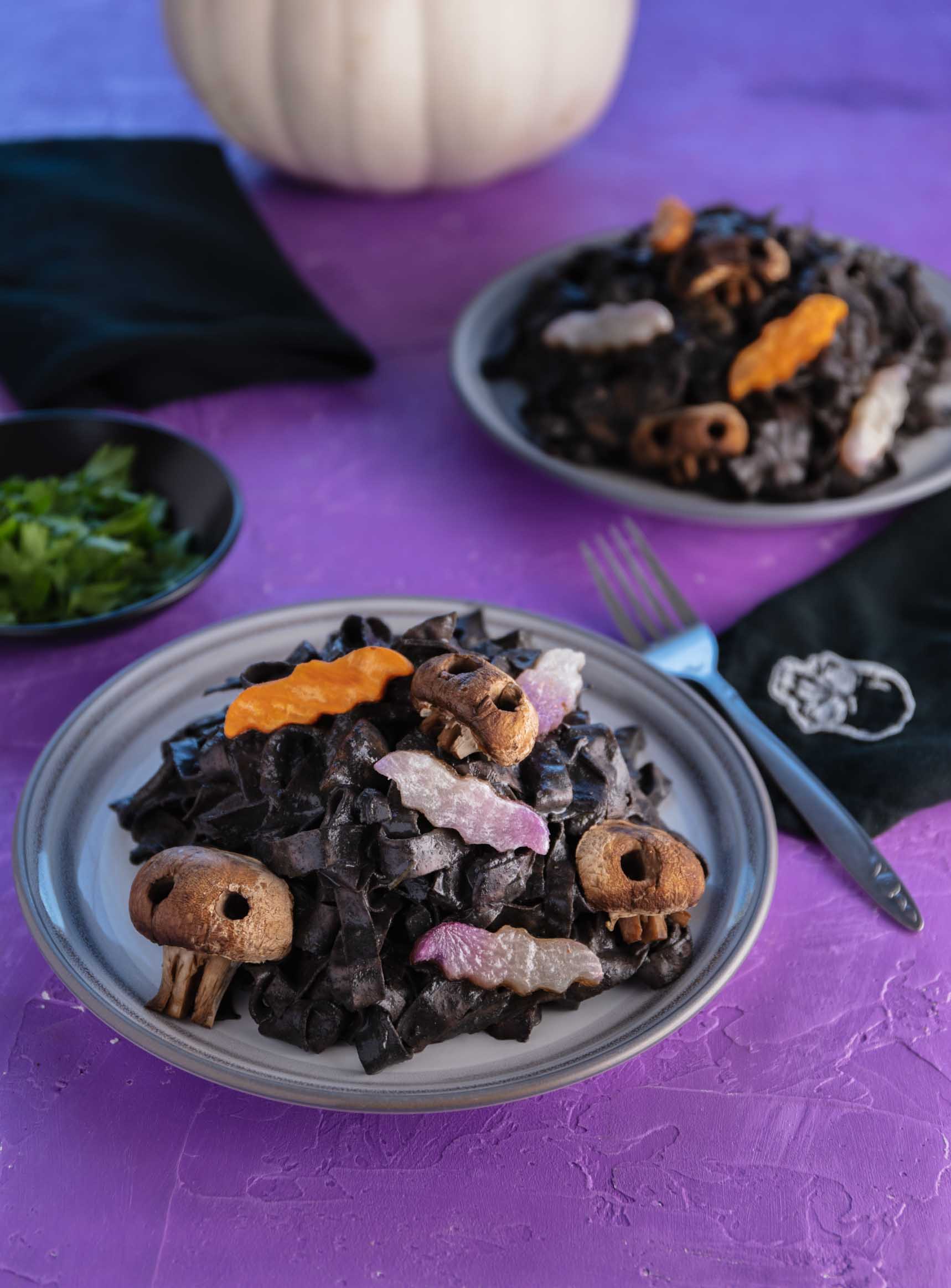 Frequently Asked Questions
How do you make the mushrooms skulls?
My mushroom skulls were inspired by Ghoul at Heart. Here's how I made them. Cut each mushroom in half so you can create two skull faces on opposite sides of each mushroom. Using a straw, punch out the large eye holes. Use a pairing knife, cut the nose holes and scrape down the stem to create teeth. Trim the stems.
If you like goth kawaii food, you might like this mini goth cake and this ouija board focaccia too.
☆☆☆☆☆☆☆☆☆☆