Truffle Ravioli
published on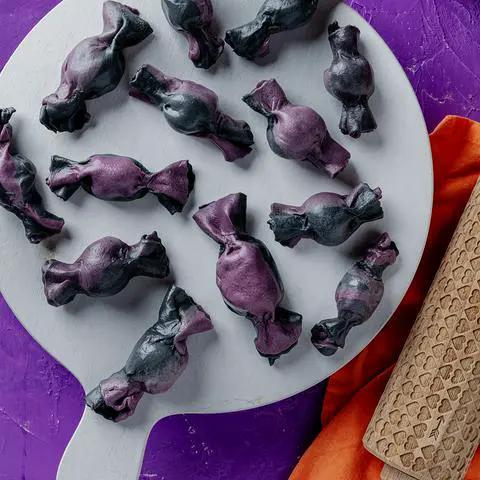 This recipe will teach you how to make a cute and fun vegan black truffle ravioli from scratch. Inspired by my love of Halloween, these candy shaped pasta can celebrate any occasion just by swapping out the colors. The recipe is so versatile that you can swap out the filling ingredients to make different flavors. You can also omit the superfood powders from the pasta for a more natural look. You don't even need any special tools to make this recipe, but they do make it a bit easier.
This recipe makes 40 candy-shaped vegan truffle ravioli with lion's mane mushrooms.
Table of Contents
(click the links below to skip to the section you're looking for)
♫ Listening to ♫
Candy by Iggy Pop
I wish I could take credit for this adorable idea, but the truth is that I got the idea from one of my favorite pasta accounts: Danny Loves Pasta. If you aren't already following him, I highly recommend his account. His pasta works of art are so inspiring!
(jump to the substitutions section to see ingredient details and suggestions for substitutions)
3 cups (390g) unbleached, all-purpose white flour

1 teaspoon (5g) salt

1 tablespoon (13g) maqui powder

2 teaspoons (10g) avocado oil

¾ cup + 2 tablespoons (210g) warm water (around 110ºF or 38ºC)

1 teaspoon (3g) activated charcoal powder
Vegan Ravioli Dough Directions
prep time: 20 minutes | wait time: 20 minutes
Measure or weigh 1 ½ cups (195g) of flour into a bowl.
Repeat with another bowl.
Whisk ½ teaspoon (2-3g) of salt into each bowl of flour.
Sift one of the bowls of flour along with 1 tablespoon (13g) maqui berry powder into a medium-large bowl. I use my stand mixer fitted with a dough hook to knead my dough, so I sift mine straight into the bowl of the stand mixer. If you still have lumps of maqui berry powder in the bottom of the sifter, use the back of a spoon or your hand to mash them through.
Whisk the dry ingredients.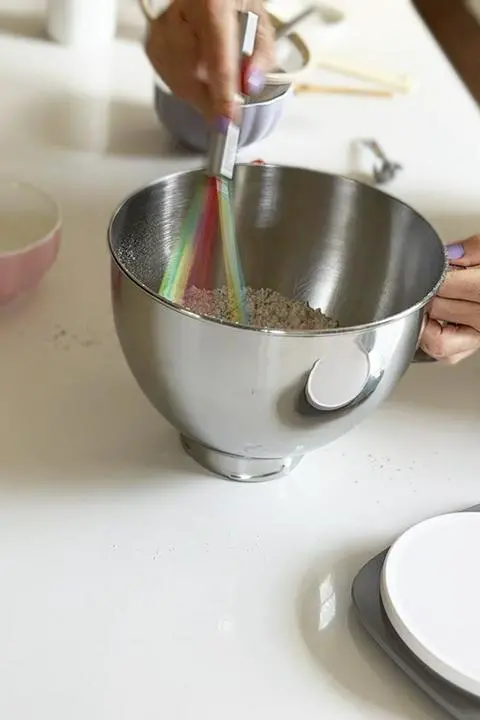 Add 1 teaspoon (5g) avocado oil and 7 tablespoons (105g) warm (around 110ºF or 38ºC) water to the bowl with the flour and colored powder. 8 tablespoons equals a ½ cup, so it's like ½ cup water with a tablespoon removed.
Attach the bowl to your stand mixer fitted with a dough hook if you have one. If you don't, you'll have to mix it by hand with a strong spoon that won't break. You can also mix the dough with your hands, but be prepared to get dough under your fingernails. (If you have vegan gloves, you can wear them to avoid this terrible fate).
Turn on the mixer to a low-medium speed or mix the dough by hand. Mix until it forms a ball, and then continue to knead the dough for 3-5 minutes. If you're doing it by hand, use a floured rolling mat and add a teaspoon of flour if it starts to stick to the mat or to the sides of the mixing bowl. If it's not forming a ball at all, it may not have enough water, so add a teaspoon of water.
Wrap the ball of dough in cling wrap and set it aside to rest.
Repeat those steps with the second bowl of flour, but this time, add 1 teaspoon (3g) activated charcoal powder instead of maqui powder.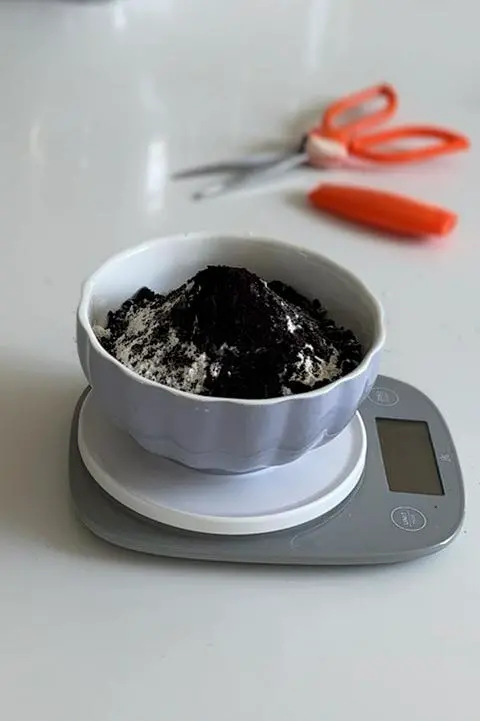 Make your filling while your wrapped dough balls rest for 20-30 minutes.
Maqui Berry Powder
$17.26 from Amazon
Cling Wrap
$9.96 from Amazon
Activated Charcoal
$6.99 from Amazon
(jump to the substitutions section to see ingredient details and suggestions for substitutions)
Dollhouse Shortcut
Omit the mushrooms to save time.
1 ounce (30g) lion's mane mushrooms

8 ounces (236g) vegan truffle cheese
How to Make Lions Mane Mushroom and Truffle Ravioli Filling
prep time: 4 min | cook time: 4 min
Wash lions mane mushrooms and tear them into small pieces.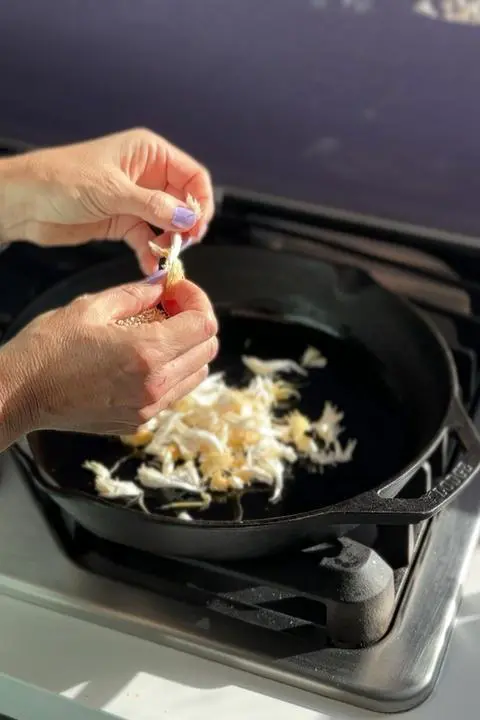 Sauté the mushrooms in a little avocado oil (or water if you avoid oil) for 3-4 minutes.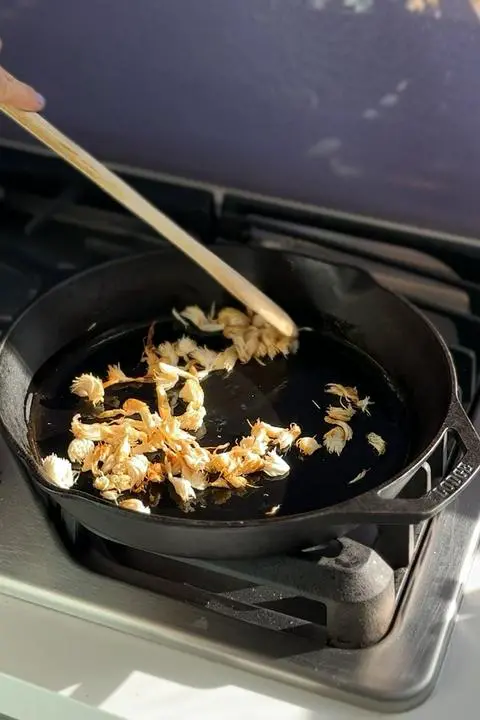 Open the vegan truffle cheese and put it into a bowl with the sautéed mushrooms.
Mix the mushrooms and truffle cheese.
Chill the filling in the fridge until you're ready to use it.
prep time: 1 hour and 40 minutes
Lay alternating strips of each color of dough on a lightly-floured silicone rolling mat like in this picture.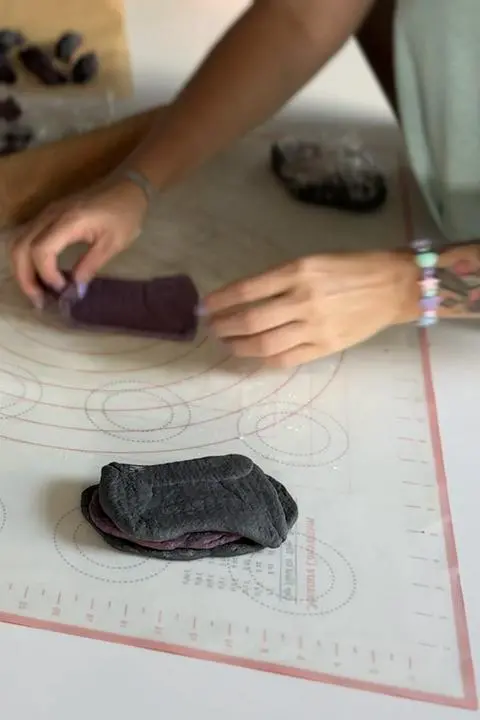 Roll your dough as thinly and as evenly as you can without ripping it. Add additional flour to keep it from sticking to the rolling pin, the pasta roller, or to the rolling mat.
If you have a pasta roller, it makes this process way easier and more consistent. I use a pasta roller that attaches to my kitchenaid stand mixer. But before my stepmom got it for me, I used to roll my ravioli dough by hand with a standard rolling pin.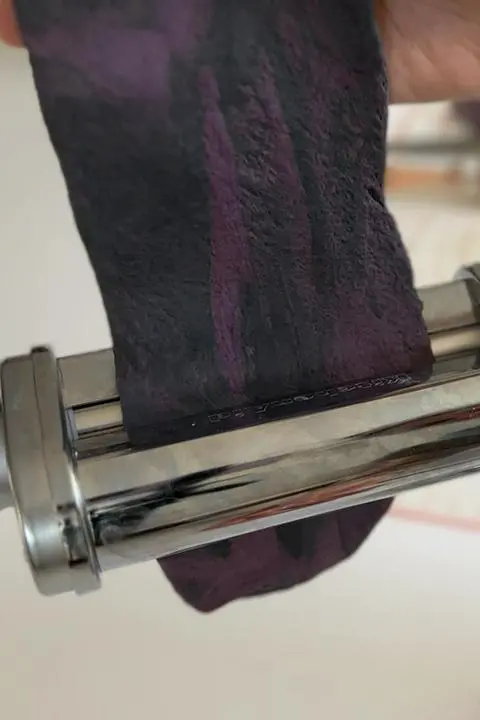 Lay the sheets of dough on your lightly-floured rolling mat. If you don't have a rolling mat, you can just do this right on your counter.
Cut out rectangle shapes about the length of a piece of candy using a ravioli pasta cutting wheel.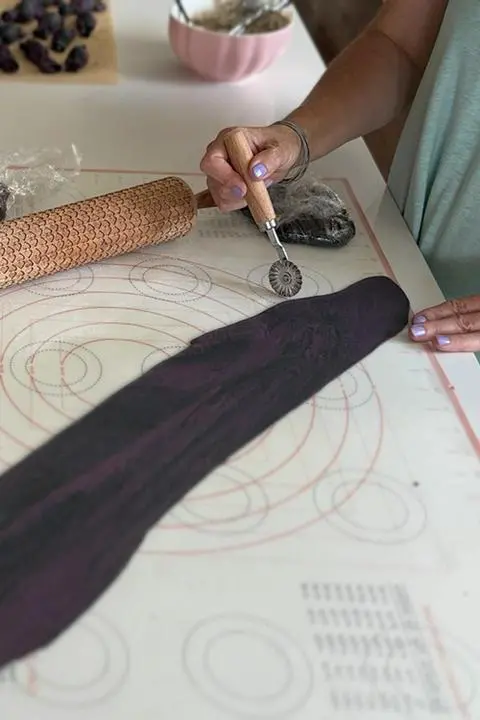 Grab the filling you made earlier from the fridge and remove the lid.
Scoop a small spoonful of filling onto the dough leaving space above and to the sides of each scoop.
Repeat on every rectangle.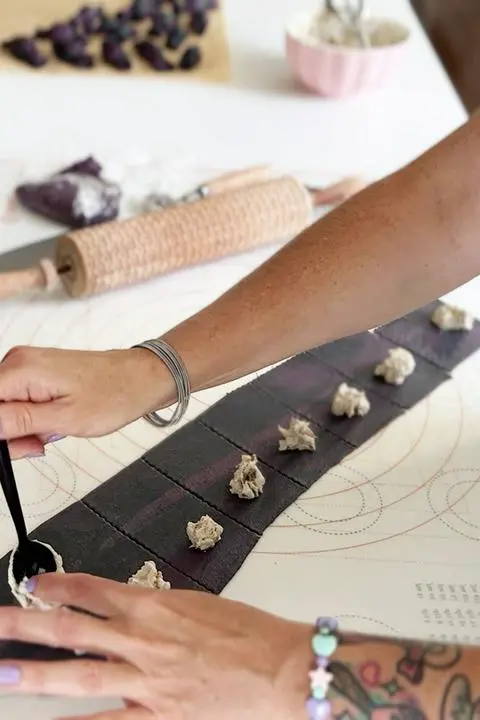 Fold the dough around the filling and stick the dough to itself.
Repeat this with each ravioli, making sure they're all sealed by pinching the sides. You don't want any of them to come open when you boil them.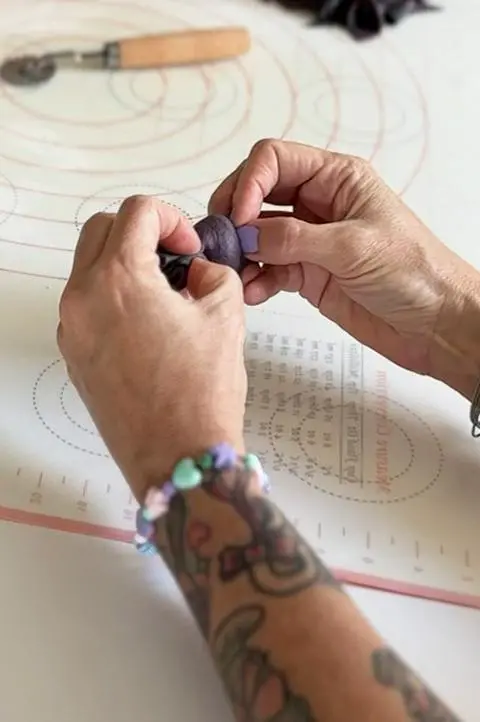 Set each individual ravioli on either a silicone mat dusted with flour or a piece of parchment paper dusted with flour. If you have neither, you can just dust your counter or a cookie sheet or other tray with flour. The important thing is to never stack your ravioli. They will try to stick to each other like teenagers in love, and when you try to separate them, they may tear.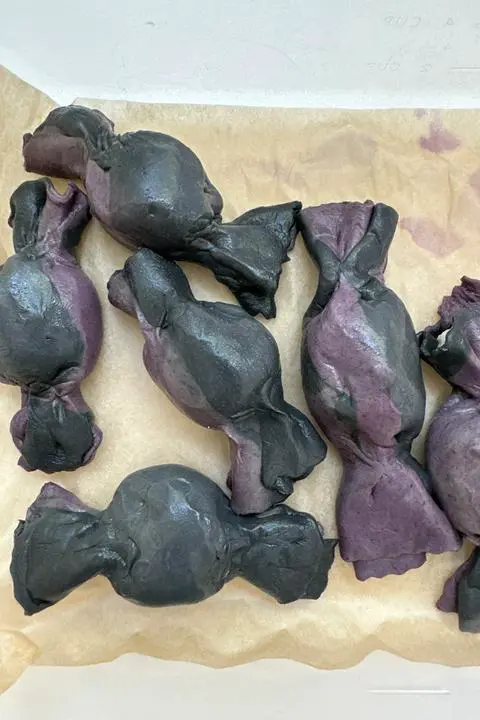 Repeat these steps with the remaining dough. When you're about halfway through, you can start to prepare your cooking water.
Fill a large pot half full of water, and put it on high heat. Or you can use the same pan you cooked the mushrooms in if you're lazy like me and don't want to wash another dish. While you're waiting for it to start boiling, you can finish making your ravioli.
cook time: 15 minutes
Boil only 10-12 raviolis together at the same time, to make sure they don't stick together while they cook. They only need to boil for 2-3 minutes.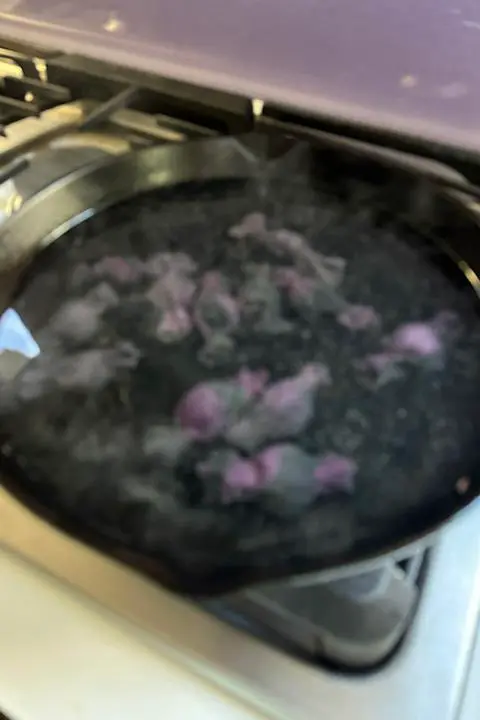 Serve with marinara, pesto, or any sauce you prefer. In the picture, I used a vegan nacho cheese sauce because I wanted to keep the Halloween colors theme.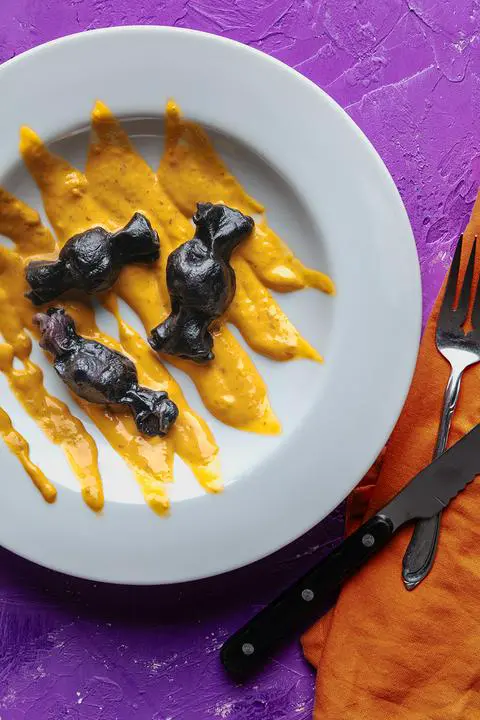 What is the best sauce for truffle ravioli?
I'm pretty boring with my ravioli sauces and just use marinara or a vegan cream sauce. However, you can make a truffle cream sauce or a truffle oil aioli sauce.
Can I freeze truffle ravioli?
The best way to freeze ravioli for future use is to layer it with pieces of parchment paper in between it (so it doesn't stick together) in a tupperware. Then when you're ready to have ravioli for dinner, remove it from the freezer in advance if you can. If you don't have time for that, you'll just need to boil them for twice the normal amount of time.
How can I enhance the truffle flavor in the ravioli?
If you are looking for a stronger truffle flavor, try adding truffle oil to the pasta, the filling, and the sauce that you eat with the ravioli.
What are some popular side dishes to serve with truffle ravioli?
Here are some of my suggestions for side dishes that pair well with truffle ravioli.
And for a fun and spookicute dessert, you might want to make my chocolate blackberry cake to go with it.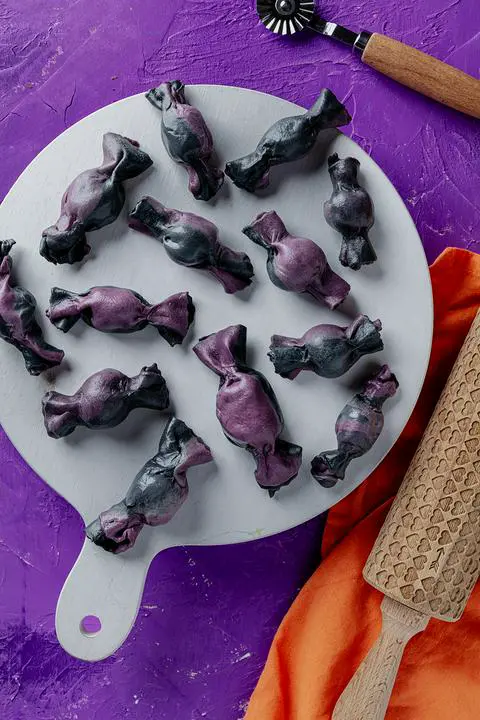 Flour: If you avoid gluten, you can try using a gluten-free flour blend in place of the all-purpose flour to make these ravioli gluten free. I haven't personally tried this though, so if you do, please let me know how it goes.
Oil: I used avocado oil in my ravioli dough. If you have truffle oil and want to give it some extra truffleness (it's a word…it means truffle essence, haha), you can use that. Or honestly, you can use any oil you have on hand. Just make sure it's vegan. Some options include olive oil, sunflower oil, safflower oil, and vegetable oil.
Maqui Berry Powder: Maqui berry powder serves a couple of functions in this recipe. Firstly, it's an all-natural way to dye things purple. Secondly, research shows that pasta made with maqui berry powder has a lower pH and increased antioxidant properties. If you don't care about the nutrition components, you can use any vegan food coloring in this recipe. Or omit the food coloring. Your kitchen, your rules.
Activated Charcoal: Activated charcoal is an all-natural way to dye things black. If you take prescription medicine, you should avoid consuming black charcoal within a few hours of taking your medication. If you think anyone eating this ravioli may fall into this category, you can use any vegan black food coloring in this recipe. Or omit the food coloring.
Lion's Mane Mushrooms: Lion's mane mushrooms can be hard to find, unless you live in a place where wild mushroom foraging is easy. I get mine at farmer's market because I do not live in a place like that. If you don't have a wild mushroom connection, you can use any mushrooms you want in this recipe. Or omit them if you're cooking for a mushroom hater. If you do omit them, you can sub some other cooked veggie to make more ravioli, otherwise you'll have even more leftover dough than you already do. I have a spinach ravioli recipe you can check out for ideas.
Truffle Cheese: I used the truffle cheese made by Mischa's because it was only $6 at Walmart. But Miyoko's also makes a truffle cheese you could use. If you can't find either of these brands, feel free to use any nut-based artisan vegan cheese and then just add 1 tablespoon of truffle oil to the mixture.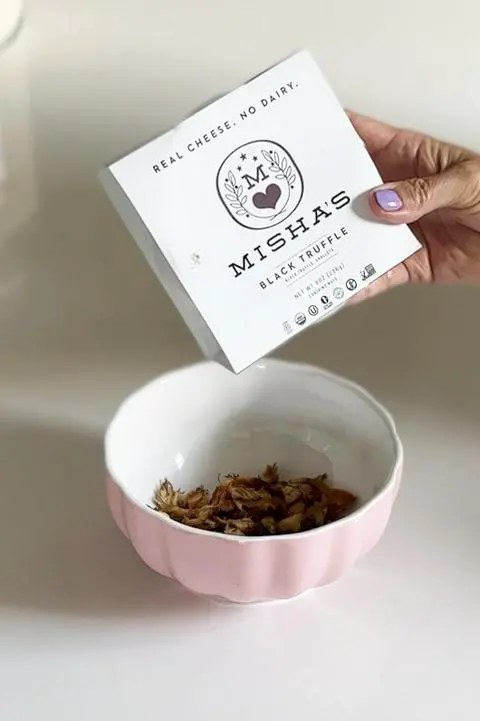 If you like this truffle ravioli recipe, you might also like my mushroom ravioli and my spinach ravioli.
This nutritional information is for one serving. I'm assuming that a serving is 5 raviolis.
Servings: 8
Calories: 235
Total fat: 7g
Saturated fat: 1g
Cholesterol: 0
Sodium: 372mg
Total Carbohydrates: 39g
Sugars: <1g
Fiber: 6g
Protein: 8g
Calcium: 23mg
Potassium: 140g
Iron: 1mg
If you make this recipe, snap a pic, post to instagram, and tag me @vegandollhouse. I love to see your creations!
You can also message me through instagram or email me if you have any questions about the recipe.
☆☆☆☆☆☆☆☆☆☆
* I use mostly organic ingredients when I cook. I realize that not everyone has the disposable income to buy only organic ingredients. So, I only specify organic on the ingredients that matter: when buying the organic (or non-GMO) version is the only way to ensure that an item is vegan.
This post links to items I used when I made this recipe. If you click on the purple Buy Now button on a product page, you will go to a website (like Amazon) where you can buy the same product I used. Sometimes, the store you purchase from (Amazon, Etsy, etc.) will pay me for referring you. This costs you nothing extra, and I would never recommend a product that I don't use. These affiliate programs help me buy the ingredients to create these recipes for you. Read more about this in my privacy policy.
☆☆☆☆☆☆☆☆☆☆