Vegan Ice Cream Batwiches
published on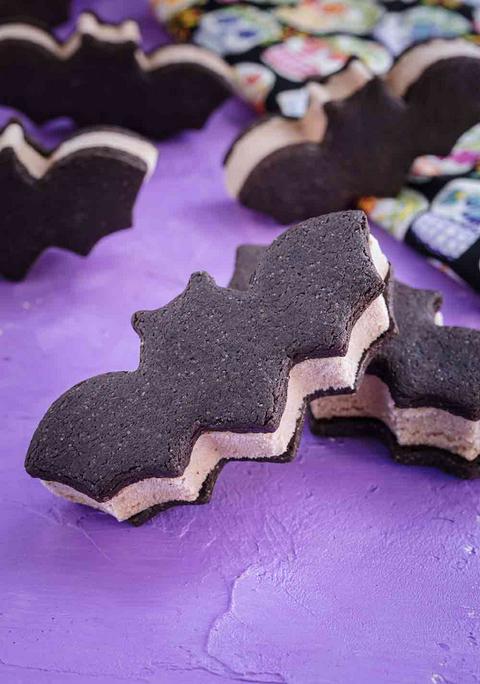 ♫ Listening to: Lucretia My Reflection by Sisters of Mercy ♫
These ice cream batwiches (aka ice cream sandwiches shaped like bats) are delicious with almost every kind of ice cream, but I recommend using Moosetracks or mint chip. I used pumpkin ice cream for these, but it's really not my favorite flavor of ice cream. My inspiration for these is a work of art chanteii posted on instagram.
This recipe makes 20 ice cream batwiches.
Chocolate Batwich Cookie Ingredients
2 cups organic unbleached or whole wheat pastry flour*

½ cup dutch cocoa powder

1 tablespoons organic cornstarch or arrowroot powder*

¼ teaspoon sea salt

1 tablespoon non-aluminum baking powder

1 tablespoon black cocoa powder (optional, but it makes the bats darker in color)

½ cup vegan butter or margarine (I like the organic whipped earth balance)* or sub coconut oil

1 cup organic sugar*

2 teaspoons vanilla extract

¼ - ⅓ cup nondairy milk
Chocolate Batwich Cookie Directions
making dough: 20 min; chilling dough: 15 min; rolling, cutting, and baking dough: 45 min
Dollhouse Shortcut
Make the dough up to 3 days ahead of time and chill it in the fridge. On the day you want to bake, remove from fridge 2 hours before you're ready to use the dough.
Sift and whisk the dry ingredients together in a bowl: flour, dutch cocoa powder , black cocoa powder , arrowroot powder or cornstarch, salt, and baking powder.
Mix the vegan butter (or coconut oil) on a fast speed using a stand mixer or a handheld electric mixer while you blend your sugar. (I used a combination of half coconut oil and half vegan butter because I don't like to show favorites, haha.)
Blend the sugar in the blender to turn it into caster sugar, and then add it to the mixer and mix for like 5 minutes on high before turning to low.
Add the nondairy milk and vanilla extract while mixing.
Sift in the dry ingredients a third at a time (to minimize messes), stopping the mixer each time you add dry ingredients.
Mix until incorporated. Sift and mix in the rest.
Shape the dough into a disc and wrap in plastic wrap to chill for 15 minutes.
Line two baking sheets with parchment paper , and remove dough from fridge.
Preheat the oven to 350°.
Place the dough between 2 pieces of parchment paper to roll it out.
Roll as thinly as possible (between ⅛ and ¼ inch thick). Remove the top piece of parchment paper and cut out as many bat shapes as you can, dipping your cookie cutter into cocoa powder when needed to keep it from sticking. (Here's a bat cookie cutter similar to the one I use.)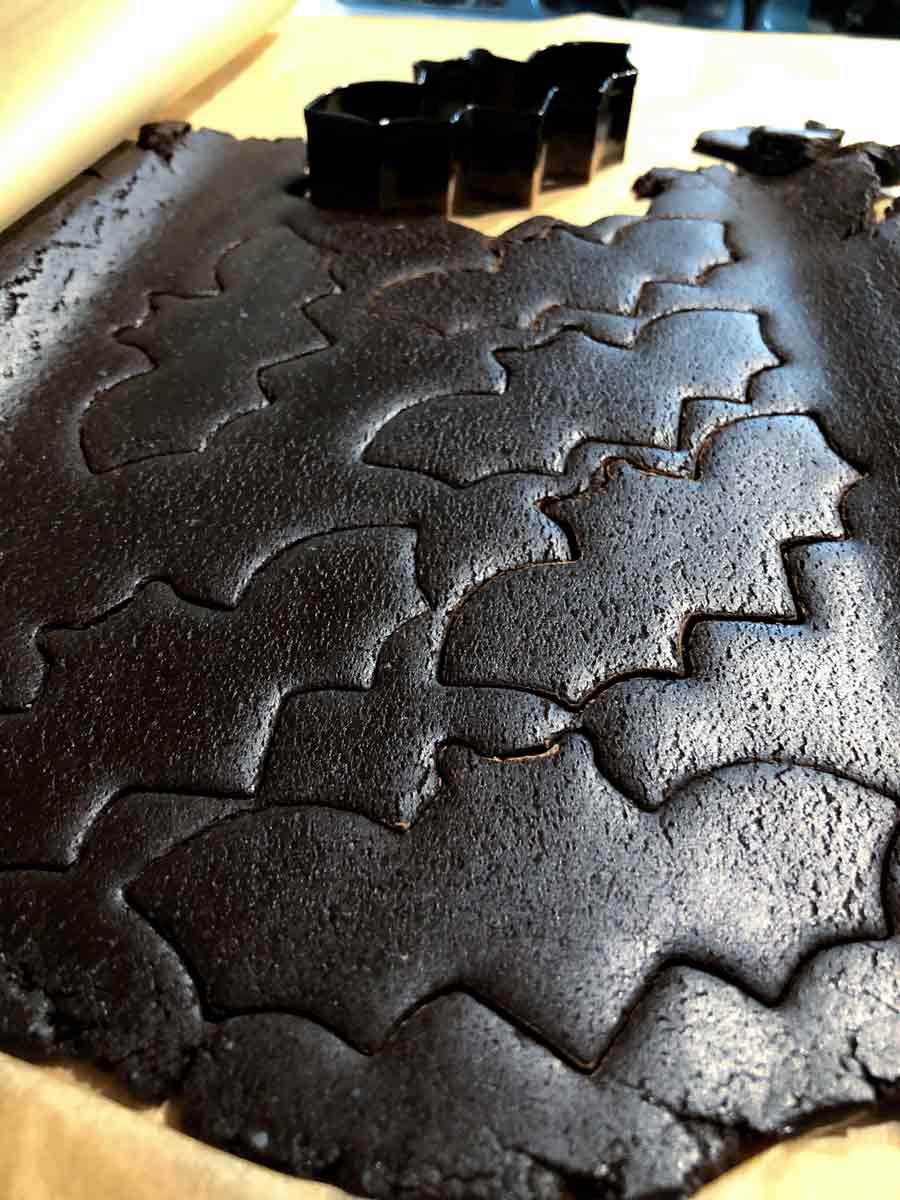 Roll the dough remnants and keep cutting until the cookie sheets are full of cut outs.
Bake for 6 minutes.
Cool on trays for 2 minutes. Transfer cookies to cooling rack.
Vegan Ice Cream Batwich Directions
cutting out the ice cream bats: 10 min; re-freezing the bats: 30 min; assembling ice cream sandwiches: 10 min
Dollhouse Shortcut
Do these first 6 steps the night before you want to assemble the ice cream sandwiches.
Cut 3 pints of ice cream into chunks and transfer to a food processor or use a stand mixer or a handheld electric mixer.
Mix until the ice cream is soft.
Line 2 cookie sheets with parchment paper , as long as your baking sheets have sides on them. If your cookie sheets don't have edges that are least a half inch tall, use lasagna pans.
Spread the softened ice cream in the parchment paper lined pans using a spatula.
Cover the ice cream with plastic wrap, pressing down so no ice can form on the surface.
Freeze overnight.
Remove from freezer and press your bat cookie cutter into the ice cream to cut out 20 bat shapes.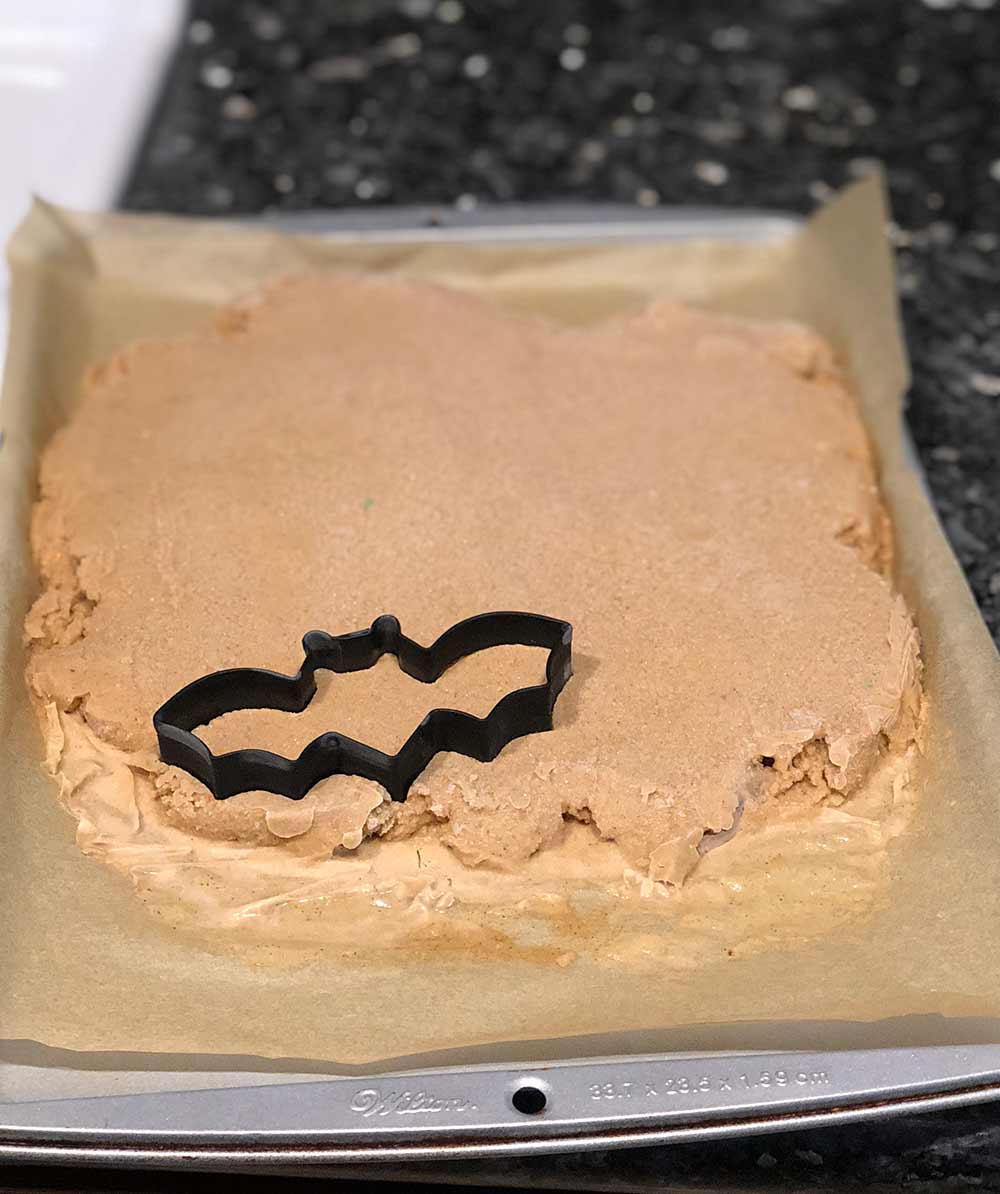 Place the bat-shaped ice cream chunks back into the freezer as you're cutting them out so they won't melt while you cut out the rest.
Assemble the ice cream batwiches once your ice cream bats are solid again, and place the ice cream sandwiches back in the freezer until ready to serve.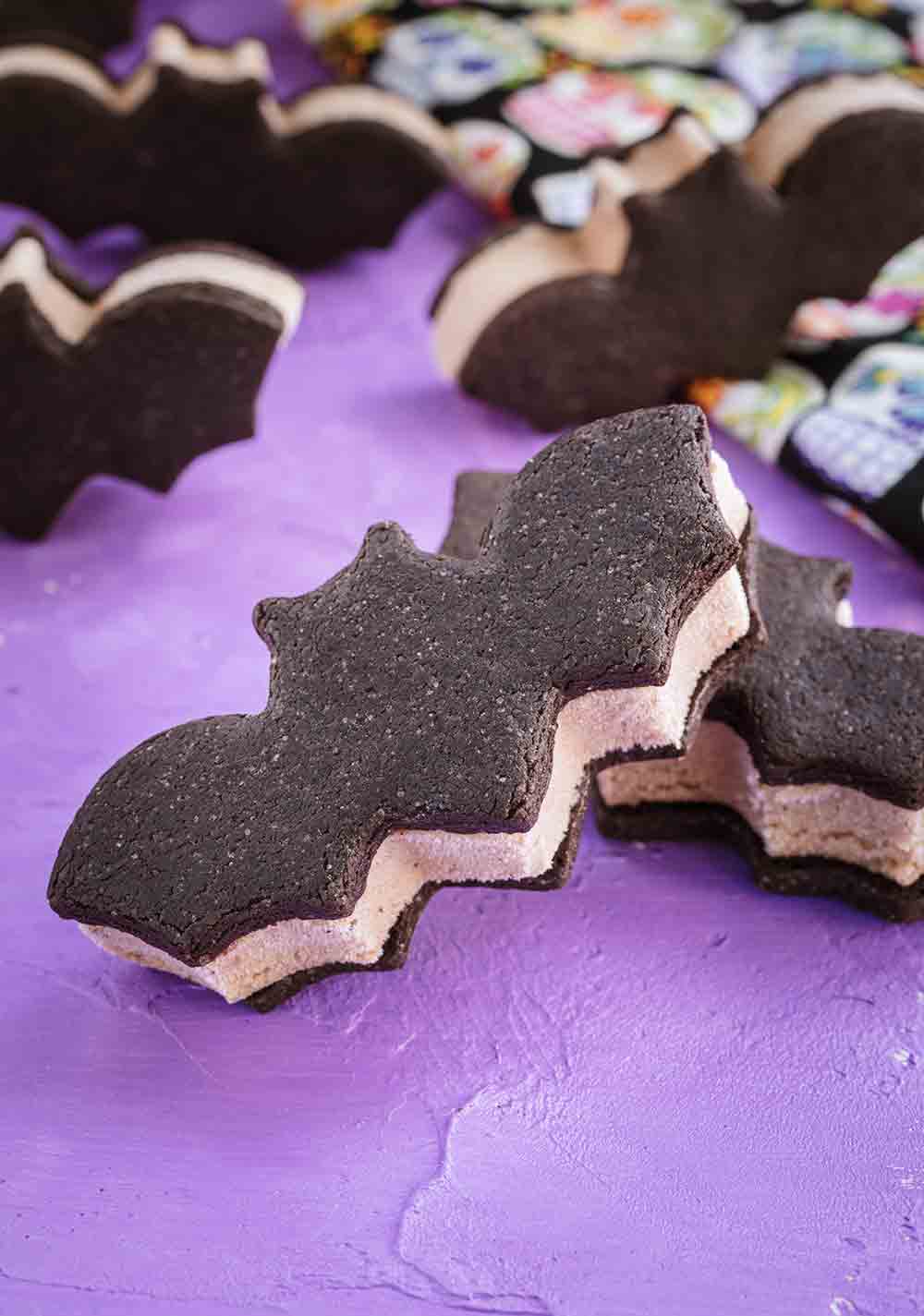 I took these to a Halloween tea party last year, and they were a huge hit!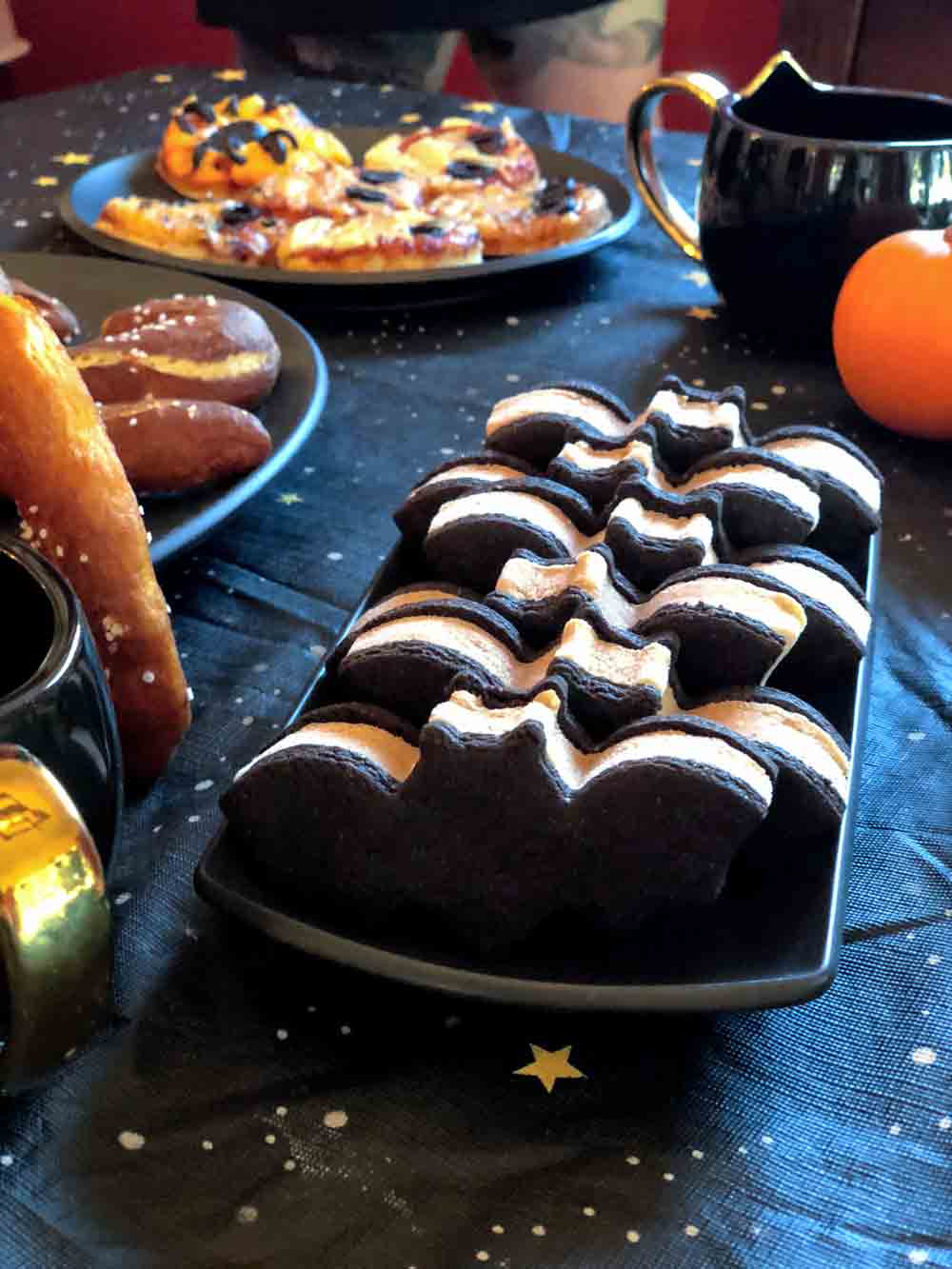 If you like bat themed food, check out my bat donuts and my bat crackers.
If you like pumpkin flavored treats, check out my coffin cake wands and my pumpkin cake.
For other spookicute recipes in general, check out my list of vegan halloween recipes.
☆☆☆☆☆☆☆☆☆☆
* I use mostly organic ingredients when I cook, but I realize that not everyone has the disposable income to purchase all organic ingredients. Therefore, I only specify organic on the ingredients that really matter - when buying the organic version is the only way to ensure that the item is vegan.