Vegan Starfish Cakes
published on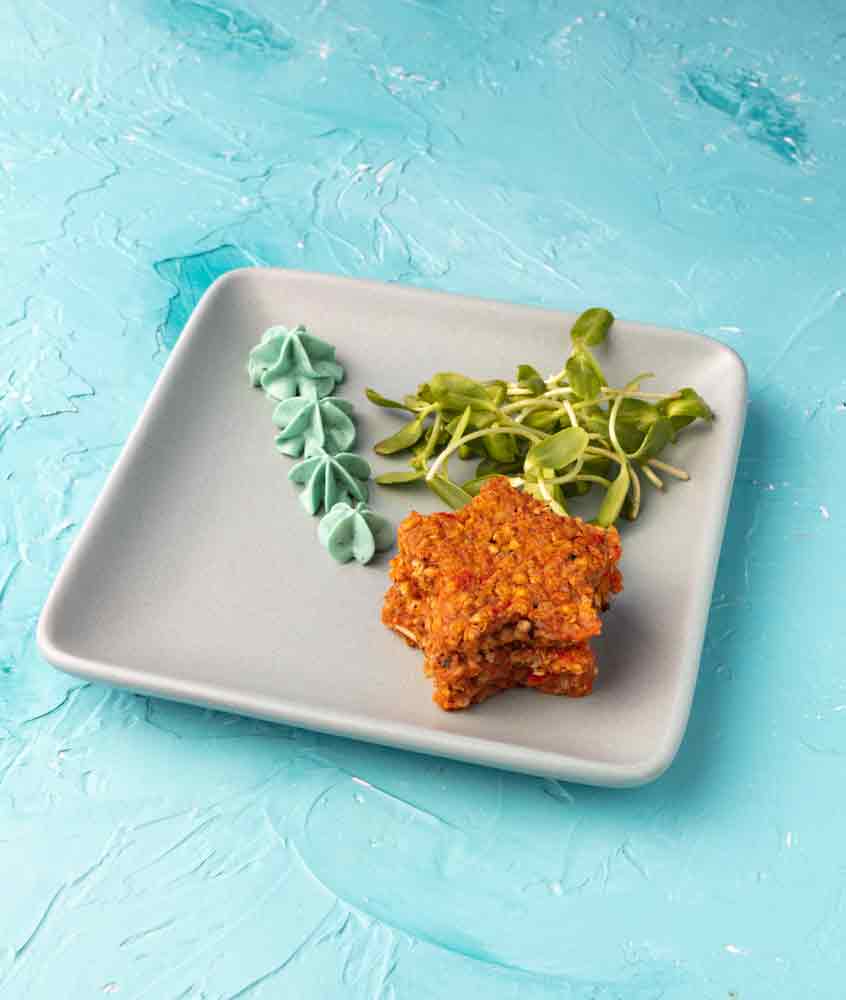 ♫ Listening to: Under the Sea from The Little Mermaid ♫
I invented these starfishy cakes years ago when David had his wisdom teeth out, and I was making lots of soft foods. Similar to crab cakes, these starfish are crispy on the outside and soft inside. I'm making them again and documenting the recipe this time, because I'm attending an Under The Sea themed tea party this month, and I thought these would make a perfect addition. And yes, they will be playing the soundtrack from the little mermaid at the tea party, thanks for asking.
If you like aquatic-themed recipes, you might also like these narwhal donuts and these spaghetti squid. If you're not going for an oceanic themed dinner party, these starfish cakes pair really well with my teriyaki tofu jenga.
This recipe makes around 12 starfish, depending on what kind of star cutter you use.
Vegan Starfish Cakes Ingredients
Dollhouse Shortcut
Purchase roasted red peppers from the store if you don't want to roast your own (or if they're not in season).
2 red peppers
½ cup peeled and finely diced onion
½ cup peeled and finely diced zucchini (optional)
4 cloves of garlic, peeled and minced or finely diced
1 cup of kasha (roasted buckwheat)
2 cups of water + 1 teaspoon salt (or sub 2 cups veggie broth for the water and salt)
Vegan Starfish Cakes Directions
Heat the oven to 400° for roasting the red peppers.
Wash and destem and deseed the 2 red peppers.
Place the red peppers onto a lightly-oiled pan or a pan lined with parchment paper and set a timer to roast for 20 minutes.
Sauté the onions in a tablespoon of olive oil (of veggie broth, if you avoid oil) for 4 minutes over medium heat in a medium saucepan.
Add the zucchini and garlic to the pan and sauté for 4 more minutes.
Rinse a cup of kasha (roasted buckwheat) in a strainer under running water before adding to the saucepan.
Add 2 cups of water or broth to the saucepan. If you're using water, also add a teaspoon of salt.
Boil and then cover and reduce the heat. Check it frequently, as kasha cooks much faster than rice and quinoa. It's ready as soon as there is no more liquid in the pan.
Flip the peppers over after 20 minutes, and then roast for another 20 minutes.
Peel the skin off the roasted red peppers once they're cool enough to touch (sometimes if I don't want to wait, I'll use tongs or a fork to remove the skin). Put the skinless roasted red peppers into the food processor and process for 30 seconds.
Add the roasted red pepper puree to the cooked kasha and mix well.
Optional: If you don't plan to serve the starfish with the ocean dip (similar to the remoulade typically served with crab cakes), you may want to add another half a teaspoon of salt to the kasha now.
Cut a piece of parchment paper and cover a small baking sheet with it. The next step depends a lot on what shape you're making and what your cutter looks like.
If your cutter is like this and open on top, then do the following.
Form the kasha into shapes: set your cookie cutter on the parchment paper and press the kasha mixture into the cookie cutter until it's full. Lift the cookie cutter up and set it down somewhere else on the parchment paper keeping them as close together as possible. Continue this until all the batter is used up.
If your cutter is like this and not open on top, then do the following instead.
Spread all of your kasha mixture on the baking sheet lined with parchment paper while trying to keep a uniform thickness all over. You want them to be at least a half an inch thick, so if that means you don't use the entire baking sheet, then don't. Use your cookie cutter to stamp shapes all over the tray, keeping them as close to each other as possible. You should be able to stamp 12 of them, depending on the size of your cookie cutter.
Freeze the tray for around 30 minutes.
Heat a nonstick pan over low-medium heat.
Remove the starfish from the freezer after 30 minutes and gently transfer 3-4 starfish to the hot nonstick pan (or as many will comfortably fit without inhibiting your ability to flip them over).
Freeze the rest of the tray while you cook the ones you removed. You'll need to cook them in 3-4 batches since you can only fit 3-4 in the pan at a time.
Cook for 4-5 minutes, flip, and cook for 4-5 more minutes.
Transfer the cooked ones to a plate, and continue cooking the rest of the starfish. A serving is between 3 and 4 starfish, depending on what you have with it and how hungry your starfish eaters are.
Freeze them in a tupperware after cooking if you plan to eat them for other meals at a later date. They can be frozen for up to a month. When you remove them from the freezer to reheat them later, just pop them into the oven or toaster oven at 375° for 30 minutes.
Vegan Ocean Dip Ingredients
Dollhouse Shortcut
If you avoid oil, substitute a cashew-based dip for the ocean dip.
¼ teaspoon blue spirulina
4 teaspoons mustard
¼ teaspoon dill
½ cup vegan mayo (if you avoid soy, get the soy-free kind)
Vegan Ocean Dip Directions
Mix the blue spirulina with a tiny bit of the mustard until it forms a paste with no lumps. Then add the remaining ingredients and mix well. Chill until ready to serve. If you don't have blue spirulina and don't want to buy any, check my list of vegan food coloring for other options.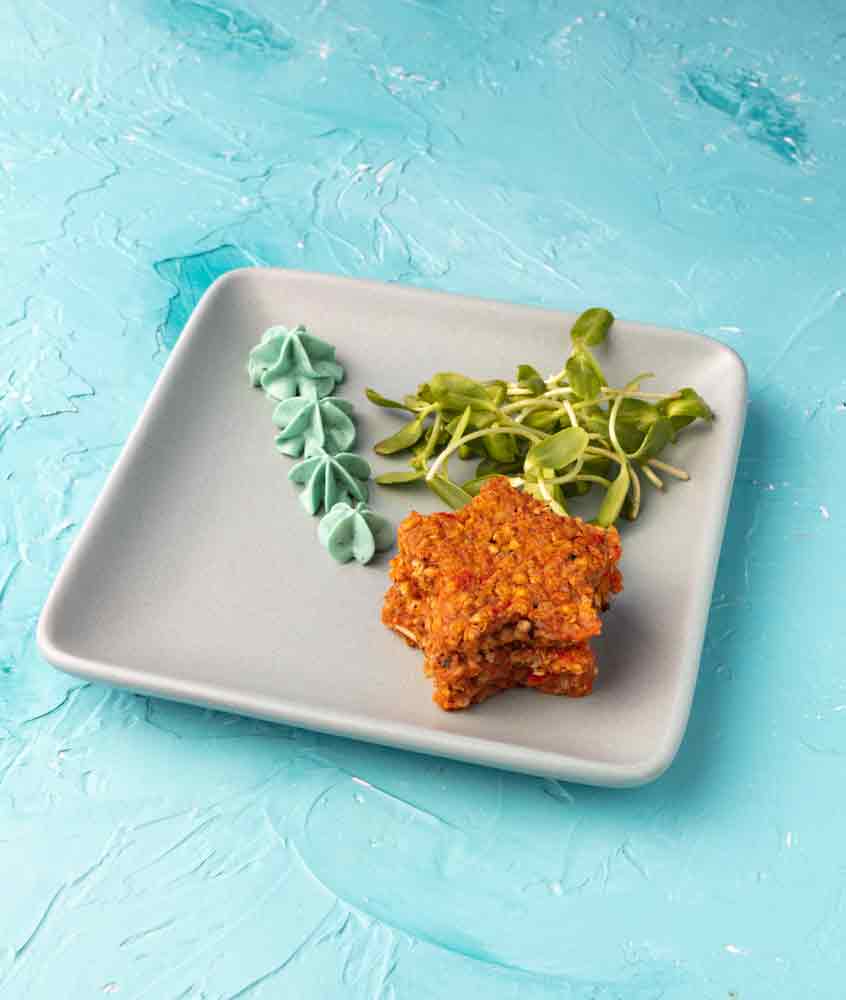 ☆☆☆☆☆☆☆☆☆☆