Vegan Mushroom Ravioli
published on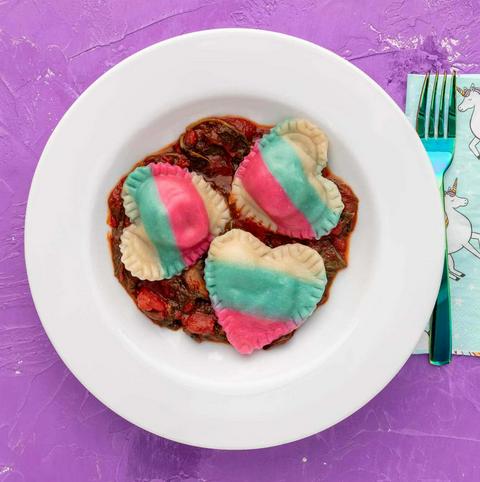 ♫ Listening to: Transgender Dysphoria Blues by Against Me! ♫
This homemade vegan mushroom ravioli is inspired by my love for the trans LGBTQ+ community. Adding the transgender flag colors to your dinner is a fun way to celebrate pride month. The recipe is versatile and you can mix up the filling ingredients to make different flavors. You don't need any special tools to make this recipe–just a cookie cutter and a rolling pin.
Table of Contents
(click the links below to skip to the section you're looking for)
For Pride month, I teamed up with Kelly Peloza of the blog Seitan Beats Your Meat to make pride-themed pastas. I made this ravioli inspired by the transgender flag for my daughter's birthday (Zen's birthday just happens to be the first day of pride month, which is quite appropriate for so many reasons), and Kelly made naturally colored rainbow gnocci.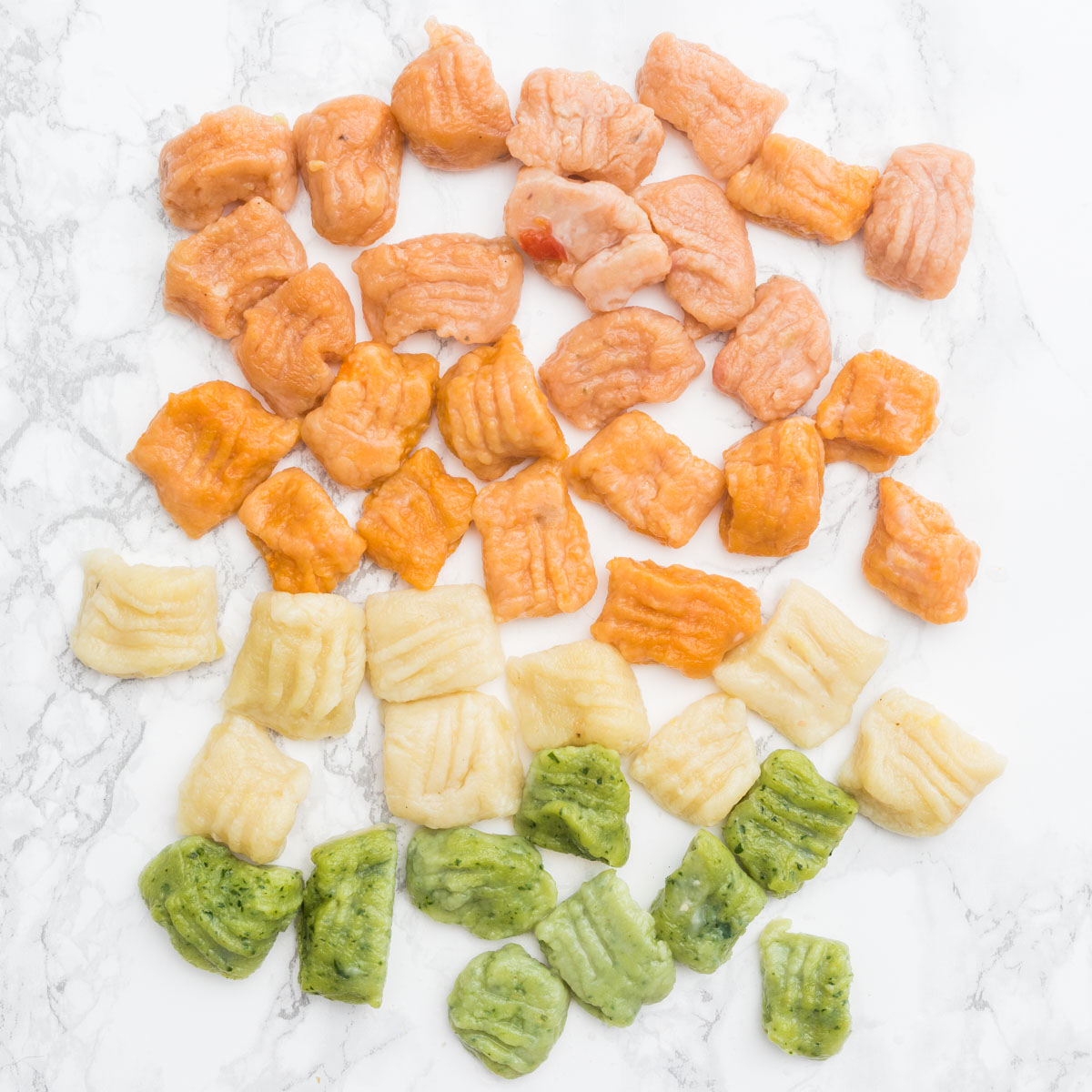 This recipe makes 20 trans flag raviolis (enough for 5 people for dinner, if that's all they're having), plus 20 more mixed color raviolis if you use your dough scraps. These ravioli take 2-3 hours to make, so start them early.
4 cups (520g) organic unbleached all-purpose white flour*

1 ¼ cups (280g) warm water (around 110-115 degrees)

1 ½ teaspoons (8g) salt (I buy fine grain pink sea salt)

1 tablespoon (14g) olive oil

vegan food coloring
Vegan Ravioli Dough Directions
prep time: 20 minutes
Measure 1 ⅓ cups (173g) of flour into a bowl.
Repeat twice until you have 3 equal bowls of flour.
Whisk ½ teaspoon (2-3g) of salt into each bowl of flour.
Dump one of the bowls of flour into the bowl of stand mixer fitted with a dough hook.
Measure out 3 ½ ounces (100g) of warm water. Add it to the stand mixer that has your first bowl of flour.
Add a teaspoon (5g) of oil to the stand mixer and turn it on.
Mix for 3-5 minutes. If a dough ball hasn't formed after 5 minutes, then add a smidgen more water and mix some more (maybe a teaspoon-ish).
Wrap the ball of dough in cling wrap before setting it aside to rest.
Repeat those steps with the second bowl of flour, but this time, after you measure out 3 ½ ounces of water, add pink vegan food coloring, and mix well before pouring it into the stand mixer that has your second bowl of flour. I used 4 drops of wilton rose food coloring for this recipe, but you can see more food coloring options on my vegan food coloring page.
Repeat those steps with the last bowl of flour, but this time, after you measure out 3 ½ ounces of water, add blue vegan food coloring, and mix well before pouring it into the stand mixer that has your last bowl of flour. I used 3 drops of wilton sky blue food coloring to get this color.
Make your filling while your 3 wrapped dough balls rest for 20-30 minutes.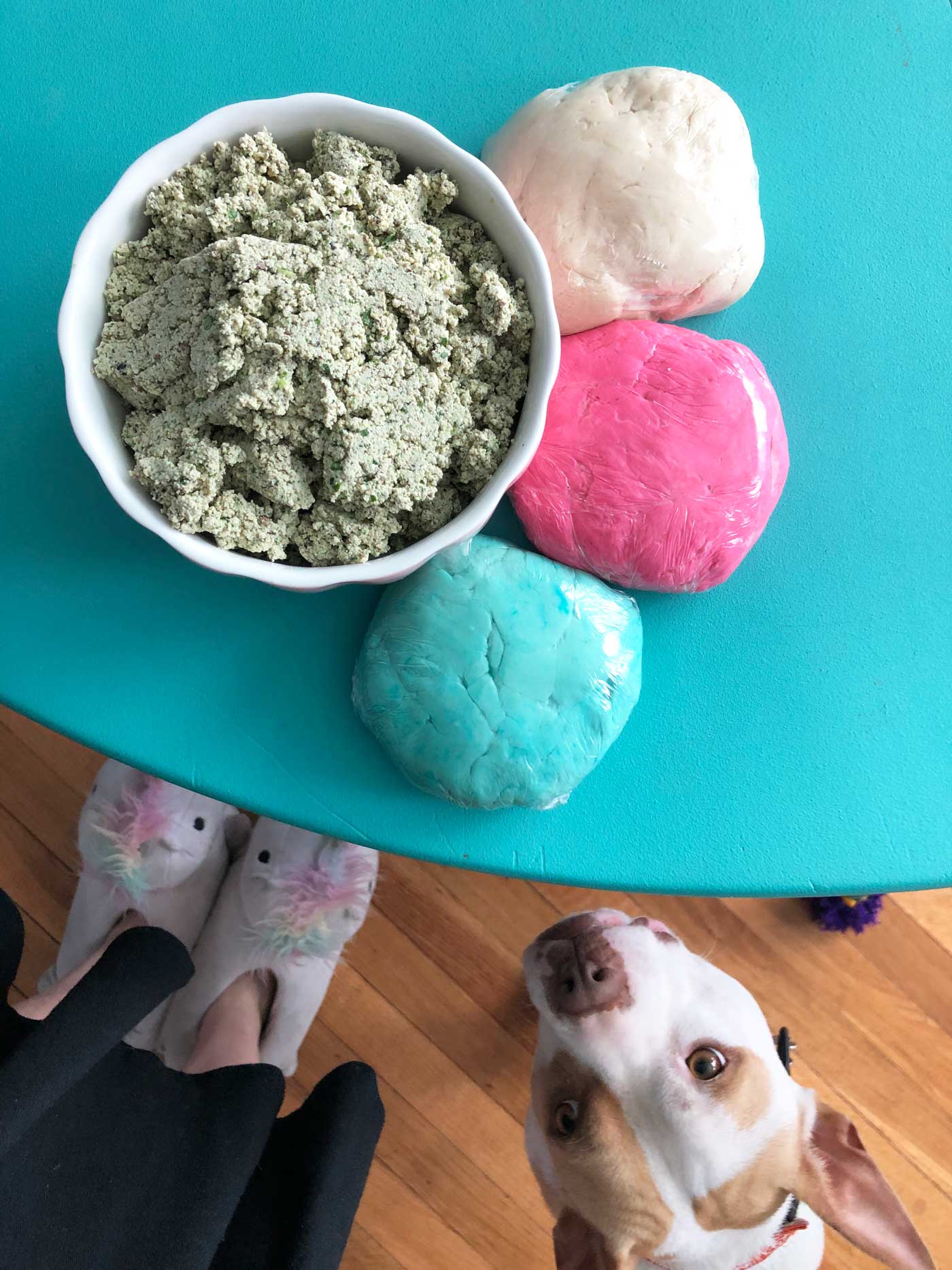 Dollhouse Shortcut
Substitute Kite Hill ricotta for the almonds, water, and salt to save time.
8 ounces (226g) mushrooms, finely chopped

1 cup (142g) almonds

½ cup (112g) water

1 teaspoon (6g) sea salt

½ teaspoon (2g) garlic powder

½ teaspoon (2g) lemon juice

2 tablespoons (8g) nutritional yeast
Vegan Mushroom Ravioli Filling Directions
prep time: 10 min | cook time: 15 min
Fill a medium sized saucepan with 1 cup (142g) of almonds and enough water to cover the almonds. Turn the heat to high. Once it starts to boil, turn the heat down to medium-high and start a timer.
Sauté 8 ounces (226g) finely chopped mushrooms in 1-2 tablespoons of olive oil (or water if you avoid oil) until all the liquid has cooked out. I usually start sautéing my mushrooms while I'm waiting for my almonds to boil.
Boil the almonds for 15 minutes and then pour the almonds and water into a colander. Rinse them well.
Blend the boiled almonds, 1 teaspoon (6g) of salt, ½ teaspoon (2g) garlic powder, ½ teaspoon (2g) lemon juice, and ½ cup (112g) water in a blender, scraping the sides with a baking spatula when needed, to make sure it all blends.
Mix the blended almonds with the cooked mushrooms (only after all of the liquid has cooked out of them), and that will be the filling for your ravioli.
Transfer the filling to a bowl or container that has a lid. If it seems thinner than the ricotta consistency we're going for, add 1-2 tablespoons (4-8g) of nutritional yeast to absorb any excess liquid.
Cover the filling and set it in the fridge until you're ready to use it.
prep time: 1 hour and 40 minutes | cook time: 15 minutes
Assemble strips of each color of dough into the trans flag pattern on a lightly-floured silicone rolling mat like in this picture.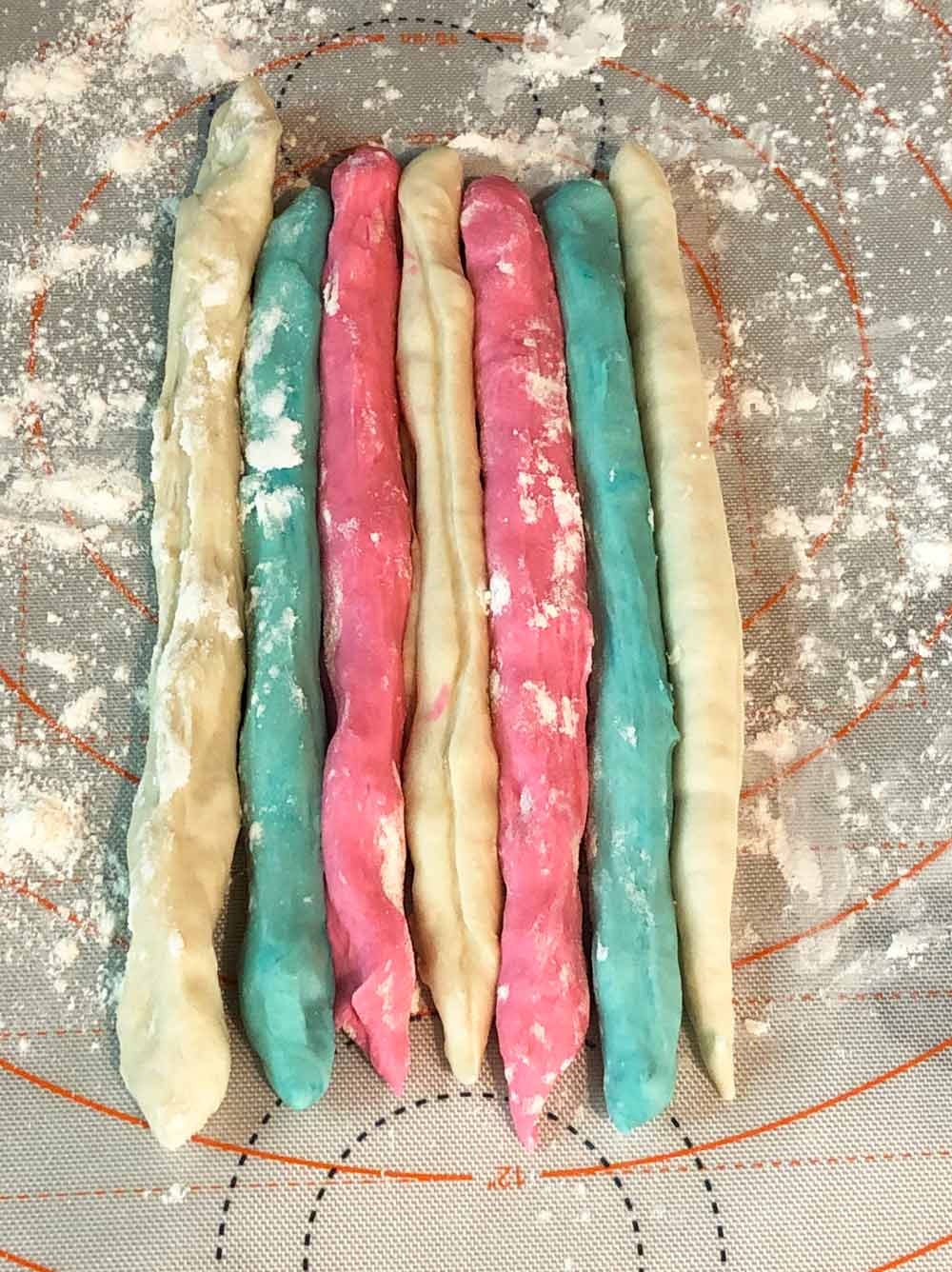 Roll your dough as thinly and as evenly as you can without ripping it. Add additional flour to keep it from sticking to the rolling pin or to the rolling mat. If you have a pasta roller, it makes this process way easier and more consistent. I use a pasta roller that attaches to my kitchenaid, but before my stepmom got it for me, I used to roll my ravioli dough by hand with a standard rolling pin.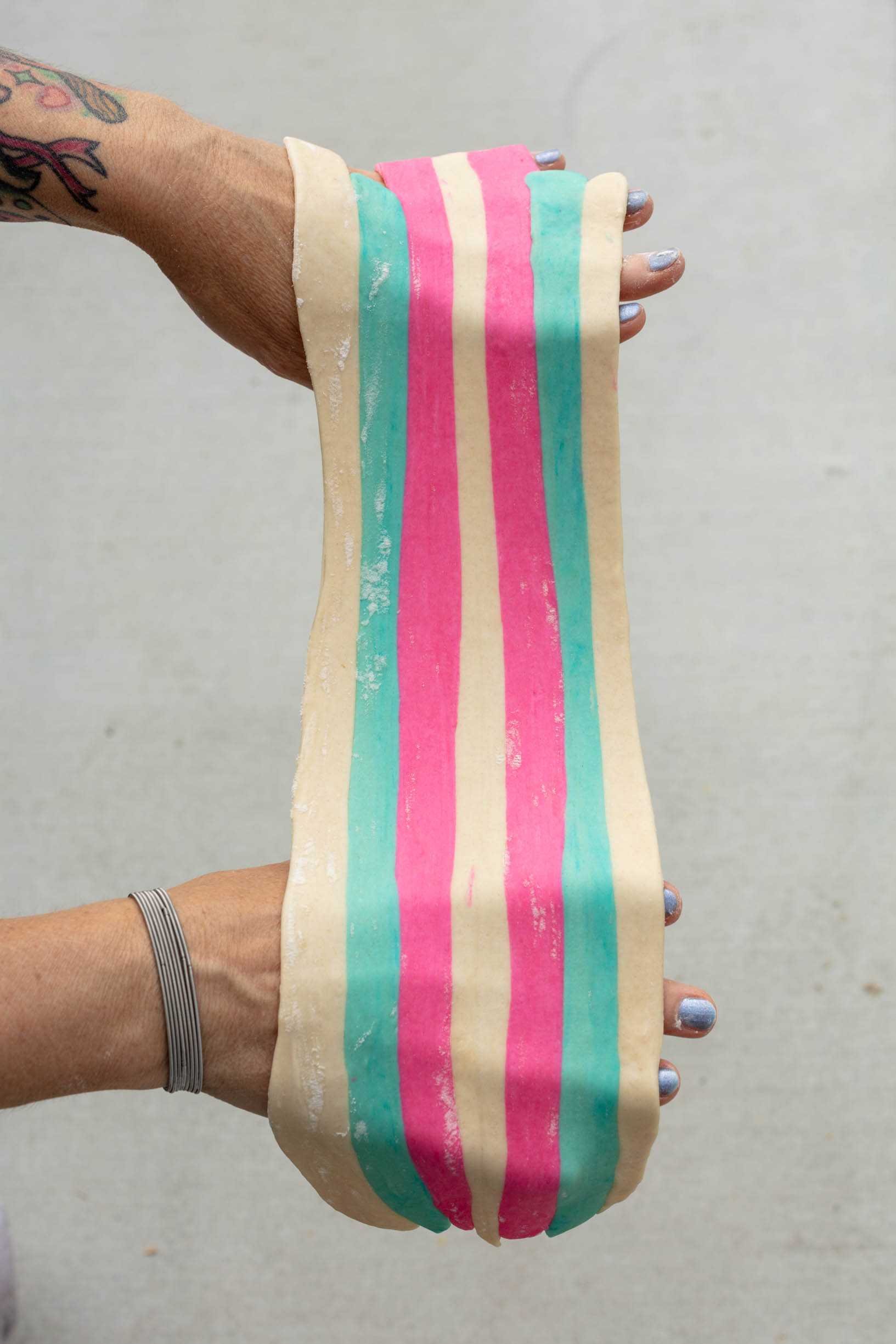 Lay the sheets of dough on your lightly-floured rolling mat. If you don't have a rolling mat, you can just do this right on your counter.
Remove the filling you made earlier from the fridge and remove the lid.
Scoop a small spoonful of filling onto the dough leaving a 1-2 inches in between each scoop. Do this to half the dough.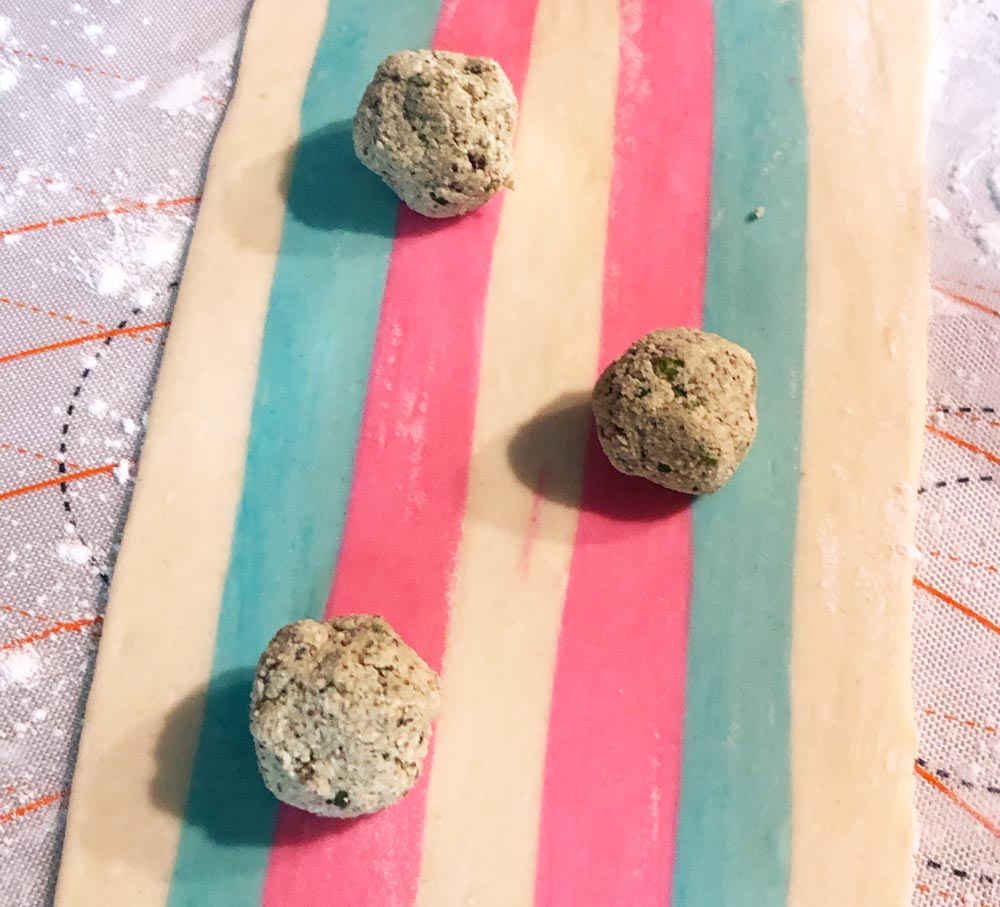 Fold the remaining dough over the scoops of filling like a blankie.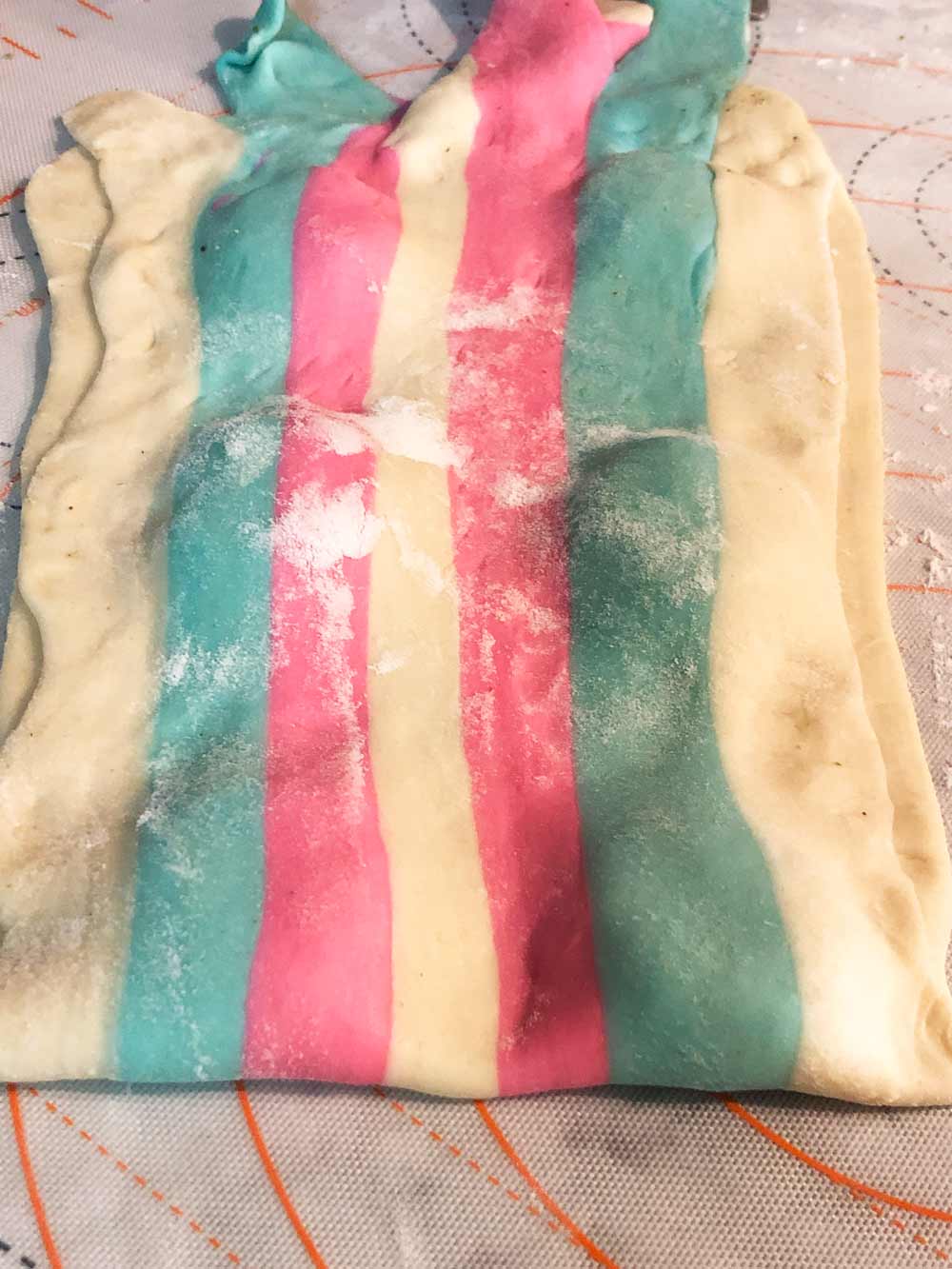 Cut out heart shapes around each lump of filling with the third biggest size from this set of heart-shaped cookie cutters. If you aren't into hearts, you can use any shape cookie cutter you have.
Crimp around the edges of each ravioli with a fork to make sure they're all sealed. This fork sealing method works great, and I didn't have any of my 40 raviolis come open when I boiled them.
Set each individual ravioli on either a silicone mat dusted with flour or a piece of parchment paper dusted with flour. If you have neither, you can just dust your counter or a cookie sheet or other tray with flour. The important thing is to never stack your ravioli. They will try to stick to each other like teenagers in love, and when you try to separate them, they may tear.
Repeat these steps with the remaining dough. When you're about halfway through (when you have about 20 raviolis made), you can start to prepare your cooking water.
Fill a large pot half full of water, and put it on high heat. While you're waiting for it to start boiling, you can finish making your raviolis.
Reuse the scraps from cutting out the hearts by balling it up together and re-rolling it all out. Those raviolis won't look like the transgender flag, but they'll still be cute and then you won't have to waste any dough.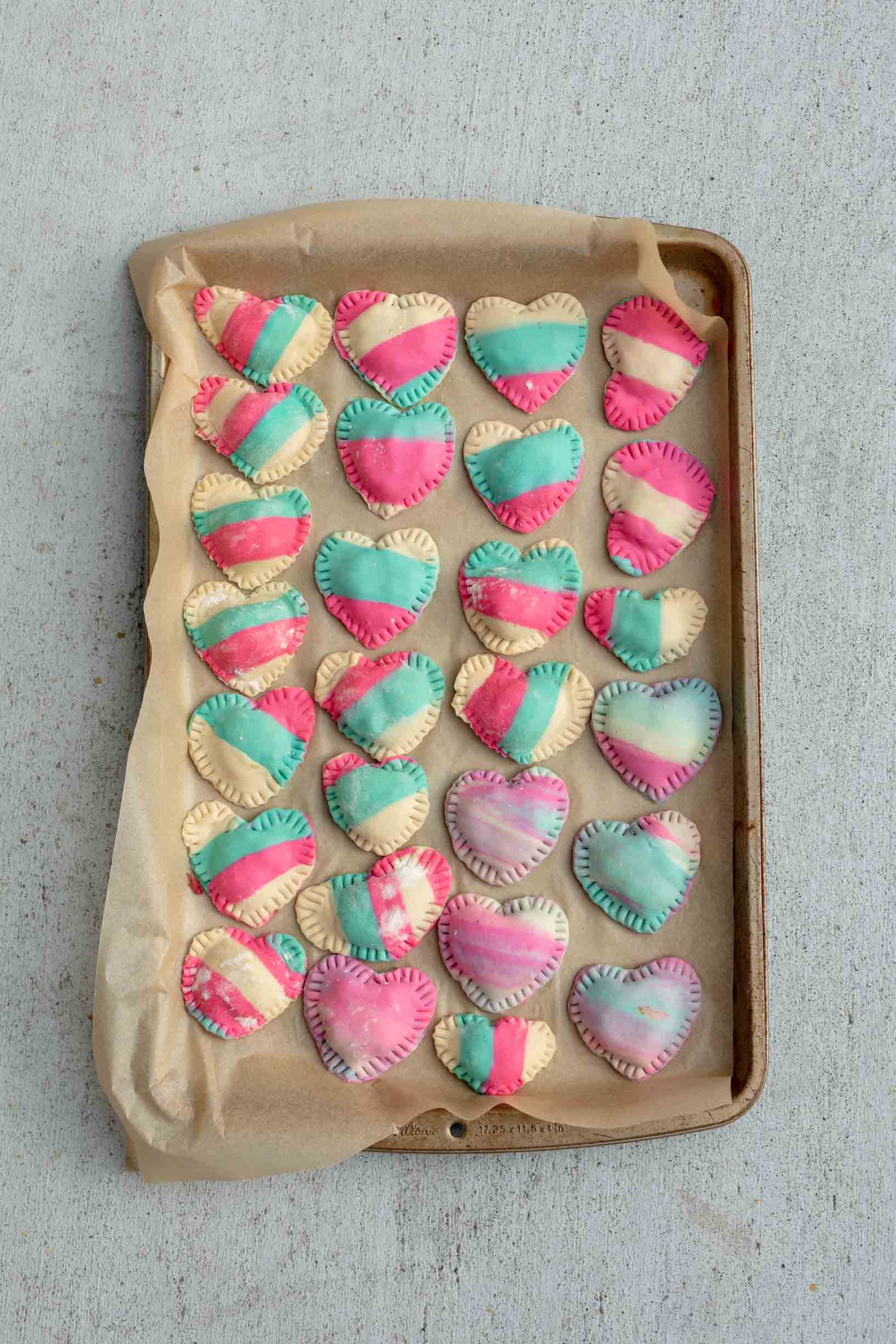 Boil only 6-7 raviolis together at the same time, to make sure they don't stick together while they cook. They only need to boil for 2 minutes.
Here's what the raviolis made with the scraps look like.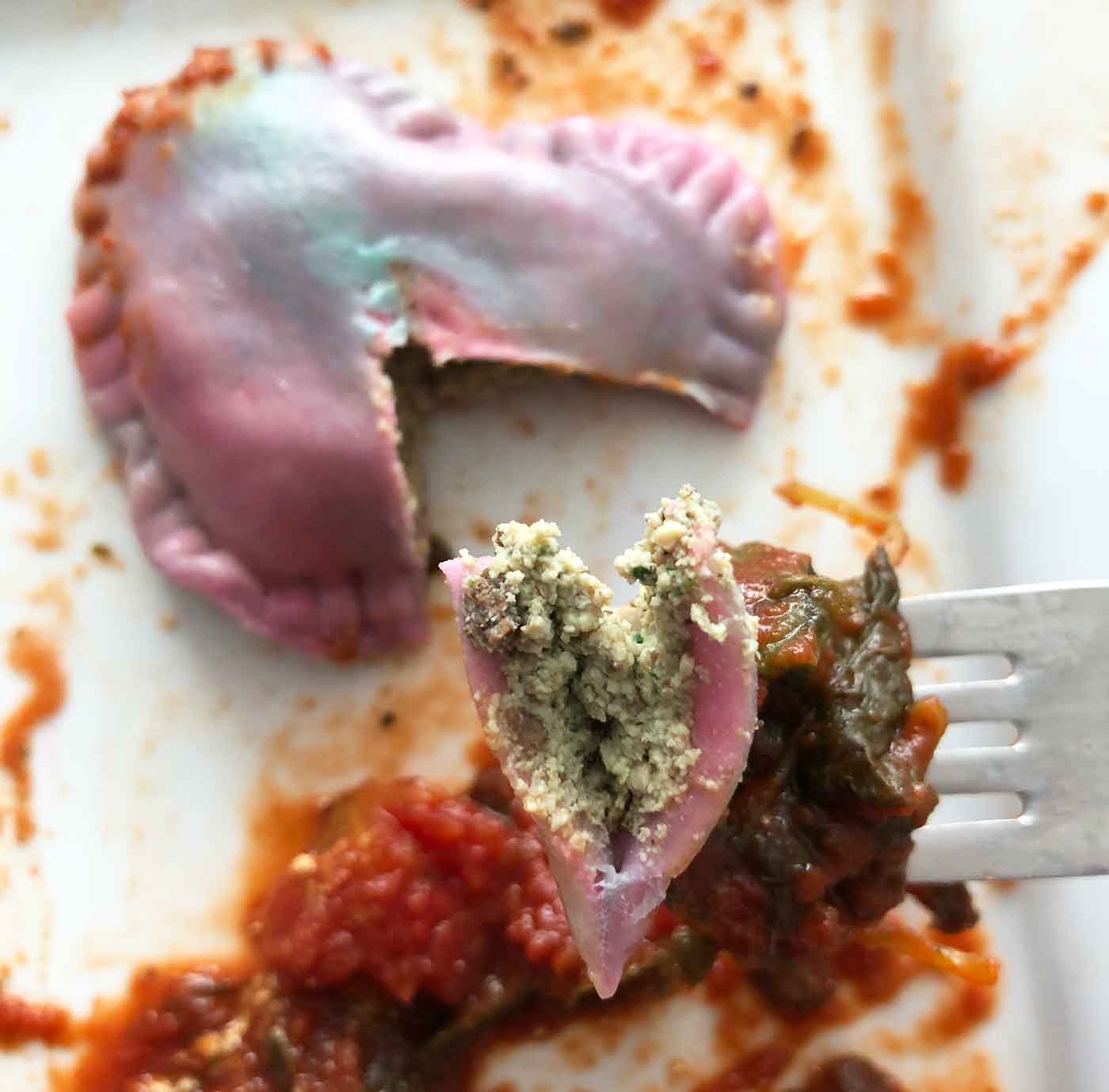 Serve with marinara, pesto, or any dipping sauce you prefer.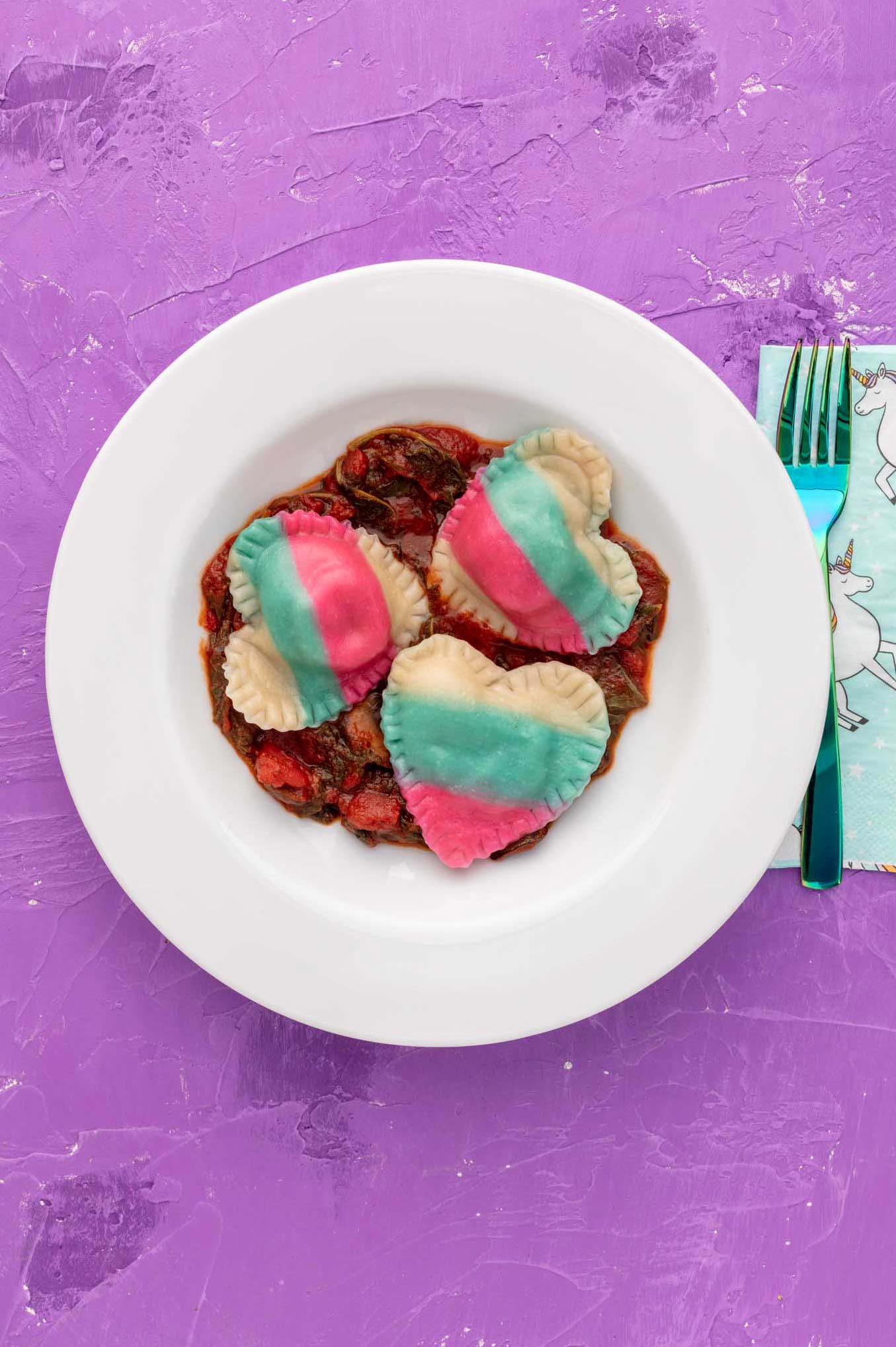 If you make this mushroom ravioli recipe, snap a pic, post to instagram, and tag me @vegandollhouse. I love to see your creations! You can also message me through instagram or email me if you have any questions about the recipe.
I don't like to use chemical food coloring. Can I make this ravioli without the food coloring?
If you prefer a naturally-colored ravioli, try using superfoods in place of food coloring. Simply omit the food coloring, and instead, sift superfood powders in with the flour. A teaspoon of beetroot powder should give you a natural pink color. A half of a teaspoon of blue spirulina should give you a natural blue color. You can also make this ravioli without any colors, and it's still delicious.
What do you serve vegan ravioli with?
Kelly put together this amazing menu for you in case you want to go all out (but make sure you have people to help you eat, because this ravioli is quite filling all by itself).
Start with Rainbow Bread with Cashew Cheese and Giardiniera, accompanied by Watermelon Radish Salad with Ranch Dressing
Then dig into Rainbow Gnocchi and this Mushroom Ravioli.
Save room for Mini Rainbow Ice Cream Cakes and Italian Rainbow Cookies for dessert.
Quench your thirst with Basil Watermelon Agua Fresca or Aronia Berry Moscow Mule Mocktails.
Mushrooms: If you don't have mushrooms, you can replace the sautéed mushrooms in this recipe with 2 tablespoons of dried mushroom powder. If you only have dried mushrooms, you can grind ⅓ cup of them into a powder using a food processor or a coffee grinder.
Almonds: If you avoid nuts or don't have any, you can replace 1 cup (142g) almonds with 12 ounces (340g) of tofu. Check out my spinach ravioli recipe for more info on a tofu-based ravioli recipe.
If you like heart shaped ravioli, but avoid eating nuts, you might prefer my pink heart ravioli. And if you're looking for other rainbow foods to make for pride month, check out this rainbow bread and this rainbow sushi cake.
☆☆☆☆☆☆☆☆☆☆
* I use mostly organic ingredients when I cook, but I realize that not everyone has the disposable income to purchase all organic ingredients. Therefore, I only specify organic on the ingredients that really matter - when buying the organic version is the only way to ensure that the item is vegan.