Vegan Tuna Casserole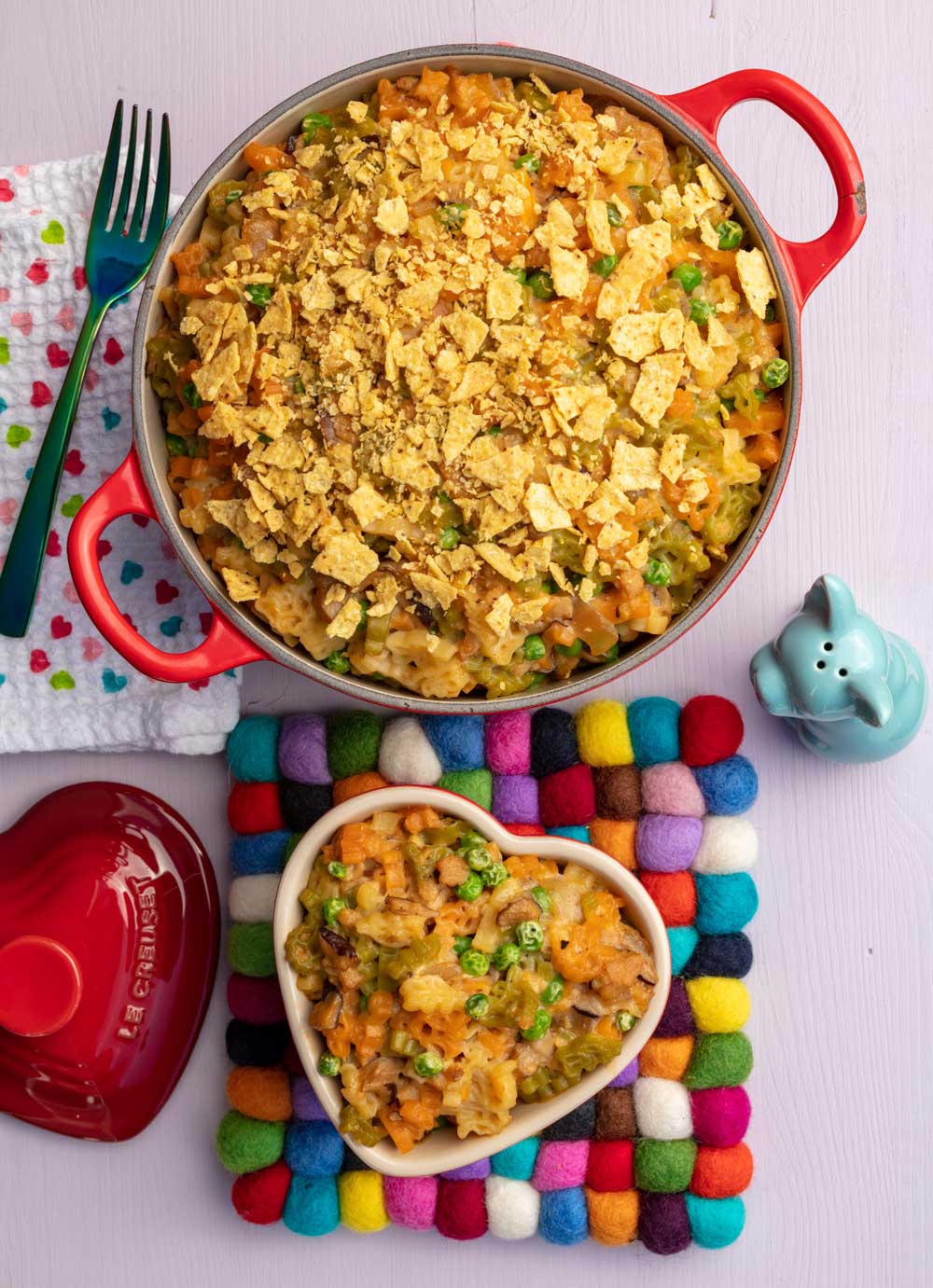 ♫ Listening to: Two Lips by Choir Boy ♫
My mom made me tuna casserole when I was growing up, and it was one of my favorite meals. This is my vegan version of that casserole. It's still one of my favorite meals, and now it's healthier and cruelty free. I think this recipe would be mom-approved. If you like comfort food, you might like my thanksgiving dinner cake recipe.
This recipe makes 1 large lasagna pan of casserole or lots of mini casseroles if you prefer tiny cute things.
Vegan Tuna Casserole Ingredients
Dollhouse Shortcut
Instead of making your own cheese sauce, you can also just use vegan grated cheese.
2-3 tablespoons organic earth balance (or sub olive oil)
¼ cup flour
1-2 cups of boiling water
½ cup nutritional yeast
½ teaspoon onion powder
½ teaspoon garlic powder
½ teaspoon pepper
1 teaspoon sea salt
1-2 cups grated vegan cheese (optional, but I used 1 ½ cups of violife cheddar)
16 ounces pasta*
1 batch of mushroom gravy
½ bag of frozen peas
an 8 ounce package of mushrooms, washed and sliced
1 package of vegan tuna, shredded (I like the one made by Layonna Vegetarian the best, but it's not organic sadly. I've also used chickpeas in the place of tuna.)
Vegan Tuna Casserole Directions
prep time: 40 minutes; bake time: 20 minutes; total time: 1 hour
Boil a large pot of water. You'll cook the pasta and peas in here once it starts to boil.
Heat 1-2 cups of water in a kettle. You'll use this for the cheese sauce.
Create a roux in a saucepan by melting 2-3 tablespoons of earth balance over medium-high heat and then whisking in the ¼ cup of flour. Keep whisking for 2-3 minutes.
Slowly whisk in the boiling water, until you have a thick sauce consistency.
Add all the dry ingredients: ½ cup nutritional yeast, ½ teaspoon onion powder, ½ teaspoon garlic powder, 1 teaspoon sea salt, and ½ teaspoon pepper. Continue whisking.
Add the grated vegan cheese, handful by handful, whisking until smooth in between each addition. Turn heat to low once the cheese sauce is smooth.
Heat the oven to 350°.
Add the frozen peas to the boiling water, and wait for the water to boil again.
Add the pasta to the boiling water and peas once it's boiling again.
Stir the pasta after 1 minute to make sure it isn't sticking to the bottom of the pot.
Cook the pasta the amount of time the directions on the package say to. If they don't say, start checking it after 8 minutes, and then check it every minute until it's soft.
Drain the pasta and peas in a colander, and transfer back into the empty pot.
Add the sliced mushrooms and stir.
Add the cheese sauce (or the vegan grated cheddar cheese if you decided to skip making the sauce) to the pasta, and mix thoroughly.
Add the tuna to the pot and mix thoroughly. (If your tuna didn't come shredded, you'll have to shred it in the food processor before adding it to the pasta.)
Add the mushroom gravy to the pot and mix thoroughly. This gravy takes the place of the can of mushroom soup plus the can of milk that my mom's recipe traditionally called for.
At this point, you can stop and serve the pasta if you're too hungry to wait any longer. But if you want it to taste like my mommy's tuna casserole, you have to go the extra step.
Transfer to a lasagna pan or other oven safe dishes. I made a cute tiny heart one for me and a bigger one for everyone else.
Top with breadcrumbs, chip crumbs, cracker crumbs, fried onions, or whatever casserole topping you have lying around. You can also top with nothing or extra grated vegan cheese.
Bake in the oven at 350° for 15-20 minutes.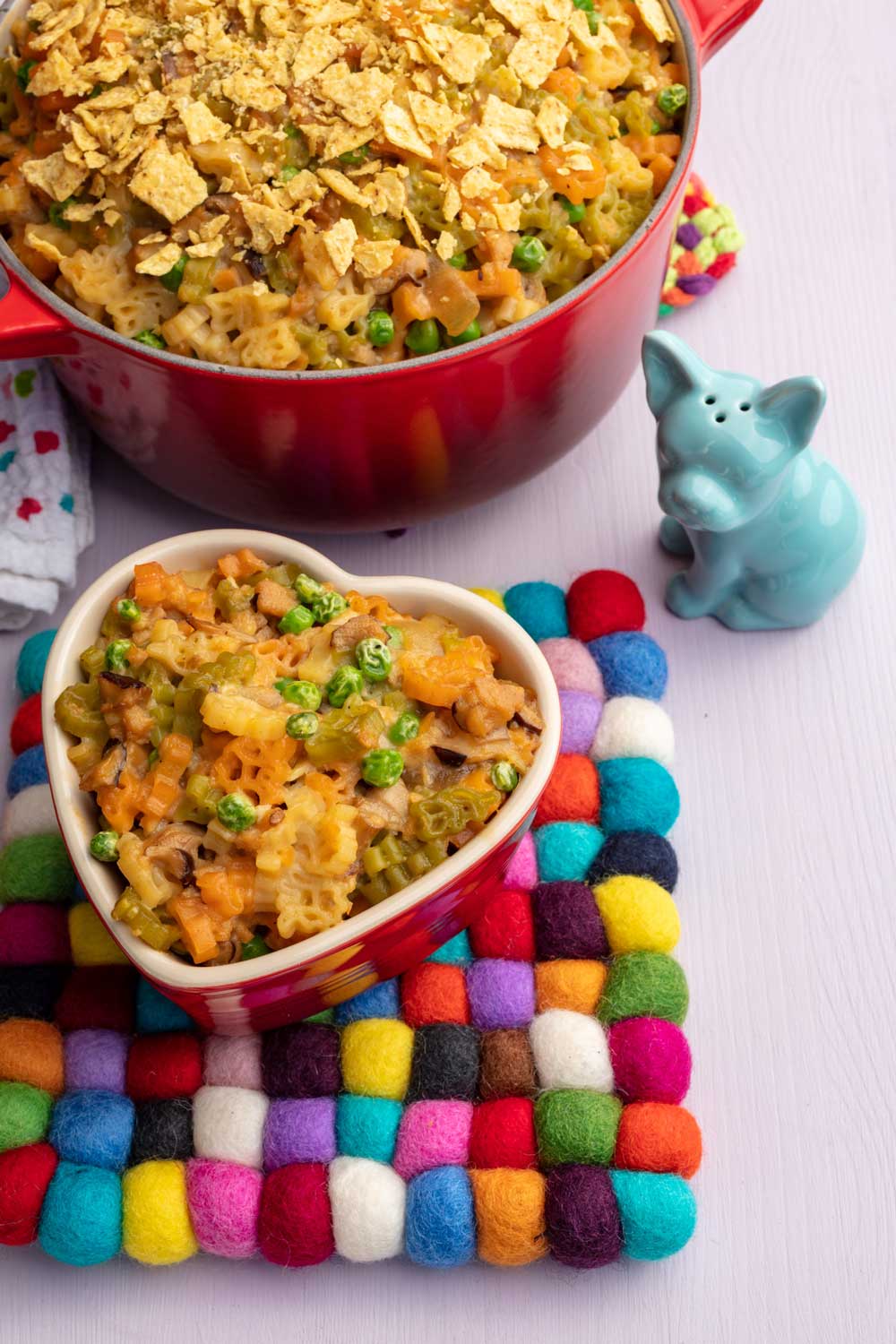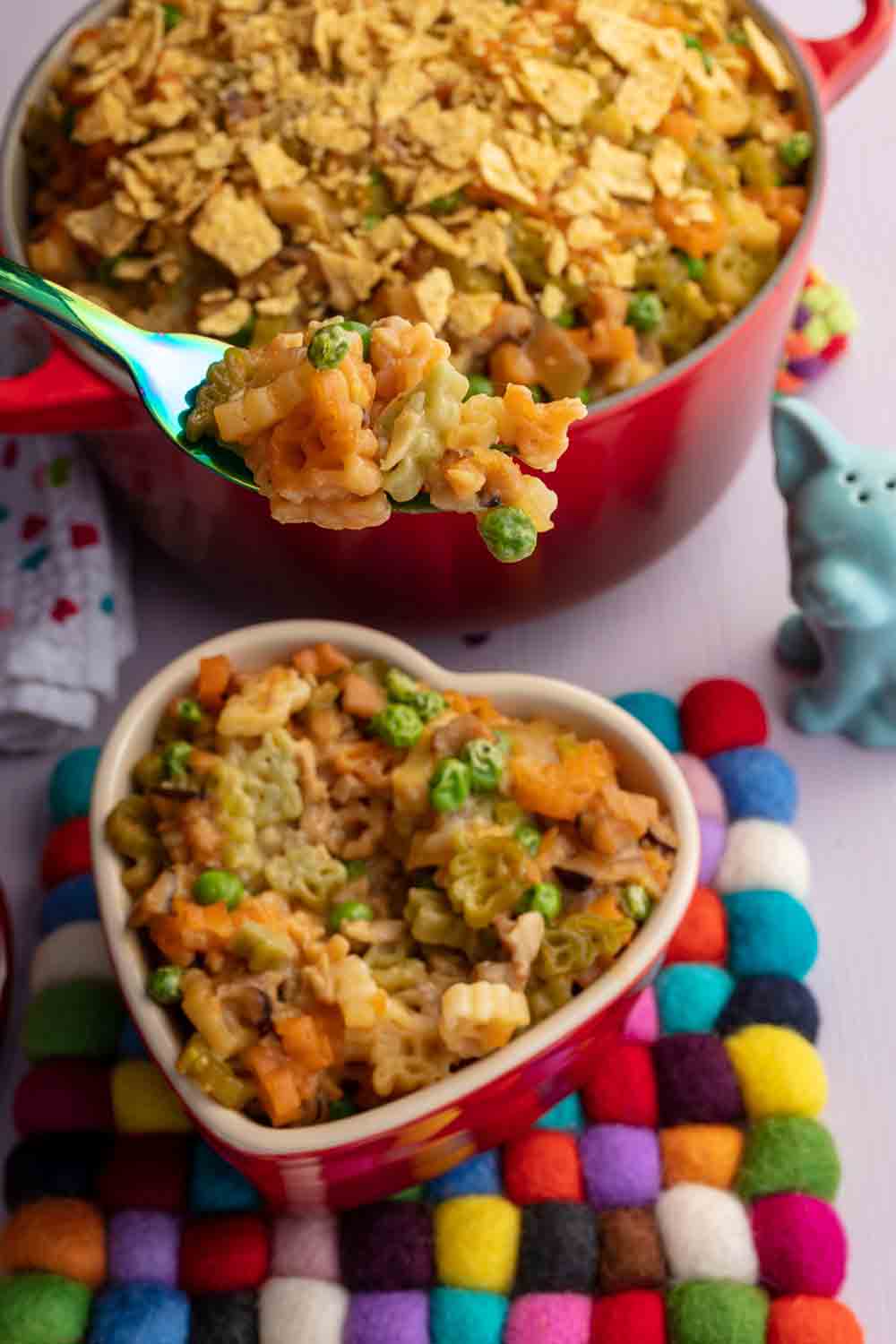 ☆☆☆☆☆☆☆☆☆☆
* Whenever you see colored pasta in stores, make sure it's colored with vegetables before you buy it. Some pasta is colored with squid ink! Poor little squid.